Introduction.
Fun fact, you can earn money just by copying and pasting. Could you not believe me? While many people have made money using this method, you could earn nine dollars in an hour or less. And all you needed to do was copy and paste. It is an effortless way to make some money, and you don't need to have any work experience or technical skills to do this. Stay with me so that you can learn all the ins and outs and get started to make money on Zazzle in a matter of minutes.
The Requirement to make money on Zazzle.
It is an entirely free technique. You won't need to shell out any cash to start earning. All you need is at least a phone to do this. You can do this from wherever you are on the planet. Are you from Canada, Italy, Nigeria, Pakistan, or Mexico. Well, even if you aren't, you can still cash out with this method. As long as you can connect to the internet, you can do this. I'll tell you exactly how this money-making method works.
The website where you make money.
Alright, let's get to make some money. So, the website you're going to be using today is zazzle.com.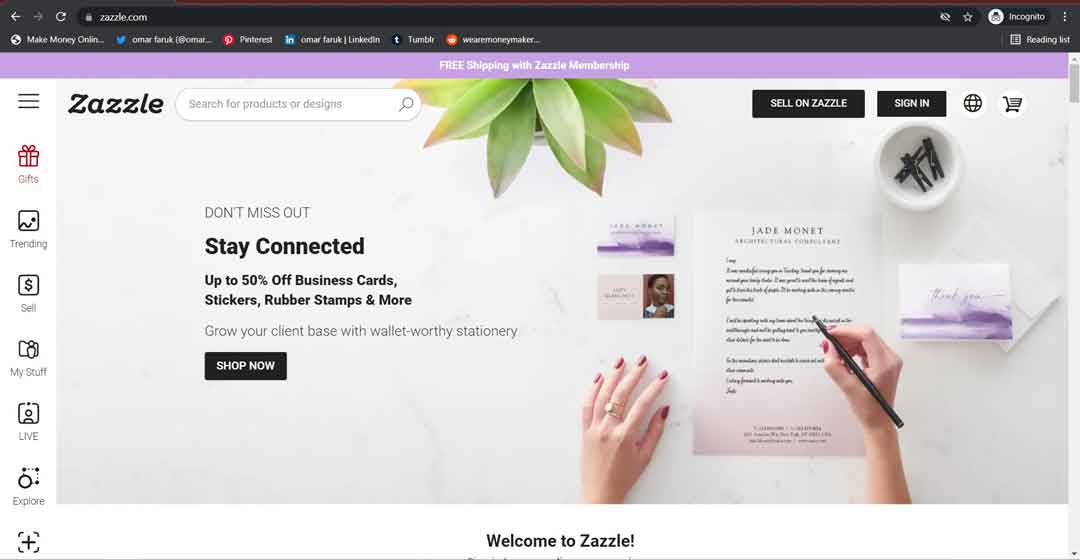 It is a great money-making platform. In today's article, I will share why? So now you're probably wondering what this website is? Currently, this website is pretty much a design platform that holds over 100 patents. They have all sorts of designs up here for pretty much anything you can think of on this platform.
This site comprises customers, designers, partners, brands, and makers. Everyone on here is connected daily. With this platform, you can create your designs for invitations. It is a straightforward platform to use. So even if you have zero experience as a graphic designer, this is still something you can maneuver.
How to make money on Zazzle.com.
One of the cool things about this platform is that once you come up with a design, you can have it created into physical products, like shirts, mugs, cards, and many more things. Plus, you won't even need to do anything to sell the products. Because this platform pretty much does it all for you. In a way, there's a great way to make some passive income, come up with designs. And then Zazzle creates the products for you. And then you make sales. It's swift and straightforward.
Now, if you want to get an idea of their products, you can click up here on the search bar. And then a menu will drop down, and from there, you can click on "products". When you do that, it'll pull up a whole page of products that they sell. These products were all created through designer tools.
Now the most popular products on here are cards and invitations. They have all sorts of cards that you can think of, from thank you cards to birthday cards. Whatever you happen to be looking for, they probably have it. There are even gift wraps and gift guides. What you're going to want to do is create products to sell. Well, to do that, you're first going to need to sign up for a free account.
How to sign up and make money on Zazzle.com?
I'm going to tell you how to do that right now. So, the very first step will be to click on the sign-in button. That will bring you to a page where you're going to smash the "SELL ON ZAZZLE" button.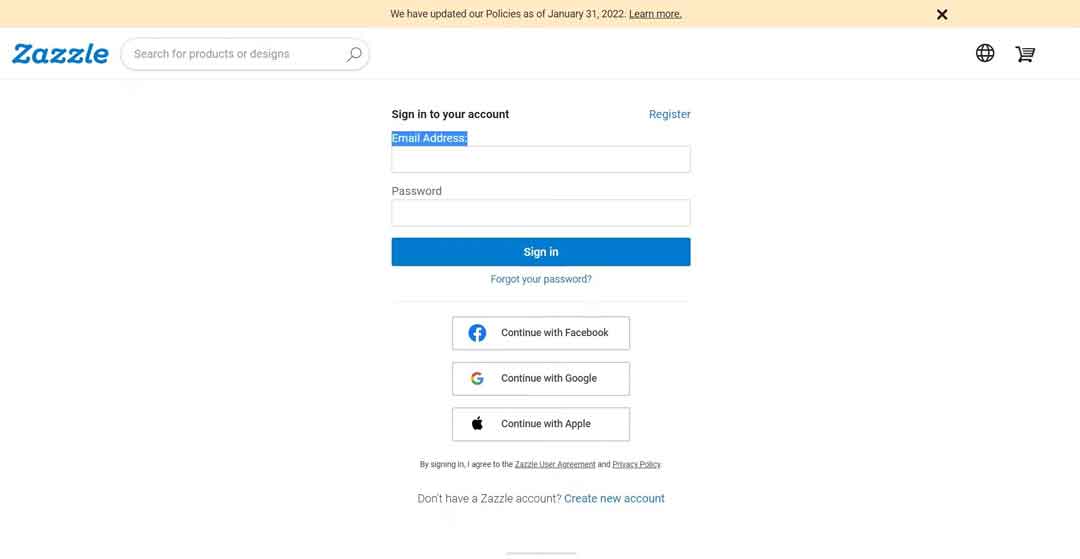 Now you should be able to sign up. And you can choose to do that in one click if you sign up with your Facebook, Google, or Apple account. If you don't want to do that, though, you can type in your email address. Then password and now that. That's done. Your account should be ready, and you should be able to start selling here on the site. Congratulations!
Some essential accessories that you need to make money on zazzle
Oh yeah, I think I forgot to tell you that this platform is available on pretty much any device. You can install this on any phone, whether an android or an iPhone. So, if you don't have a laptop or a computer to do this. You can still access the platform by installing the app from the Google Play Store or the Apple app store. Anyhow, your account should be up and ready to go.
Working process to make money on Zazzle.com
So, let's dive into how you're going to be making money. Now, over here, you're looking for the "create your own" option. It's excellent. Just click on that after that should take you to a page. It is one where you can access the design tool to start making your designs. Doing this is completely free, so don't worry about needing to design because this site won't charge you anything.
Now click on the button that says start creating. One of the other pros to using this platform is they have some templates that are already for you. All you need to do is a bit of tweaking. Then you can have your designs ready to be printed and sell your product. And then you can start earning.
How do I increase my sales and make money on zazzle ?
All right, I've got a bonus tip that's going to help you out big time. There is a way to double or even triple your earnings. And I'm going to tell you exactly how to do that and how to method, make money on zazzle. Now, if you can go to the home page, you can scroll down to the bottom of the page. And look for the part that talks about referring friends. So, one of the cool things about Zazzle is they pay you to refer to your friends and family. You can earn a whopping $25 for every single friend or family member of yours that signs up to Zazzle using your link. If you look right here, they go through how all of it works.
First method, make money on zazzle
So, first, they're going to give you a personalized link to share with your social media or send out emails. Once you share that link with someone, that person will get a pretty big discount to use on Zazzle. They will get 60% off on cards and 20% off all of their products as long as they have an order worth more than $25. Once your friend orders out, you will receive a $25 coupon code to use on Zazzle. That's a pretty good deal.
2nd method, make money on zazzle
Well, if you want to get a referral link and start scoring some savings. Then you need to go ahead and input your email address right here. After that, you're going to get a personalized link. That you can share, and then you can start making $25 over and over and over again. Share your link everywhere, and you can make some big bucks. You can share your link on Facebook, Twitter, YouTube, pretty much anywhere you can think. Once you combine those two techniques on Zazzle, you should be able to make hundreds of dollars in no time. As I said, this is easy to do, and I highly recommend trying it out. That's all I've got for you today, my friend.
See More:
14 Best Platform To Get Paid To Watch Videos Online in 2022
Best way to Make Money with WarriorPlus Affiliate | WarriorPlus Reviews
Make Money With MyPoints Rewards Program | Mypoints Surveys
OfferVault Review | How To Make Money With OfferVault Affiliate Networks