Introduction
Several free apps are designed to help you earn extra for reading the news. The News Pie App is another app that has recently gained a lot of attention. The app claims to pay you for reading breaking news and trending topics on the go. There are other ways to earn rewards in your spare time, such as watching videos, playing games, trying new apps and referring friends.
What is the News Pie app?
News Pie is a Get-Paid-To (GPT) app that will reward you for reading current news and stories from your favourite media outlets.
You can redeem your Cash via PayPal, Visa, Gift Cards, and in-game currencies. You can also earn rewards by watching videos, playing games and inviting friends.
How to join the News Pie app?
News Pie is available for both Android and IOS platforms. After installing the app on Google Play or App Store, sign up using your Facebook or Google account. You will get 10,000 Pies as a sign-up bonus.
How to make money from the News Pie app Earning App?
Now, let's talk about how you can earn from this app.
1. Make money by Reading articles From News Pie Earning App.
One way to get rewards from News Pie is to read their featured articles. This opportunity is straightforward. Just log in to the app, and you will directly visit all the articles you can read.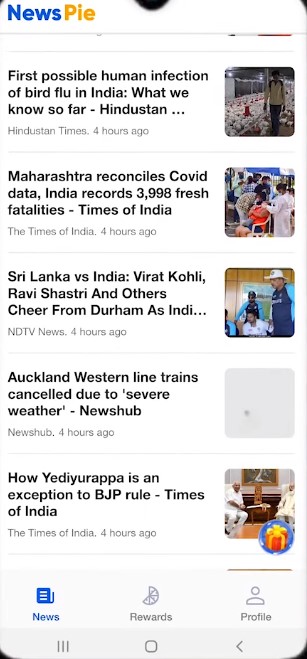 Just select which article you like to read and click it. You will then be taken to the article page.
You will notice a gift icon in the screen's lower right-hand corner. It would help if you noted this when reading the article.
That gift icon will trigger loading when you keep scrolling up or down the article. Once it is complete, you will notice the icon movement. Just click it to open the gift box. You will then earn a random prize.
The prizes you can get will vary. You can get a certain number of pies or mysterious fragments to collect more pies.
Sometimes, you will be invited to spin the wheel. The prizes you can win from this spin-the-wheel game will usually be mysterious elements. Plus, you can also get a ticket for their Lottery.
You don't have to read the article. You must show the action so that the gift box will load. You can scroll up and down. You can keep doing this on an article a few times, but you will ultimately have to unlock a new one to fill the gift box.
2. Make money by Lottery From News Pie Earning App.
News Pie has two types of lotteries: monthly and daily. The idea is straightforward. You need to use a ticket to join any of the lotteries they offer.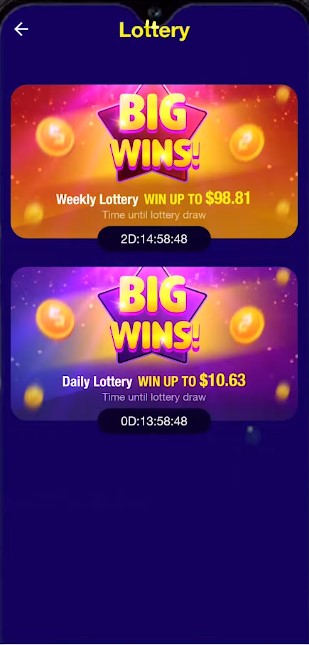 To play their Lottery, you must pick a combination of 5 images. Once you've set your combination, scroll down and press the "Buy Now" button. If you have a current lottery ticket, it will just be removed from your account.
You can buy one for 1,000 pies if you don't have one. It will notify once the winner, the Lottery is over. It will take the prize for that specific draw from all the lottery ticket buys.
3. Make money through Daily tasks From News Pie Earning App.
Another way you can make money is by completing their daily tasks. When you log in to the app, you can view the daily tasks you must complete, making rewards.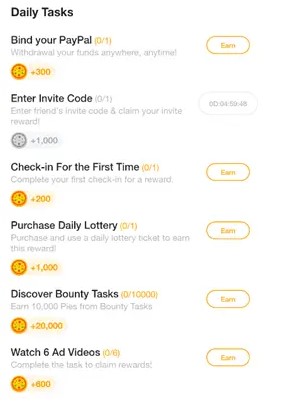 The tasks will involve:
Doing specific actions inside the app, like checking in.
Buying a lottery ticket.
Working on other earning opportunities.
It is a checklist of what you need to do for the day.
Once you've completed the tasks, go back to the Daily Task page and claim your reward. It's that simple.
4. Make money by watching video ads From News Pie Earning App.
From time to time, when you are reading articles, you will notice a video icon shown in the upper right-hand corner of your screen. This is another way to make more pies.
Just click it, and a video ad will appear. It will have a timer. Once the timer is accomplished, you can close the ad, and a notification will appear informing you've just made a specific number of pies.
5. Make money by Bounty tasks From News Pie Earning App.
Bounty tasks are like the paid offers you discover on other GPT sites and apps.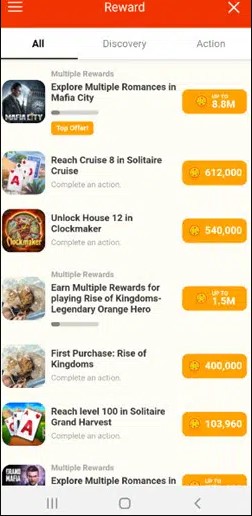 To view all the bonus tasks presented, go to the app's Rewards section and press the Bounty Task icon.
Just select which one you like to work on and press it. It will then display the instructions you must follow to complete the task. Follow all the instructions down to the note because you need to finish the task and make nothing.
Once you've completed the task, a notification will show that you've just earned a certain number of pies. Most of the studies asked you to play certain mobile games. If you love playing games, this is an excellent opportunity.
6. Make money by Referral program From News Pie Earning App.
Last, you can make rewards through their referral program. It is an earning option that will reward you for requesting others to join the app.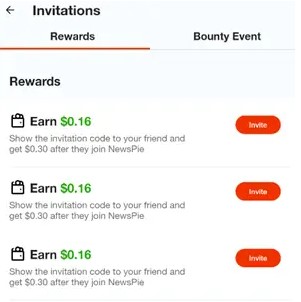 To invite someone, you can send them your invite link via email or share your invite QR code. Once they join News Pie by utilising your link or QR code, they will become your referral.
You will get your first reward upon your referral's registration.
Then, you will receive another reward when your referral reaches three days of being active. Lastly, you will receive another reward when your referral has been happening for at least seven days.
How do you get paid From News Pie?
You will make a specific number of pies for every earning opportunity you complete. This is their term for points. You can then exchange the pies you've made for cash via PayPal.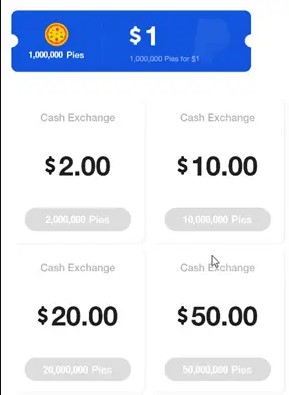 PayPal is the only payment opportunity News Pie offers, which is good because it is one of the most suitable payment methods.
To withdraw your earnings to your PayPal account, you will need to earn at least $2. So, technically, News Pie has a low payout threshold because it will only require you to make $2 to withdraw your earnings.
FAQs
Is News Pie a legit app?

News Pie is a legit GPT app that will pay you for reading articles and completing the other earning options it offers.

Who can join News Pie?

News Pie is available globally. That means you can register as a member yet of where you live.

Can you use it on a desktop?

News Pie is a mobile-only platform. So, you will need a mobile device to operate on the earning opportunities it presents.
See More:
Lucky Miner App – Win Cash Every 1 Minute by Playing Games on Your Mobile
Tik Tube App – Earn By Watching Videos, Mystery Chest, & VIP Benefits 100% Easy
TapCent App – Earn by Playing Games, Paid surveys & More – 100% Easy
Tatatu – Earn by Watching Videos & Being an Active Member of Social Media 100% Easy