Introduction.
In recent years, blockchain technology has introduced various innovative ways to earn Money through decentralized applications. StepN App is an gaining popularity among those interested in earning cryptocurrency by playing games. With the rise of non-fungible tokens (NFTs), StepN is a unique platform that offers users the opportunity to earn by buying and renting out virtual sneakers.
What is StepN App?
StepN is a Get-Paid-To (GPT) app that will reward you for walking, jogging, or running outdoors. It is a legit app because you will earn when you use it if you go out for a walk, jog, or run.
How to Earn Money with the StepN App?
StepN is an app that allows you to earn cryptocurrency by walking, jogging, or running. It's a fun and interactive way to earn extra Money while improving your health and fitness.
1. Make Money by Playing the StepN App.
StepN is an app that allows you to earn Money by walking, jogging, or running using NFT sneakers. To start earning, you must fund the app with either Solana or BNB cryptocurrency and purchase a pair of NFT sneakers.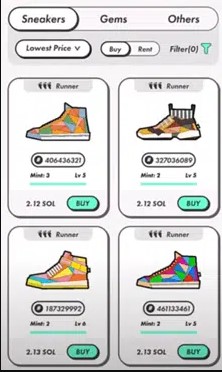 Choosing the right pair of NFT sneakers is crucial to maximizing your earnings, as your earnings depend on the pair's attributes and rarity. You can also level up your NFT sneakers using the in-game currency to improve their attributes and earn more.
The app replenishes your in-game energy every six hours, and your maximum energy depends on the NFT sneakers you use. You need to start the app and begin your walk, jog, or run to earn.
Occasionally, you can collect loot boxes containing special prizes, but you need to pay a small amount of GST to open them. It's important to note that opening loot boxes might not always result in a profit.
To maximize your earnings, it's best to have multiple pairs of NFT sneakers and formulate a strategy before purchasing. You can use your earnings to either withdraw or improve your NFT sneakers.
2. Make Money by renting out your sneakers from StepN App.
Earning Money by renting out your NFT sneakers is another option in the StepN app. It's a simple process where you can make your NFT sneakers available for rent to other members for a certain amount of GST.
These members can use your NFT sneakers to play the app and earn Money, but it's important to remember that renting out your sneakers will cause them to degrade over time. You will need to spend GST repairing and restoring them to their maximum durability.
How do you get paid From StepN App?
You can get paid in GST while playing StepN. Then, you can convert your earnings to various cryptocurrencies anytime you want, without any threshold.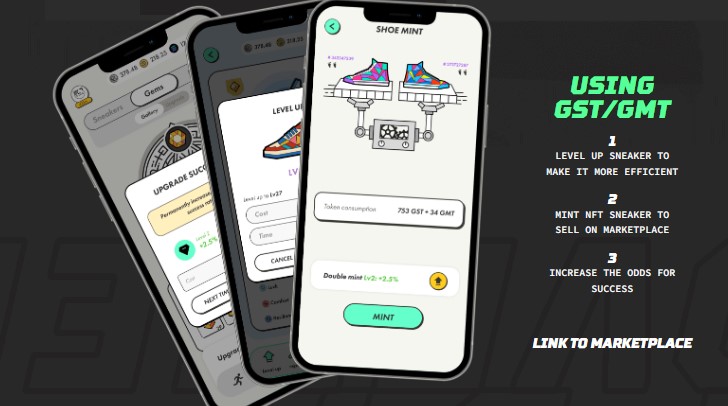 Finally, you can transfer your converted earnings to your crypto wallet (Solana or Binance) and cash out. The payment system is straightforward if you are familiar with cryptocurrencies, but it can be overwhelming if you are new to crypto.
Who can join StepN App?
StepN is an exclusive app that requires an invitation code for registration, and getting one can be quite challenging. The app limits the number of users to maintain quality and avoid flooding it with members.
You can join their official Telegram or Discord channel or search for StepN activation codes on Twitter to obtain the invitation code.

Once you have the code, you can begin registering by installing the app and entering the code.
After logging in, you must choose which network to use, Solana or Binance. Going for Solana is recommended as its gas fees are lower than Binance. Once you have selected the network, you can buy the NFT sneakers you choose to earn GST.
It's important to note that the payment system uses cryptocurrencies, which can be overwhelming for those unfamiliar. However, once you get used to it, the payment process becomes more straightforward.
FAQs
What is StepN?

StepN is a mobile app that allows users to earn cryptocurrency by playing games and collecting NFT sneakers.

What cryptocurrencies can I earn on StepN?

You can earn GST on StepN, which can be converted to various cryptocurrencies, including Solana and Binance.

Can I rent out my NFT sneakers on StepN?

Yes, you can rent out your NFT sneakers to other app members, but remember that it will cause degradation and cost GST to repair.

Is StepN available worldwide?

Yes, StepN is available worldwide, but they have limited the number of users who can sign up.
See More:
Golf Cash – 100% Easy Ways To Earn by Playing Game
Pusher Mania App – Make Money by Playing Games 100% Easy
Make Money by Playing The Lucky Chip Spin Game 100% Easy Processes