Introduction
If you like to watch videos and other content, the TV-TWO App can provide you with many entertainment options. The TV-TWO app rewards you with Ethereum whenever you watch a video on your phone. They also designed it to give you rewards as you use media in different genres. Consider if you enjoy watching videos and getting rewarded in cryptocurrency.
What is TV-TWO App?
TV-TWO is a GPT platform that focuses mainly on watching videos; however, I will get into other options later. Mostly, the videos you will see on the platform will come from YouTube, which is a breath of fresh air, seeing most videos on the platforms. While TV-TWO makes sponsored messages, you can at least watch somewhat fun content on the YouTube platform.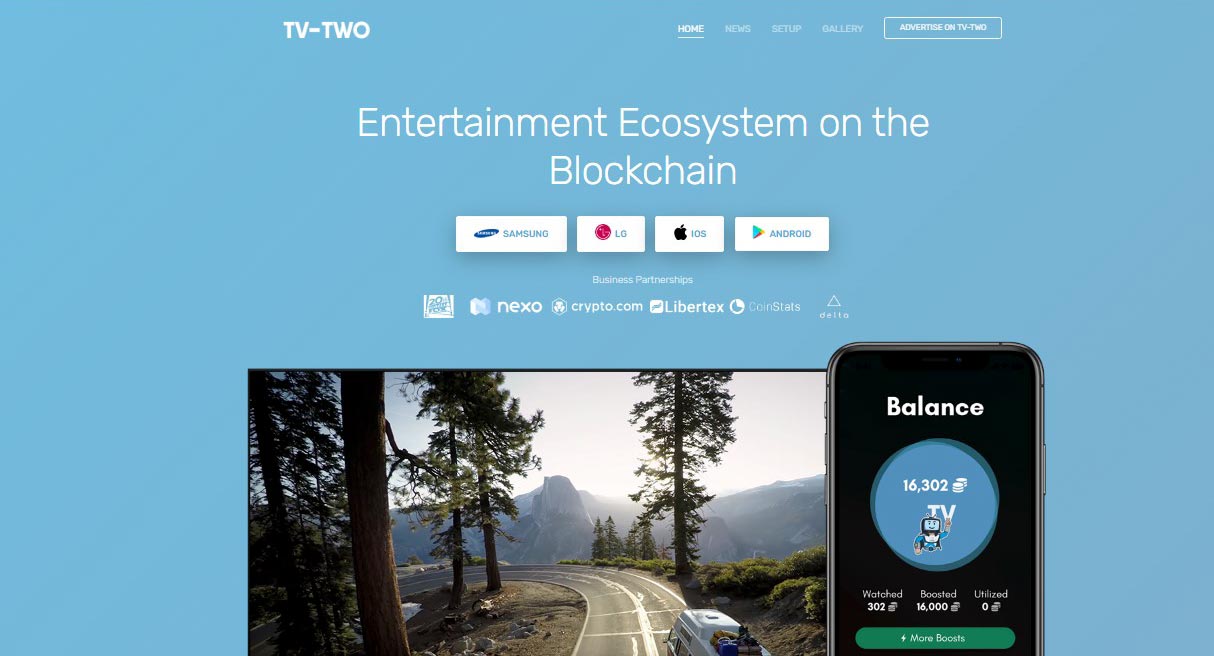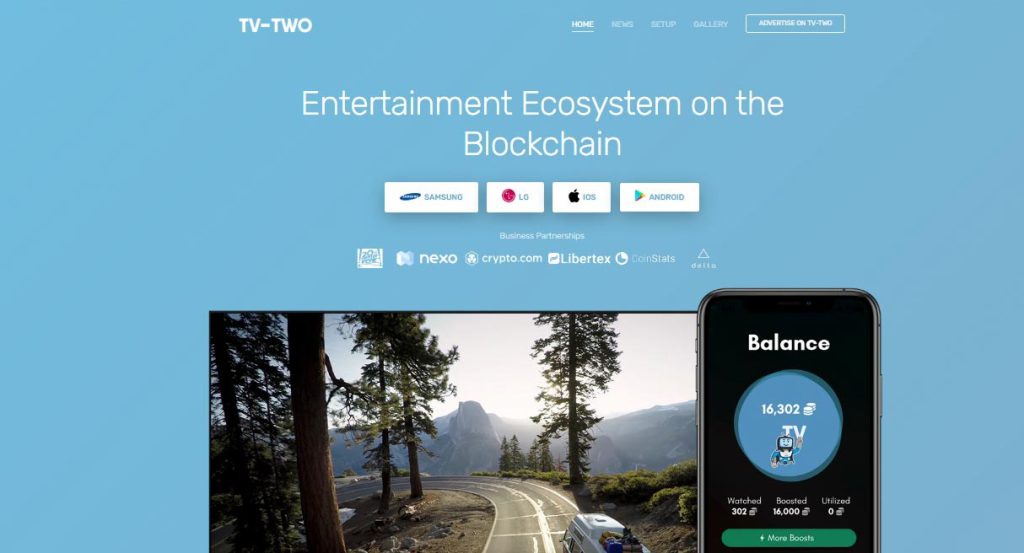 The company allows you to watch videos on your mobile phone or download the app, in which you can watch the videos on your TV and get rewarded. As long as they connect your gadgets to your account, you will make crypto for every second you watch.
1. Make money by Watching videos at TV-TWO App
As said, you can make money by simply watching YouTube videos. But What's unique about this app is you can install it on your smart TV (specifically Samsung and LG smart TVs).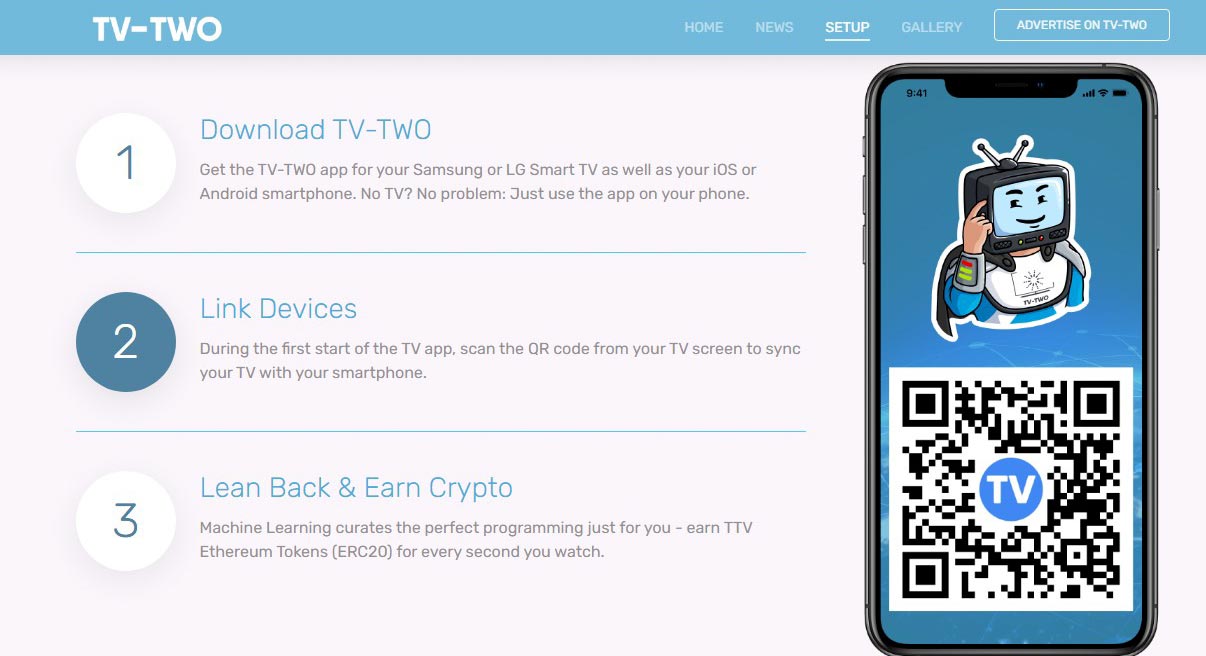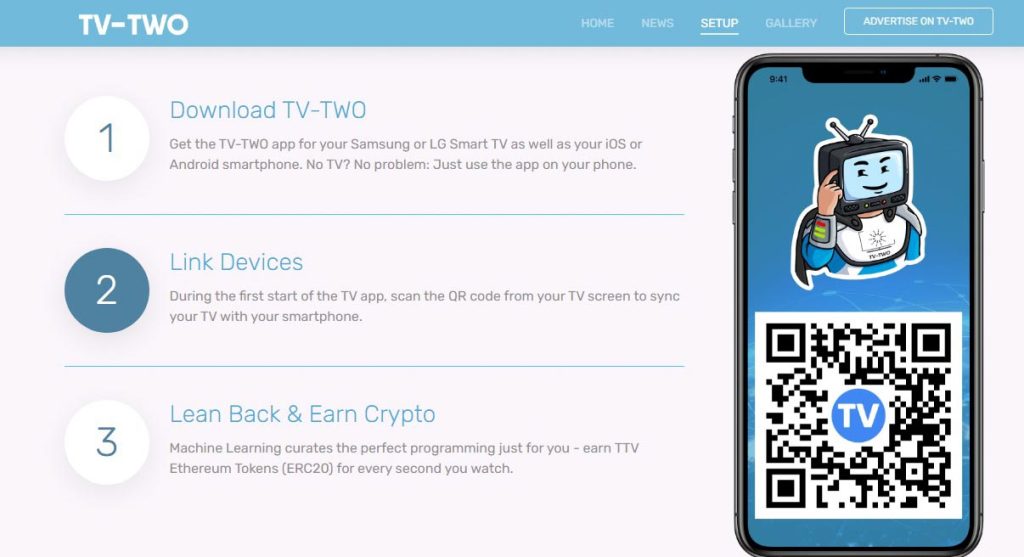 As you can see in the photo above, you can watch videos either on your mobile gadget or your smart TV.
You must install the app on your mobile device and smart TV to watch videos on your TV. Once you've done that, during the first opening of the TV app, scan the QR code from your TV screen to sync it with your smartphone.
You can use your mobile device if you don't have a smart TV compatible with their app. You must choose which video you want to watch by browsing the app.
Once you see a video, you earn 1 Ethereum Token for every second you watch. That's all there is to it. However, you can only make the most of 500 tokens per video.
If you're solely watching the videos to earn money, you must start a new video every 8 minutes.
2. Make money with Paid offers at TV-TWO App
If you run out of videos to watch, you can still earn more Ethereum tokens by completing their paid offers. It is a regular money-making opportunity if you've been a fellow of GPT sites or apps.
When you log in to the app, you must click the "Earn More" button to get to the paid offers section. You will then see something like this.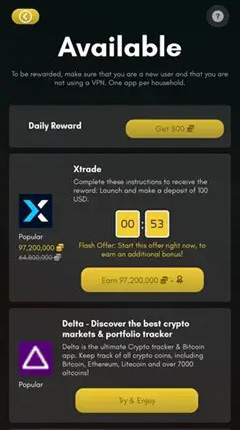 Their paid offers are just short tasks you can do to earn more rewards. Most offers will ask you to play a mobile game, register on a site, or answer a survey. When you click an offer, it will offer you the instruction you must follow.
3. Make money by referral program at TV-TWO App
They will reward you with 2,00,000 coins per referral if your referred user makes 50,000 coins by finishing offers. It will not be a successful referral if the user makes money by watching videos.
Little tricky, but you need to tell your referrals about this condition.
Moreover, every new user gets a reward of 555 coins.
How do you get paid at TV-TWO App?
Every move you finish inside the TV-TWO app will achieve you a specific number of tokens/credits.
Now, the app uses blockchain technology for its payment system. So, to convert your tokens to cash, you will need an Ethereum wallet that supports TTV.
The app recommends you use the Nexo wallet, but other Ethereum wallets are also out there. Just choose which ones you like.
How much money can you make from TV-TWO App?
The amount of money you can earn from this app will depend on how active you are on the app. It has many money-making options so that you can earn rewards reasonably regularly.
And it looks like they offer high rewards, but if you think about it, that is different. For example, the 200,000 tokens you receive for your referral bonus are only worth $0.3, which is relatively low.
That's why the earning potential of this app isn't that great. You will keep investing a lot of time to make a significant amount.
This app's only real value is that it offers an exciting way to earn because the videos you can watch can be informative and fun.
FAQs
Does Tv-two app work on a desktop?

It's a mobile-only app and doesn't work via the website. However, if you want to use it on a desktop, it's available to install on Blue stacks.

Is tv-two legit?

The Tv-two app is legit, and currently, they are paying in the free wallet. They cannot transfer it to real money.

Who can join TV-TWO?

The app is available globally. That suggests you can join TV-TWO still of where you live. It doesn't have the usual signup process you will discover on other sites, where it will ask you for login details. Once you've installed the app, you can instantly start operating it.
See More:
SoundCloud Review | 2 Easy Ways To Make Money By Listening To Music
Ebuno Earn Money by playing games | 4 Easy Ways To Make Money
Up-4ever Review-Make Money Just by Enjoying listening to Music