Introduction
Crypto Airdrops are sweet because they're free cryptocurrency given into your wallet. You have to do very little to get them apart from using the blockchain most of the time. Any way which you probably want to do. So, in this blog, I will tell you how to find the best potential Crypto airdrops? Then how to get involved to potentially get some free crypto in your account just for participating in the community or using the application. Anyway, like most things in cryptocurrency, though, there's excellent.
What is Crypto Airdrop?
Crypto Airdrops are literally when a developer of a cryptocurrency platform gives out free tokens or coins. You may be wondering what the purpose of this is. Well, it's essentially a form of advertising and to spread the use of the coin. In short, developers want people to see that the coin has been added to their account for free. And then hopefully try out their coin sometimes. However, these airdrops reward early adopters of an application or protocol. Rewards and plenty of scams, so you need to ensure that you don't get scammed.
Where can I get free crypto airdrops??
Where to find Crypto airdrops? There are four semi-legitimate places that I use to find Crypto airdrops.
1. Crypto airdrops on Coinmarketcal.com.
Let's start with the most legitimate one, coinmarketcal.com.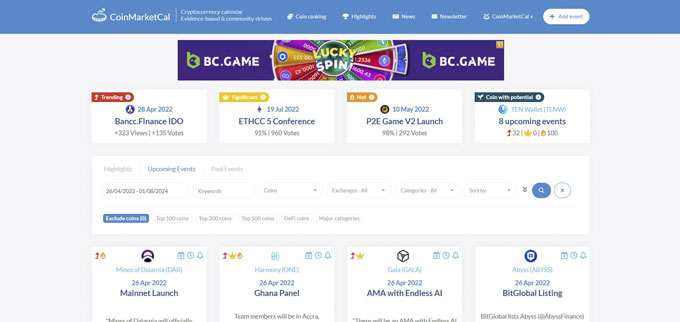 All you have to do is go in here, search by keyword, and search for airdrop hit search, and then it'll show you all the upcoming Crypto airdrops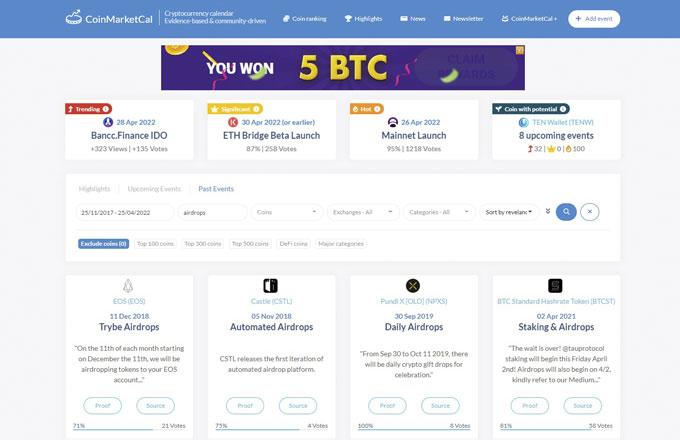 For the next three months, each of these would have particular requirements for you to get that Crypto airdrop. Some might include owning that token and holding it on that platform. Another way to search for Crypto airdrops is by the word snapshot.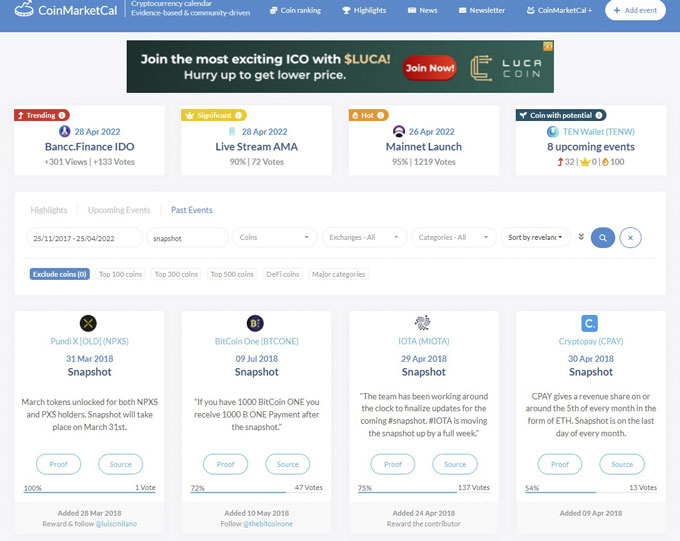 So when we search by snapshot, we get a few different results.
2. Crypto airdrops on Reddit.
Next up, Reddit. So, on Reddit, there is a whole subreddit here on crypto airdrops. They do a lot of different posts on upcoming Crypto airdrops. Many of them seem spammy, so use them at your own risk.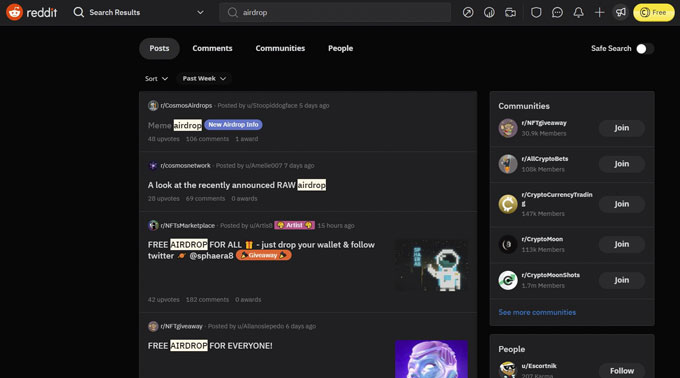 You can also go to the search and search for Crypto airdrop, search for posts in the past week, and then start combing through the results for any easy Crypto airdrops.
3. Crypto airdrops on Twitter.
The same thing goes for Twitter. Log into Twitter, search for Crypto airdrop, and then we can search by the latest posts.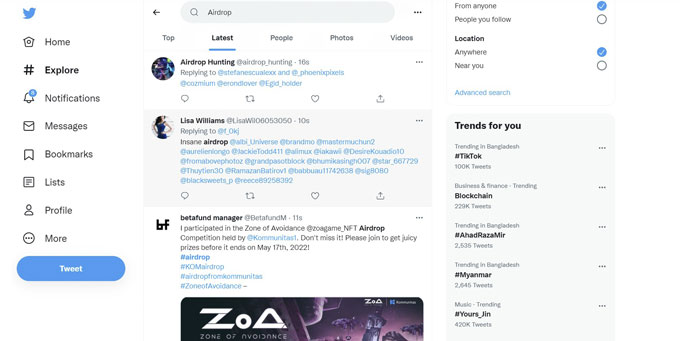 Then we can see what's happening. So there are a couple of Crypto airdrops. It's just going to keep updating with the most recent ones.
4. Crypto airdrops on Airdrop alert.
Okay, next up, airdrop alerts. On airdrop alert, they have a lot of smaller projects.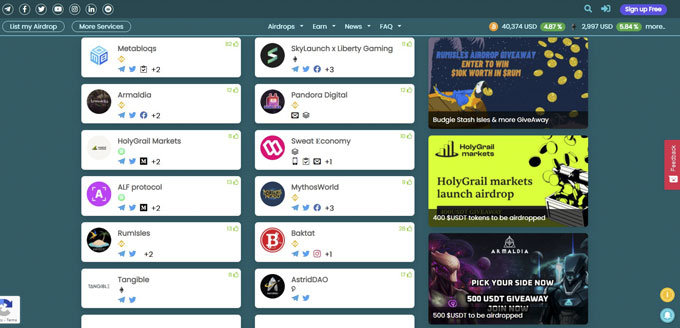 And the icons here tell you everything you need to know.

The first icon here, then the telegram icon that, means you're going to have to join their telegram channels, Twitter, you're probably going to have to follow them and retweet something medium you're going to have to like a post. And the same thing goes for these other projects.
5. Using a new platform like uniswap for Crypto airdrops.
There's one more way. There are five ways to get an airdrop, and the fifth way is by using a new platform like uniswap.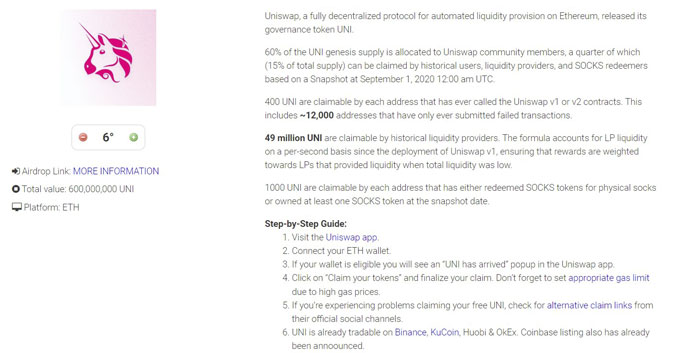 If you were an early user in uniswap you were eligible for their airdrop. Which was one of the most lucrative airdrops around. So look for new platforms that are looking for users. They're looking for beta testers who use those platforms.
Potential Crypto Airdrops in 2022.
So what are the most significant potential Crypto airdrops in 2022? There are still many extensive projects that don't have a token and potentially could and will. Some are nailed. Some may happen or may not occur.
1. OpenSea Potential Crypto Airdrops.
OpenSea got a lot of flack recently because they've, you know, being one of the most significant applications on any blockchain.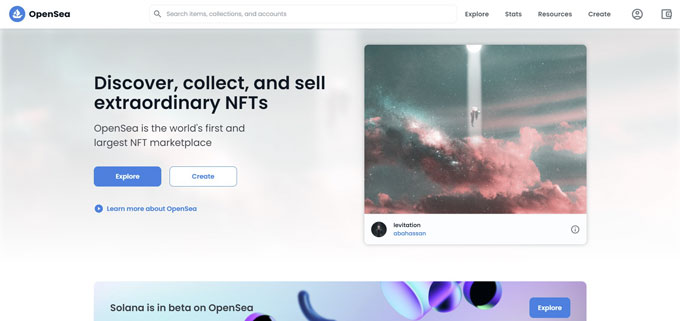 They wanted to go through an IPO. So that is through the stock market. Everyone is unhappy, considering that everyone has paid tons in gas fees on the Ethereum network. They've supportedopenSea to become a huge company, and they kind of deserve and expect some airdrop. So this one could be happening. You'll get involved with this one by having to use OpenSea. So if you've bought NFTs on there, you have traded or minted NFTs. You can have a much higher chance. Yes, the open Dow airdrop SOS token had nothing to do with OpenSea whatsoever. That was just a marketing exercise for that Dow. Congrats to them. They got a lot of hype. But nothing to do with OpenSea.
2. Metamask Potential Crypto Airdrops.
Metamask is hotly-anticipated, obviously one of the biggest names in crypto.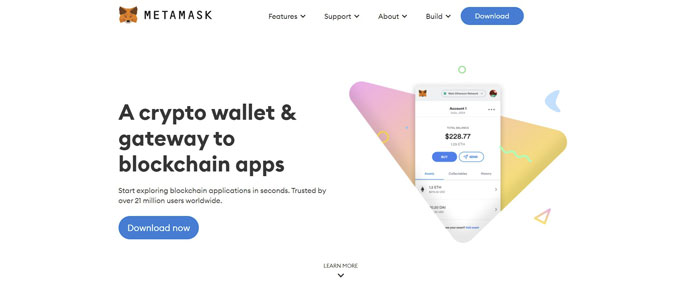 In some respect, pretty much everyone who has self-custody of assets has a meta mask. If you've used Metamask if you've linked up um blockchains to it if you've used the swap feature on Metamask, if you've paid gas fees on Ethereum etc., you might be in store for an account. The earlier you've had that account, the more likely it is to compare the number of transactions you've sent to everyone else.
3. Starkware Potential Crypto Airdrops.
The next one is Starkware, a very early stage company on Ethereum that has scaling solutions. A lot of people are looking for a potential token for this.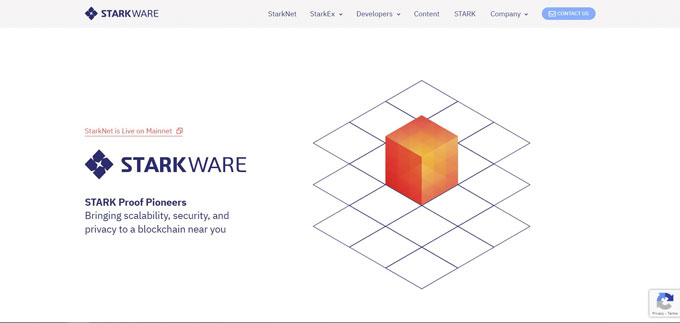 One no token, right now, there isn't much in the pipeline in terms of rumors for this one. But it is a huge company, and many people are using this technology on Ethereum.
4. Zk-sync Potential Crypto Airdrops.
And there is just a classic chain for airdrops to the same end, zk-sync is coming out with a token.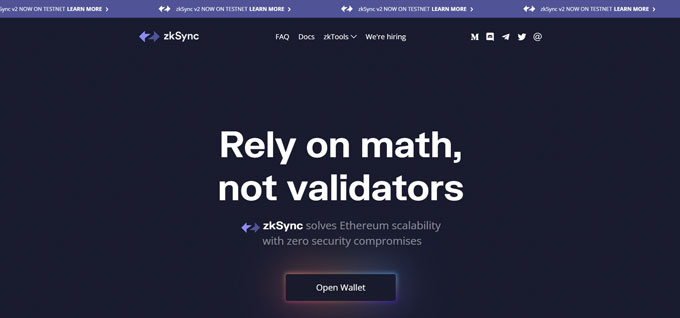 If you go to their Twitter, it says they don't have a token yet. So obviously, this implies that they will have a token, and usually, they will airdrop some tokens to very early users of the blockchain. Again with this one, you have to use the blockchain. So you have to, you know, open a wallet. You can do that with metamask. Just link it up—this two-layer scaling solution for Ethereum. So link up your metamask then you'll have to use the tools right so you can mint an NFT on the blockchain. that is easy, it takes 5-10 minutes.
5. Arbitrum Potential Crypto Airdrops.
The other one is arbitrum and optimism, but arbitrum seems to be the biggest one arbitrum, again, is an Ethereum scaling solution with no token.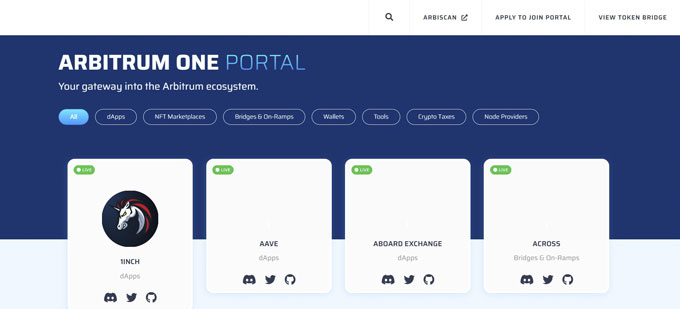 Yet people don't know if there is going to be one. But, you know, if they have one, they may reward early users. You can go to the token bridge right now. You'll have to use their services, so you'll have to use the token bridge you'll have to bridge assets from Ethereum. Over to layer two, use it on other applications. So if you link up arbitrum to uniswap you can use uniswap with arbitrum. You have to use the blockchain, and you could potentially get some free airdropped arbitrary tokens.
How to cash out an Crypto airdrops?
How to cash out an airdrop? So many of these airdrops are tokens that are still early in development. So it might be challenging for them to be on an exchange. A lot of them might be on some swapping platform like uniswap. You can trade your tokens there but remember you would be responsible for the Ethereum fees. You might not want to pay that fee, which can be very high. It might not even be worth it to make that change.
If it's on another platform that has lower costs go for it. Many of these coins don't do very well in the long run. You might want to consider selling off 50% immediately and letting the other 50% ride, whatever ratio works well for you. Sometimes a coin can do very well, sometimes not—most of the time. If you look at the names of these projects and what they do, they use a lot of buzzwords that repeat popular products. And some of them are just exact clones of existing products. So they might not be precious in the future. But no one can tell for sure, so good luck.
FAQ
Is crypto airdrops are real?

Crypto Airdrops are real and sweet because they're free cryptocurrency given into your Crypto wallet.
See More:
The Best And New BNB Or Binance Coin Cloud Mining Websites
Top 10 Cryptocurrency in May 2022
How To Mine Avalanche or AVAX Crypto Coin On Any Computer