Introduction
Many people seek ways to make extra money online in today's digital age. One popular method is through reward or get-paid-to websites that offer various tasks in exchange for credits or cash. AyuWage is a website that promises to pay users for completing simple online tasks like browsing websites, taking surveys, and more. But with so many similar websites, it can be hard to know if AyuWage is worth your time and effort. In this review, we will look at Ayu Wage's earning options, payout methods, user feedback, and more to help you decide if this site fits you well.
What is AyuWage?
AyuWage.com is an online platform that allows individuals to earn money from the comfort of their homes by completing small tasks and engaging in basic internet activities. Unlike other websites that take advantage of their members, AyuWage.com aims to provide a legitimate and reliable income source.
One of the key principles of AyuWage.com is that everyone should have equal access to earning opportunities. Therefore, they allow new members to join the platform completely free of charge. They firmly reject the notion that individuals should pay upfront to start making money through their platform.
How to make money from Ayuwage?
Let's look at what it offers when you join.
1. Make money by browsing websites from Ayuwage.
AyuWage primarily offers a browsing feature where users can earn money by visiting websites. Users are typically required to spend a certain amount of time on the site and sometimes need to interact with ads or perform similar actions.

While this concept resembles pay-to-click (PTC) sites where users earn a few cents for viewing a website for a specified duration, Ayu Wage differs in the tasks involved, making it a bit more complex than traditional PTC sites.
The platform offers various categories with similar options, as depicted in the image. However, the user's experience reveals a lack of available options across the "browse," "view," "regular," and "explore" categories. The site suggests checking back later for more opportunities, but the user has not found any available tasks.
Furthermore, even if tasks were available, the user expresses reluctance to utilize them due to the extensive requirements for each task relative to the low rewards offered. Each category has different requirements, and compliance can result in warnings and potential loss of earnings.
Regarding compensation, the tasks displayed in the image indicate that they offer between 2 and 120 credits, roughly equating to $0.001 to $0.06. These rewards are not uncommon for a PTC-like site, but the user finds them insufficient, especially considering the effort required.
Additionally, the user highlights that the available opportunities on Ayu Wage are extremely limited, at least from their location, further diminishing the potential for earning income through the platform.
Based on the user's experience and assessment, they need help finding AyuWage's browsing feature worthwhile due to the low rewards, task complexity, limited opportunities, and the risk of losing earnings.
2. Make money by taking paid surveys from Ayuwage.
In addition to the browsing feature, AyuWage also includes a survey section. However, upon exploring this section, the user expresses disappointment with the options available.

The user finds it misleading to label it as a survey section because most options listed here have nothing to do with surveys. They provide an example where a reward can be obtained by depositing $10 and receiving a reward of $3.1350. This offer does not represent a typically paid survey site; the user considers it unfavorable.
Most of the options in the survey section fall into this category, offering deals that the user finds unappealing and offering relatively low rewards compared to other offer walls they have encountered. While offer walls can occasionally provide decent earnings, the user needed help finding the offers on AyuWage to be particularly attractive.
The user acknowledges that they encountered several survey options offered through Speak Up Surveys. However, they note that these surveys also provide lower rewards than other survey sites offering the same surveys.
Overall, based on the user's experience, the survey section on Ayu Wage needs to meet their expectations as a paid survey site. The options available often deviate from actual surveys, and the rewards offered are lower compared to other platforms specializing in surveys.
AyuWage features a "share" section where users can earn money by sharing content on social media platforms. Advertisers post links and accompanying text that they want users to share, and users are compensated for completing this task.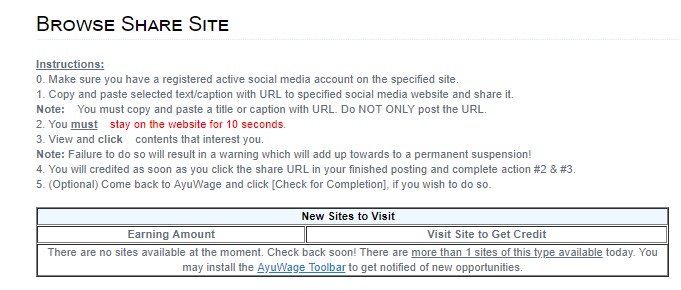 While the user did not find any available options in the "share" section, they hesitated to utilize this feature even if it were accessible. The main reason is that by sharing links and text from advertisers on their social media channels, they would have to endorse content they may not be interested in sharing with their friends. They anticipate that many advertisers using this method would promote content that might need to align with their preferences.
Moreover, regularly sharing such content risks being perceived as spam by friends and acquaintances, potentially leading to people unfriending or unfollowing the user. Given these factors, the user needs to consider the potential rewards, ranging from $0.02 to $0.04, to be worth the drawbacks of sharing content from advertisers on their social media channels.
Overall, the user finds the "share" option on AyuWage unappealing due to its potential consequences on their social connections and the relatively low monetary compensation offered for this task.
4. Make money by Refer to other people from Ayuwage.
AyuWage offers an earning opportunity by inviting other people to join the platform. Users can find a unique referral link in their account settings and earn a 10% commission based on the earnings of the people they invite.

While this may sound appealing, it is essential to consider whether AyuWage is truly something you would recommend to others. If you promote it without genuinely believing in its value, the people you invite may become annoyed with you for suggesting a platform that does not meet their expectations.
Alternatively, AyuWage provides the option to rent referrals, which means you don't have to invite individuals yourself personally. Renting a referral costs 100 credits per week. However, it is crucial to note that AyuWage does not guarantee earnings from rented referrals.
The referrals you rent are individuals who have joined AyuWage without a referrer. When renting, you will be randomly assigned referrals. These referrals may have joined but never used the site, resulting in zero earnings and a loss of money.
Therefore, it is essential to know that renting referrals carries the risk of losing money rather than making money.
How do you get paid from Ayuwage?
The withdrawal options and payment reliability are crucial when evaluating an online reward site like AyuWage.
On AyuWage, users accumulate credits as they engage in various activities, with 1 credit equivalent to $0.0005. These credits can be withdrawn or used for renting referrals or purchasing ads within the platform. The withdrawal method available is PayPal, and users can request a payout once they have earned $5. While the threshold is relatively low, it may still require patience due to the limited earning opportunities on AyuWage.
However, it is worth noting that numerous reputable surveys and get-paid-to sites offer PayPal as a reward option. Considering the availability of more attractive alternatives, the user suggests exploring other platforms rather than solely relying on AyuWage for PayPal rewards.
Furthermore, since the user's initial review, they have received messages from multiple individuals who claim that AyuWage did not pay them. Although this feedback raises concerns, it is difficult to determine whether these experiences indicate a consistent issue with payments or if they are isolated incidents.
The user has yet to attempt to cash out from AyuWage and is reluctant to do so, as they believe the site does not offer comparable benefits to other platforms.
How to join AyuWage?
Visit the official AyuWage website (ayuwage.com) using a web browser.
Look for the registration or sign-up option on the website's homepage or navigation menu.
Click on the registration/sign-up option to begin the registration process.
Fill out the registration form with accurate information, including your name, email address, chosen username, and password.
Review the terms of service, privacy policy, and any other relevant agreements. If you agree to the terms, indicate your consent by checking the checkbox or clicking the appropriate button.
If required, verify your email address by checking your inbox for a verification message from AyuWage. Open the email and follow the instructions, including clicking a verification link.
Return to the AyuWage website and log in to your account using your chosen username and password.
Explore the various earning options available on AyuWage, such as browsing websites, participating in surveys, sharing content, or referring others.
Follow the provided instructions for each earning method and start accumulating credits.
Familiarize yourself with AyuWage's guidelines, earning rules, and payout requirements to optimize your experience on the platform.
FAQs
Is AyuWage free to join?

Yes, joining AyuWage is entirely free. No cost is associated with creating an account and accessing the available earning opportunities.

How do I earn money on AyuWage?

You can earn money on AyuWage by completing tasks such as browsing websites, taking surveys, sharing content on social media, and referring others to the platform. Each task has its own set of instructions and requirements.

How much can I earn on AyuWage?

The earning potential on AyuWage varies depending on the tasks you complete and the time you invest. The amount you earn per task can range from a fraction of a cent to a few cents. It is important to note that the rewards may be insignificant, and earning significant amounts may require consistent participation.

Can I use AyuWage on my mobile device?

AyuWage is accessible on mobile devices, allowing you to complete tasks and earn money on the go. You can use a web browser on your mobile device to access the AyuWage website.

Is AyuWage available worldwide?

AyuWage is available to users from various countries; however, tasks and earning opportunities may vary based on location. Some tasks may be limited to specific regions or countries.
See More:
Earn By Playing Exciting 3D Match Land Android Game
Lucky Dessert Pachinko – Earn by Playing Arcade-Style Game in 2023
BuzzCash Review – Earn by Playing Multiple Mobile Apps & Easy Games In 2023
Jolly Steps App – Earn by Walking & Accumulating Steps in 2023