Introduction
Your Gateway to Earn Free Crypto! Step into the world of digital currencies with Quicrypto, an innovative Get-Paid-To (GPT) app that offers exciting opportunities to earn cryptocurrency effortlessly. Whether you enjoy playing mobile games, participating in surveys, or watching video ads, Quicrypto rewards your time and effort with valuable points that can be converted into Bitcoin or LiteCoin. Join the global community of crypto enthusiasts today and embark on a rewarding journey to accumulate digital assets, all within the easy-to-use and secure platform of Quicrypto. Are you ready to turn your spare time into valuable crypto rewards? Let's get started!
What is Quicrypto?
Quicrypto is an innovative mobile application that allows users to earn cryptocurrency through engaging gameplay and other rewarding activities. As a legitimate Get-Paid-To (GPT) app, Qui crypto allows users to accumulate free crypto by participating in mobile gaming and exploring additional earning options.
How to make money from Quicrypto?
1. Make money through Paid Offers from Quicrypto.
Quicrypto offers a variety of earning opportunities, including working on paid offers, which can be accessed immediately upon logging into the app.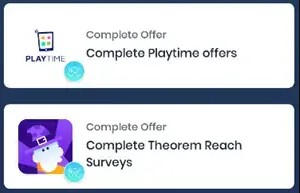 One of the primary ways to earn from Qui crypto is by playing mobile games. Many offers require downloading and playing games, while others involve completing surveys offering higher payout rates.
It's important to note that only some surveys you attempt will qualify you for rewards. The qualifying process ensures that you belong to the target group for each survey. If you don't qualify for a particular survey, it is normal and shouldn't be a cause for concern, as it is a standard practice in the paid survey industry.
When choosing an offer to work on, carefully read and understand the instructions. Completing all the required steps accurately is crucial, as you need more than one step to earn the reward associated with the offer.
After completing an offer, you will be rewarded with specific points. However, it's worth noting that Quicrypto may have fewer offers than more popular GPT apps. Consequently, it may take some time to accumulate enough points to redeem rewards.
2. Make money by Watching Video Ads from Quicrypto.
Quicrypto offers another earning opportunity through watching video ads. Upon logging into the app, you will find a dedicated section where you can watch ads to earn points.

To earn points, tap on the designated button to start watching the ads. The duration of most ads is approximately 30 seconds, and it is necessary to watch the entire ad until the close button appears. Once the close button is visible, press it to complete the process. After an ad's completion, you will be rewarded with a specific number of points.
This method provides a straightforward and accessible way to accumulate points within the Quicrypto app. By regularly watching video ads, users can steadily increase their point balance and work towards redeeming rewards.
3. Make money in Referral Program from Quicrypto.
Quicrypto provides an additional opportunity to earn more points through its referral program. You need to join the program and obtain your unique referral link to participate. Share this link with the individuals you wish to invite.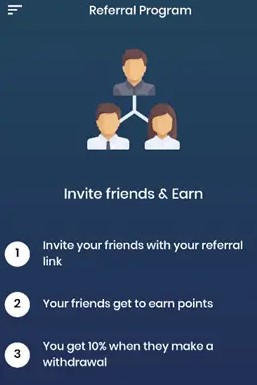 When someone clicks on your referral link and installs the app, they must sign up as a member. Once they have completed the sign-up process, they become your referral.
To earn commissions, your referral must initiate a withdrawal from the app. When they make their first withdrawal, you will receive a 10% commission based on their withdrawal amount.
The referral program offers a potential avenue for passive earning. However, ensuring that the individuals you invite are genuinely interested in earning from the app is important. You will only earn commissions through this opportunity with their active participation.
By strategically inviting motivated individuals to engage with the app and withdraw, you can maximize your earning potential through the referral program.
How do you get paid from Quicrypto?
Once you have accumulated sufficient points through Quicrypto's earning opportunities, you can convert those points into Bitcoin or LiteCoin (as shown in the provided photo). The minimum requirement for conversion is typically set at 500,000 points.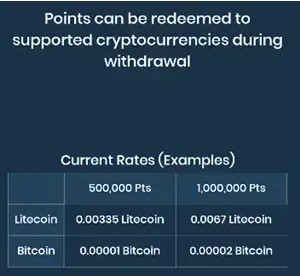 It's important to note that the monetary value of 500,000 points will fluctuate over time due to the dynamic nature of cryptocurrency prices. As the value of cryptocurrencies changes, so does the equivalent value of the points you have earned.
To withdraw your earnings from Quicrypto, you will need a crypto wallet. This wallet will be the destination for transferring your converted Bitcoin or LiteCoin. Quicrypto's payment system is designed to be straightforward: once you have earned enough points, you can convert them to cryptocurrency and withdraw them to your crypto wallet.
It's crucial to stay updated on the current value of the points and the prevailing exchange rates to gauge the worth of your earnings effectively. Additionally, ensuring a secure and reliable crypto wallet will help facilitate a smooth withdrawal process.
How to join Quicrypto?
If cryptocurrency is permitted in the jurisdiction, Quicrypto is a global app available in most countries.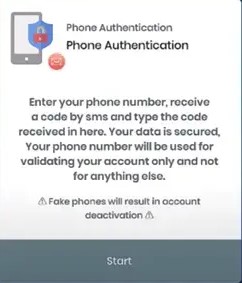 You need to download and install the Quicrypto app to initiate the registration process. As mentioned, the app will guide you through a tutorial upon launching. During this tutorial, there is a step where you will be prompted to verify your phone number.
Phone number verification is a necessary part of the registration process for Quicrypto. By providing your mobile number, the app will send you a confirmation code to validate and register your account.
It is important to note that this verification step is mandatory, and there are no workarounds. If you are comfortable sharing your mobile number with applications, you may need something other than Quicrypto.
Once you have completed the phone number verification, you can proceed with the remaining steps of the tutorial. Upon completion, you will gain access to the member dashboard within the Quicrypto app. From there, you can begin exploring and utilizing the app's various earning opportunities.
FAQs
Is Quicrypto available worldwide?

Yes, Quicrypto is accessible to users in most countries as long as cryptocurrency usage is permitted in their respective regions.

What are the earning opportunities on Quicrypto?

Users can earn points by playing mobile games, participating in surveys, and watching video ads. Additionally, a referral program allows you to earn commissions by inviting others to join the app.

How do I convert points to cryptocurrency?

Once you have accumulated enough points, typically 500,000, you can convert them into Bitcoin or LiteCoin within the app. The monetary value of points may vary due to cryptocurrency price fluctuations.

Is Quicrypto a legitimate app?

Yes, Quicrypto is a legitimate app that allows users to earn real cryptocurrency rewards. However, as with any cryptocurrency platform, users should be cautious and aware of potential risks.
See More:
Master of Coin – Earn by Playing 100% Easy Android game
Kick Football 2048 3D – Make Easy Money By Playing Game
Animals Pop Fun Is An Enjoyable Elimination Game (Earn in 2023)