Introduction
Can you get free cash and gift cards at CreationsRewards? Is this a legit site you can use to make extra income online? Today, I'm going to tell you all the opportunities that will be available to you on CreationsRewards. And let you decide whether this is something that will be suitable for you or not.
Is CreationsRewards legit?
So the first thing about CreationsRewards is that they're a GPT site. That's been around since early 2000. so that's a pretty good sign that they're legit. Otherwise, they wouldn't have lasted all these years.
CreationsRewards Payment method?
Another thing you're curious to know when joining a site like this is how do you get paid, what payment options they offer. So, at CreationsRewards you can get paid with PayPal and a couple of gift cards, including Amazon gift cards.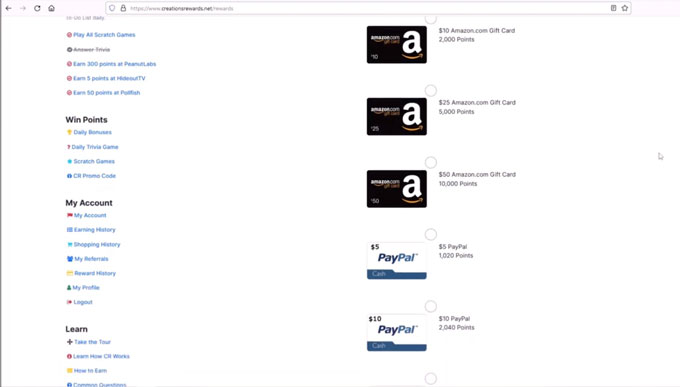 The minimum payment threshold depends on your method, so for PayPal, it's a thousand and twenty points worth five dollars. But if you get Amazon gift cards, it's 20 points cheaper. But I prefer PayPal. so that's what I'm going with PayPal. Every time I prefer cash through a gift card, I mean PayPal. So, five dollars is pretty low, and it shouldn't take too long to reach. So I think the minimum payment thresholds are pretty good.
CreationsRewards Sign up and get a $5 bonus.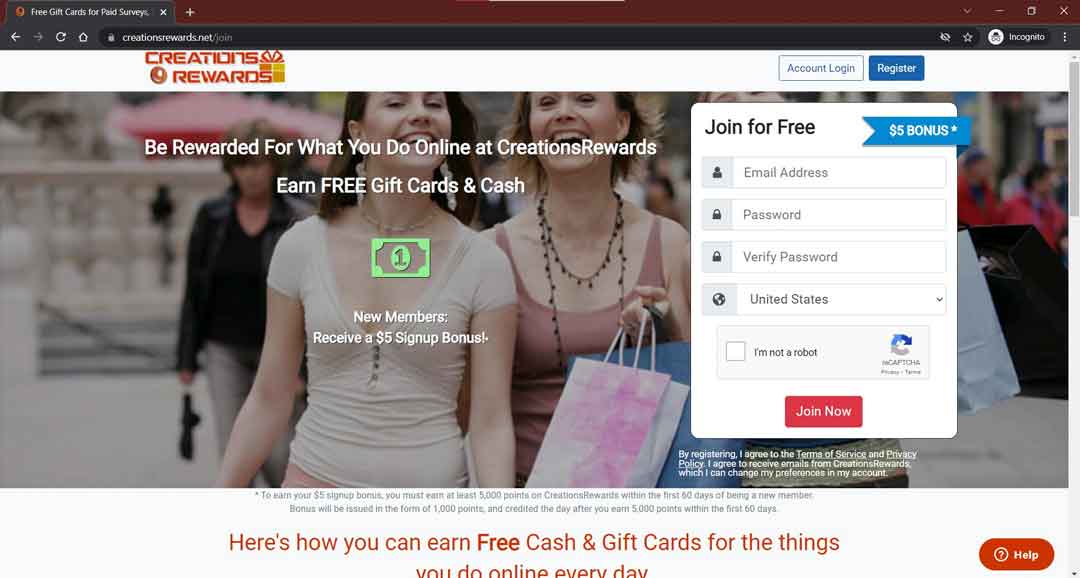 So if you decided to start with this website and want to sign up or register. Please put your email address, select your country, enter your password, confirm your password, check "I'm not a robot," and click on the register button. And on this site, as soon as you sign up, you get a five-dollar bonus.
How to earn money with CreationsRewards.
CreationsRewards offers you several opportunities to make money online. like taking surveys, offering walls, watching videos, answering a question, referring people, installing apps and games, and many more.
Earn Money by taking surveys at CreationsRewards.
So, when you're ready to earn some money, you can start either on the top menu here or on the sidebar.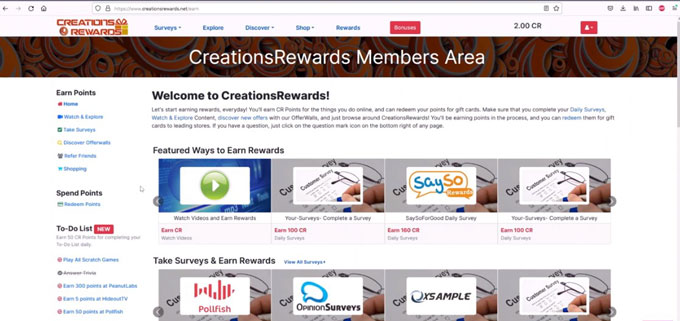 The leading way to earn is by taking surveys doing offers, and you can also earn by watching videos. I'll go over everything. So, on the surveys page, you can see a few different survey routers.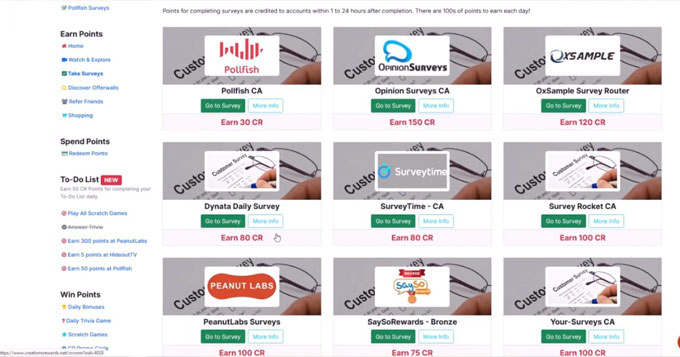 You can see how many points they pay. For reference, every 200 points are worth about one dollar. So, it seems like many of these surveys pay, you know, under a dollar. So, you know, it seems low-paying to be honest. I noticed that there's a survey time router on here. And many of you may not be aware of this, but survey time pays one dollar. Like a flat rate of one dollar for every survey you complete. So, if you hit over to their website, you can see this, they pay a flat rate of one dollar for every survey. But here at CreationsRewards, you're only getting 80 points, which translates to 40 cents. So I'm guessing the other 60 cents is going to creations rewards. Who is acting as the middle man? I recommend that you join survey time directly. So you can earn the total one dollar, the total amount, and just cut out the middleman.
Earn money by offering walls at CreationsRewards.
So the following way to earn offers. If you didn't know, offers to mean where they want you to sign up for a website free trial; sometimes, you have to install an app or something along those lines. So you can see a few different offer routers here.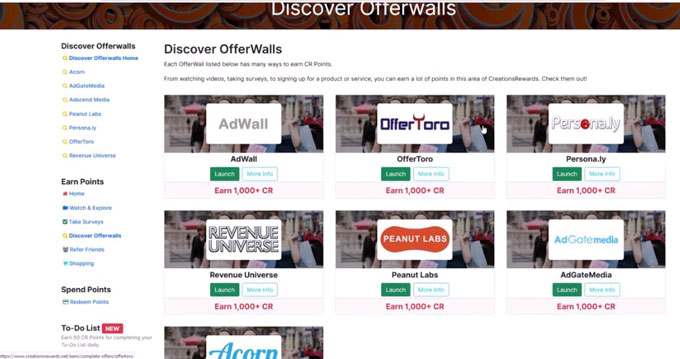 Clicking on each of them will give you a different list of offers. So my favourite offer router is offered toro. So let's check out that one, so you can see the number of points they offer pays and the specific requirements you need to fulfill to earn the points. Some of these are pretty easy to do. You have to install and open the app to earn points. It'll probably just take you, as you know, like two minutes or three minutes. So be careful that some offers require that you make some purchase or spend money to make a deposit or something like that. I recommend that you stick with the free offers.
Earn money by watching videos at CreationsRewards.
Another way to earn is by watching videos, but it's a low-paying task. So you can watch videos here which come with advertisements.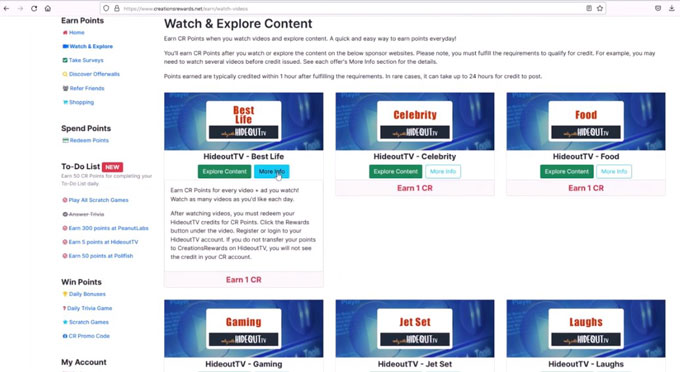 For every couple of ads you watch, you only earn one point. which is a fraction of a penny. So it's a low-paying task but super easy to do. So the good thing is that you don't need to be actively watching, what I mean is you can turn it on and let the videos run by themselves. so, you know, you can just let them let the videos run, and you can do other things.
Answering a question and earning money at CreationsRewards.
So there are a couple of other sections on the website where you can earn a few easy points. There, for example, in the trivia section.

You have to answer a question correctly to earn one point. You can do this once a day. So if you get it wrong, if you get you to know answered the question wrong, you earn nothing. But nobody's going to care if you google the answer. So you know you can get it right every time and earn one point.
Earn money by referring people to CreationsRewards.
You can also make money on this site is by referring people to the site. You can post your referral link on social media like Facebook, Twitter, Pinterest, etc. Hopefully, some people join under your referral link, and you get 10 percent of whatever they earn.
Earn money by installing apps and games at CreationsRewards.
There are other ways to earn, like the scratch games, so for these, it only works if you install their app to your phone. It's free, and it's a fun way to earn a couple of points here.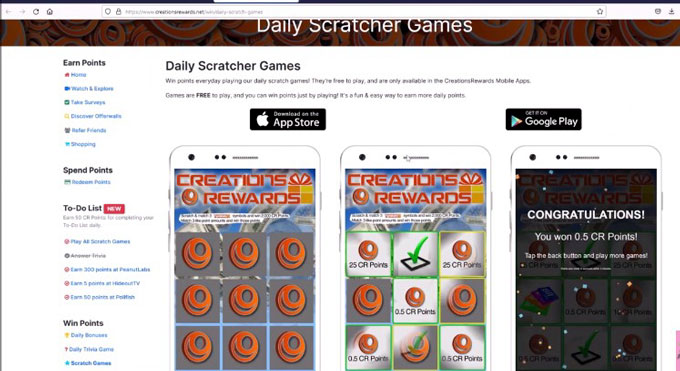 There is not a profound way to earn but to have some fun, and you can also earn some bonus points by completing a checklist of tasks. You can do this every day. So you can do things like you know these things on this checklist to earn if you complete the tasks, you can earn 50 points which are like 25 cents. So if you complete the checklist every day, that adds up to like seven dollars and fifty cents a month, which is not bad.
CreationsRewards Pros & Cone.
Pros
Free to join.
Offers a $5 sign-up bonus.
Offers multiple ways to earn.
Low payout thresholds.
Multiple payment methods.
Ten percent referring bonus.
Cons
Low earning potential.
Available only few countries.
Poor customer service.
FAQ
How much are points worth on CreationsRewards?

CreationsRewards 1000 points worth is $1.

CreationsRewards has been helping people get rewarded online since what year?

CreationsRewards has been helping people get rewarded online since 2000.

How much do you earn when you refer a friend or family member to CreationsRewards?

You can earn 10% of their earned points every month! Refer friends & family to CreationsRewards.
See More:
14 Best Platform To Get Paid To Watch Videos Online in 2022
How to Make Money from Google Ads – As A AdWords Premier Partner
How to Make Money from NFT | Trending Money Making Methods in 2022
Paid Video Viewing is it Real – Earn Money by Watching Videos in 2022