Introduction
Today, I would like to talk about one of the most underrated GPT(Get Paid To) sites on the internet–Gain.gg
If you are looking for a site that allows you to earn regularly for free, one of the best options is to join a Get-Paid-To (GPT) site. That's because GPT sites usually have many available offers you can do regularly.
This considerable reward site pays you to complete offers, take surveys, download apps, watch videos, invite friends, and more.
What Is Gain.gg ?
Gain.gg is a GPT (Get Paid To) site that pays users to do short tasks and offers like taking surveys, watching videos, cashback on shopping, and more.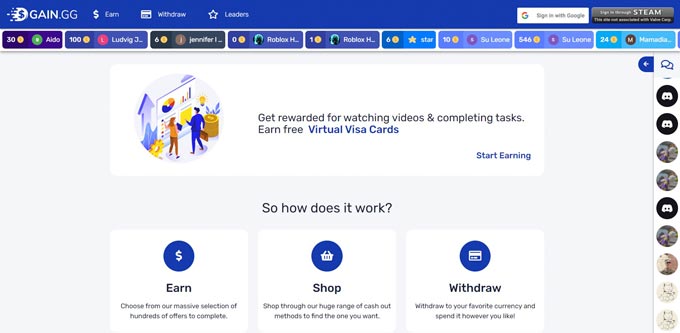 The site is relatively new at the time of writing, having launched in 2018, although they haven't made its ownership information public. The more tasks you complete, the more you're earning chances, and so do all other tasks.
How To Make Money Online Gain.gg
There are multiple ways you can make money with Gain.gg:
Sign up Bonus
The quickest and easiest way to earn money is with Gain.GG is to sign up. When you first join Gain, you can get 100 coins as a signup bonus.Gain.gg through a referral link. You can only gain this bonus by joining the affiliate link.
Online Surveys
Paid SurveySurvey is another method to make money in Gain.gg, but before you can unlock Surveys, you must reach 3000 points first.
Offerwall
You can select to complete multiple tasks through the offer wall and make some money. In addition, you can complete surveys and download the app to earn some extra money.
Referral Program
One of the best ways to earn more money with any GPT site is through referrals, and Gain.gg is no different.
With Gain.gg You can expect to earn 5% of all offers completed by your referrals (except video offers).
So I'd recommend bringing some dollars under your belt first, then once you've cashed out and got the proof, share the link with your friends and bring them to join so everyone earns.
Make money by Watching Videos
If you are annoyed with all the video ads you encounter, well, in this part of the website, you will want more.
That's because you will make money by watching videos. Some of them will be advertisements, of course, but from time to time, you will also discover videos that will be informative and entertaining. So, doing this earning opportunity won't be boring.
How it works is that you will receive eight coins for every three videos you watch. You can continue watching videos as long as there are videos available.
A word of advice, though, as you won't earn many points for watching videos, I recommend you only do this if there aren't any other offers you are interested in doing. That way, you can maximize your time correctly.
How Do You Get Paid With Gain.gg?
What is fantastic about Gain.gg is that you can withdraw a minimum of $0.01 via PayPal and different cryptocurrencies.
Most GPT sites have a minimum cashout threshold of $5 or more!
However, you must make at least 200 coins via the offer walls before withdrawing for the first time.
I think no other GPT lets you cash out such a small amount. It means you can withdraw right after completing any offer or SurveySurvey.
How much money can you make?
With a GPT site, the amount of money you can earn will mostly depend on how engaged you are on the site. The more offers you complete, the more rewards you will make.
GPT sites don't always pay that much, in my experience, especially if the offers come from other sites–but that depends on the specific sites.
But on Gain.gg the rewards you will earn will not be among the highest. They offer a way for you to increase your income. You will receive bonus points if you are among the daily leaders of issues earned.
If you are the highest point maker for the day, you will receive 5,000 points. That's equal to $5.
It isn't much, but it is an excellent addition to the money you can earn. It can also serve as an admirable goal to reach. It is a way of motivating members to be more active on the site.
But overall, don't expect to earn much from this site, since it doesn't pay well. But you can make a decent amount of side money.
FAQ
Do I need to spend money on Gain.gg?

You don't. Coins can get by completing offers, and most offers do not require purchases.

What are coins?

Coins are the virtual currency used to represent your ratio on the site. You can swap these coins for different rewards shown on our Withdrawal page.
Every 1,000 coins are worth USD 1.00.

How do I get started Gain.gg ?

To get started, sign up using your preferred login method. Now it offers Google and Steam sign-in.
Once you're logged in, a guide to the Earn page–where you will see our content of offer walls.

How do I earn coins?

You can make coins by completing offers on our Earn page.
Click on one of the offer walls to see a list of offers you can complete. Each offer will show a short description and the number of coins awarded for completing the task.
See More:
29 Best Platform To Get Paid To Watch Videos Online in 2022
Cointiply Bitcoin Rewards | Earn Free Bitcoin and money by watching a video.
Earnhoney com app reviews | 4 Easy Ways to Make Money with EarnHoney
Freeward net Review | 7 Easy Ways To Earn Coins and Money