Introduction
GPTHub is a website under the "get-paid-to" category, offering various opportunities to earn additional income through paid surveys, quizzes, games, paid offers, online shopping, referral programs, and more.
What is GPTHub?
GPTHub is a website that allows users to earn money through various activities such as completing paid offers, quizzes, surveys, playing games, referring others, online shopping, and more. It is a get-paid-to (GPT) platform that provides different opportunities for users to make extra money.
How to register at GPTHub?
To register for GPT Hub, Go to the GPTHub website (https://gpthub.com/). Click on the "Register" button in the top right corner of the homepage.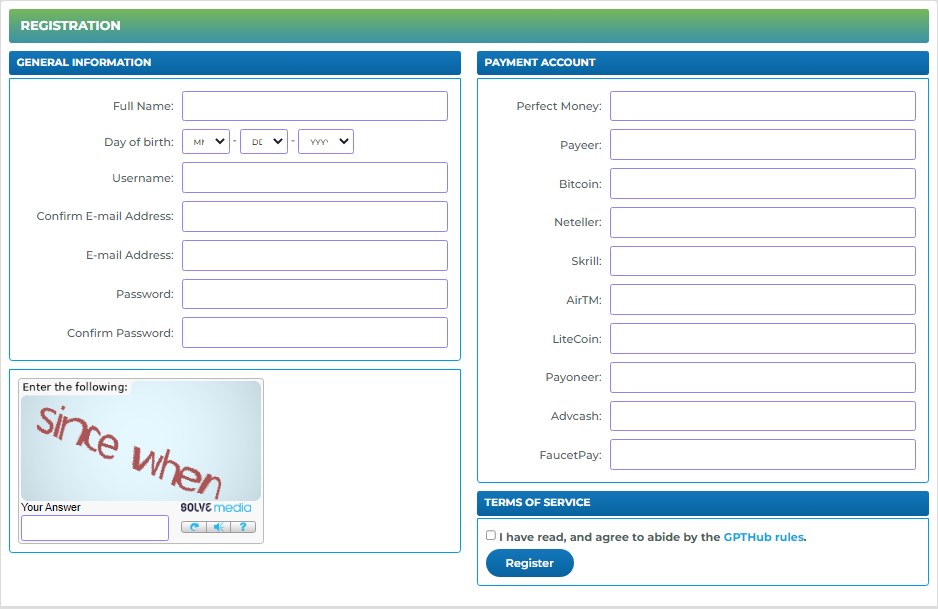 Fill out the registration form with your basic information, email address and username. Choose a strong password and confirm it. Select the payment method you want to use and enter the corresponding address. Solve the captcha to verify that you are not a robot. Click on the "Register" button to complete the registration process. Once registered, you can log in to your account and start earning.
It is important to note that you must be at least 18 years old to register for GPTHub. Also, understand their terms and conditions before registering to ensure everything is understood.
How To Make Money From GPTHub?
1. Make money with Paid offers From GPTHub.
Paid offers are a great way to earn rewards on GPTHub. Offerwalls provide short tasks such as downloading apps, signing up for websites, or completing surveys.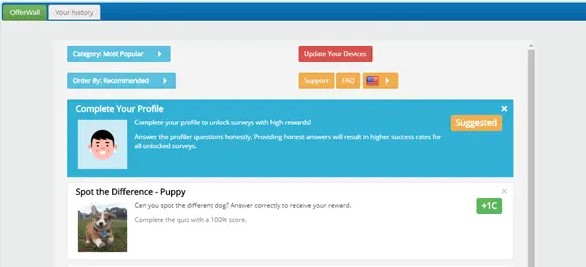 Once you complete the task, you will earn rewards that can be redeemed for cash or gift cards. Read the task requirements carefully to ensure you meet the criteria to receive rewards.
2. Make money with paid ads From GPTHub.
Watching advertisements and solving captchas is another way to earn a small reward on GPTHub.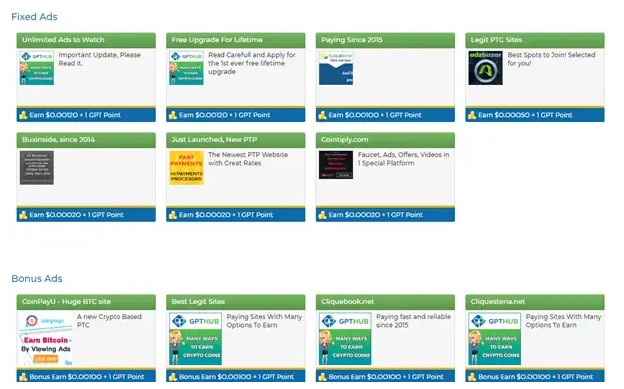 Advertisers pay to display their ads on the site, and a portion of the payment goes to users who view and interact with the ad. The amount earned is generally small but can add up over time.
3. Make money through Paid Surveys From GPTHub.
GPTHub provides access to surveys from other GPT and survey sites, allowing you to earn rewards for completing surveys.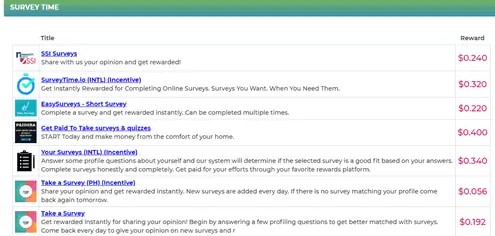 The number of rewards you earn will vary depending on the survey and the site providing it. Some surveys may require you to meet specific criteria like age, gender, or location.
4. Make money through Quizzes From GPTHub.
Answering quizzes and getting a passing grade is another way to earn rewards on GPTHub.

Quizzes can range from general knowledge to more specific topics. Read the instructions and requirements carefully to ensure you meet the criteria to receive rewards.
5. Make money with the Bonus game From GPTHub.
Playing the bonus game every five minutes provides a chance to win prizes. The game is usually simple, such as clicking on a certain item or solving a puzzle. The prizes can range from small cash or credits to larger rewards.
6. Make money by Grid game From GPTHub.
The grid game is another way to earn credits and a small amount of money.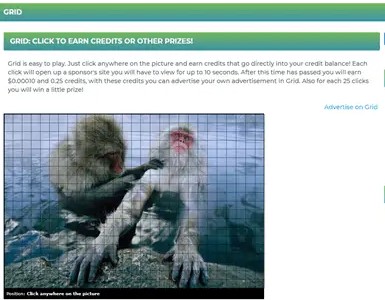 To play, you select a grid of squares, and each square has a different reward amount. The goal is to select the squares with the highest reward amounts. The credits earned from playing the grid game can be used to set up your ads on the site.
7. Make money through Paid-to-sign-up offers From GPTHub.
Signing up for different websites can earn you additional rewards. These offers typically require creating an account on a different site and providing proof of completion to receive rewards. Read the requirements carefully and only sign up for sites you are interested in.
Overall, GPTHub provides many ways to earn rewards. Remember that each method's rewards may vary, and some methods may require more time and effort than others.
8. Make money by Flipping the coin From GPTHub.
Flip-the-coin is a simple betting game where you can try your luck and double your earnings. The game is based on a coin toss, where you bet a certain amount of your earnings, and if the coin lands on the side you chose, you win the same amount you bet. You lose your bet amount if the coin lands on the opposite side.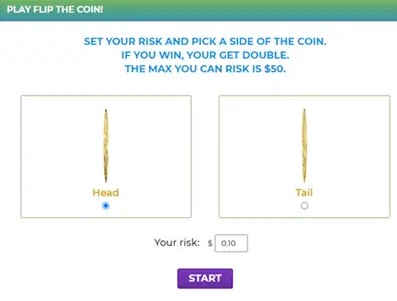 It is important to note that this is a game of chance, so there is no guaranteed win. You should only bet small amounts of your earnings and don't risk all of your savings in one go.
To play Flip-the-coin on GPTHub:
Navigate to the game section of the site and select the Flip-the-coin option.
Choose the number of earnings you want to bet and select the side of the coin you think it will land on.
Click on the 'Flip' button and wait for the result.
If you win the bet, your earnings will be doubled and added to your account balance. Your bet amount will be deducted from your account balance if you lose.
9. Make money by using the GPTHub Referral Program
Additionally, GPTHub offers a referral program that you can use to earn additional rewards. You can invite other people to join the site, and you will earn a reward and a commission for each time they earn by viewing ads and completing offers, tasks, and surveys. You can also earn a commission when they make purchases on the site. When you invite someone through your invite code/link/banner, you will receive 15 to 50 GPT points, depending on your membership type.
You can also rent referrals to boost your earnings. Every five referrals will cost $0.7; you can use your earnings to pay for these referrals. However, having a solid plan in place is important to earn back what you've spent on referrals. Otherwise, you may end up losing money instead of earning.
How do you get paid From GPTHub?
You can request a payout once you have earned a minimum of $2 in your account balance. GPTHub offers various payment methods, including PayPal, Bitcoin, Skrill, Payeer, and more. However, before you can withdraw your earnings, you need to earn a certain number of GPT points, which will depend on your membership level. Once you've earned the required points, you can request a payout and receive your earnings through your chosen payment method.
FAQs
Is GPTHub legit?

Yes, GPTHub is a legitimate site. They have paid out rewards to their members and have been around for several years.

How much can I earn with GPTHub?

Your earnings with GPTHub will depend on how many activities you complete and how much time you spend on the site. You won't earn a lot, but it can be a good way to earn extra cash in your free time.

Is it safe to use GPTHub?

GPTHub is generally considered safe, but as with any online site, it's important to take precautions. Be careful with personal information, and avoid clicking suspicious links or ads.

How long does it take to receive my payout?

Payout processing time can vary depending on your chosen payment method, but it usually takes a few days to a week to receive your earnings.
See More:
Brain Battle – Make Money By Playing The Game With 2 Easy Tasks
Jp4ever – Make Money By Uploading & Sharing Files with 10 Easy Tasks
StepN App – 2 Best Ways To Make Money Online