Introduction
If you want to make money online and looking for ways to make money with no money investment. The Get-Paid-to (GPT) will be the best way for you. OneDayRewards is an earning opportunity that pays you for time and effort to complete online tasks. OneDayRewards offers multiple opportunities to make money online, like completing surveys, clicking ads, completing offers, watching videos, etc.
What is OneDayRewards?
OneDayRewards is a GPT and survey site to make money through working from home. OneDayRewards started in 2016. Do simple work like completing offers and surveys. This website has over 20 thousand members.
How to Get Started OneDayRewards?
First, you have to register on this platform. You do not require special skills or qualifications to join One-Day Rewards. So, visit the site and fill up the registration form.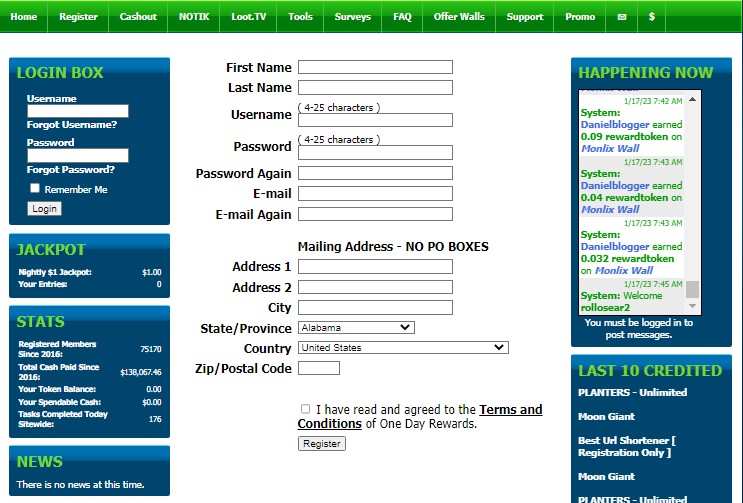 You will be asked for your username, name, email, password, current location, and other details. Once you serve this in, submit it. You will receive a verification email to confirm your email address. Then, once you are confirmed, you can complete tasks and get paid.
How to make money on One Day Rewards?
After registering for OneDayRewards, you can do different tasks and earn money. This site offers jobs like paid surveys, click advertisements, offer walls, free contests, watch videos, and jackpot contests.
1. Make money by Paid Surveys from OneDayRewards.
The best and recommended way to earn from this site is by completing paid surveys, like most other GPT sites. They have many survey opportunities offered by various third-party panels. Comparing the top-paid survey sites providing the same survey might be good.
2. Make money by Paid To Click from OneDayRewards.
OneDayRewards also lets you earn bits of a cent by clicking on ads, also known as PTC. It is easy because you need to click the ad and let it run for 10 seconds. It will reach you at $0.001 per ad click.
3. Make money by Offer walls from OneDayRewards.
OneDayRewards has quite a large selection with paid offers on offer walls. You can discover this section in the main menu. You can find quite a lot of offer walls here.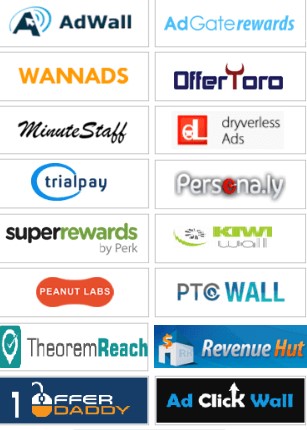 Each of the offer walls will give you different offers. It can, for example, take free trials, sign up for newsletters, download an app, buy a certain service, etc.
Sometimes you can see some fantastic offers with excellent rewards on the offer walls. Just make sure to always read the requirements carefully, so you know what you are saying yes to.
4. Make money through Free contests from OneDayRewards.
You can see a couple of free contests you will automatically take part in if you are active on this. You can find these in the same place as where you find the PTC section.
There are two different contests. One is an offer contest, where there is a top 8 list of the people that have earned the most on paid offers in 2 weeks. The top 8 get an extra reward.
The first prize is $20. It is, of course, a nice extra reward if you win, but you have to be active to get a prize.
The second contest you can find is a contest of people who have invited the most other people to join the platform. Here you can win up to $15 if you know enough people you can invite.
5. Make money by Jackpot from OneDayRewards.
Want even more of a bonus for your time? Earn free jackpot entries for completing offers as you normally would. You can also purchase jackpot entries if you're feeling lucky.
6. Make money by Watch videos from OneDayRewards.
Getting paid to watch small videos might sound like a great way to make money, and One Day Rewards also offers this way of earning.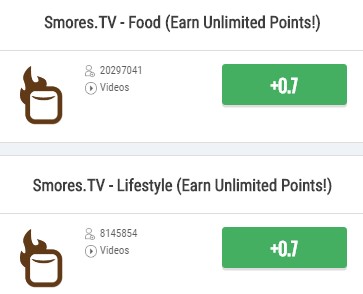 It has quite a lot of videos you can watch on different topics. You can, in theory, watch as many videos as you want to. But you have to watch 3 videos + ads to get credited. You will then get 0.7 points for every 3 videos + ads you see, and can do this as much as you want.
7. Make money in Referral Program from OneDayRewards.
If you want to make passive income, look for programs that offer a referral system. It allows you to earn a commission from referrals doing nothing. For example, OneDayRewards also have a referral program that enables you to earn 10% of your level 1 referral. In addition, you can also earn 5% of what your level 2 referrals earn.
OneDayRewards Payment Method.
OneDayRewards rewards its members with tokens that they can convert into cash. For example, one token equals $0.01, so if you finish a task that pays 100 tokens, you will make $1.00. Under the Tools tab on the dashboard, you can convert your tokens to cash anytime or choose to accumulate them.
You are paid through PayPal, Bitcoins, and Skrill. To withdraw your balance through PayPal or Skrill, you must have at least $0.10 in your account, and your payout threshold for Bitcoin is $0.50.
FAQs
Who Can Join?

OneDayRewards accept members worldwide. That means everyone can earn by spending time and effort on this site, whether by completing offers or referring members.

How much is 1 token worth?

1 token is equal to $0.01 or one cent

When are payments processed?

Payments are sent three times per day.

When did the site launch?

OneDayRewards launched on January 25, 2016.
See More:
85 Best Platform To Get Paid To Watch Videos Online in 2023
FluxRewards Review – 4 Best Ways to Make Money Online
PlaytestCloud Review – Make Money by Testing Unreleased Games 100% Free