Introduction
Owl Pop Mania is a captivating casual game that combines colorful owl-popping fun with the enticing possibility of earning rewards. With its simple yet addictive gameplay, the game invites players to tap and eliminate groups of same-coloured owls, earning virtual dollars and coins. But there's more to Owl Pop Mania than meets the eye.
As players immerse themselves in the world of owls and rewards, they encounter a business model driven by advertisements and clever strategies designed to maximize profits. In this exploration of Owl Pop Mania, we will delve into its gameplay mechanics, the allure of virtual cash and gift cards, and the considerations players should consider while navigating this cash-driven game. So, let's take a closer look at the world of Owl Pop Mania and uncover its rewards and challenges.
What is Owl Pop Mania?
Owl Pop Mania is a casual game that offers simple yet addictive gameplay. The objective is to tap on groups of two or more owls of the same color to remove them from the screen. It's a straightforward concept that anyone can enjoy.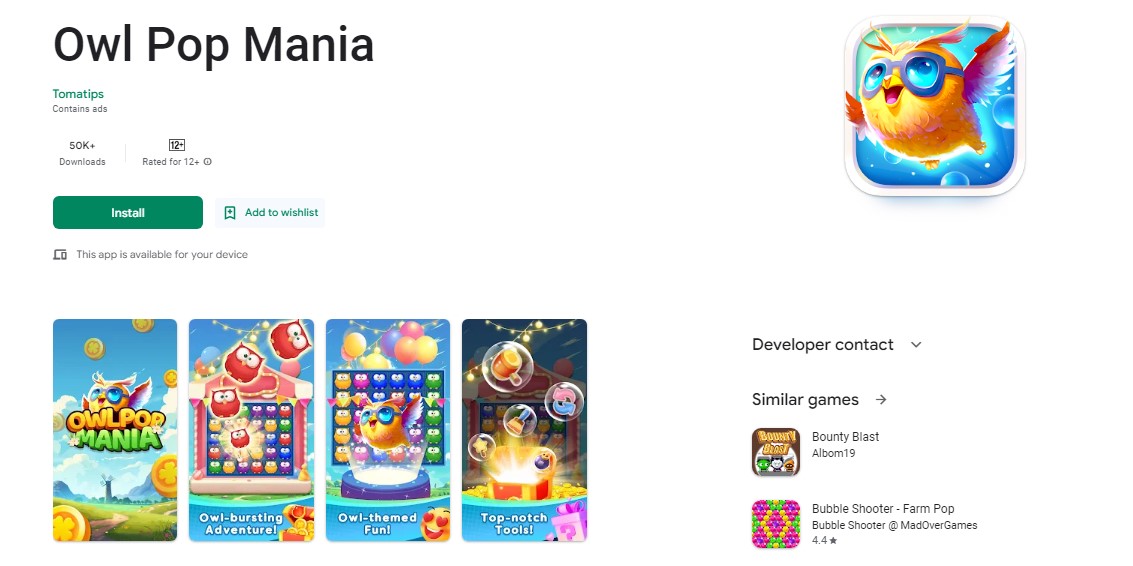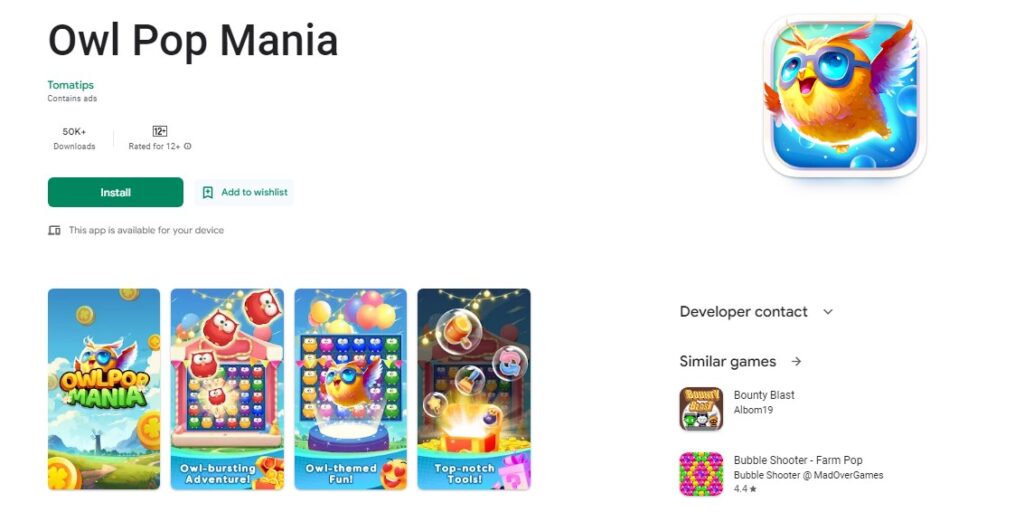 While playing the game, you can earn virtual dollars to exchange for real cash through PayPal. The cashout threshold is set at $500, allowing players to earn some money while having fun.
Additionally, you can also collect coins throughout the game. These coins can be used to redeem gift cards for popular platforms like Amazon and Google Play, giving players more options to enjoy their rewards.
With its popularity evident from over 10,000 installs on the Play Store, Owl Pop Mania has become a favoured choice for many players seeking entertainment and possibly earning rewards.
How Does Owl Pop Mania Work?
Owl Pop Mania offers free installation and gameplay experience without any required deposits. This eliminates the immediate risk of losing money often associated with other apps. This may seem like a favourable situation for players, but it's essential to consider additional aspects.
One significant concern with Owl Pop Mania is the absence of data encryption. As a result, your personal information is not adequately protected, making it vulnerable to potential breaches and misuse. Privacy is a critical issue that should never be taken lightly.
Furthermore, the app lacks respect for user privacy in many countries and does not allow users to delete their data. This means the developer retains your information indefinitely, raising further concerns about data retention and privacy.
It's important to be cautious when using apps that do not prioritize data security and privacy, as it can affect your personal information and online safety.
Make money by playing games From Owl Pop Mania.
In Owl Pop Mania, the game revolves around tapping and eliminating groups of owls with the same color, earning you virtual dollars and coins. Some owls in the game display symbols like PayPal or coins, and when you eliminate them, you receive virtual dollars and tokens as a reward.
The game prompts you to tap the collect button to claim your earned cash coupons or coins, but this action requires watching a sponsored video to receive the reward.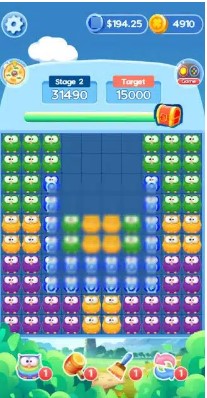 You must accumulate at least $500 in virtual dollars to cash out using PayPal. If you aim for gift cards, you need a substantial 680,000 coins to redeem a $100 Amazon gift card. However, alternative options such as Steam, Xbox, PlayStation, and Visa gift cards are available.
Achieving a "stage win" in the game involves clearing the board of owls and reaching a target score. Additionally, the game offers a card-flipping feature where you can earn even more rewards. By flipping four cards, you can win a significant PayPal gift card, which can help you reach the payout threshold.
Make money through Sponsored Videos From Owl Pop Mania.
One of the key factors that drives the apparent generosity of Owl Pop Mania is its reliance on advertisements as a source of revenue. The game heavily relies on sponsored videos, bombarding players with these ads whenever they want to collect virtual cash or coins.
In this business model, the developers establish partnerships with advertisers who pay them to display their marketing videos within the game. Each time players watch these videos, the app developers receive a small payment from the advertisers.
By enticing players with the promise of appealing PayPal payouts and popular gift cards like Amazon, the developers keep players hooked on playing and, more importantly, watching those videos. This clever strategy keeps players engaged in the pursuit of rewards and maximises developers' profits.
It's important to recognize that the game's primary objective is to generate revenue through advertising rather than solely providing a rewarding gameplay experience. Players should know the underlying motives behind the game's mechanics and consider their preferences and privacy concerns before engaging with it.
How to withdraw your funds From Owl Pop Mania?
To withdraw your funds from Owl Pop Mania, Ensure you have reached the minimum withdrawal threshold: In the case of Owl Pop Mania, the minimum withdrawal threshold for cashing out via PayPal is $500 in virtual dollars. Make sure your balance meets this requirement before proceeding.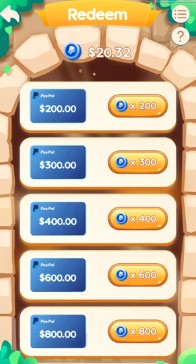 Look for the withdrawal or cashout option within the game. It is typically located in the settings or account section. Tap on this option to initiate the withdrawal process.
You may be prompted to enter your PayPal account details, such as your email address associated with your PayPal account. Make sure to provide accurate information to ensure a successful transfer of funds.
After entering the required information, review the details and confirm the withdrawal. The app may have specific terms or conditions you must agree to before proceeding. Depending on the app's policies, a processing period may occur before the funds are transferred to your PayPal account. This duration can vary, so be patient and allow the necessary processing time.
Once the withdrawal is processed, check your PayPal account for the received funds. They should be reflected in your account balance.
It's important to note that the specific steps for withdrawing funds may vary depending on the app and its policies. Consult the game's instructions or support resources for precise guidance on withdrawing funds from Owl Pop Mania.
FAQs
How do I play Owl Pop Mania?

To play Owl Pop Mania, tap on groups of two or more owls of the same color to eliminate them from the screen. The goal is to clear the board and earn points.

Can I cash out my virtual dollars for real money?

Yes, Owl Pop Mania allows you to cash out your virtual dollars via PayPal once you reach the minimum threshold, typically $500. You can then transfer the funds to your PayPal account.

What can I do with the coins I earn?

Coins in Owl Pop Mania can be exchanged for various gift cards, such as Amazon, Steam, Xbox, PlayStation, or Visa. These gift cards offer options to redeem your coins for popular products or services.

Is Owl Pop Mania available on all devices?

Owl Pop Mania is typically available on mobile devices running iOS or Android. You can download the game from the respective app stores.
See More:
CashBox App Review – Earn By Watching Sponsored Videos With 2 Easy Tasks
VibeTik App Review – Earn 100% Easy Money By Watching Short Videos
Happy Tap-Get Cash – Earn by Installing & Playing Sponsored Games in 2023