Introduction
CashBox, a viral reward platform, promises easy money through PayPal, Visa, Gift Cards, and in-game currencies. However, the reality is different. With tedious tasks like opening boxes, watching videos, and accumulating diamonds, reaching the $1 payout threshold takes time and effort. The app is filled with ads, and users often struggle to cash out, as seen in negative reviews on the Play Store. Approach CashBox cautiously and be prepared for a slow and frustrating earning process.
What is CashBox?
CashBox is a reward platform gaining immense popularity! Earn money effortlessly through PayPal, Visa, Gift Cards, and in-game currencies. Discover how to generate an extra $10+ per day by clicking here!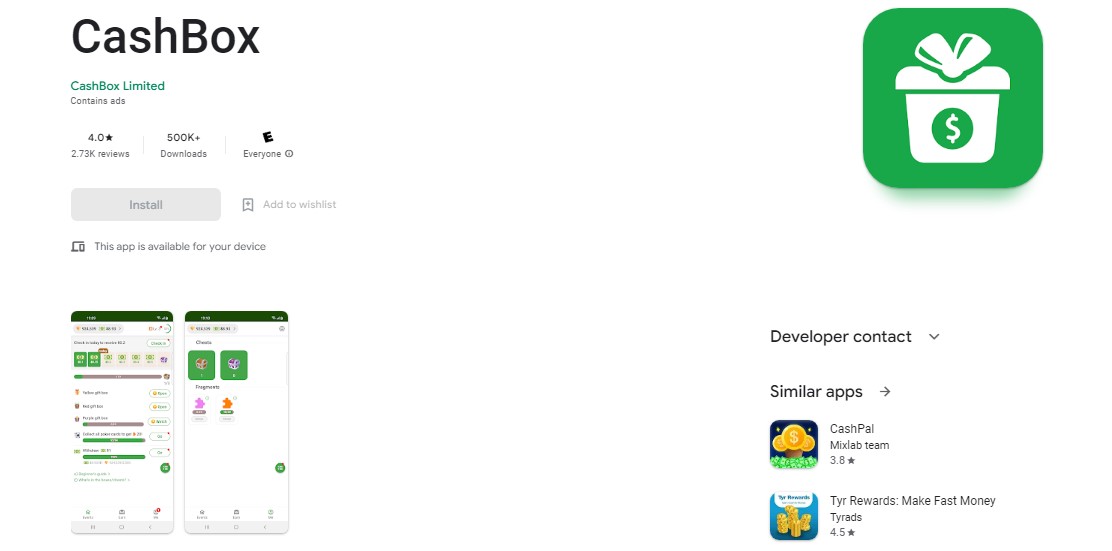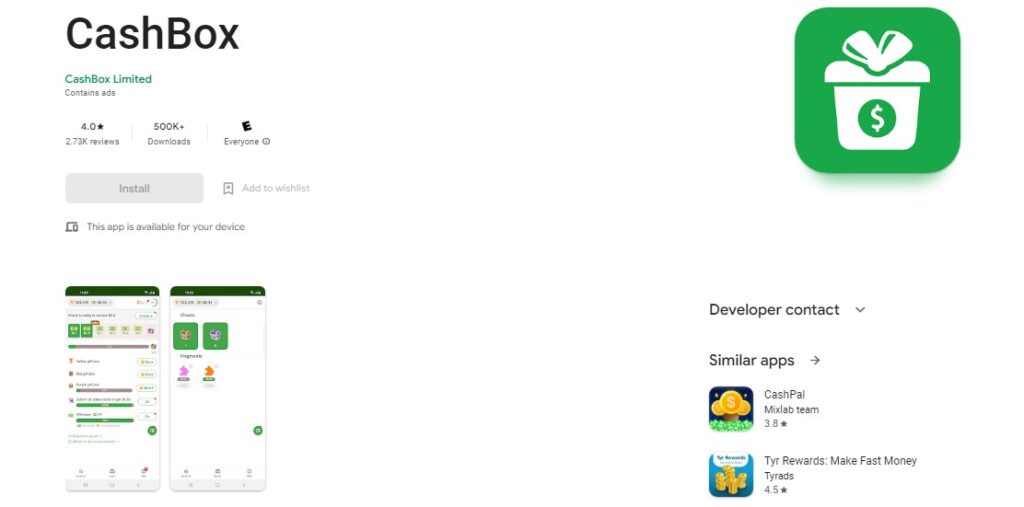 Cash Box, the Android app, offers a straightforward concept: open boxes, watch sponsored videos, and collect diamonds for cash redemption. With an impressive 100,000+ installations from the Play Store, it appears to be a convenient and speedy money-making opportunity, thanks to its low $1 payout threshold.
However, it's essential not to be misled by the seemingly low threshold. The reality often differs, and the process can be arduous and time-consuming. Despite the option to open boxes and watch videos, Cash Box includes additional methods to boost earnings, such as installing third-party apps and inviting friends.
Yet, even with these supplementary avenues, it may take days or weeks to reach the $1 payout mark. It's crucial to brace yourself for a barrage of advertisements that can become overwhelming.
How Does CashBox Work?
CashBox is a globally accessible app on the Play Store, providing a convenient and safe method to earn money using your smartphone. Simply register with your Google account, and you'll enter a dashboard filled with various ways to earn.
Though initially overwhelming, CashBox offers a helpful beginner's guide.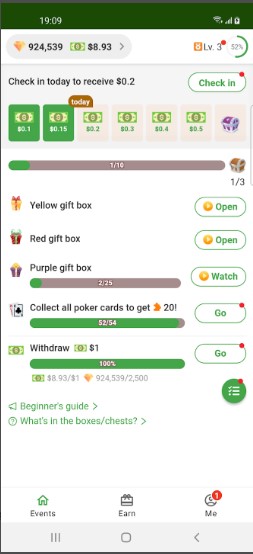 The dashboard is structured into three main tabs: Events, Earn, and Me. The Events tab serves as the starting point for your earning journey.
1. Make Money by Watching Sponsored Videos from Daily Events From CashBox.
To kickstart your earnings on CashBox, begin by checking in daily to receive rewards ranging from $0.002 to $0.01. Maintaining consistency and checking in for seven consecutive days unlock a silver chest with even more substantial rewards.
The primary method for earning on Cash Box involves opening gift boxes and watching sponsored videos, which grant you free rewards. It's important to note that opening additional boxes may require watching multiple videos.
These activities also allow you to accumulate diamonds and LAS (CashBox Active Score), which come with their benefits. As your LAS level increases, you'll be granted more diamonds within the app, enhancing your earning potential.
2. Make Money by Referral Program From CashBox.
In this section, you can earn $0.4 for each friend you invite by sharing your unique referral code. It's important to ensure that your friends input the code within one week of joining for it to be counted.
As a bonus, when you bring in your first friend, you'll receive $0.02 and 50 diamonds as a little extra incentive.
CashBox also suggests that installing one of their recommended third-party apps, you could potentially withdraw $10 instantly. However, it's advisable to approach this claim with scepticism, as the feasibility of such a quick withdrawal is doubtful.
3. Make Money by Opening CashBox.
In the Me section of CashBox, you can unlock the chests you've earned by opening boxes. These chests offer additional cash, diamonds, and LAS as rewards for your efforts.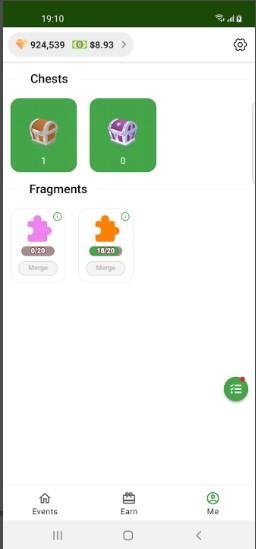 But that's not where the benefits end! You'll also encounter daily missions within this section, such as opening three yellow gift boxes or sharing your referral code on social media. Completing these quests'll unlock extra special rewards that can further boost your earnings.
How to Withdraw Your Funds From CashBox?
To cash out on CashBox, you must fulfil two conditions. Firstly, you need to reach the minimum cashout requirement of $1. Additionally, you must accumulate 25,000 points.
Once you've met both criteria, you can withdraw your earnings. Start by exchanging collected diamonds for cash at a conversion rate of 100 diamonds equaling $0.02.
After converting your diamonds:
Head to the cash tab within the app.
Bind your PayPal account email and choose the $1 cashout option.
Follow the prompts to complete the withdrawal process.
Remember that your earnings will vanish if you remain inactive on CashBox for 30 consecutive days. It's important to stay engaged to retain your accumulated rewards.
FAQ
Is CashBox available worldwide?

CashBox is available worldwide on the Play Store, allowing users from different countries to participate and earn.

What is the minimum payout threshold?

The minimum payout threshold on CashBox is $1. Users need to reach this amount in their account balance before they can cash out their earnings.

How can I cash out my earnings?

To cash out on CashBox, users must meet the minimum payout requirement and accumulate 25,000 points. They can exchange their diamonds for cash, bind their PayPal account email, select the $1 cashout option, and follow the instructions.

Can I withdraw my earnings via other methods besides PayPal?

CashBox allows users to withdraw their earnings through PayPal, but there may also be options for Visa, Gift Cards, or in-game currencies. Check the available withdrawal methods within the app for more details.
See More:
VibeTik App Review – Earn 100% Easy Money By Watching Short Videos
Happy Tap-Get Cash – Earn by Installing & Playing Sponsored Games in 2023
Earn by Playing Island of Word Game (100% Easy & Free)