Introduction
In today's digital age, there are countless ways to earn money online. One of the more unique ways is by playing games on websites that offer rewards and cash prizes. One such website is Paid Game Player. Paid Game Player claims to pay you for playing games online, completing various tasks, and taking surveys. However, as with any online money-making opportunity, it's important to research before investing time and effort. In this discussion, we'll look closer at Paid Game Players, their features, earning potential, and whether or not it's a legitimate way to make money online.
What is Paid Game Player?
Paid GamePlayer is a website that rewards users for playing games and completing tasks. These tasks may include testing games, participating in trials, or taking surveys. The website offers a variety of games, such as puzzles, word games, and action games, among others.
It's important to note that while Paid GamePlayer offers an opportunity to earn money, a risk is involved. Some users may be directed to gambling sites, which could lead to losing money instead of making it. Therefore, caution is advised when using this site.
How to Get Started Paid Game Player?
To get started on the Paid Game Player website, you must create an account by providing personal information such as your full name, username, birthdate, email, and password. After registration, you will receive a confirmation email, along with an email from World Winner, to verify your email address.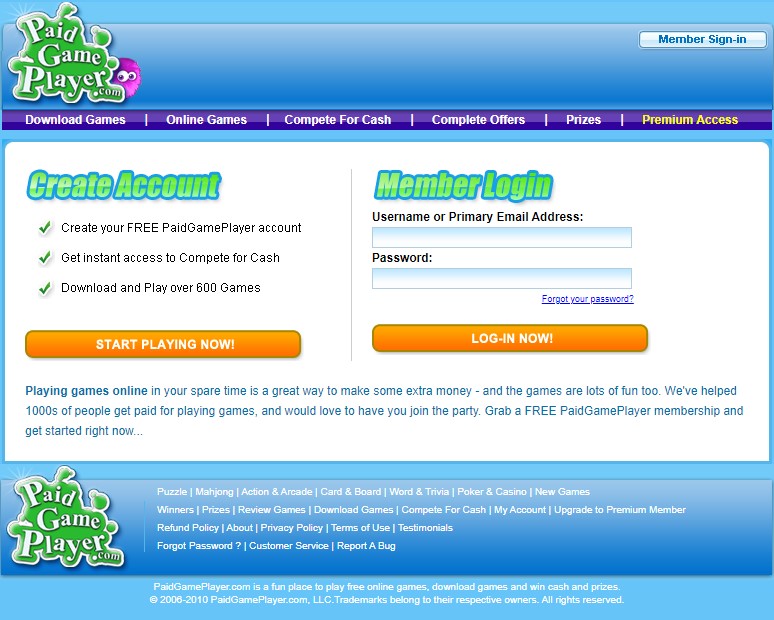 Once your account is verified, you can choose between a free or premier membership, which costs $4.99 per month.
After selecting your membership, you can start playing various games, taking surveys, watching ads, and completing offers to earn money and prizes. It's important to note that you must be at least 18 years old to register for an account on this website.
1. How to Make Money from Paid Game Player?
Once registered, you can access various games, surveys, and tests on Paid GamePlayer, which offers opportunities to earn cash and prizes. These include free and paid games that can be downloaded onto your device. You can accumulate points by playing games, completing offers, and providing reviews.
Some premium games and features are only available to members with a paid premium account. Additionally, members can join the referral program and earn points by referring friends to the website.
2. Make money by playing games from Paid Game Players.
When you sign up as a member of Paid Game Player, you will also automatically be registered to the site that will let you play online games. This site is called WorldWinner. After you log in to the Paid Game Player member dashboard, click the "Compete for Cash" link, which will take you to the WorldWinner site.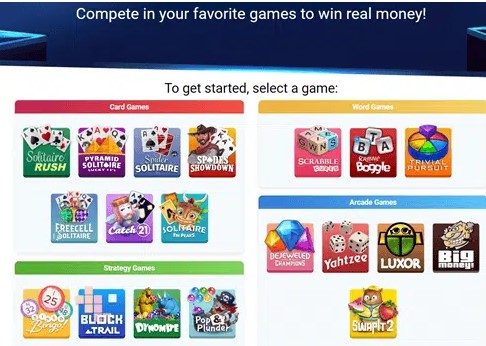 Now, what you need to know about this opportunity is that it will involve several steps. To compete for cash, you must first deposit money into your account. And to do this, you need to shell out cash. So, it's not a free-earning opportunity.
You can deposit $5, $15, or $25 to your WorldWinner account. You can pay for this deposit using your credit card or PayPal account. Once you've done this, you are eligible to compete for cash.
All you have to do is pick a game you want to play. The idea is that you pay the entrance fee for the game. Then, you'll have to play the game and get the highest score. This will be a tournament format, so you'll be pitted with other players who have joined the game.
Then, if you get the highest score, you will win the prize, usually the total amount gathered from all the entrance fees. It's certainly an interesting way to earn, but as you can see, there's no guarantee you'll be able to make it from it.
You often lose money if you are very good at your chosen game. I think it's not a realistic way to earn money because you are essentially gambling.
However, there are free games on WorldWinner that you can play where you can earn reward points and use them to redeem the cash you can deposit into your account to play more cash games. It's just a cycle of potentially winning or losing money.
3. Make money with Paid offers from Paid Game Players.
Paid GamePlayer also offers the opportunity to earn rewards by completing short, paid tasks such as surveys and games. To access available offers, log in to your account and click the "Complete Offers" link on the dashboard.
It's important to note that offers may not always be available, but when they are, it's crucial to follow all instructions to successfully complete the task and earn points. You must complete a step to receive rewards for that task.
Once you've completed an offer, you'll earn certain points, which can be redeemed for rewards. We will discuss more about the rewards later.
4. Make Money by Reviewing Games from Paid Game Player.
Another way to earn rewards on Paid GamePlayer is by reviewing the games featured on the site. However, this earning opportunity is only available to premium members. During my testing, premium membership was unavailable, so I could not test this feature.

Paying for a premium membership to earn rewards may not be worthwhile for everyone. If your primary goal is to make money, other options may be more suitable, such as cashback sites.
How do you get paid from Paid Game Player?
As a member of Paid Game Player, you can earn points by completing offers and reviewing games, which can then be used to enter their prize draws. However, it needs to be clarified how many points are required to enter each draw. Additionally, there were few opportunities to earn points on the site during my testing.
On the other hand, if you earn money from WorldWinner's cash games, you can convert your earnings into Amazon gift cards or prepaid Visa cards. However, the minimum payout threshold is quite high at $50.
Overall, the payment system of these two sites can be inconvenient, especially since you have to deal with two separate websites. If you're looking for sites with lower payout threshold and faster cashout options, it's best to check out other options.
FAQs
Is Paid Game Player legit?

While Paid Game Player is a legitimate website, it's important to note some limitations and drawbacks to using the site. The earning potential could be higher, and the payment system can be inconvenient.

How do I get paid by Paid Game Player?

Paid Game Player offers payment options, including PayPal, prepaid Visa cards, and Amazon gift cards. However, the minimum payout threshold is quite high, so it may take some time to cash out.

Can I refer friends to Paid Game Players to earn more?

Yes, Paid Game Player offers a referral program that allows you to earn points by referring friends to the site. However, the earning potential from referrals is relatively low.

What kind of games can I play on Paid Game Player?

Paid Game Player offers a variety of games, including puzzles, word games, action games, and more. However, some of the games are only available to premium members.
PointsPrizes Review – Earn By Watching Videos With 5 Easy Ways
MContent – Earn by Watching & Uploading Videos Myco 100% Easy & Real App
Flirtbucks Review – Earn by Chatting With Clients 100% Easy & Legit