Introduction.
Nowadays, people make money online through specific online tasks and activities, including watching videos, playing games, taking surveys, paid offers, browsing online, etc. Paidverts is a well-known PTC site offering real cash rewards when you click ads and complete other tasks.
What is PaidVerts?
Paidverts is an online platform for members to view and click adverts (PTC). The adverts only take a few seconds. Users get rewarded for clicking adverts; the payment depends on the number of ads you click or the duration you spend online.
Aside from clicking ads, there are other ways of making money on the site, including playing games, Playing Clickgrid, taking Surveys, Completing Offers, and Inviting a friend to sign up with Paidverts.
How to Join Paidverts?
Paidverts is available worldwide and only accepts those 16 years and above. Signing up on paid verts is pretty simple.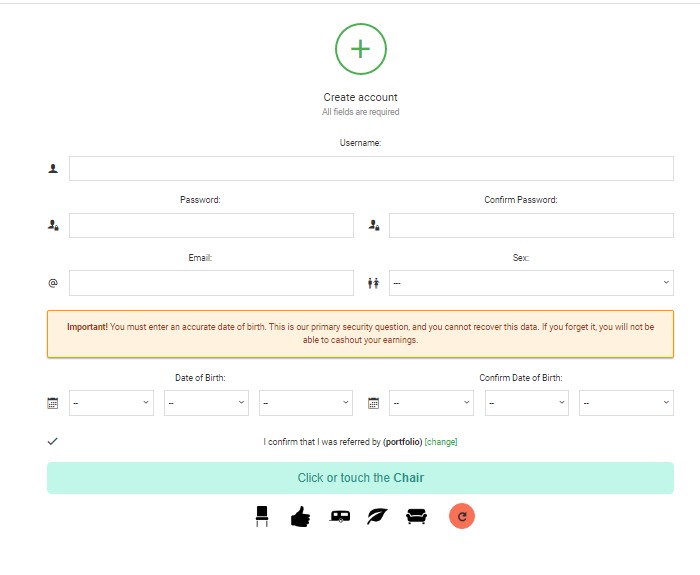 All you must do is log onto the website and click the Register button. The site would redirect to a page with forms, instructing you to fill in your details.
The details to include your name, email address, and password. Once this is finished, the site will send a verification link to your email. Once you confirm the email, your account becomes activated and ready.
1. Make money by clicking ads from PaidVerts.
The primary way of earning in Paidverts is through clicking paid ads. But you think you click ads and make money instantly.
The first thing you have to do is acquire BAP. The amount that it will pay you will depend on the BAP that you've achieved.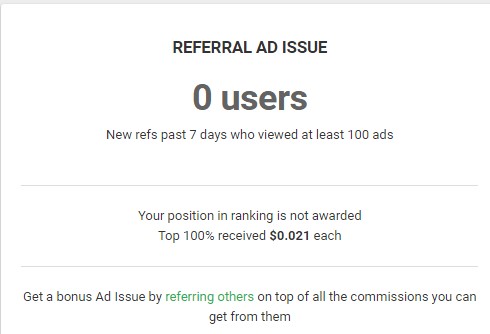 So, the first thing you need to do is to earn BAPs before you begin watching ads.
Every day, you will obtain a set of 16 activation ads that will allow you to earn BAPs.
Those 16 activation ads will let you make 400 BAPs every day. This is what you will use to make real money. Simply put, it will derive the ads you will receive from your stocked BAPs.
The more BAPS you have, the more paid ads you will receive. This is challenging for a PTC site, where the earning method is usually more straightforward.
But it is a natural way to earn, but as always, with PTC options, it will not be a way to make big money.
2. Make money by Click Grid from PaidVerts.
Click Grid is a game on Paidverts that presents cash or BAPs as rewards. You have twenty chances to click grids; per Grid costs 1 BPA.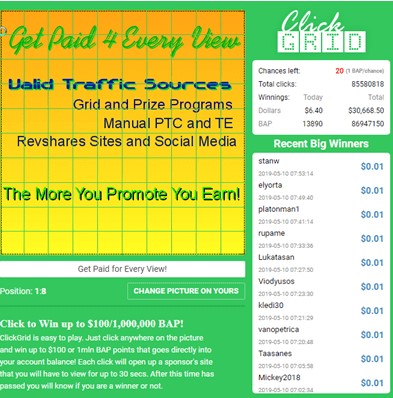 You can win up to $100 or a million BAPs. The game is easy to play and lets you win money quickly, with luck.
3. Make money by Cash Offers from PaidVerts.
A simple way to make money on Paidverts is via cash offers. There are usually different other offers available on the website.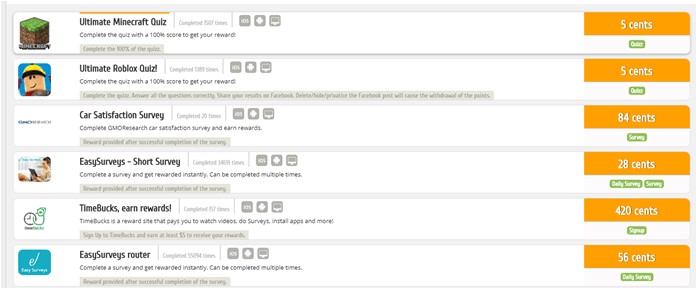 You click on the one you can do and complete it. Discovered beside the offers are the rewards in cents or dollars.
4. Make money by playing games from PaidVerts.
Another way to make revenue is to play games. When you click the Games section, you will visit a list of games available that will let you earn Bonus Ad Points.

The idea is simple. You play the games listed, and you will make BAPs. You will only make the very tiniest amount of BAP for each game you play. And if you want to earn more, play more.
5. Make money with Buy Ads from PaidVerts.
This way of making money demands you to pay first. For instance, you need to buy an ad pack of $1. This will reward you with 2400 BAPs, 50 visits of 30 seconds to the website you desire, and 50 impressions on your banner ad.
6. Make money through Referral programs from PaidVerts.
This is the way you can enhance your profits in Paidverts. You can refer your friends and family and gain 10% of their earnings for a lifetime.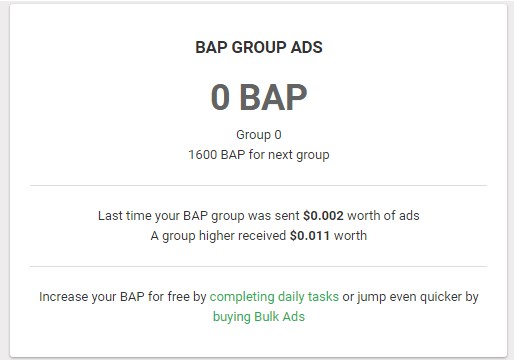 You can also boost your referral links on social media or write a blog post with your referral links, refer others, and grow your earning.
7. Make money by Membership Options from PaidVerts.
You can upgrade your membership at Paidverts if you want to earn better. The mini upgrade will offer you ads first before any other member, but you must pay $2.99, and it prevails for seven days.
Then, the mega promotion costs $19.99 for seven days and will provide you ten times the ads with rewards of $0.50 and more.
How do you get paid from PaidVerts?
With Paidverts, you have several ways to claim the money you've earned. Although PayPal is omitted. These methods include Payza, Payeer, Neteller, Perfect Money, Bitcoin, Litecoin, Solid Trust Pay, OKPay, etc.
Before you can cash out, you must earn at least $1, although it mainly depends on the payout method that you are using.
FAQs
Is Paidverts a legit site?

Paidverts is a legit PTC site that offers real money for clicking a few ads and playing a few games.

Who can join Paidverts?

Anyone can join Paidverts, no matter the country they live in. All you have to do is click the register button, which will immediately take you to their registration form.

Can you use it on mobile?

Paidverts keep two ways you can access the site utilizing a mobile device. You can use a mobile browser to access their site and log in. The other option is downloading their mobile app and installing it on your smartphone or tablet.
See More:
NeoBux Review – 8 Easy Ways You Can Make Money
News Pie Earning App – 6 Easy Ways To Make Money Online
Lucky Miner App – Win Cash Every 1 Minute by Playing Games on Your Mobile
Tik Tube App – Earn By Watching Videos, Mystery Chest, & VIP Benefits 100% Easy