Introduction
Welcome to the world of Perfect Link, a puzzle game that might remind you of Candy Crush but with its unique twist. As you embark on this puzzling adventure, you'll encounter various integrated games that promise alluring rewards. Developed by HENRY WAHYUDIN Studios, this app offers an intriguing opportunity to earn as you play. In this brief exploration, we'll delve into the mechanics of the game, the various options it presents, and a cautionary note about the promised rewards. So, let's dive in and uncover what Perfect Link truly offers.
What is Perfect Link?
Imagine a puzzle game called "Perfect Link," which resembles Candy Crush but with a touch of controlled chaos. Notably, the game introduces an intriguing feature—a section where you can explore external games, though they are essentially integrated and not impressive. Their redeeming quality lies in the rewards they offer to players.
The app's interface may evoke memories of a previous application I experimented with that turned out to be disappointingly subpar. If you're interested, you can peruse my article about that experience.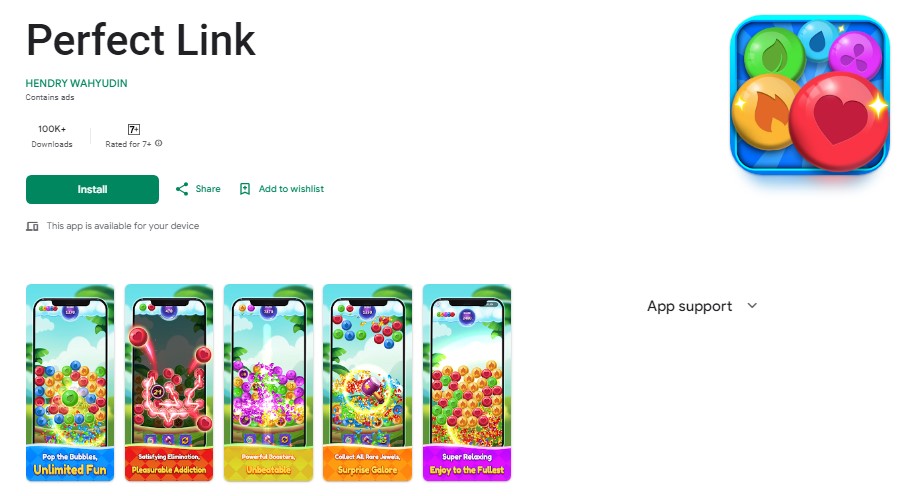 For those curious about the developer behind Perfect Link, it's the brainchild of HENRY WAHYUDIN Studios. Oddly, this studio has yet to unveil any other apps. Despite my efforts, I needed help locate substantial information online or uncovering user reviews. Curiously, the Play Store has disabled comments, and there appears to be a limited buzz surrounding the app. This is quite intriguing, especially considering the app's promise of a money-making opportunity.
Installation and registration in Perfect Link.
Locating the app might require finesse in spelling, but it's feasible to track down, even if it doesn't appear as expected. However, if you encounter difficulty finding it in the search results or encounter installation restrictions, it could be attributed to compatibility issues that regrettably lack a resolution.
One commendable aspect is that you must refrain from concern yourself with any registration process before delving into the app. This omission removes any need for worry on that front. Instead, your focus can be solely on engaging in the gameplay and achieving victory—no extraneous distractions to contend with.
How to make money by playing Perfect Link games?
Within Perfect Link, you're presented with two options: the primary puzzle game and an array of other games accessible through the menu. Regardless of your choice, the prospect of securing substantial rewards remains a driving force. An ever-present floating bubble on the screen offers an avenue for accruing extra coins, albeit through the slightly irksome channel of enduring unskippable advertisements.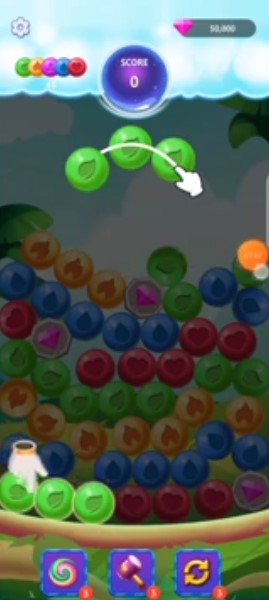 If you opt for the puzzle game, a simple navigation to the second tab at the bottom bar grants you entry. Your objective here is to match at least three tiles, prompting their removal from the board and enabling access to additional tiles. Conversely, if your curiosity leads you to explore the integrated games within the app, the first tab at the bottom guides you to this section. From there, you can peruse the selection to find a match that suits your preference. It equipped each game with instructions.
Throughout your interaction with the app, the theme of rewards remains a constant presence. The allure of varied bonuses is recurrent, offering multiple opportunities to augment your earnings. However, it's important to note that advertisements consistently accompanied these bonuses, adding an unavoidable aspect to the process.
Perfect Link Payment method.
Perfect Link allows users to request their earned payments through several platforms, including PayPal, DANA, PayTM, NuBank, CashApp, and LinePay. Strikingly, the minimum withdrawal threshold is uniformly set at around $200, which is the sole qualifying amount for cashing out.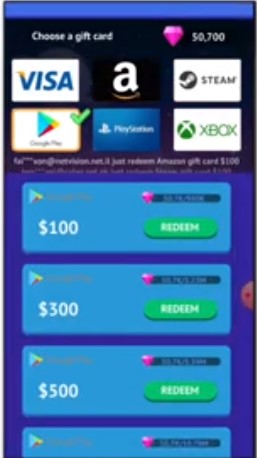 Once you've amassed the required minimum, the app provides a pathway to input your personal information. However, this step is followed by placement onto an unending waiting list. Here lies the crux of the situation—the promise of monetary rewards is ultimately deceptive. Regrettably, the reality seems to be that no funds will be disbursed despite reaching the stipulated withdrawal threshold.
FAQs
How can I earn rewards within the app?

Perfect Link promises rewards for your gameplay. These rewards can be earned by completing puzzles, achieving certain milestones, or engaging with integrated games. Be aware that rewards often come with the requirement to view advertisements.

What are the available withdrawal options for earned rewards?

Perfect Link offers various withdrawal options, including PayPal, DANA, PayTM, NuBank, CashApp, and LinePay.

Is registration required to use Perfect Link?

No, you do not need to go through a registration process to start using Perfect Link. You can jump right into the gameplay without the need for additional steps.

Is it possible to trust Perfect Link's rewards and withdrawal process?

Based on user reports, there are concerns about the legitimacy of the rewards and the withdrawal process. Some users have reported being on waiting lists indefinitely after reaching the withdrawal threshold.
See More:
RozDhan App – 7 Easy Ways To Earn Money Online
AppCoiner Review – Earn By Reviewing Unreleased App 100% Easy Money
Earn By Playing Pocket City Mega Tycoon 100% Joyful Game