Introduction
Introducing the latest standout player in earning through task completion apps: RozDhan App. In this comprehensive review, we'll delve into the intricacies of the Roz Dhan App, covering everything from the various earning opportunities it offers to the withdrawal process, minimum payout threshold, and potential earnings. Let's embark on this journey to explore the ins and outs of the RozDhan App and discover how it can bolster your earnings.
What Is RozDhan App?
RozDhan, a user-friendly app accessible on the Google Play Store, presents a compelling opportunity for users to accumulate coins through various uncomplicated tasks. These tasks include perusing news articles, disseminating articles within your network, extending invitations to friends, engaging in gaming, and more.
Once acquired, these coins undergo a conversion process, transforming them into Indian rupees after the clock strikes midnight. It's noteworthy that this transition from coins to currency occurs daily. As users engage with the app and diligently amass their coin collection, their efforts culminate in a tangible payout.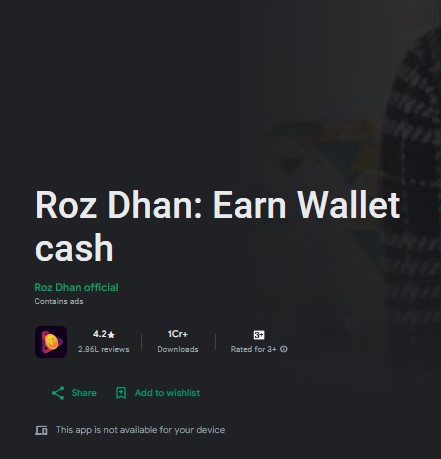 The option to withdraw the earnings emerges when the accrued sum within a user's account attains the Rs. 200 benchmark. The withdrawal mechanism operates through PayTm, India's popular digital wallet service. This minimum withdrawal threshold acts as a milestone, signaling the opportune moment for users to translate their virtual efforts into tangible monetary rewards.
How Does RozDhan App Work?
Obtaining and installing the RozDhan App is a straightforward process, akin to acquiring any other application. To initiate this seamless procedure, follow the link below for download and installation. Allow the installation process to run its course. It's worth noting that the app is presently exclusive to Android users.
Once the download has culminated, proceed to open the app. You'll be prompted to designate your preferred language. A notable feature is the diverse array of local languages available, encompassing options such as Hindi, Marathi, Telugu, Tamil, Malayalam, Kannada, and English. This linguistic diversity ensures that local users find the app exceedingly accessible. While I haven't explored languages beyond English, the app caters to linguistic preferences.
The subsequent step entails granting the requisite permissions to initiate your journey. Tap the "Give Permission" button and grant all the necessary authorizations. You'll be prompted to input your mobile number for registration purposes. RozDhan App will dispatch an OTP (One-Time Password) to your mobile, facilitating the verification of your provided number. Once the OTP is entered and authenticated, the process is complete. Voila! You're now primed to earn coins (equivalent to money) through the app's offerings. An interesting tidbit: the app even rewards you for perusing its FAQs. This ensures that you've familiarized yourself with the fundamental workings of the app.
Ways To Earn Coins & Money From RozDhan App.
There are many ways to earn money from Rozdhan App. Let's see all of them one by one.
1. Make money by Daily Check-in From RozDhan App.
A prime avenue for accruing daily coins is the app's check-in feature. This straightforward process involves simply logging into the app each day. Remarkably, the number of coins you receive as a reward escalates each successive day of check-in. This incremental pattern of reward culminates in higher daily coin allotments.
It's worth noting that the upper limit of coins achievable undergoes a weekly cycle. This cyclical framework governs the maximum number of coins you can amass within a week. Consequently, this daily check-in routine proffers a consistent and effortless means to amass free coins, translating into an effortless means of pocketing extra funds. Just by launching the app and engaging with the check-in button, you're effectively unlocking a stream of complimentary earnings.
2. Make money by using a Random coin wheel from RozDhan App.
Navigating to the lower right corner of the app's interface, you'll come across an icon resembling a wheel of fortune. Tapping on this icon presents an enticing opportunity: the chance to acquire a free coin at random. However, it's important to note that a cooldown period must be observed between each attempt. You'll need to wait for this cooldown to elapse before making another spin.
The appeal of this feature lies in its progressive nature. By participating in multiple spins of the fortune wheel, you effectively enhance the rewards associated with each subsequent attempt. In other words, the more frequently you engage with this feature, the greater the coinage you gain from each spin. This dynamic interplay between participation and rewards makes the fortune wheel an engaging and potentially lucrative aspect of the RozDhan App experience.
3. Make Money by Reading the Article From RozDhan App.
The convenience of notifications is extended to your smartphone, providing timely alerts. Upon opening and perusing these articles, you'll be gratified with 20 coins for each piece you engage with. This translates into an unlimited earning potential: the more instant notification articles you read, the greater your accumulation of coins becomes. This system empowers you to capitalize on your reading habits and unlock substantial earnings in proportion to your engagement with these articles.
In addition to the instant notification articles, the app also features standard articles. Here's the scoop: for every conventional article you peruse, you'll be rewarded with five coins. The beauty of this system lies in its flexibility—you can indulge in as many articles as you desire. Each article you engage with adds a commendable 5-coin increment to your earnings. This offers a consistent and accessible pathway to bolster your coin collection, inviting you to dive into a diverse range of content while simultaneously reaping the financial benefits.
4. Make Money by Sharing Articles From RozDhan App.
Absolutely! Sharing articles also comes with its own set of rewards. Seizing this opportunity can undoubtedly enhance your earnings. If you've been holding back, now's the time to take action. As you eagerly approach the conclusion of this article, consider this your cue to forge ahead and explore the RozDhan App further.
Upon reaching the end of this journey, don't hesitate to take that final step by installing the app through the provided link. To sweeten the deal, you can enter the invite code, securing a noteworthy Rs. 25 as a welcome gesture. This prudent move gets you started on the right foot and unlocks the door to a realm of potential earnings. So, let your curiosity drive you onward, and embark on your adventure with the RozDhan App.
5. Make Money by Referral Program From RozDhan App.
Indeed, your reading comprehension is spot on! The referral system within the RozDhan App introduces a lucrative opportunity to earn. For each friend you successfully refer to the app, a commendable Rs. 5 is added to your earnings. But that's not all – in the spirit of shared prosperity, I'm delighted to provide you with my personal invite or referral code through this review.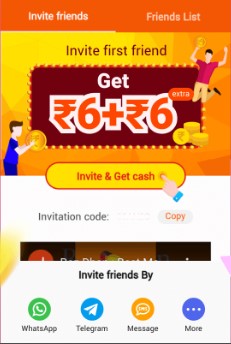 By entering this code, a delightful symbiotic exchange occurs. You stand to gain Rs. 25 as a warm welcome gesture. At the same time, I, in turn, am rewarded with Rs. 5. This mutually beneficial arrangement epitomizes a win-win scenario, illustrating the app's commitment to fostering a community of engaged users who collectively reap the rewards. So, seize this golden opportunity, and let the rewards flow in.
6. Make Money by Playing Games From RozDhan App.
Diverging from the conventional gaming landscape where players often spend money to acquire in-game items, RozDhan App takes a refreshingly distinct approach.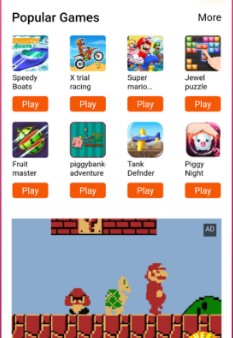 Here, you're awarded coins for participating in small-scale games. Rather than shelling out money, you're accumulating virtual currency through gameplay. This innovative twist underscores the app's user-centric design, enabling you to enjoy gaming entertainment while simultaneously amassing rewards without financial investment. It's a welcome departure from the norm, prioritizing engagement and enjoyment without opening your wallet.
7. Make Money by Complete Offerwalls From RozDhan App.
RozDhan continues to evolve and innovate, and one of its latest additions is the introduction of offer walls. This feature offers a unique way to earn coins by engaging in various tasks. These tasks encompass a range of activities, including installing applications and participating in surveys. As you complete these tasks, you're rewarded with coins that contribute to your overall earnings. The offer walls provide an additional avenue for users to accumulate coins, adding a layer of diversity to the earning process. This demonstrates RozDhan's commitment to enhancing user experience and providing multiple avenues for users to earn rewards within the app ecosystem.
How To Withdraw Money From The RozDhan App?
Initiating withdrawing your earnings from the RozDhan App is a straightforward endeavour. Located within the 'Me' tab of the app, you'll find the "Withdraw" button. A simple click on this button sets the withdrawal process into motion.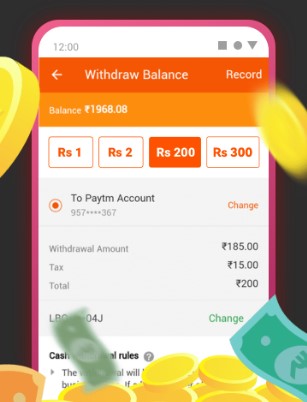 Following this action, you'll be prompted to furnish key details: your authentic name, the mobile number registered with Paytm, and your current mobile number. Once these particulars are provided, the procedure is set in motion. However, it's important to note that there's a waiting period of up to 2 days to receive your withdrawn funds. This short interlude grants the necessary time for the necessary processing.
Upon concluding this brief waiting period, you'll find that your hard-earned funds have been successfully transferred to your designated account. This seamless withdrawal process underscores the app's commitment to facilitating an efficient and user-friendly experience, ensuring your efforts are promptly rewarded.
FAQs
How do I earn coins on RozDhan App?

There are several ways to earn coins on RozDhan App, including reading articles, sharing articles, checking in daily, playing games, referring friends, and completing tasks on offer walls.

What is the minimum payout threshold for withdrawing money?

The minimum payout threshold for withdrawing money from RozDhan App is Rs. 200. You need to have at least this amount in your account before initiating a withdrawal.

How can I withdraw my earnings from RozDhan App?

To withdraw your earnings, go to the 'Me' tab in the app and click the "Withdraw" button. Provide your real name, registered Paytm mobile number, and mobile number. After submitting the details, you'll need to wait up to 2 days to receive the money in your Paytm account.

Is RozDhan App available on iOS?

Currently, RozDhan App is only available for Android users. There is no iOS version of the app.
See More:
AppCoiner Review – Earn By Reviewing Unreleased App 100% Easy Money
Earn By Playing Pocket City Mega Tycoon 100% Joyful Game
Earn 100% Easy By Playing Island of Word Mobile Game