Introduction
Skedadle is a mobile app that lets you earn money by playing games. The app has become popular among people who enjoy playing mobile games and want to make extra cash. However, there are concerns about the app's payout system and whether it is worth the time and effort.
What is Skedadle?
SSkedadle is a mobile app that allows users to earn money by playing games. While it is a legitimate app that pays you to play games, it may not be worth your time for a few reasons.
To earn money through Skedadle, you have to play the featured games. These games are simple and easy to play, but you have to be on the move to earn rewards. Skedadle tracks your location and rewards you for playing games while commuting or ride-sharing. However, if you stay in one place, you won't earn anything.
Make money by Playing Featured Games from Skedadle.
Playing featured games on Skedaddle is the primary way to earn money through the app. The games are simple and easy to play, so anyone can participate, regardless of gaming experience.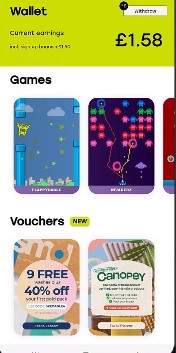 However, it's important to note that the app only rewards you for playing games while on the move. Skedaddle tracks your location, and if it detects that you are moving while playing a game, you will earn rewards. This makes it a viable option for people who regularly use public transportation or ride-sharing services.
Once you allow the app to track your location, you can choose a game to play and earn rewards while on the move. Your performance in the game does not affect your earnings, as everyone makes the same amount regardless of how well or poorly they play. However, there is a daily earning limit of £2, so there's no point in continuing to play after you've reached this limit.
The games offered on Skedaddle may not be very interesting for avid gamers. If you're looking for fun and engaging games, there may be better options than Skedaddle.
Make money with Vouchers from Skedadle.
Skedadle offers voucher codes for discounts, but the value of the vouchers may not be very significant.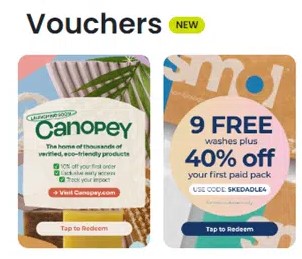 It's also important to note that the availability of vouchers may be limited, so users may have few opportunities to use them.
Make money in Referral Program from Skedadle.
It's important to note that referral programs can be a good way to earn additional income, but it's only sometimes guaranteed that your referrals will be active users of the app or service. Additionally, it's important to ensure that you follow the terms and conditions of the referral program to avoid any potential issues or account suspensions.
Regarding the low reward for Skedadle's referral program, it's not uncommon for companies to offer lower rewards for referrals compared to other earning opportunities, as they often see it to incentivize their existing users to share the app with others rather than as a primary means of earning.
How do you get paid from Skedadle?
To earn from Skedadle, you need to play while on the move and earn rewards immediately added to your Skedadle account balance. You can withdraw your earnings to your bank account once you have earned at least £5.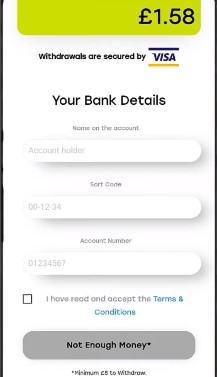 It can only make once the withdrawal a month, and you must make it by midnight on the last day of the month. It will process the payment on the first business day of the following month. The referral program rewards you with 50 points for every referral who starts earning from Skedadle. They will convert the points to cash, with 50 points equal to £0.50. Skedadle's payment system is simple and convenient, but it only allows one monthly withdrawal.
How To sign up at Skedadle.
Fill out the registration form to create a Skedaddle account on an iOS device. For Android users, follow the instructions when you first open the app.

Once your account is created, you can log in and start earning immediately.
Conclusion.
While Skedadle is a legitimate app that pays you to play games, there are concerns about its payout system and whether it is worth the time and effort. It is important to weigh the pros and cons before using the app.
FAQs
Is Skedadle a legit app?

Yes, Skedadle is a legit app that pays you for playing games.

How much can I earn from Skedadle?

The amount you can earn from Skedadle depends on the number of games you play and the rewards they offer. Generally, you can earn anywhere from a few cents to a few dollars per game.

How do I get paid by Skedadle?

Skedadle pays you through PayPal or gift cards once you reach the minimum payout threshold.
See More:
BrainBux Review – Make Money By Viewing Ads (100% Easy Method)
EnrollApp Review – How to Make Extra Money (it's 100% Legit)
HeedYou Review – Make Money by Watching Videos With 6 Easy Tasks
Offer Nation Review – 7 Easy Ways To Make Money With Legitimate Site