Introduction
In today's fast-paced world, many people turn to online platforms to make extra cash. One such platform is BrainBux, which claims to pay its members for viewing ads. But is BrainBux a legitimate site, or is it just another online scam? In this article, we will inspect BrainBux and its features to help you decide whether it is worth your time.
What is BrainBux?
BrainBux.com is a website that pays users to click on advertisements or complete other simple tasks. The primary way to earn rewards on BrainBux is through paid ads, which work similarly to those on other Paid-To-Click (PTC) sites. When you click on an ad, a loading bar will appear, and once it completes, it will credit the reward to your account balance.
How to Registration at BrainBux
To register as a member of BrainBux, all you need to do is fill out their registration form.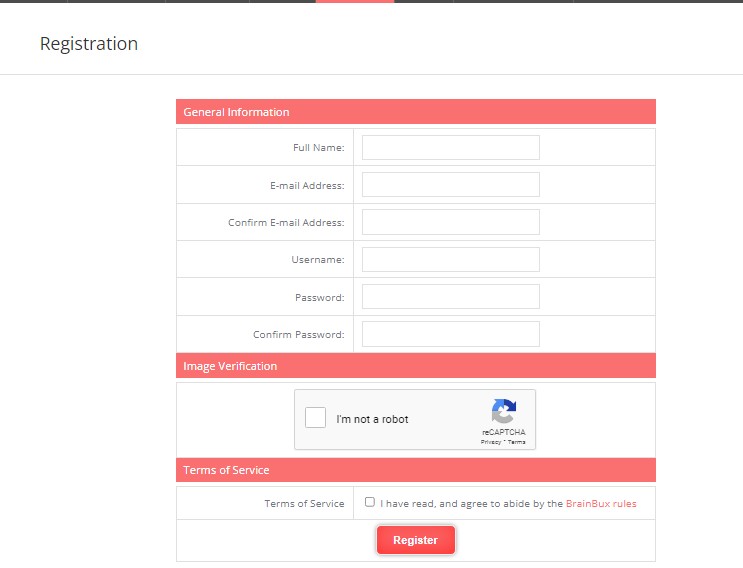 After submitting the form, you can log in to the site and earn. The availability of paid ads may vary depending on your location. Some paid ads may only be available in certain regions, so it's essential to keep this in mind and not expect to have access to all available paid ads.
Make money through paid ads from BrainBux.
Paid ads can be a way to earn money online, but it's essential to approach them with caution and realistic expectations. Paid ads are offered through paid-to-click (PTC) sites, which pay users a small amount for each ad they view.

To make money through paid ads, you must sign up for a PTC site and start clicking on ads. Each ad will have a certain amount of time to view before receiving your payment. Some ads pay more than others, so focusing on the higher-paying ads can be helpful to maximize your earnings.
However, knowing that the amount you can earn through paid ads is generally relatively low is essential. Making even a tiny amount of money through PTC sites can take significant time and effort. Some PTC sites may need to be more legitimate, so it's essential to research and only sign up for reputable sites.
Making money through paid ads can be a way to earn some extra income online, but it's essential to approach it with realistic expectations and to be cautious when selecting PTC sites to work with. Diversifying your income streams and exploring other ways to make money online can also be helpful.
Make money by using the Referral Program from BrainBux.
BrainBux's referral program offers a unique way to earn money by simply sharing your referral link. Unlike other online rewards sites, BrainBux will pay you for every visitor who clicks on your link, regardless of whether they sign up. However, the visitors must stay on the page for at least 10 seconds to count as credited visitors, and the system will detect if the visitor is using auto surf or bots to view the link.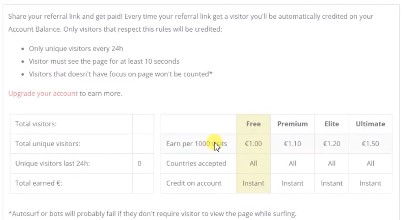 The amount you will receive for every visitor on your link depends on your membership level, which will be discussed later. If the people who clicked on your referral link also sign up as members, they will become your referrals. You will then earn a percentage of what they will make on the site, which will be shouldered by BrainBux and will not be deducted from your referral's earnings.
Overall, the referral program is an excellent form of passive income since you only need to share your referral link as often as possible or embed your referral banner on your website or blog. However, it will be more challenging to earn than it might sound at first because getting 1,000 visitors will not be easy, and the payout system requires quite a lot of work before you can get paid.
How do you get paid from BrainBux?
BrainBux is an online platform that pays you for viewing ads. You earn money for each ad you watch, which is credited to your account balance. They claim you can withdraw your earnings anytime, but this is only partially true. The platform supports payment methods such as Perfect Money, Payeer, and Bitcoin wallets, and you don't need to meet any payout threshold to withdraw your earnings.

However, before withdrawing your earnings, you must complete at least 100 paid ads and refer ten active members. This requirement contradicts their claims of instant payment and no payout threshold. It also pressures members to invite others to join the platform before they can receive payment, which some may find unethical.
Overall, the payout system on BrainBux may only be suitable for some, especially those who prefer sites with simpler withdrawal processes. If you're interested in online earning sites offering fast payouts without complicated requirements, consider exploring other options.
Conclusion.
Overall, BrainBux is a platform that promises to pay its members for viewing ads. However, its payout system requires members to meet certain conditions before they can withdraw their earnings, and some users have reported issues with receiving payments. While it is not definitively a scam, it may not be worth your time if you are looking for a straightforward and reliable way to make money online. We recommend exploring other options for earning money online, such as freelancing or taking surveys.
FAQs
Is BrainBux a scam?

While there is no definitive answer to this question, some red flags suggest that BrainBux may not be a legitimate site. For example, its payout system requires members to view many ads and invite others before they can withdraw their earnings. Additionally, some users have reported issues with receiving payments.

How much can I earn on BrainBux?

The amount you can earn on BrainBux varies depending on how many ads you view and how many referrals you have. Generally, you can earn a few cents per ad, which can add up over time.

What are the payment methods available on BrainBux?

BrainBux currently supports payments through Perfect Money, Payeer, and Bitcoin. However, as mentioned earlier, there are some conditions you must meet before you can withdraw your earnings.
See More:
HeedYou Review – Make Money by Watching Videos With 6 Easy Tasks
Offer Nation Review – 7 Easy Ways To Make Money With Legitimate Site
GPTHub – 9 Easy Ways You Can Make Money From Online
Brain Battle – Make Money By Playing The Game With 2 Easy Tasks