Introduction
In this review, we will discuss TallyUP App, a mobile app that allows users to earn rewards by playing games. TallyUP offers a variety of games, including puzzles, arcade games, and strategy games, that users can play to earn tokens, which can be converted to cash via PayPal. In addition, TallyUP also has a referral program, daily goals, and events that offer more opportunities for users to earn rewards. We will delve into the different aspects of TallyUP, including its gameplay, earning potential, payment system, and availability, to help you determine if it is worth downloading and using.
What is TallyUP App?
TallyUP is a mobile application that offers the opportunity to win free money by competing against other users. It appeals to individuals who enjoy mobile gaming and have a competitive nature. The app is legitimate, and users can withdraw their earnings. However, there are crucial aspects to consider before using the app, and I will provide insights based on personal experiences.
How to make money from TallyUP App?
1. Make money by playing tower games from TallyUP App.
TallyUP's primary earning method involves playing tower games that require strategy and luck to win. These games are designed to be addictive and entertaining. The games require users to choose a level and bet tokens ranging from a penny to over $10,000,000. The objective is to collect more coins than the opponent, and whoever achieves this goal or collects the target number of coins wins the pot money.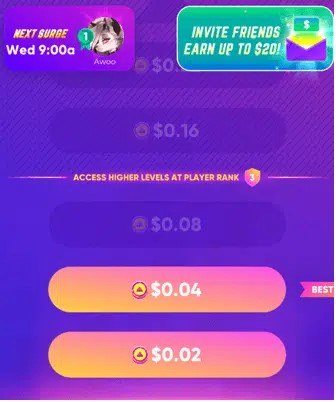 Losing the game results in deducting the tokens bet from the account balance while winning earns users credits to unlock the next level. Users can bet at their current level, move to a lower level, or move up to the highest unlocked level. Users can unlock new games and practice before playing when they reach certain levels. If users run out of tokens, they can earn more through other earning opportunities available on the app.
2. Make money by Daily Goals from TallyUP App.
TallyUP offers daily goals as an additional way to earn rewards. These goals usually involve playing games for a specific time or reaching a particular level.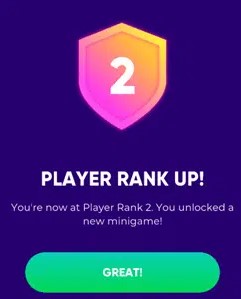 The daily goals can be viewed in the "Daily Goals" section of the app. Completing the daily goals can earn users tokens or bananas. The following section will discuss the uses of bananas collected from daily goals.
3. Make money by Events from TallyUP App.
TallyUP's events offer users another opportunity to earn more rewards through contests. Users can join events by spending bananas; each event has a duration and a specific number of winners, usually around 10.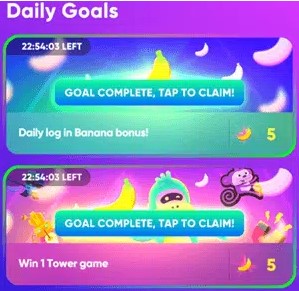 Most events involve playing one of the six available games and to win, users must be among the top scorers. The promised prizes for each event are indicated in the "Prizes" section, which can include tokens or even cryptocurrencies. Although winning is not guaranteed, joining events is essential as there is no other way to spend the bananas earned from completing daily goals.
4. Make money by Referral Program from TallyUP App.
TallyUP's referral program allows you to earn rewards by inviting friends to use the app. When you share your invite link and your friend downloads the app using it, they become your referral once they complete the sign-up process.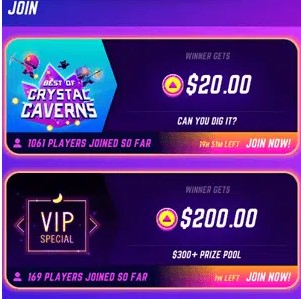 As a reward for inviting a friend, you'll receive a free spin for TallyUP's Mega Spin game, where you can win up to $20. Your referral will also receive the same reward if you win a prize. However, you can only play the Mega Spin game once every 24 hours, which can limit your earning potential from this referral program.
It's worth noting that winning the maximum prize of $20 is rare, and most spins will result in a lower prize of around $0.50 to $1. Additionally, the referral program's restrictions may make it less attractive than similar programs on other GPT sites.
Overall, while the referral program can offer some additional earning opportunities, managing your expectations and understanding the program's limitations is important.
How do you get paid from TallyUP App?
TallyUP App rewards you with tokens for most of the activities you do on the app. But what can you do with the tokens you've accumulated? One option is to withdraw your rewards as cash via PayPal. However, it's important to note that there is a minimum payout threshold of $10. While this threshold is relatively low, reaching it may take some time, especially considering the risks involved in playing the app's games.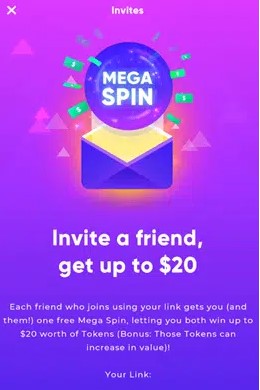 Another option is holding onto your tokens, as they are essentially TallyUP's cryptocurrency. If the value of these tokens increases, you could exchange them for a significant amount of money. However, it's important to note that this is a speculative investment, not a guaranteed return.
In addition to converting your tokens to cash or holding onto them, you can donate your earnings to charity. When you cash out, TallyUP requires you to donate at least 10% of your earnings to charity. This is a nice feature for those who want to give back while earning money.
Overall, TallyUP's payment system is straightforward and offers multiple options for converting earnings. Whether you withdraw your rewards as cash, hold onto your tokens, or donate to charity, TallyUP provides flexibility in how you use your earnings.
How to Join TallyUP App?
TallyUP App is currently available in limited countries, but they are expanding fast. To check if the app is available in your country, search your app store and search for it.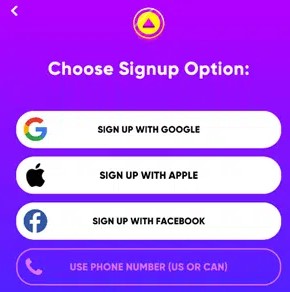 You can use your Google, Facebook, Apple, or mobile number to sign up as a member. Once you open the app for the first time, you will be asked to choose your registration method. The app offers several options, making the registration process easy and convenient.
After completing the sign-up process, you will be asked to play a tutorial game that will earn you $0.2. This will serve as your initial balance for playing games in the app. It is important to note that you must be at least 18 years old to register and use the app.
FAQs
Is TallyUP free to use?

Yes, TallyUP is free to use. You can download the app from your app store and sign up for free.

How can I earn rewards from TallyUP?

You can earn rewards from TallyUP by playing games, completing daily goals, participating in events, and referring friends to the app.

How much can I earn from TallyUP?

Your amount from TallyUP depends on your activity level and luck. Some users have reported earning up to $10 daily, while others have earned less. It's important to remember that some risk is involved when playing games that require real money, so earnings may only sometimes be consistent.

Is TallyUP safe to use?

TallyUP has received mixed user reviews, but it is generally considered safe. However, it's important to be cautious when playing games that require real money and only to invest what you can afford to lose.
See More:
RevCash App – Earn Crypto & Prizes With 4 Easy Ways
Earn Virtual Dollars With Golden Lucky Dice Mini Games in 2023
Toreba Crane Online Game – Make 100% Easy Money by Playing
Dice Royale App Review – Make 100% Easy Money by Playing Virtual Dice