Introduction
Surfe be is an online platform that offers the opportunity to earn rewards without investment. Users can accumulate earnings in their account balances through tasks like watching videos, installing their browser extension, and participating in a referral program. With a global reach and a simple registration process, Surfe.be provides accessible earning opportunities. However, it's important to consider the potential rewards, limitations, and platform terms before engaging with Surfe.be.
What is Surfe be?
Surfe.be is a website that promises users the ability to earn money online without any initial investment. It operates as a paid-to-click (PTC) site where users can receive payment for completing simple tasks. This appealing proposition suggests that by performing these tasks, individuals can generate income.
To gain a comprehensive understanding of Surfe.be, it is crucial to explore the earning opportunities it provides. This examination allows you to ascertain the site's potential earning potential.
How to Make Money From Surfe be?
At Surfe be, there are several avenues through which users can earn money:
1. Make Money by Watching Videos from Surfe be.
Surfe be offers an additional method to earn rewards by watching videos. Upon logging in to the member dashboard, users can easily access the available videos for viewing.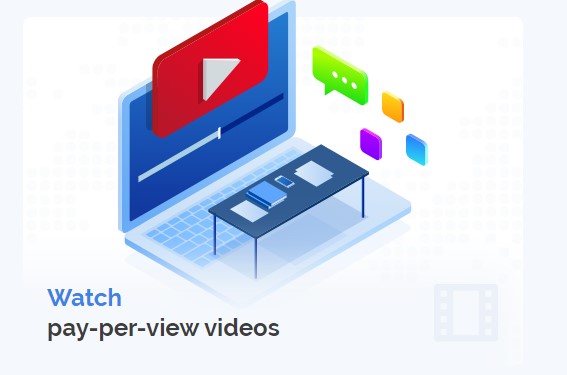 To start watching a video, click on it, and a window displaying the chosen video will open. By clicking the play button, a timer will initiate and appear in the upper left-hand corner of the page.
After the timer finishes, a captcha pop-up will appear. Solving the captcha correctly is necessary to receive the reward. It's worth noting that the captchas on Surfe. be challenging, so it may take a few attempts to solve them accurately.
If you fail to solve the captcha, refresh the page and watch the video again until the captcha pop-up reappears. Once the captcha is successfully solved, a message will indicate the amount earned. At that point, you can close the window and proceed to the next video.
It's important to mention that watching videos on Surfe.be is possible without installing their browser extension, which I will discuss next. However, using the browser extension provides access to more videos to watch.
Please remember that the information provided is based on the available knowledge until September 2021, and there might have been updates or changes to Surfe.be since then.
2. Make Money by Browser Extension from Surfe be.
Another way to earn rewards on Surfe.be is by installing their browser extension, which is compatible with Google Chrome, Mozilla Firefox, Opera, and Yandex browsers. This extension provides multiple earning opportunities for users.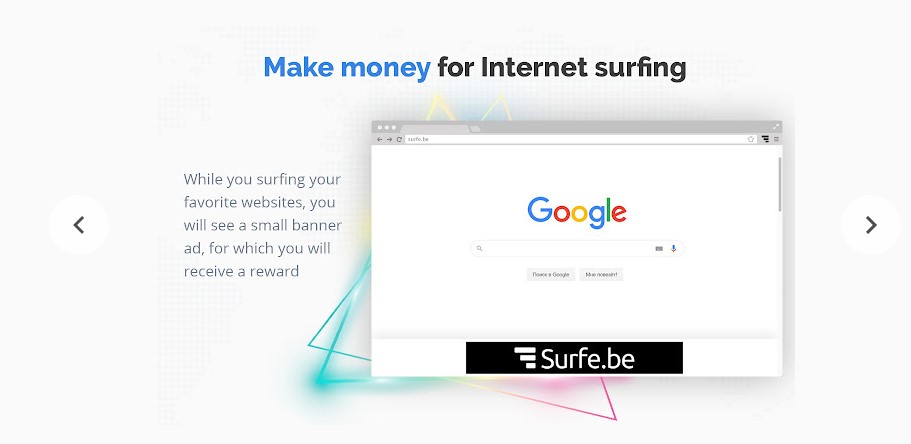 By installing the Surfe.As a browser extension, you gain access to a larger selection of videos to watch, increasing your earning potential. Additionally, the extension allows you to earn rewards by visiting specific websites.
Once the extension is installed, click on it to view the available websites and videos. You will notice a red button box on the Surfe.be an extension logo whenever new sites or videos are available.
Clicking on the logo when the red box is present will display the new sites or videos. To view a site or watch a video, click the "Start" button, which opens a new window. A timer will be visible at the bottom of the page for site visits. Once the timer completes, a message indicates the amount you've earned.
You can close the window after receiving the earnings message. The same process applies to watching videos.
Additionally, the browser extension will display small ad banners, known as banner impressions, on the websites you visit during your normal internet surfing. Surfe be will compensate you for each banner impression, although the exact payment per impression is not explicitly disclosed.
Therefore, by using the Surfe.be an extension. You can earn rewards passively while engaging in your regular browsing activities. The earnings from these passive activities may not be substantial. One notable concern is the lack of transparency regarding the exact earnings you can expect from these methods.
Please bear in mind that the information provided is based on the knowledge available until September 2021, and there might have been updates or changes to Surfe.be since then.
3. Make Money By Using The Surfe be Referral Program.
Surfe be offers a referral program as an additional earning opportunity. In a referral program, you can earn rewards by inviting others to join the site.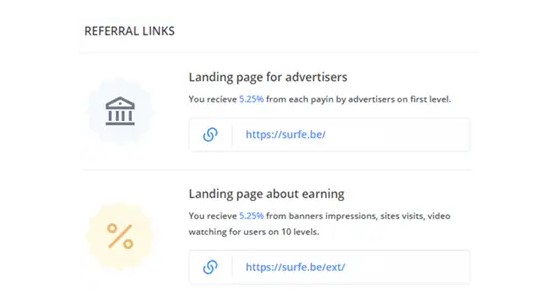 What sets Surfe.be's referral program apart is that you can invite both advertisers and earners. The platform provides separate referral links for inviting advertisers and earners. When someone you invite clicks on your referral link and registers, they become your referral.
Regarding the rewards you can earn for inviting advertisers to the site, you will receive a 5.25% commission for each ad campaign they run on Surfe be. For inviting earners, you will earn a 5.25% commission each time they earn rewards on the platform.
It's important to note that the rewards are offered through Surfe.be's referral program may be relatively lower compared to other referral programs. While the referral commissions may be insignificant, they can still provide an additional source of income if you can invite a significant number of active advertisers or earners.
Remember that referral programs' effectiveness depends on various factors, including the activity and engagement of your referrals. It's always a good idea to weigh the potential earnings against the effort required to promote and invite others to join actively.
Please remember that the information provided is based on the knowledge available until September 2021, and there might have been updates or changes to Surfe.be since then.
How Do You Get Paid From Surfe be?
Surfe. Users can earn a certain amount for each completed task, and these earnings are credited to their account balance.
Once you have accumulated at least $0.03 in earnings, you can withdraw your funds. Surfe be has set a very low payout threshold, which means you can request a payout relatively quickly.
To facilitate the withdrawal process, Surfe.be offers several payment options through various payment gateways. These options include:
Payeer
Qiwi
Yandex.Money
WebMoney
AdvCash

Multiple payment options are beneficial, as they allow users to choose the most convenient method for withdrawing their earnings.
How To Join Surfe be?
Becoming a member of Surfe.be is a simple process that involves filling out their registration form. Unlike platforms that may require email confirmation or additional verification steps, Surfe.be allows users to register without the need to confirm their membership. Once the registration form is completed, members can log in to the site and earn rewards immediately.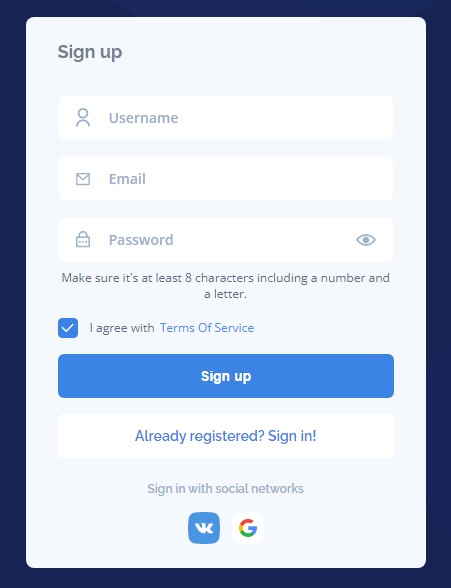 However, it's important to note that while Surfe.be may have a straightforward registration process. Users should still adhere to any applicable legal age requirements or other terms and conditions outlined by the platform. Reviewing and understanding the platform's terms of service and policies before becoming a member is advisable.
FAQs
How can I start earning with Surfe.be?

To start earning with Surfe.be, you need to sign up for an account on their website. Once you have an account, you can install the Surfe.be browser extension or add the Surfe.be code to your website if you are a website owner. Then, whenever you browse the web or visitors visit your website, you will see ads and earn money for each click.

How much can I earn with Surfe.be?

The amount you can earn with Surfe.be depends on various factors, including the number of ads you view or visitors your website receives. The earnings per click are typically small but can accumulate over time. The more active you are in browsing or, the more traffic your website receives, the more you can earn.

Can I use Surfe.be on any browser?

Surfe.be is compatible with popular web browsers like Chrome, Firefox, and Opera. They offer a browser extension to install to view ads and earn money while browsing.

Is Surfe.be available worldwide?

Yes, Surfe.be is available worldwide. Users from any country can sign up and start earning money by viewing ads. However, the availability of ads and the earning potential may vary based on your location.
See More:
TallyUP App Review – Earn by Playing Games With 4 Easy Tasks
RevCash App – Earn Crypto & Prizes With 4 Easy Ways
Earn Virtual Dollars With Golden Lucky Dice Mini Games in 2023