Introduction
Today I wanted to talk about TreasureTrooper. and reveal how it works. TreasureTrooper is a legit GPT site that allows you to make money by completing surveys, playing mini-games, and getting promotional offers. TreasureTrooper has one of the best referral programs, rewarding you not only for your referrals, but also for second-level referrals as well.
What is Treasure Trooper?
Treasure Trooper is a site where you can earn extra money by participating in different online offers. As it has many ways to earn, it is called a GPT site (Get-Paid-To).
The site has been driving since 2005 and has paid over $7,600,000 to its members.
Treasure Trooper is a very evident platform, and you can even check out regularly updated payment proofs.
How to sign up at Treasure Trooper.
Signing up with TreasureTrooper is the same as most of your survey/research-like websites.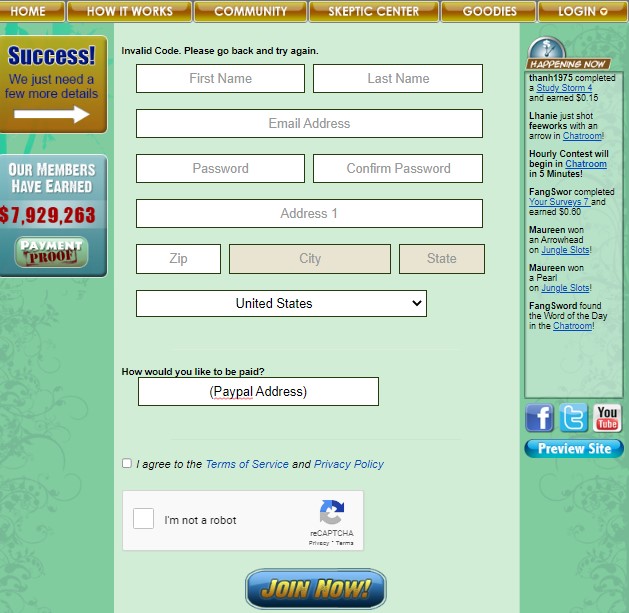 They make it easy, only asking for your e-mail address and first name. If you take the surveys, it will request you more details. They will give you a $1 bonus just for joining.
How to make money from Treasure Trooper
1. Make money by Cash surveys.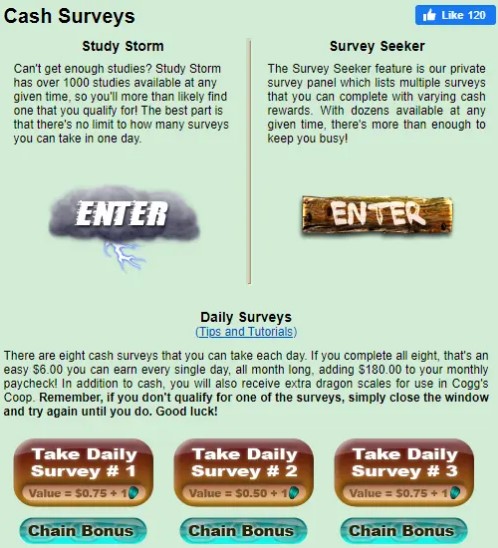 There are quite a few paid surveys you can do on Treasure Trooper. But as with everything on Treasure Trooper, it isn't straightforward and not just a simple list with the available surveys.

There are three main ways to do surveys:
Study Storm
Survey Seeker
daily surveys.
By clicking on Study Storm or Survey Seeker, you get access to a list of surveys. Be aware that the first time you click, you have to serve some more personal details, and it takes 24 hours to set up, so you cannot start taking the surveys immediately.
Then there is the daily surveys section. These are six surveys you can do every day.
This pays cash, and as Treasure Trooper says, it can make you around $4.25 a day, which is approximately $127 a month – this is in theory, however.
2. Make money with Cash offers.
These are offers where you can earn cash by doing several things online. Some of these offers demand you to buy something, and then you will get some cash back into your Treasure Trooper account.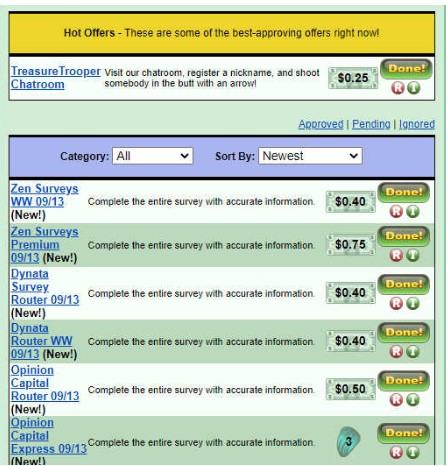 And then there is also an offer when you first join, where you can get a small reward for registering in the Treasure Trooper forum.
3. Make money by using the Treasure Trooper Search.
You can open a search tab and use Treasure Trooper's search always to do the online searches you do.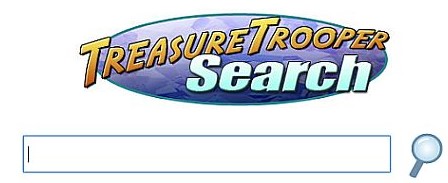 This will not be something you can earn cash doing, but you can earn some free arrowheads.
4. Make money by getting cashback when shopping.
Cashback options are usually excellent on GPT sites, as you can earn cashback when you shop online. It can be a way to earn when you spend money you would spend anyway.
Treasure Trooper also has a cashback section – according to themselves, with access to hundreds of brand stores.
5. Make money by Watch videos.
There is a portal that gives you access to many videos you can watch and earn by doing this.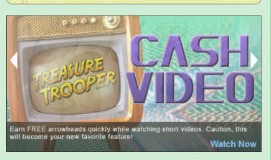 It can be videos about Hollywood stars, food videos, viral videos, movie trailers, etc. There are different categories you can choose from.
You will earn one arrowhead every time you have watched 17 minutes of video.
6. Make money by listening to the radio.
Listen to Radio Loyalty and make 1 Arrowhead every 10 minutes.
7. Make money by growing a dragon.
So this is the part where Treasure Trooper differs greatly from any other survey site.

Dragon scales are used to buy dragon eggs and many accessories to grow and train a dragon once it has been hatched. According to Treasure Trooper, a unique dragon can even give you up to $100.
8. Make money through Online Games.
You can also make gems and gold coins when playing mini-games and exchange them for cash via Check or PayPal once it earns $20.
9. Make money by referring friends.
Treasure trooper lets you refer your friends and get an extra 20% off all offers they complete for life. Treasure trooper will also give you a 5% commission from anybody your friends refer.
How to Cash Out?
They will send your payments by the 20th of each month if you meet the minimum balance of $20.
If you live in the United States, you have an advantage. You can order instant payments as soon as you exceed the minimum threshold.
FAQs
Can you use it on your mobile?

There is no Treasure Trooper app for your phone. But you can log in on your phone and use it.

Who can join Treasure Trooper?

No matter what country you are from, you can join Treasure Trooper as long as you are 13 years old.

Is TreasureTrooper free?

Treasuretrooper is a free service that presents a lot of money-making methods.

Is TreasureTrooper a scam?

No. TreasureTrooper is a legit site that rewards.
See More:
OneDayRewards Review – 7 Best Ways To Make Money Online.
85 Best Platform To Get Paid To Watch Videos Online in 2023
FluxRewards Review – 4 Best Ways to Make Money Online
PlaytestCloud Review – Make Money by Testing Unreleased Games 100% Free