Introduction
Suppose you have been searching for a genuine App to make money online. Congratulations, you are in the right place. Today we are talking about an App called WowApp that gives you various earning opportunities. WowApp is a worldwide platform with many exciting and different ways to earn, like taking surveys, installing apps, watching videos, and completing other tasks. Therefore, I will give you an inside look and overview, so you can easily see exactly what it offers and how to use it. Let's find out!
What is WowApp?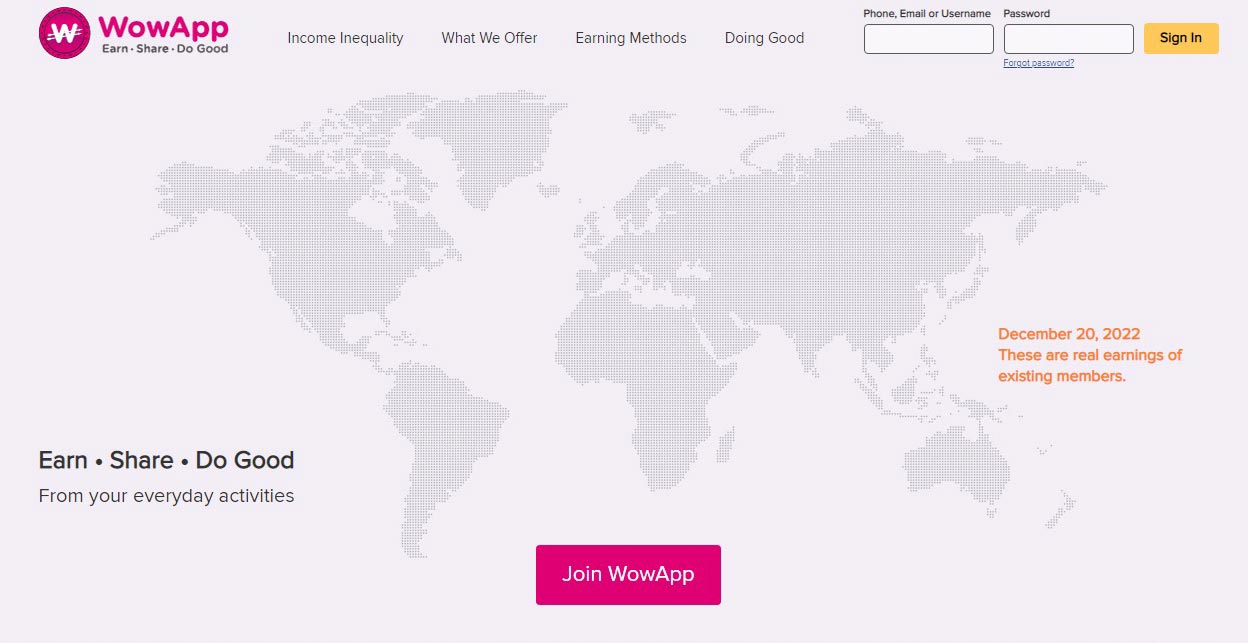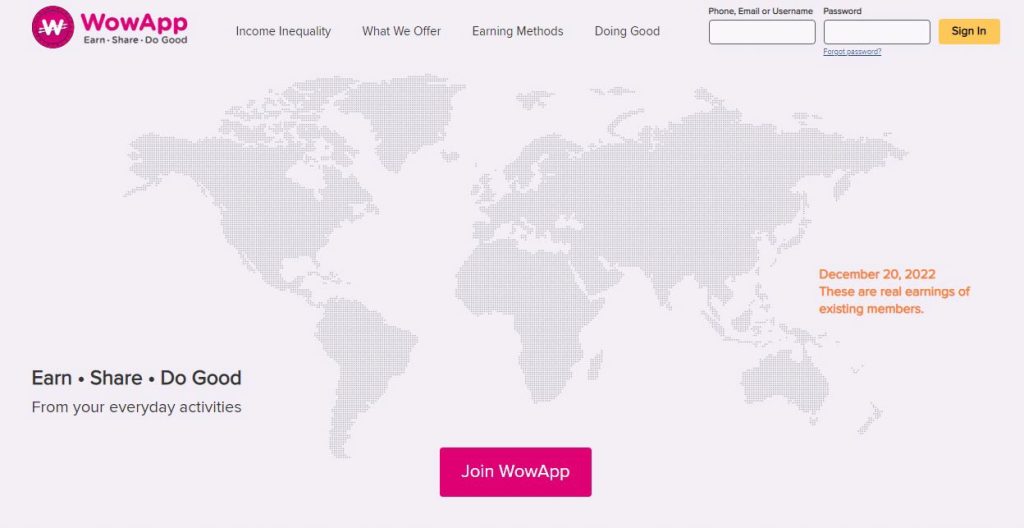 WowApp is a get-paid-to (GPT) app that offers various money-making options. It is available for download in the Google Play Store and the Apple App Store so that you can earn on the move with a mobile device.
If you are constantly outside your house and love to make pocket money, you can use other legit mobile rewarding apps.
Like all other GPT sites, you can earn rewards by completing tasks online. But in WowApp, you can earn cashback if you use the app to make phone calls or chat with friends.
How to Registration on WowApp?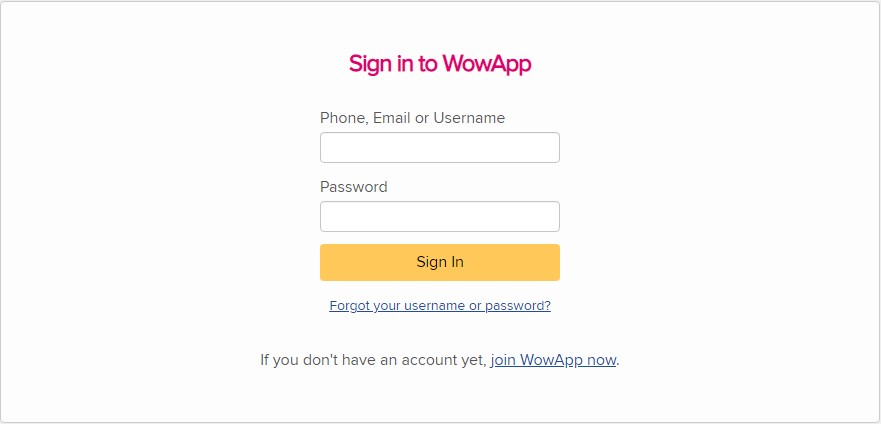 WowApp is available as a website that you can use on your computer, or as an app available for Android and iOS devices.
You can download and install WowApp through Google Play or the App Store.
To register, you must provide an email address and phone number. You will require to validate your email by clicking on the verification link.
Now, you are prepared to start earning, and it's essential to know that 100 WowCoins are worth $1.
How can you make money from WowApp?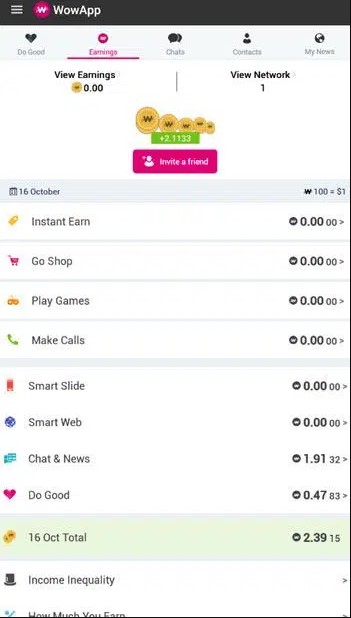 Instant Earn.
You can find various activities to make money in this tab, such as taking surveys, watching videos, completing offers, installing apps, and more.
Third-party companies like Peanut Labs, Fyber, and PollFish Survey provide these tasks.
1. Make money by paid surveys.
In the Instant Earn section, you can find paid surveys, where you can take surveys and get paid to share your opinion.
The rewards you get for taking surveys are more or less the same as on other survey sites, and it is a way of earning that is worth checking out.
It offers surveys through third-party providers, which means it has a decent number of surveys available, often several per day.
Like on all other survey sites, you know that you will not qualify for all the surveys, so do not give up if there are some you do not allow for – that happens to all of us.
2. Make money by watching videos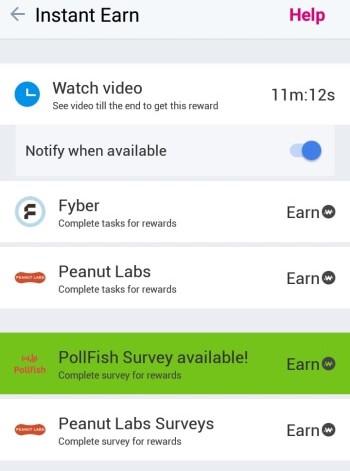 You can also watch videos in this section and get paid to watch these. Usually, concise videos, and compared to many other sites that offer videos to earn, it is easier on WowApp.
Watch one video, and then you will immediately get the earnings into your WowApp account. You can watch a new video every 20 minutes. This will give you small earnings, but can be a way to earn a little extra.
3. Make money with paid offers
In the same section, you also find offer walls. This is a site where you can get paid to take paid offers.
4. Make money by Go Shopping
WowApp has partnered with over 2000 merchants so that you can earn cash back on purchases made through the platform.
The cashback amount depends on the store and the product. The problem is that they don't specify the cashback rate for different products.
5. Make money by Play games online
There is an extensive games section on WowApp. Here you can see small online games of more or less any type you can play for free.
You will earn only a few rewards like this, but you will make more money the more you play.
It should not be something you should do to earn, as WowApp has options that pay better.
But if you like to play games, why not make them simultaneously and do it through WowApp?
6. Make money by reading the news
This tab allows you to make WowCoins for making free calls, chatting, sharing files, reading news, and more. These actions will pay you 20% of the net earnings.
7. Make money by calling and chat
WowApp has a process comparable to Skype, where you can call other WowApp users for free and buy credits to make national or international calls. You will earn 10% of their net earnings for every paid WowApp call.
8. Make money by Smart web
This is a browser extension available for Chrome and Firefox. When you use Smart web, you will earn WowCoins for browsing, reading news, taking surveys, and shopping.
They say you will earn 50% of net revenue, but it's unclear whether the different categories offer a different pay rate.
9. Make money in Referral Program
WowApp's referral program is extremely helpful, approximated to other GPT sites. The reason is that your referral network can grow up to 8 levels.
So, you will earn a percentage of your referral's earnings and a percentage of what your referral makes, up to 8 levels.
How Much Money Can You Make from WowApp?
It's a difficult question because Wow app only mentions the percentage you will earn based on their net revenue.
The problem is that you don't know their net revenue before completing tasks, so you have to accept whatever they pay you.
WowApp Payment method.
You can cash out via PayPal, Bank account, credit card, mobile credit, and WowCredit. Unfortunately, they don't specify the minimum payout requirement.
FAQs
Who can join Wow App?

Wow App Available worldwide, so you can join no matter where you live. To join WowApp, you need to receive an invitation from an existing WowApp user, so join using an invitation link.

Can you get support?

If you need support when using WowApp, you have several options.
You can submit a support ticket on the website or send a message through the official Facebook page.

How much money can you make?

This depends on a lot of things. It has a lot of opportunities, but it, first of all, depends on how many of these options you want to use and how much time you want to spend on it.
See More:
TV-TWO App Review – 3 Easy Ways To Make Money on Your Phone
SoundCloud Review | 2 Easy Ways To Make Money By Listening To Music
Ebuno Earn Money by playing games | 4 Easy Ways To Make Money
Up-4ever Review-Make Money Just by Enjoying listening to Music