Introduction
A website called Yamgo claims you can make money by doing the things you already do daily. This is a GPT website that offers you the chance to make money for completing offers, downloading apps, and Watching videos. Yamgo is a legit site that will pay you when you meet any of the earning opportunities the site offers.
What is Yamgo?
Yamgo is a relatively new Get-Paid-To site created on the Hedera Hashgraph platform. It will allow you to make money by completing offers, watching videos, and taking part in other earning options. When you finish an offer or download an app or game, you will get points that can be withdrawn from Amazon gift cards or other rewards. You can also watch videos, answer questions, take surveys, and more.
How to join Yamgo?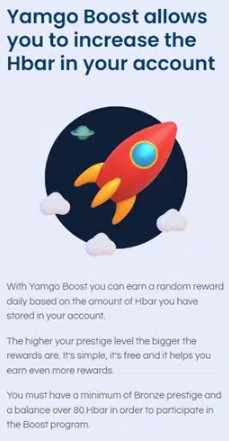 To register, you'll have to fill out the registration form. Then, Yamgo will send a verification email. Click the link in the email to complete your registration.
After you've completed your registration, you can log in to the user dashboard.
How to make money from Yamgo?
Here's how you can earn from Yamgo.
1. Make money by Paid offers from Yamgo.
The primary way to make money on Yamgo is through their paid offers. When you log in to the user dashboard, you must click the "Earn" link to view all the available paid offers. Once you are in the Earn section of the dashboard, click any of the sections to consider the available paid offers.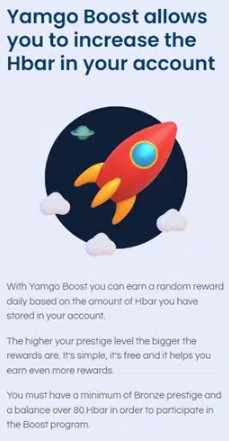 The category with the most paid offers is the App & Games category. To complete an offer, you must click the button showing how much you will earn. Then, you will see the instructions you need to obey to finish the offer. Once you complete the offer, It will credit you the promised reward, which will be a specific amount of HBAR. A decent number of offers are available anytime to make HBAR daily.
2. Make money by Boost from Yamgo.
The Yamgo Boost is an option for you to make free crypto once per day.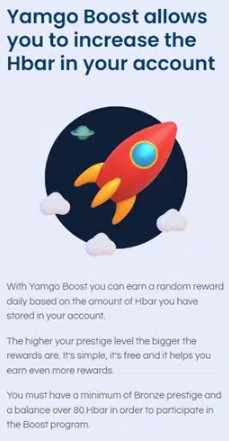 The way it operates is that you will get a random bonus once per day according to your prestige level. You need to reach a minimum of Bronze in your prestige level to participate in this earning opportunity.
You don't need to do anything extraordinary to get this because you can get the Bronze level ultimately as long as you keep completing paid offers. You see, Yamgo will consistently keep track of the number of paid offers you've completed, and once you've finished the required number of paid offers, you will unlock the prestige status. You will get all the advantages of that prestige level, including rewards from their Boost opportunity.
Another thing you must remember to get this bonus reward is to have 80 HBAR in your account before you can start making the prize. So, you will need to reach this threshold to avail yourself of the Boost bonus.
3. Make money by watching videos from Yamgo.
You can also earn by watching videos. From time to time, Yamgo will post videos you can watch.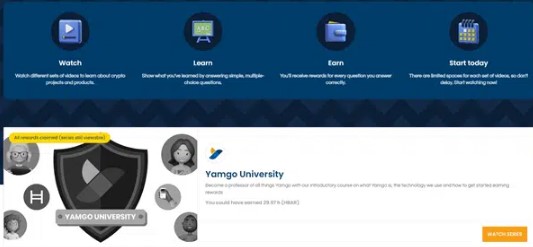 These videos are primarily educational, so you need to pay attention when watching them. That's because you'll have to answer a quiz at the end of the video.
For every correct answer, you'll receive a certain number of HBAR. The thing, though, is that only a few members can earn from this opportunity.
That's why if you see a video posted, I recommend you watch it immediately to get the reward.
4. Make money by Referral program from Yamgo.
Last, you can also get rewards through Yamgo's referral program. This kind of option is straightforward. You invite people to join the site with your referral code.

Once your referral registers, they have to input your referral code. After they've accomplished that, they will become your referral. You and your referral will receive HBAR upfront as a bonus, so it's a win-win for both players.
How do you get paid from Yamgo?
This site will only allow you to make cryptocurrency, specifically the HBAR cryptocurrency, the Hedera Network cryptocurrency. It uses the Hedera Hashgraph to manage its transactions.
When you sign up, you will also have to create a Hedera Hashgraph account if you don't have one. If you have a Hedera Hashgraph account, you can use your key to link your Hedera account to Yamgo. So getting your reward, you must create a Hedera Hashgraph account.
FAQs
Is Yamgo a legit site?

Yamgo is a legit GPT site that will allow you to make crypto for participating in the earning options it presents.

Who can join Yamgo?

Yamgo is available more or less worldwide. You can sign up as a member regardless of where you live.

Can you use it on mobile?

Yamgo has a mobile app you can download to work on paid offers on your mobile device.
See More:
Match to Win app – 6 Easy Ways to Make Money Online
FruitLab – Make Money by playing & watching Games with 3 More Easy Task
FireFaucet – Start earning Free Cryptocurrency With 7 Easy Ways
Money Well App Review – Earn by Playing Mobile Games 100% Legit