Introduction.
If you are looking for an easy and fun way to make extra money, there's an app called Money Well that declares you can make money simply by playing games.
What is Money Well?
Money Well is a GPT app that will pay you to download and play mobile games. It's very similar to another app that promises to pay you for playing mobile games. As for its legality, yes, money well is a legit app that will pay you for playing the featured mobile games they offer.
How To sign up for free at Money Well?
To sign up, install the app. Then, go to the registration function. There are three ways you can register. You can use your Google or Facebook account to register and sign up with your email address.
Once you've decided which account to use, It will ask you to allow the app to track data usage. Enable the app to do this because this will be the only way for the app to follow how long you've been playing a mobile game. Once you've done that, you will be logged in to the app.
Make money by Playing mobile games from Money Well.
The main earning opportunity this app offers is its featured mobile games. At any offered time, Money Well features mobile games you can play to make rewards.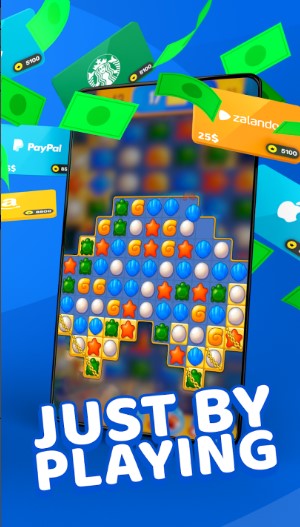 All you have to do is log in to the app, and you will instantly visit all the games you can play.
As for earning from playing games, choose which game. When you log in to the app, choose which game you want to play and press the "Start Playing" button.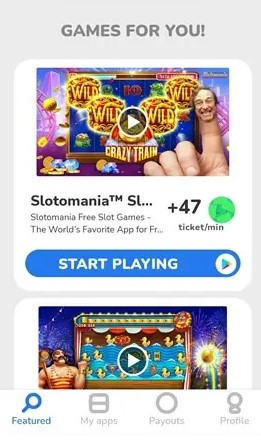 It will take you to the Google app store page of the game. Just install the game and wait for it to finish. Once you install the game on your mobile device, go back to the Money Well app and go to the "My Apps" section.
You will then see all the games you just installed on that page. Press the game to open it. You need to go through the "My Apps" page so that Money Well can track how long you are playing the mobile game.
It's a reasonably straightforward way to earn, but what they don't tell you is the longer you keep playing a game, the fewer tickets you earn until you will earn nothing from it anymore. They developed this procedure to make sure you try out other games.
It's a pretty ingenious plan because if you want to maximize your earnings, you must try out as many games as possible. That's how money well makes its money. Game developers will request their help to boost their games and encounter new users.
As for the games you can play, they are mainly casino and puzzle games. They don't feature popular mobile games.
Make money by Referral program from Money Well.
Another way to earn rewards from Money Well is to invite others to join the app. This is called a referral program; it is on most GPT, survey sites, and apps.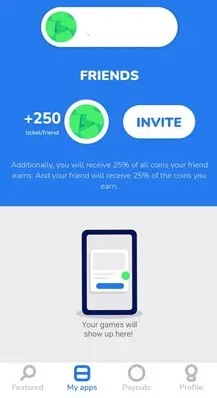 In Money Well's case, you will make 250 tickets per person you invite that successfully becomes a member of the app. Aside from that, you will also get a 25% commission on whatever your referral will earn. The same goes for your referral. They will also get a 25% commission every time you make something. So, it's a win-win condition for both of you.
To invite a person to join the app, go to the "My Apps" section and press the "Invite" button. You can then choose how you can invite people.
The possibilities will rely on the messaging apps you've installed on your mobile gadget. Still, naturally, you can send the invitation via email or SMS since these are the essential messaging opportunities you have on your mobile device.
How do you get paid from Money Well?
You will make a certain amount of tickets for playing mobile games and inviting people to use the app. You can then convert your tickets to cash through PayPal. Their Google Play page says you can cash out rewards like gift cards using your keys.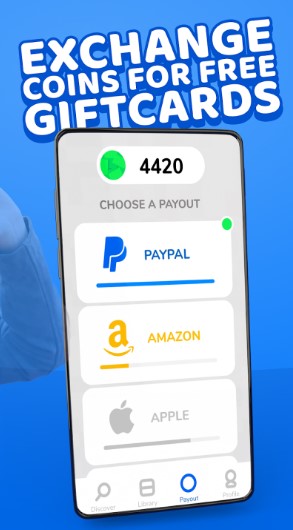 As for withdrawing, you are earning via PayPal. It will also depend on your country, since the app will automatically use your local cash. The tickets suggested will also vary depending on the amount you can withdraw.
For example, a $1 PayPal withdrawal will cost about 19,000 tickets. So, it's hard to specify the actual value of the tickets you've achieved. But the one stable thing about their payment system is the threshold will be pretty low.
FAQs
How much money can you make?

You will normally take around 40 to 50 tickets per minute you play a game.

Can you use it on a desktop?

Money Well is a mobile-only platform. So, to answer the question above, no, you can't. You will need a mobile device to make from Money Well.

Who can join Money Well?

Money Well is available globally. That means you can sign up regardless of where you live.
See More:
Legion Network – Watch videos, play games, and get paid by cryptocurrency 100% Easy
Long Game Savings – Earn Money by playing Games & 4 More Easy Tasks
HitPredictor – Make Easy money by listening to and Rating Music
GPTBee – Make Money With Surveys – Paid to Click – 3 More Easy Ways