Introduction
Millions of people are now using mobile apps to make money online. Many mobile apps allow you to get paid for your opinions. Another available option for Android and iOS devices is the 1Q App. 1Q is an innovative survey app that promises to pay you $0.25 every time you answer a straightforward question from your phone.
What Is 1Q App?
1Q App is a survey application that pays its member after answering online polls and questions. Multinational companies usually hire them to perform market research on their behalf.
Now, they have developed several questions that they ask their members. They then pay immediately for every question a member answers.
In addition, they have a mobile-developed procedure where a user receives the questions. Nonetheless, if a user does not have a smartphone, they extend the services by delivering these users' questions via text messages.
How to join the 1Q App?
You can download 1Q App on the Google Play Store or App store.

You can make money through 1Q.com, too, but it's best to download the App to get text notifications when new questions come in.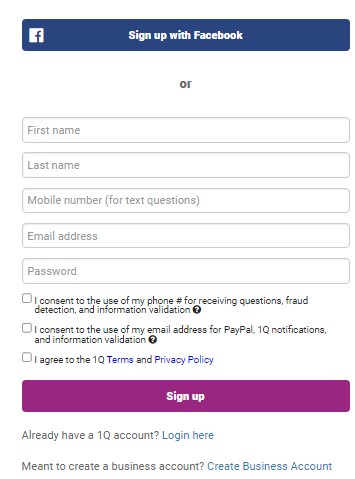 Likewise, you can sign up for a new account on their website. Likewise, you'll need to enter an email, verify your phone number, and fill out a profile. The more honest and open you answer, the more likely you will get more questions. Remember to select the $.25 payout options, so you can earn more!
How to make money by answering questions from 1Q App?
The name 1Q App is a short form 1 question. You can make money from this App every time you answer one question. That's how simple it is to make from this App.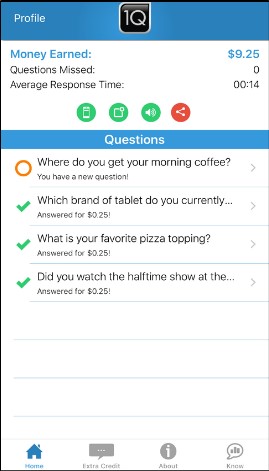 When you log in to the App, you will see these questions you can answer to make money. So, when you open the App, you will instantly see all the questions available.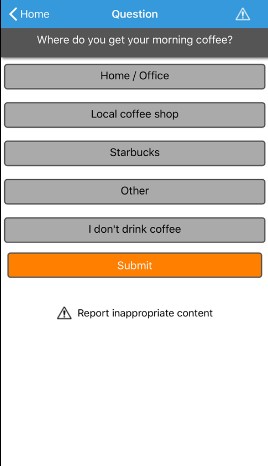 Each question is worth $0.25. It's not much, but considering it only takes a few seconds to answer a question, the amount is pretty good.
Sometimes, you will get a survey-type possibility involving multiple questions. But even though it is a survey-type option, you will always get paid per question you answer.
For example, if you get a survey that has four questions, you will receive $1 once you finish it.
There's also another way for you to receive questions, and that is through a text message. However, that will only happen if you consent to the App to send you questions through SMS.
How do you get paid from 1Q App?
As mentioned above, every question you answer will earn you $0.25. The good thing about this App is they do hold to its promise of paying you instantly every time you answer a question. You will get paid via PayPal instantly. Compared with other survey-type apps, this is a very convenient option because you won't have to wait to reach a payout threshold to withdraw your earnings.
After answering one question, you will receive the payment within minutes. So, they present a simple way to make money and offer a convenient payment method through PayPal.
How much money can you make from 1Q App?
The downside of this App is that you will earn a little money from it. So, expect to make only a few dollars from this App.
That being said, although, you will only make $0.25 per question.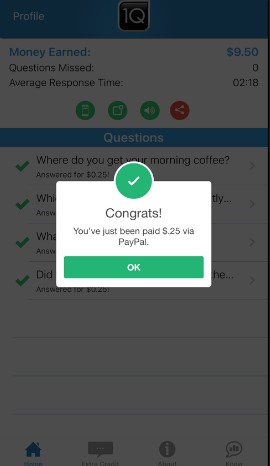 The actual time-to-money percentage of this App is surprisingly sound. This is because you only need to spend a little time earning rewards. At most, it will take you a minute to finish answering a question.
The number of questions you will receive will depend on your profile. So, you can only expect to earn a regular amount. Sometimes, you will have a proper number of questions available, but sometimes, there won't be any.
The best way to improve your chances of receiving questions is to update your profile regularly, especially if you move, get a new job, get married, or have a baby. You will take advantage of questions targeting you when you update your profile. The more recent your information, the more questions you will get.
Another thing you must remember is to ensure you pay attention to the push notifications you receive from the App.
This is because most questions have the highest number of respondents required. If that number is reached, you won't be able to make money. That is why it is important to get to the questions quickly if you want to maximize your earnings. Anyway, it will take you seconds to answer it.
FAQs
Can you use it on a desktop?

Unfortunately, 1Q is a mobile-only platform. This means you need a smartphone or even a tablet to earn.

Is 1Q A Scam, Or Is 1Q Legit?

1Q is NOT a scam; they're free to join, it's easy to make a bit of extra pocket money, and they do payout.

How can I get 1Q questions?

The members don't need to do anything to start receiving questions. Instead, members will be sent questions to their mobile devices once they are part of an active survey audience.
See More:
CashCrate Review – 7 Best Ways to Make Money Online
The Hiving Review – 6 Easy Ways To Make Money From Your Home
DonkeyMails Review – 6 Best Ways To Earn Money Online