Introduction
Answeree is a question-and-answer website that allows users to earn money by answering questions asked by community members. Unlike other Q&A sites that require expertise in a particular field, Answeree welcomes anyone to provide answers to questions as long as they follow the guidelines. With a simple registration process, users can log in and start answering questions to earn points, which can be exchanged for cash via PayPal or Skrill. Answeree is a legitimate and convenient way to make money online by sharing your knowledge and helping others.
What is Answeree?
Answeree is a legitimate question-and-answer website that compensates users for providing valuable answers to community members. Unlike similar platforms, such as JustAnswer,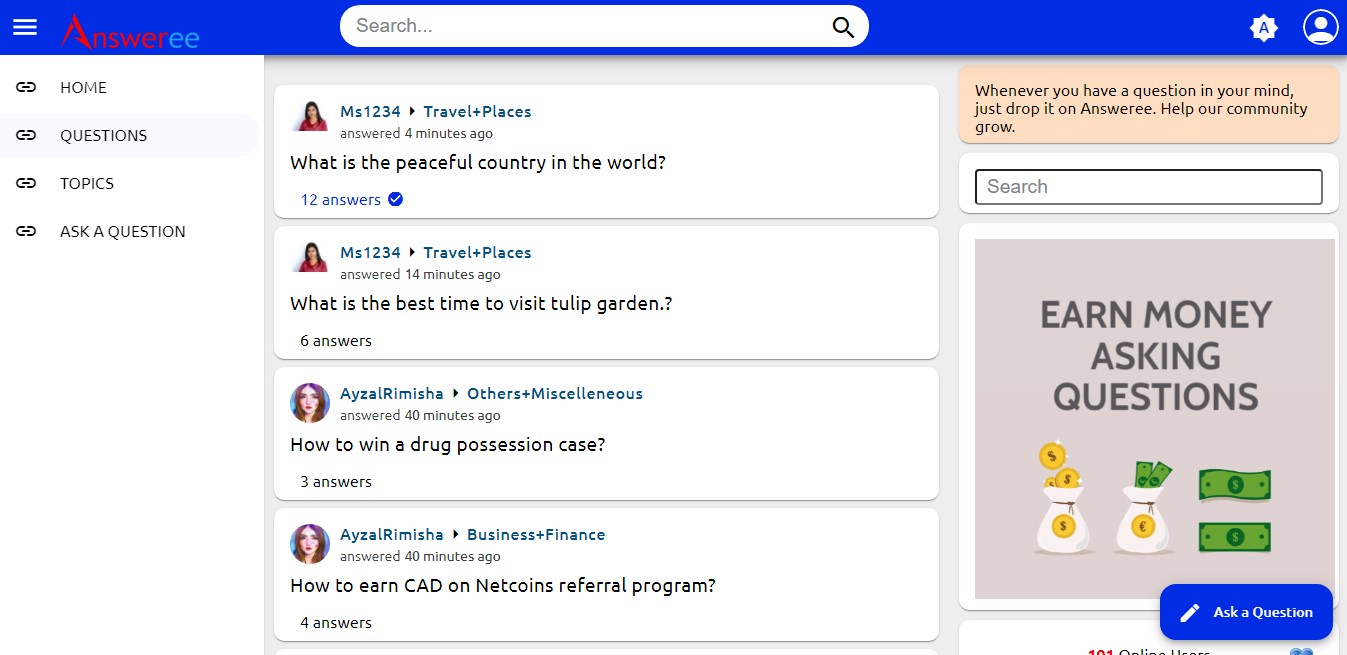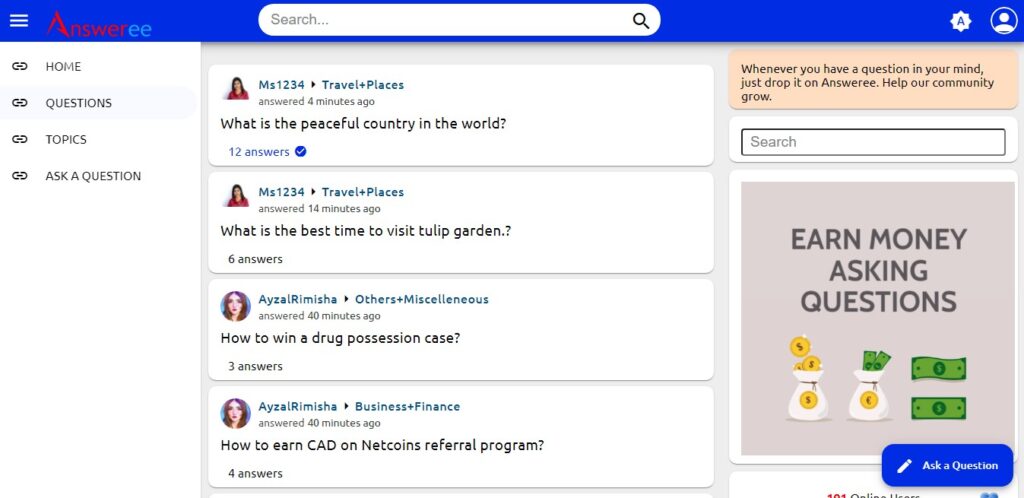 This site doesn't demand users to have expertise in a specific area before answering questions, making it easier to earn money from the site.
How To Join Answeree?
Answeree is a worldwide platform that welcomes users from around the world. Registration is open to anyone at least 18 years old, regardless of location.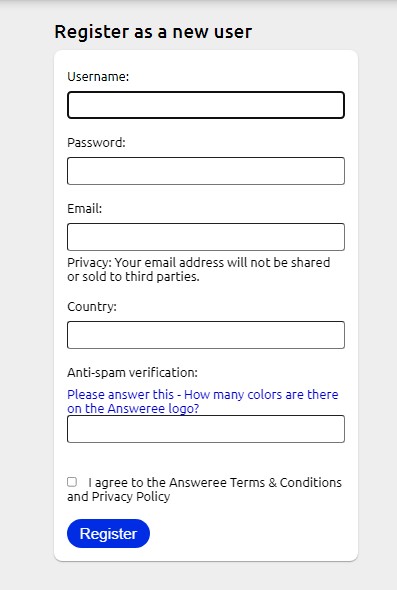 To become a member, complete the registration form provided by This site. After submitting your details, you will receive a confirmation email with a link to finalize your registration. Once you have completed this process, you can log in to the website and answer questions immediately.
How to Make Money by Answering Questions From Answeree?
Answeree is a question-and-answer website that rewards users for answering questions posted by community members. To earn rewards, you must register on the site and log in to your account.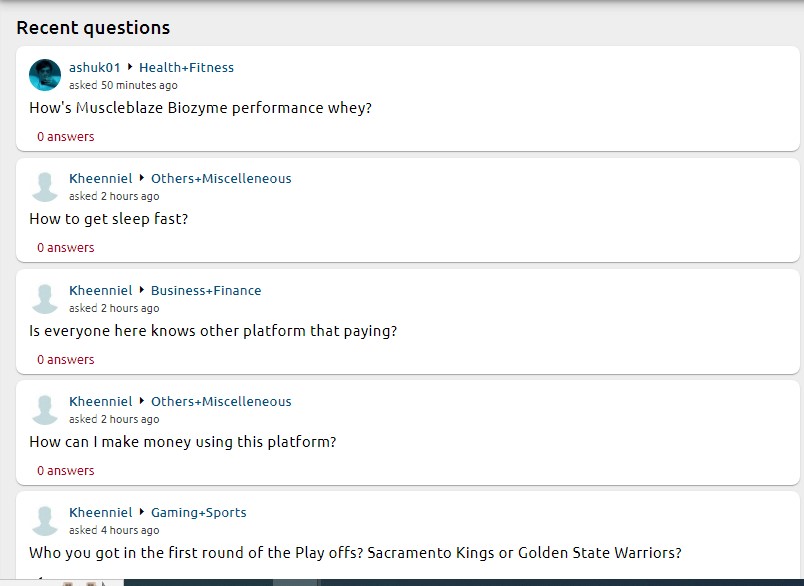 When you log in, click the "Unanswered" option on the menu to see questions that have not yet been answered. Select a question that you feel confident answering and provide your response. It is important to ensure that your answer is original and does not contain grammatical or punctuation errors. It should also not be copied from another source or include any spam, affiliate or irrelevant links.
If answers are already provided in the question, you must provide a different answer. Therefore, it is essential to ensure your answer is unique and different from any previous answers posted.
When you post an answer, the member who posted the question will decide whether to accept it by upvoting your response. Upvotes from other members of This site also help increase your chances of getting your answer accepted.
For every accepted answer, you will earn 10 points. However, you will only earn 5 points if your answer is not accepted. If your answer violates any of the site's guidelines, penalties ranging from 10% to 90% of the total points will be applied.
It is important to note that there are guidelines you need to follow when providing answers on This site. Therefore, reading and understanding these guidelines before answering any questions is advisable. Although it may take some time to get used to the process, with practice, you can improve your chances of getting your answers accepted and earning rewards.
How Do You Get Paid From Answeree?
Answeree rewards users with points for answering questions, which can be exchanged for cash. The exchange rate is 10 points for $0.01. To request a payout, you need to earn at least $2 for PayPal or $10 for Skrill. After your first payout via PayPal; the threshold is raised to $5, while it remains at $10 for Skrill.
Overall, the payment system is simple to understand, and Answeree offers a convenient payment method like PayPal. If you're interested in other sites that pay via PayPal, you can check out a list of top sites.
How Much Can You Earn From Answeree?
The amount of money you can earn from Answeree depends on various factors, such as the quality and accuracy of your answers, the number of questions you answer, and the demand for your expertise. This site pays its users based on the number of upvotes and views their answers receive, as well as their level of participation on the site. Typically, the more active and helpful you are on the platform, the more money you can earn. However, it's important to note that This site is not a get-rich-quick scheme and shouldn't be relied on as a primary source of income.
FAQs
What is the payment threshold for Answeree?

For PayPal, the payment threshold is $2 for your first payout and $5 for subsequent payouts. For Skrill, the threshold is always $10.

Is Answeree a legitimate website?

Yes, Answeree is a legitimate website that pays users for providing accepted answers to questions.

How do I earn money on Answeree?

You can earn money by answering questions posted by other community members. Each accepted answer earns you 10 points, which can be exchanged for cash.
See More:
MobiRich Review – Get Paid To Receive SMS 100% Easy & Legal
BitcoinGet Review – Earn Free Bitcoins by Watching Videos With 3 Easy Tasks
Solitaire Cash – Earn by Playing Solitaire Games 100% Easy Money
McMoney Review – Make Money For Receiving Text Messages Isn't 100% True!