Introduction
Welcome to CoinPlix: Where Fun Meets Rewards! Discover CoinPlix, the ultimate Get-Paid-To (GPT) app that combines entertainment and earning opportunities. You can turn your leisure time into rewarding moments with engaging games, exciting tasks, and paid surveys. Whether you're a gaming enthusiast, a survey lover, or enjoy completing tasks, CoinPlix has many options to suit your preferences.
As a global platform, CoinPlix welcomes users from all around the world, offering a chance for everyone to earn rewards. You can effortlessly convert your hard-earned coins into cash through PayPal or indulge in various gift cards. So, step into the world of CoinPlix and embark on an adventure where fun and rewards await you at every turn!
What is CoinPlix?
CoinPlix is an authentic Get-Paid-To (GPT) app that offers a fun and exciting way to earn rewards. Users can genuinely earn rewards by engaging in various activities, such as playing games and exploring other earning opportunities. This app provides a legitimate platform for users to earn extra cash while enjoying themselves. Give it a try and start earning rewards with CoinPlix!
How to Make Money from CoinPlix?
So here's how to earn from CoinPlix.
1. Make Money Playing Games from CoinPlix.
CoinPlix offers an engaging way to earn rewards by playing games. Upon logging in, you'll notice the "Play and Earn" section, where two types of games are available. The first type allows you to play solo games by selecting the "Playtime" option. In these games, you'll earn coins for every minute, but the longer you play a specific game, the fewer coins you'll make per minute. This system encourages users to try out different games, as CoinPlix earns revenue from game developers for attracting players to their games, thereby implementing a diminishing returns approach.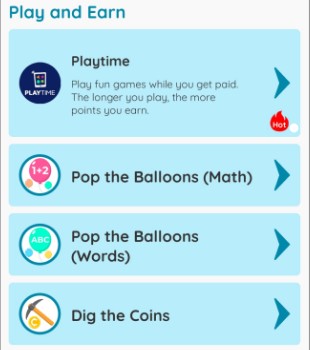 The second type of game involves competing against other CoinPlix members in games like "Pop the Balloons" and "Dig the Coins." To participate, you'll need tickets; initially, you will receive 20 free tickets. More tickets can be acquired by claiming them periodically or watching video ads. The goal in these games is to outscore your opponent, and if successful, you'll win a certain number of coins (usually 20), but if you lose, no earnings are awarded. These games cater to the more competitive individuals.
It's essential to note that while these games are enjoyable and rewarding, they may lead to little earnings due to the relatively low number of coins won, even when victorious. Nevertheless, CoinPlix provides a legitimate opportunity to earn rewards while having fun playing games.
2. Make Money by Offerwalls from CoinPlix.
To increase your coin earnings on CoinPlix, you can focus on completing tasks from offerwalls. These tasks typically involve answering surveys or quizzes, playing other mobile games, watching video ads, or signing up for free trials. To start, choose an offerwall and click on it to view the available tasks. Click on a specific task to access detailed instructions and requirements.

Pay close attention to all the instructions and requirements, as failing to meet even one of them will result in the task not being completed, and you won't receive the promised reward.
While there is a decent number of tasks available per offerwall, it's worth noting that CoinPlix currently offers a limited selection of offerwalls compared to more popular GPT sites and apps. While other platforms may have 10 to 15 offerwalls, CoinPlix currently provides only three offerwalls during testing. Consequently, this means fewer opportunities to earn coins than some of the more established GPT sites and apps.
Nonetheless, working on tasks from offerwalls remains a viable option to boost your earnings on CoinPlix. Just be diligent in following the task instructions, and you can still earn rewards through these opportunities.
3. Make money by Paid Surveys from CoinPlix.
Indeed, another way to earn more coins on CoinPlix is by participating in paid surveys. Unlike having its surveys, CoinPlix has collaborated with various survey providers to offer its members a range of survey opportunities.

To begin, you can select a survey provider and click on it. Subsequently, you'll be asked to provide some basic information, which the survey provider will utilize to determine if any surveys suit you. If a suitable survey is available, it will be displayed, and you can click on it to start answering the survey.
It's essential to be aware that the initial part of the survey often consists of qualifying questions. These questions help the survey provider ensure that you are indeed the intended target audience for the survey. If you meet the qualifications, you'll answer the survey. If you don't qualify for a particular survey, don't worry; you can move on to the next available study if there are any.
Qualifying for surveys can sometimes take patience. It's normal to encounter qualifying questions that may not match your profile for a specific survey. However, consistently participating and answering any available surveys increases your chances of eventually qualifying for surveys that align with your demographics and interests.
By taking advantage of the paid survey opportunities on CoinPlix, you can further enhance your coin earnings while providing valuable feedback to various companies and researchers through these surveys.
4. Make Money by Referral Program from CoinPlix.
A final way to earn on CoinPlix is through its referral program. By inviting others to join the app using your unique referral code, you can receive rewards for successful referrals.
Here's how it works: Share your referral code with the people you want to invite and remind them to input it during sign-up. When they do so, you'll be rewarded 250 coins as a thank-you gesture for successfully referring them to the platform.
Furthermore, the benefits of the referral program continue beyond there. You can continue earning passively by receiving a 20% commission on every task your referrals complete from any offer walls. As your referred users engage with the app and complete tasks, you'll receive a portion of their earnings as a commission.
While the referral program can be a decent way to earn extra coins, it's essential to make sure you invite people who are genuinely interested in using the app and engaging with its various earning opportunities. Asking active users who participate in tasks and games will increase your potential to earn through the referral program and maximize its benefits.
How Do You Get Paid from CoinPlix?
Once you've earned coins from the various earning opportunities on CoinPlix, you can convert those coins into real-world rewards. The primary redemption methods include converting currencies to cash via PayPal or redeeming gift cards.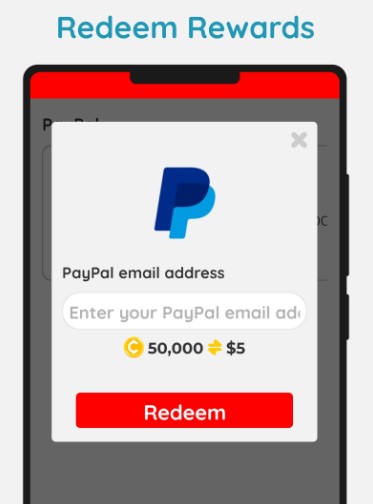 To cash out your earnings via PayPal, you must accumulate at least 20,000 coins, equivalent to a $2 withdrawal. However, please note that the availability of payment options may vary depending on the country you reside in. Sometimes, the app may offer gift cards as the primary payment option for users in certain countries.
Regardless of the payment method, the overall payment system of CoinPlix is designed to be straightforward and user-friendly. Cashing out through PayPal provides a convenient way for users to receive their earnings as real money, making it an appealing feature for those seeking extra income through the app.
Remember to review the payment options available in your country and decide whether you prefer cash through PayPal or redeeming gift cards, and then enjoy the rewards you've earned by participating in CoinPlix's various earning opportunities.
How to join CoinPlix?
The sign-up process is straightforward. You'll need to install the CoinPlix app on your device to get started. Upon opening the app for the first time, you'll be prompted to log in using your Google account. Once you've successfully logged in, you'll gain access to the member dashboard, where you can explore and start participating in the various earning opportunities offered by the app.
By using your Google account for registration, Coin Plix aims to simplify the onboarding process for new members, making it convenient to start earning rewards immediately.
With its global accessibility and user-friendly sign-up process, CoinPlix provides an inclusive platform for individuals worldwide to engage in fun activities and earn rewards through their app.
FAQs
Is CoinPlix available worldwide?

Yes, CoinPlix is available to users worldwide, allowing individuals from different countries to sign up and become members.

How do I qualify for paid surveys?

Qualifying for paid surveys often involves answering initial qualifying questions to determine if you are the intended target audience for a particular survey. If you meet the criteria, you'll proceed to answer the full survey and earn rewards.

Are there any other payment options besides PayPal and gift cards?

The payment options may vary depending on your country. Sometimes, gift cards may be the primary payment method for users in certain regions.

How do I sign up for CoinPlix?

To sign up for CoinPlix, you must install the app on your device. You'll be asked to log in using your Google account when you open the app for the first time. After logging in, you can access the member dashboard and start earning.
See More:
Alien Crush – Make 100% Real Money by Playing Mobile Game
Happy Scroll Slot – Earn By Playing 100% Easy Mobile Game
3 Easy Ways To Earn Free Crypto from Quicrypto Mobile App