Introduction
Earning extra cash online has become quite easy nowadays, as many legit ways exist. EarnDoing is one of the online rewards sites that promise to pay you for doing small tasks on their website. Let me explain all the details now, so you can get a clear view of this site's good or bad. That way, you can determine whether it is a site worth joining.
What is EarnDoing.com?
EarnDoing.com is a unique site. It's like a Paid-To-Click (PTC) site because you can make money by viewing ads. And there are a few features you would see on PTC sites that are not present.
It's almost like a Get-Paid-To (GPT) site, since most earning potentials are usually on GPT sites. So, we'll call EarnDoing.com a GPT site.
How to make money from EarnDoing.com?
Now, to thoroughly understand the earning opportunity of this site, we have to read the earning options it offers. So, here's how you can make money from EarnDoing.
1. Make money by Paid offers from EarnDoing.
As a GPT site, most offers are in their paid offers section. So, this will be your primary way of making money on this site. These tasks usually request you to answer a survey, play a game, register to a site, watch a video, answer a quiz or even download an app. Each offer will have a batch of instructions you must follow. Once you finish the offer, you will receive the promised reward.
2. Make money by Paid ads from EarnDoing.
You can also make money from this site by simply viewing ads. You have to go to the PTC section of their dashboard to make rewards from paid ads. You can view ads one by one or view them in succession.

To view ads, one by one, click any ad listed. It will then open a new window showing the ad. You usually must wait roughly 5 to 10 seconds for the ad to load. You will also notice a loading bar in the upper left-hand corner informing you how much has been loaded.
Once the ad is entirely loaded, you must solve a captcha to complete the procedure. When you successfully crack the captcha, you will get the reward, and you can close the window.
If you want to view all the ads in succession, click the "Start Surfing" button. You will then have to experience the same method when viewing the ads individually. You still have to crack a captcha to complete the viewing.
But once you solve the captcha, instead of the process ending, it will automatically load the next ad. You can continue doing this until there aren't any ads gone to view.
3. Make money by Offerwalls from EarnDoing.
Offerwalls are just an attachment of their paid offers. There are just various offerwalls with many offers you can complete to make money.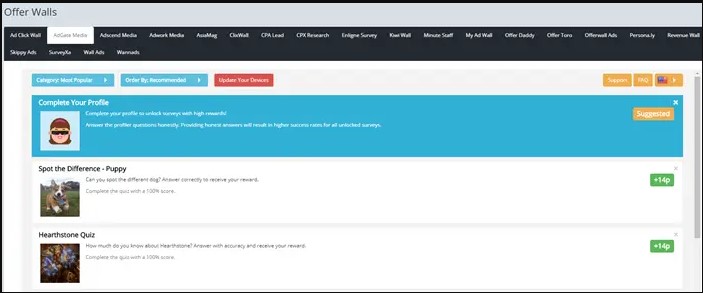 When you click on a recommendation from an offerwall, it will take you to the site hosting the offer. So, don't be shocked if you get taken to another website when completing an offer from an offerwall.
Complete the offer like you usually would. Once you've finished the offer, you will get the reward.
4. Make money by Facebook likes from EarnDoing.
One amazing earning potential EarnDoing offers is Facebook likes. You get to make money by simply choosing particular Facebook fan pages. You gain 0.05 points for each fan page you like. It's a little, but it's straightforward to do.
Connect your Facebook account to the site to make money from this option. To connect your Facebook account, click the login button in their likes section. It will invite you to input your Facebook login details.
Once you complete connecting your Facebook account, EarnDoing will post links to fan pages you can like.
5. Make money by Referral program from EarnDoing.
Like most online rewards sites, you can make money by inviting others to join the site. Share your invite link with them, and when they sign up to EarnDoing by operating your referral link, they will become your direct referral.
You will then get a 10% commission for whatever you make on the site, which EarnDoing will shoulder. It's small, but can count up to a proper portion if you recruit many people.
You can grow your profits by renting referrals at $0.25 every 30 days. You can use your account balance to pay for it.
How do you get paid?
Points are EarnDoing's virtual currency. They can then swap it for cash. Their exchange rate is 1 Point = $0.001.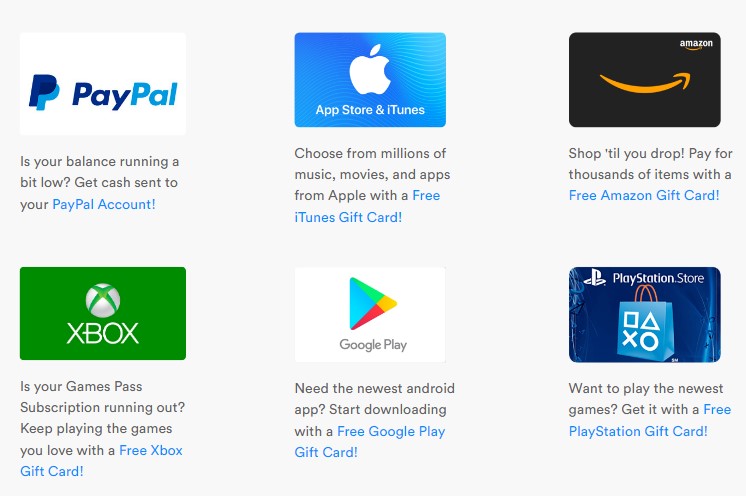 Once you've made $1, you can order a payout via PayPal. A 2% fee must be paid before the amount is transmitted. They will deduct this fee when you order payment. However, before you can order payment, you must verify your account. You must present a clear image of a document/passport/ID to verify your identity to complete the verification process.

So, if you want to receive your payout, you do that. And if it does not satisfy you with this, then this site is not for you.
FAQs
Who can join EarnDoing.com?

As with most GPT sites, EarnDoing.com is available globally. You will be able to join their platform regardless of where you live.

Is EarnDoing.com a legit site?

EarnDoing.com is a legit GPT site that will pay you for completing offers and other activities.

Can you use it on mobile?

Using a mobile web browser to work on offers from a mobile device would be best. Unfortunately, they don't make it easy for you.
The site's mobile version needs to be mobile-friendly, as the website needs to be mobile-responsive.
See More:
Unique Rewards – 10 Ways You Can Make Money from Home.
Voices – Make Lots of Money by Reading Words 100% Easy Method
Probux – Make Money by clicking Ads With 4 Easy Tasks