Introduction
Welcome to Fish Paradise! Dive into an immersive aquarium simulation game where you can merge and raise a variety of enchanting fish and sea creatures. Unleash your creativity as you unlock higher-level fish, beautify your fishery, and earn enticing rewards. With the opportunity to accumulate cash, redeem gift cards, and even enjoy in-game bonuses, Fish Paradise offers an addictive and rewarding experience. Prepare to embark on a mesmerizing journey through dreamy waters and create your aquatic paradise. Start playing for free and see how far you can swim in this captivating underwater adventure!
What is Fish Paradise?
This platform offers various cash-out options, including PayPal, Visa, Gift Cards, and even in-game currencies. Discover the secrets to generating an additional $10 or more daily by clicking the link below!
Immerse yourself in the captivating world of Fish Paradise, an engaging aquarium simulation where you can unlock higher-level fish by merging two identical ones. If you enjoyed playing Royal Fish Hunter, a game I reviewed in 2021, you'd find the mechanics of Fish Paradise quite similar.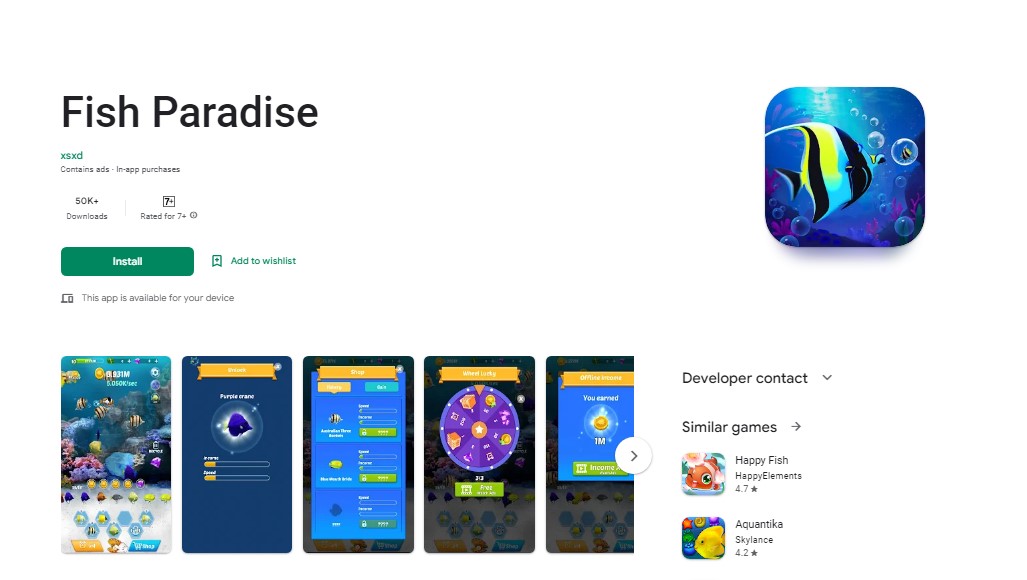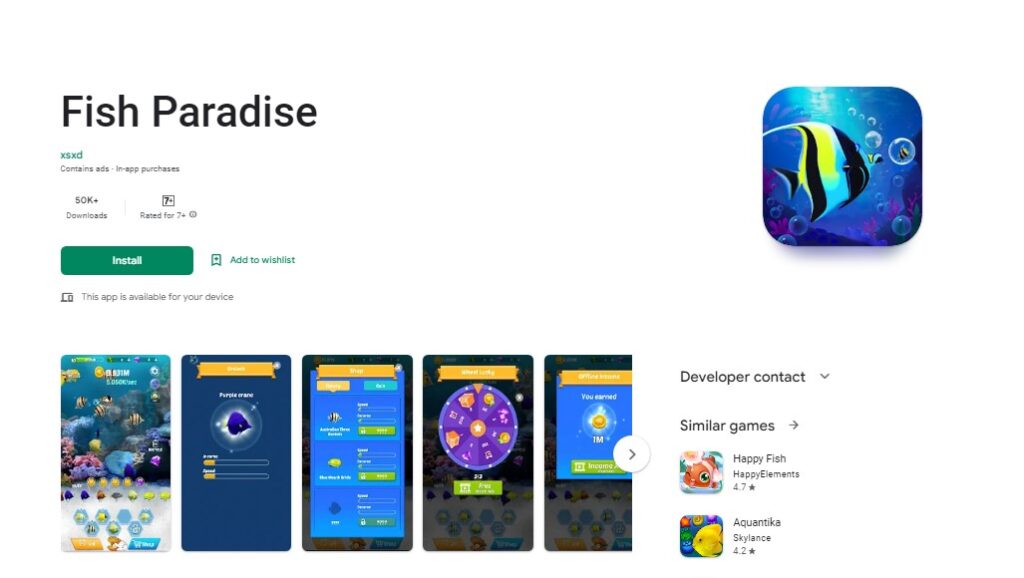 As you combine fish and other mesmerizing sea creatures, you'll earn cash rewards that accumulate in your account. Once your balance reaches $100, you can transfer it directly to your PayPal account or redeem it for an Amazon gift card.
Despite having over 10,000 installations, Fish Paradise has struggled to impress users thus far, reflected in its low rating of 1.8 stars on the Play Store.
While you may have made some accurate assumptions about the game, let's investigate how it operates!
How Does Fish Paradise Work?
Fish Paradise, a free game on Google Play, offers an enticing experience without registration. Upon launching the game, you'll be welcomed by a captivating mermaid, luring newcomers with the allure of enchanting waters.
A prominent PayPal logo awaits in the center of the game interface, tempting you with the possibility of earning effortless money. This visual element captures your attention and highlights the opportunity to win cash rewards.
Your objective in Fish Paradise revolves around nurturing and raising a diverse range of fish species while gradually enhancing the beauty of your fishery. By merging two identical fish, you can unlock higher-level fish and expand your collection.
To kickstart your journey, the game generously provides a $7 cash coupon bonus right from the beginning, offering a head start in accumulating cash rewards. This initial boost sets the stage for your progression in the game.
How to play Fish Paradise and Make money?
Tap the oyster to obtain your first level 1 fish to begin playing Fish Paradise.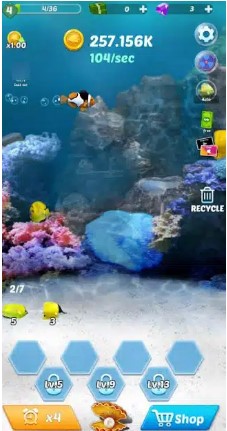 Continue this process to acquire another level 1 fish and merge both to unlock a level 2 fish. This merging mechanic allows you to progress and discover higher-level fish within the game.
Whenever you achieve a new record and create the highest-level aquatic animal, you'll be rewarded with a cash prize of $2. However, to claim this reward, which is common in many games involving monetary incentives, you must tap the "claim" button and watch a video advertisement.
Furthermore, any fish in your inventory can be dragged into the aquarium, where it will generate coins over time. The higher the level of the fish, the more coins it will generate. Utilize these coins wisely by purchasing additional fish from the shop, saving you time in the game.
You'll unlock higher levels and accumulate cash rewards by continuously merging fish and acquiring more aquatic life. The addictive nature of Fish Paradise stems from the excitement of collecting virtual dollars that can eventually be converted into real-world earnings.
Enjoy the gameplay and immerse yourself in the journey of creating a thriving underwater paradise while also earning rewards!
How do You Cash Out From Fish Paradise?
Once you reach the milestone of accumulating $100 in Fish Paradise, you can withdraw your funds through PayPal or redeem them as Amazon gift cards. This provides you with flexibility in how you choose to utilize your earnings.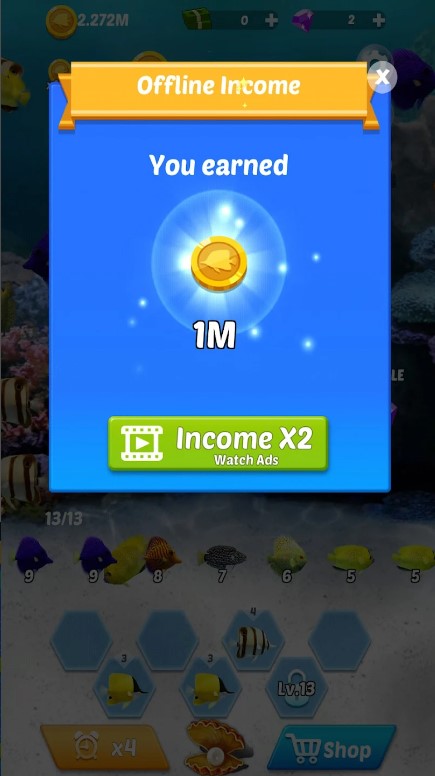 Furthermore, if you unlock the level 30 fish in the game, you gain access to an exciting bonus. At this achievement, you can redeem $100 iTunes or Google Play gift cards, allowing you to enhance your digital entertainment experience outside of the game.
These reward options offer a variety of choices for players to cash out or redeem their earnings, allowing them to enjoy their hard-earned virtual wealth in various ways.
FAQs
Is Fish Paradise available for free?

Fish Paradise is a free game you can download and play on Google Play.

Do I need to register to play Fish Paradise?

No, Fish Paradise doesn't require registration. You can start playing the game right away.

How do I unlock higher-level fish in Fish Paradise?

To unlock higher-level fish, you must merge two identical fish. By combining them, you can progress and discover fish of higher levels.

How do I claim the cash rewards in Fish Paradise?

Tap the "claim" button and watch a video advertisement to claim your cash rewards. This is a common mechanic in games that offer monetary incentives.
See More:
Buff Platform Review – Earn By Playing Games with 3 Easy Ways
Undersea Connect – Win iPhone 14 by Solving Puzzles
Cash Master – Earn By Playing 100% Easy Coin Pusher Game