Introduction
Welcome to Undersea Connect! Dive into an addictive casual elimination game that immerses you in the enchanting world of sea creatures. Connect identical elements, strategize your moves, and eliminate them to boost your score. As you progress, you'll unlock cash rewards and delightful surprises, allowing you to withdraw your earnings. But the excitement doesn't end there. Aim for level 100 within the time-limited event to win the highly coveted iPhone 14. Get ready to embark on an underwater adventure filled with captivating visuals, challenging levels, and the pursuit of high scores. Download Undersea Connect now and experience the thrill of connecting creatures beneath the waves!
What is Undersea Connect?
Undersea Connect is an engaging casual elimination game that immerses you in the vibrant world of sea creatures. The premise is simple yet captivating: connect identical sea creatures to eliminate them and watch your score soar.
The addictive nature of the game lies in chasing that elusive high score. The more creatures you connect in a single move, your score climbs, providing a satisfying sense of accomplishment.
But here's where Undersea Connect takes it up a notch. Your score isn't just a mere number on the screen; it propels a progress bar forward, unlocking a world of delightful surprises once it reaches the gift icon.
Imagine the excitement as you reach that milestone. A gift box materializes, filled with in-game rewards and the promise of real cash prizes. Yes, the developers have gone the extra mile to make you feel like you're earning real money!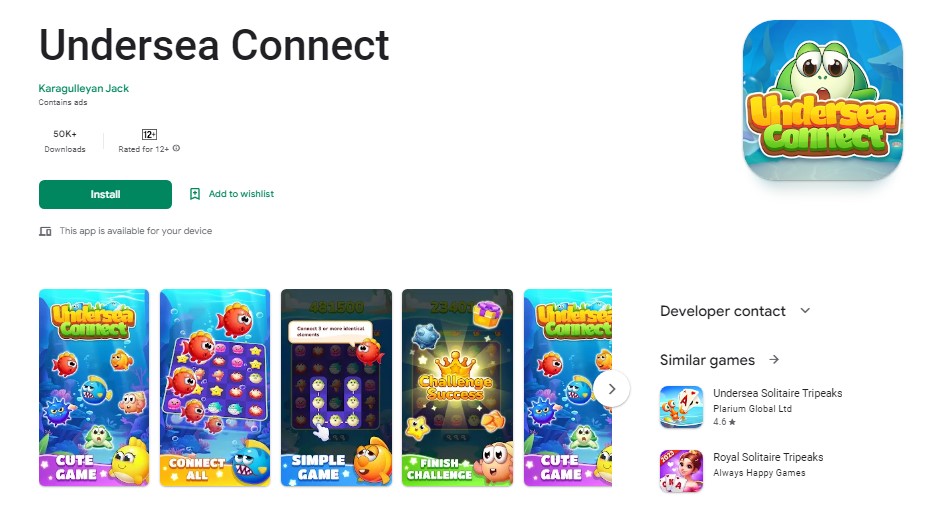 According to their claims, once you accumulate a total of £240 in your account, you can request a withdrawal of your earnings. And here's the cherry: if you hit that withdrawal target within 24 hours, they'll generously add an extra £800 as a bonus to your balance. It's an enticing incentive that fuels your determination to play and win.
But wait, there's more! As part of a special event, if you can conquer level 100 in Undersea Connect, you can win the highly coveted iPhone 14. It's an extraordinary reward that raises the stakes and adds a thrilling element of competition to the game.
So dive into the enchanting depths of Undersea Connect, where addictive gameplay, the pursuit of high scores, real cash rewards, and the possibility of winning an iPhone 14 combine to create an experience you won't want to miss. Prepare to immerse yourself in a world where sea creatures come to life and victory leads to exciting surprises!
How Does Undersea Connect Work?
Undersea Connect is a captivating free-to-play game available on the Android platform. Immerse yourself in its mesmerizing visuals as virtual cash flows into your balance.
The game's objective is straightforward: slide and connect at least three identical elements to eliminate them. It's a test of your strategic thinking and puzzle-solving skills.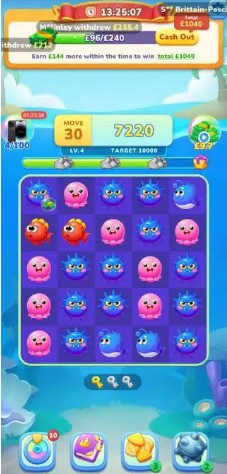 But there's more to it. Create connections of five or more elements, and you'll unleash special ones that aid in eliminating them even faster. It's all about finding the most strategic moves to maximize your progress.
As you successfully eliminate elements, new sea creatures gracefully descend from above to fill the vacant spaces. It's a seamless and dynamic gameplay experience that keeps you engaged and on your toes.
Prepare to embark on an exciting underwater adventure where connecting sea creatures and unleashing their power will lead you to triumph!
Make money by playing Undersea Connect.
When your progress bar reaches the gift card icon in Undersea Connect, you'll complete the level and unlock exciting cash rewards. However, there's a catch: you only have a maximum of 30 moves to achieve this feat.
But here's where things get a bit sneaky. To claim your well-deserved rewards, you'll be prompted to tap the claim button and watch a brief commercial. This clever tactic aims to maximize ad views and ultimately boost the game developer's profits. It's a trade-off between enjoying the rewards and enduring the commercials.
If you find yourself struggling with a challenging level, don't worry! Undersea Connect offers props that can assist you in your quest for underwater domination. These helpful tools can provide that extra boost you need to overcome obstacles and progress.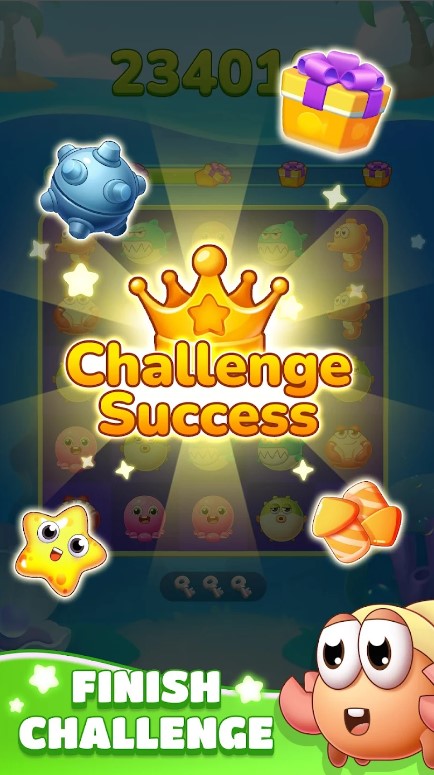 And here's an interesting tidbit: tapping the cash bubble at the top can trigger another video and instantly receive £10. It's a quick and tempting way to add to your virtual riches within the game.
So, dive into Undersea Connect, navigate the levels, and strategically connect sea creatures to unlock cash rewards. Just be prepared for the occasional commercial break and take advantage of the props and bonuses to make your underwater adventure successful!
How to Win the iPhone 14 From Undersea Connect
To stand a chance at winning the highly coveted iPhone 14 in Undersea Connect, you face an exhilarating challenge: reaching level 100 within the limited timeframe of the event, which spans just 24 hours.
This demanding objective adds excitement and urgency to the game, strategically designed to captivate and hook players. The time constraint heightens the sense of competition and pushes you to give your best, striving to conquer each level as quickly as possible.
Every move counts as you navigate through the underwater world, connecting sea creatures and eliminating them. With the clock ticking, you'll feel a rush of adrenaline, intensifying your focus and determination to reach that significant milestone before time runs out.
The combination of an exclusive event, the allure of winning the latest iPhone model, and the time-sensitive nature of the challenge to create an irresistible hook for players, ensuring that they remain engaged and invested in the game.
So, prepare for a thrilling race against the clock in Undersea Connect as you strive to reach level 100 within the exhilarating 24-hour event and seize the opportunity to claim the highly sought-after iPhone 14!
Undersea Connect Withdrawing Cash.
To withdraw your earnings in Undersea Connect, press the cash-out button at the top of the interface and follow the provided prompts. It's a straightforward process that allows you to access your accumulated funds.
Moreover, there's an enticing bonus awaiting you. If you reach the target of £240 within the 24-hour time limit, you'll qualify for an additional £800. It's an opportunity to boost your earnings and add a generous bonus to your account.
So, whenever you're ready to cash out your hard-earned rewards, tap the cash-out button and follow the instructions. And remember, reaching the £240 target within the specified time frame will earn you that exciting £800 bonus.
FAQs
How can I download Undersea Connect?

Undersea Connect can be downloaded for free from the Android platform.

How do I play Undersea Connect?

The game aims to slide and connect at least three identical sea creatures to eliminate them. Strategic moves and puzzle-solving skills are essential for success.

Can I withdraw the cash rewards I earn in the game?

You can withdraw your earnings by pressing the cash-out button at the top and following the provided prompts.

How can I win the iPhone 14?

To win the iPhone 14, you must reach level 100 within the specified time limit during a special event.
See More:
Cash Master – Earn By Playing 100% Easy Coin Pusher Game
Bubble Match – Earn By Playing 100% Easy Android Game
Mega Coin Dozer – Earn By Playing 100% Easy Arcade Game
Reedsy Discovery – Make 100% Easy Money By Writing Book Reviews