Introduction
IndexClix is a paid-to-click (PTC) website that allows users to earn money by clicking on ads, playing games, and participating in various other activities. It is a simple platform enabling users to make small amounts of money by spending just a few minutes daily. With a low payout threshold, multiple payment options, and a referral program, IndexClix has become a popular choice for those seeking extra cash online. Users can also advertise their products or services on this platform to reach a larger audience.
What is IndexClix?
IndexClix is a paid-to-click (PTC) website where users can earn money by viewing advertisements, completing surveys, and completing other tasks. The site offers money-making methods, including paid-to-click ads, paid-to-sign-up offers, and surveys.
Users can earn money by viewing ads and completing various tasks, and the earnings can be withdrawn through PayPal or other payment processors once the minimum payout threshold is reached.
How to join IndexClix?
To join IndexClix, visit their website and complete the registration form.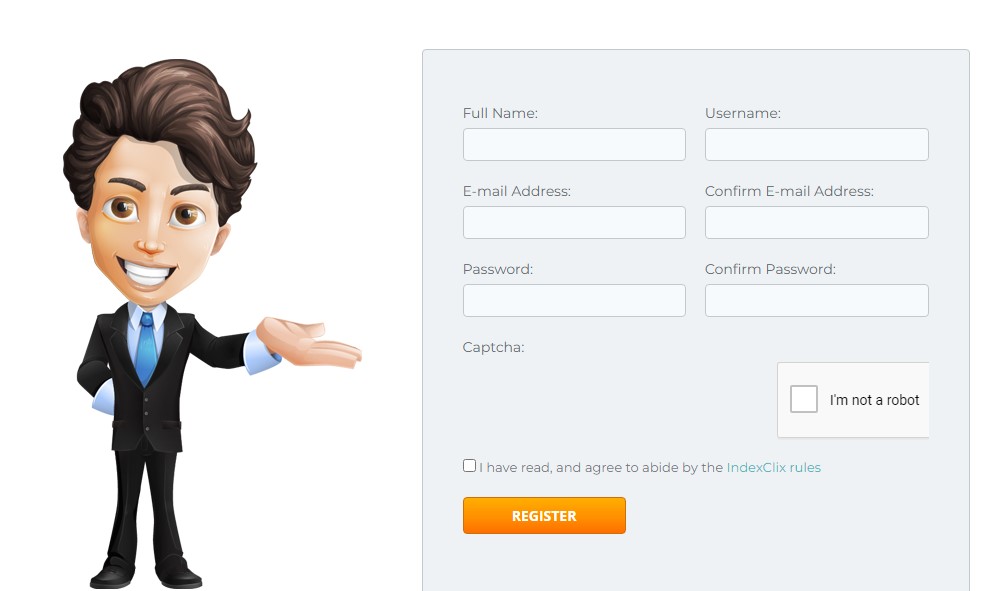 The straightforward process doesn't require confirmation or verification, so you can start earning immediately after logging in. It'sIndexClix is available globally, so anyone can sign up and become a member regardless of location.
How to Make Money From IndexClix.?
There are 7 Best ways to make money from Indexclix.
1. Make money by viewing ads from IndexClix.
One of the main earning opportunities on IndexClix is by viewing paid ads. This is the essence of a PTC (paid-to-click) site, and it's very easy to do.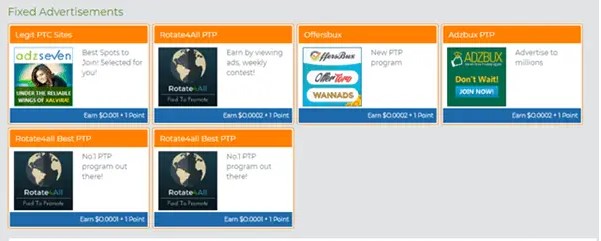 To get started, simply click on the name of the ad you want to view, and it will open in a new window. Wait for the ad page to load completely, and then look for the captcha in the upper left-hand corner. Completing the captcha is required to finish watching the ad and earn the reward.
The captcha will typically ask you to select a specific image. Once you've completed it, you'll see a message that says, "Thank you for watching," and then you can close the ad page.
There are four types of ads available on IndexClix: fixed, mini, flash, and bonus ads. The main difference between them is the amount you can earn, with set and bonus ads usually paying the most.
However, remember that you will only earn $0.001 (at most) per ad you view. You'll need to consider many ads to make a significant amount. So while it only takes a few seconds to complete each ad, patience is key to earning a worthwhile reward.
2. Make money with Paid offers from IndexClix.
Paid offers are a way to earn rewards on PTC and GPT sites. They are small tasks that include playing games, answering surveys, taking part in contests, or registering for a website. When you click on an offer, you will see instructions you must follow to complete it.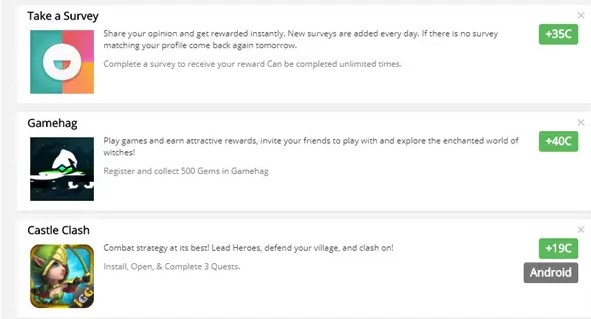 Paid offers pay more than paid ads, but only by a little. You can find most of the exact recommendations on GPT sites, and they often pay better there. So it's worth considering whether taking paid offers on IndexClix is your best option.
It's important to note that some offers may take you to a different site, but this is normal. Offer walls will redirect you to other sites that provide paid offers. Just follow the instructions carefully to receive the reward promised. While paid offers can pay more than paid ads, you will still need to complete many offers to earn a significant amount.
3. Make money by Paid surveys from IndexClix.
Paid surveys are an additional way to earn rewards on IndexClix. By acting as a survey router, they provide several surveys daily that you can answer. The advantage of this method is that you don't need to be a member of the site providing the survey.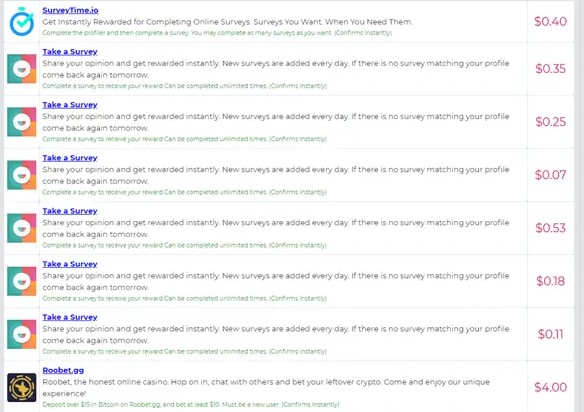 To take a survey, you must first qualify by completing the typical qualification process. If you are eligible, you can answer the survey and receive the reward once you complete it.
However, the rewards you earn from these surveys may be lower than those you can make on specific sites. For instance, on IndexClix, you earn $0.40 for a survey, while taking the same survey directly on the Surveytime site could pay $1. Therefore, you can make more by taking surveys on other sites.
4. Make money with the Bonus game from IndexClix.
PTC sites often offer bonus games as an additional way to earn rewards, and IndexClix is no exception. You can play their bonus game every 300 seconds or 5 minutes.
The game is simple: click the "Click to win" button, and an ad will pop up. Watch the ad, and you will be notified of which prize you won. The top prize is $5, credited to your IndexClix account immediately. You can play the game a maximum of 40 times per day.
While the game can be a fun way to increase your earnings, it's important to remember that it's a game of chance. Don't expect to win the top prize every time you play. However, it's worth trying to earn a little extra cash.
5. Make money by using Index Grid from IndexClix.
IndexGrid is a game available on IndexClix where you can earn additional rewards by clicking on a grid of squares on a virtual game board. Each click on a square earns you $0.00010 and 0.10 credits, which you can use to promote your own ads on the site.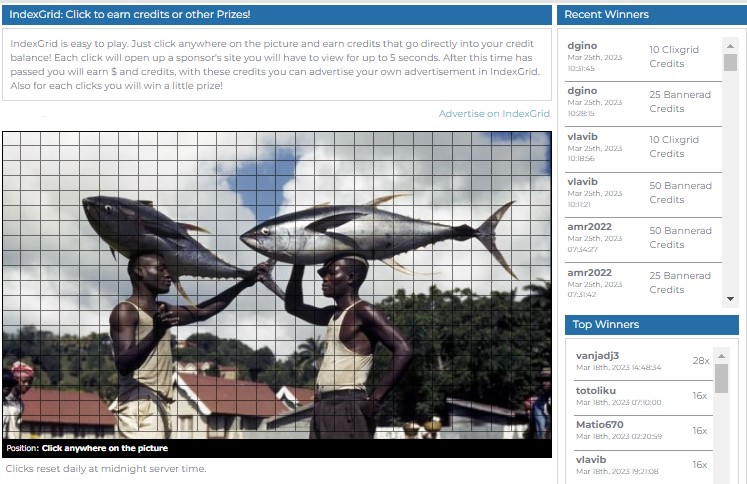 After every ten clicks, you are guaranteed to win a prize, which can include additional PTC or IndexGrid credits. However, the number of grids you can click each day needs to be specified by IndexClix.
The grid counter is reset daily at midnight server time, so you can play the game and earn rewards again the next day. IndexGrid is a popular feature on many PTC sites and can be a fun way to make some extra cash while browsing the web.
6. Make money by Flipping the coin from IndexClix.
It's important to remember that any form of gambling or betting carries risks and to be responsible with your money.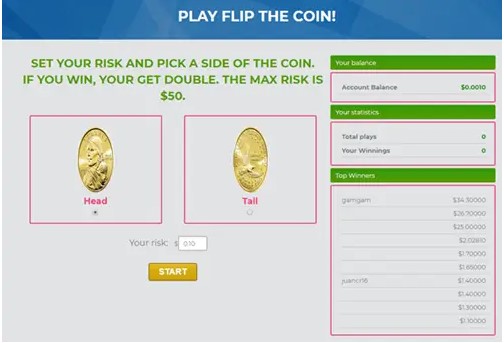 While the coin flip game can be a fun way to increase your earnings, it's best only to bet a small portion of your payments and not to get too carried away. It's always a good idea to set limits for yourself and stick to them.
7. Make money by using the Referral Program from IndexClix.
The referral program allows IndexClix members to earn additional rewards and commissions by inviting new people to join the site.
When someone signs up using your referral link, they become your direct referral, and you will earn a commission for all the ads they click starting the following day. However, there is a condition for receiving the commission: you must view a certain number of paid ads on the site each day.
For example, if you are a standard member, you must view at least four paid ads daily to receive the commission from your direct referrals. You must consider at least two paid ads daily if you are a premium member. You must meet this requirement to receive a commission from your direct referrals for that day.
The commission percentage that you earn from your direct referrals depends on your membership level. Standard members earn a commission of 10% for each ad clicked by their direct referrals, while premium members earn a commission of 20%. Premium members also receive a commission of 10% on ad purchases made by their direct referrals.
In addition to the commission, IndexClix also offers a referral contest every week. The game rewards the member with the best referral link promotion based on the number of visits and sign-ups their referral link receives. The prize for the contest varies each week, so it is a good idea to keep an eye out for the latest information.
Overall, the referral program is a great way for members to earn additional rewards and commissions on top of the regular earnings from clicking ads and playing games on IndexClix.
How do ou Get Paid from IndexClix?
To get paid on IndexClix, you must earn at least $2 and a certain number of cashout points, which can be obtained by viewing ads. You can withdraw your earnings via Airtm, Solidtrustpay, Payeer, or Bitcoin. There is a withdrawal limit of $5 per day for standard members, but it can be increased by upgrading your membership. While their reward system can be confusing, IndexClix does have a low payout threshold compared to other PTC sites.
FAQs
What is IndexClix?

IndexClix is a paid-to-click (PTC) website that pays users for clicking on ads and completing other tasks.

How can I earn money on IndexClix?

You can earn money on IndexClix by clicking on ads, completing surveys, playing games, and referring others to the site.

Is IndexClix a legitimate site?

Yes, IndexClix is a legitimate PTC site that has been operating since 2017 and has paid out thousands of dollars to its users.

How much can I earn on IndexClix?

The amount you can earn on IndexClix depends on the number of ads you click, the tasks you complete, and the referrals you have. However, the earnings are typically low and may need more time and effort.
See More:
EmeraldBux Review – Make Money by Viewing Ads (100% Easy Process)
Skedadle Mobile App Review – Earn by Playing Games with 2 Easy Tasks
BrainBux Review – Make Money By Viewing Ads (100% Easy Method)
HeedYou Review – Make Money by Watching Videos With 6 Easy Tasks