Introductione
Welcome to the world of Lucky Day! In this app, you'll discover many exciting opportunities to win prizes, earn rewards, and test your luck. Whether scratch-a-card games, daily cash tournaments, or a unique referral program, we'll explore the different avenues available to users. Let's dive in and uncover the potential this app offers for those seeking a bit of fun and the chance to earn rewards along the way.
What is Lucky Day?
Lucky Day is a legitimate sweepstakes app that provides chances to win various prizes. To determine whether it's worth using, we need to examine the opportunities it presents and understand how the app operates.
It's important to note that these are not conventional "earning opportunities" because they rely solely on luck, making consistent earnings unlikely. However, I will provide a detailed explanation of these opportunities below.
Here are the opportunities that Lucky Day offers.
1. Make Money By Scratch-a-Card Game From Lucky Day.
One of the ways to win prizes through this app is by participating in their scratch-a-card game. Lucky Day provides a set number of cards to scratch off daily, similar to the scratch-off cards available at gas stations.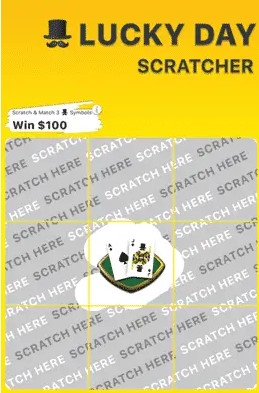 The concept is simple: you scratch the card to reveal the prize you've won. To claim a bonus, your card must display three identical icons. The matching icons also determine the nature of the reward you'll receive. For instance, you'll win a specific cash prize if you uncover three cash icons. If you reveal three coin icons, you'll instead earn a certain number of tokens.
2. Make Money By Watching Video Ads From Lucky Day.
After scratching a card, you can occasionally double your winnings by watching a video advertisement. Click the "Watch Ad" button and wait for the video to conclude.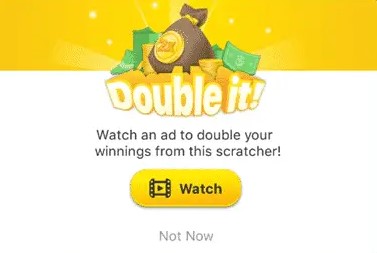 After the video ad finishes playing, you can close it and immediately notice that your prize has been doubled. It's important to note that this opportunity arises randomly, so you should anticipate encountering it only when you scratch a card.
3. Make Money by Raffle From Lucky Day.
Another way to potentially win prizes is by participating in the raffles offered by Lucky Day.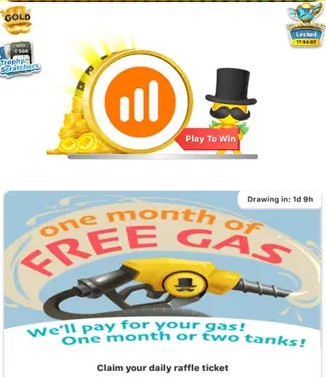 Like the scratch-a-card game, Lucky Day provides opportunities to enter various raffle contests, although the exact number available may vary. Joining these contests is straightforward. When you see a raffle you'd like to enter, tap on it. The Raffle will then randomly determine the number of tickets you receive using a spin-the-wheel game.
After spinning the wheel, you'll know the number of tickets you've earned for that particular Raffle. The raffle page will also display the date and time for the raffle drawing. Just revisit the app after the draw to check if you've won.
Typically, these raffle contests offer prizes ranging from $250 to $1,000, so winning one can result in a substantial cash prize.
4. Make Money by Daily Cash Tournament From Lucky Day.
You can also win a cash prize in their daily cash tournament. This opportunity is closely linked to their scratch cards.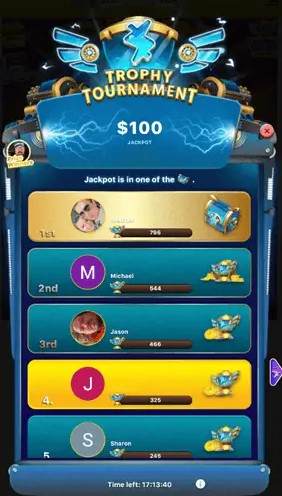 To gain entry into the cash tournament, you must collect trophies by playing their scratch-a-card game. Therefore, the key to entering the contest is to continue scratching cards. Once you've successfully joined the contest, you can accumulate additional trophies by watching videos.
Regarding the mechanics of the cash tournament itself, the total number of trophies you've acquired from scratching cards will be tallied. The participant with the highest trophy count wins the cash prize. So, like other opportunities in the app, success in the cash tournament still depends on luck.
5. Make Money with Paid offers From Lucky Day.
This opportunity within the app is the only dependable way to earn rewards because it doesn't rely on chance.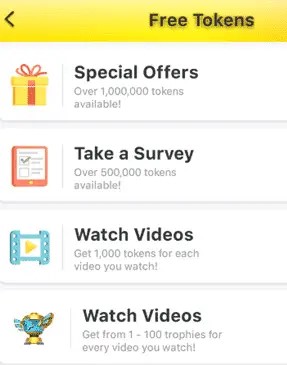 However, it's important to clarify that this method won't yield direct monetary earnings. Instead, you'll earn tokens that can be used to redeem various rewards.
These paid offers involve short tasks you can complete to earn tokens. These tasks may include participating in surveys or quizzes, watching videos, playing games, and more.
As mentioned earlier, you can also watch advertisements to accumulate trophies for the daily cash tournament. To do this, navigate to the "Watch Ads" section, where you'll be rewarded with awards. Select an ad to watch, wait for it to finish, and upon closing it, you'll immediately see the number of trophies you've earned, which can range from 1 to 100 and is determined randomly.
6. Make Money By Referral Program From Lucky Day.
Lucky Day offers a unique referral program that differs from conventional referral programs. While the basic concept remains the same—you invite people to join, and they become your referrals upon registration—here's where the distinction lies.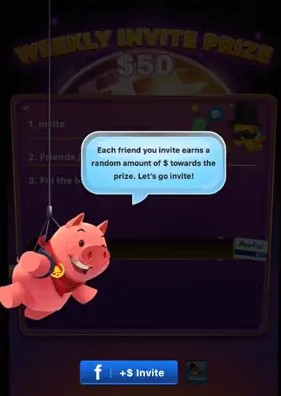 For each referral you bring in, a random amount is added to the prize pool of their referral program, and you are automatically entered into a raffle. After a designated period, the winner of the referral program contest is announced. Your prize will correspond to the amount indicated in the prize pool if you win the Raffle. It's worth noting that the potential award can be quite substantial, but the outcome is entirely based on chance.
This type of referral program may not be to everyone's liking because there's no guarantee that your efforts will lead to a reward. Convincing people to join apps and websites can require time and effort, and the uncertainty of this opportunity can be less appealing compared to programs with guaranteed earnings.
How Do You Get Paid From Lucky Day?
Lucky Day operates with two types of currencies: US dollars and tokens. When it comes to cash earnings from their raffle contests and scratch-a-card games, you have the option to withdraw them via PayPal.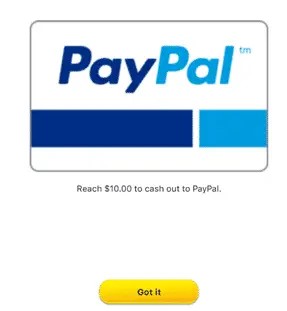 However, there's a minimum threshold of $10 in your Lucky Day account for PayPal withdrawals. Similarly, for the tokens you accumulate, you can use them to redeem various gift cards, with the minimum redemption amount also set at $10.
It's important to note that the availability of gift cards is contingent on your location. Most gift cards are only accessible to users residing in the US. If you're located elsewhere, you won't be able to redeem these gift cards. Additionally, the availability of specific gift cards may be limited, so there might be times when the gift card you desire isn't accessible. In such cases, you can use your tokens to purchase additional raffle entries, increasing your chances of winning.
Overall, their payment system is relatively straightforward, and including PayPal as a payment option is particularly convenient for many users.
How To Join Lucky Day?
Lucky Day is accessible in the majority of countries around the world. However, as previously mentioned, certain rewards, such as gift cards, are only accessible in specific countries.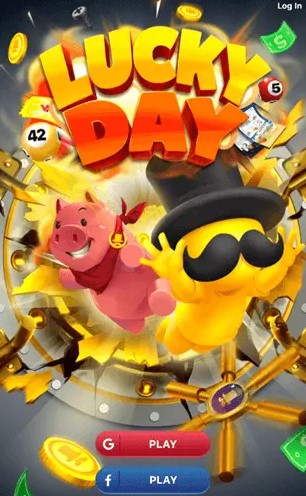 To register, the first step refers to downloading and installing the app. After installation, you can effortlessly log in by connecting your Google or Facebook account. There needs to be a condition to complete a separate registration form. Select the account you wish to link to the app, and you can directly begin participating in their various opportunities.
FAQs
Does Lucky Day pay real money?

Lucky Day is a sweepstakes app that offers opportunities for you to win various prizes. And let me just reveal right away that Lucky Day is legit since you can really win cash and other prizes.

Can you use Lucky Day on a desktop?

Lucky Day is a mobile-only platform. So, you will really need to use a mobile device. It doesn't have a web version like some other platforms.

How do I redeem cash?

Redeeming your cash is easy! You only need a minimum of $10.00 cash balance and a valid PayPal account that you have access to.

How do I win?

You can win by playing our scratchers, raffles, and lottery! We even award prizes for just having an account.

How do I get a Membership Card?

Find puzzle pieces in your scratchers to win an exclusive membership card to win a gift card instantly!
the Membership Card is only available on newer versions of the game, so if you are playing on an iOS device, you likely wont have access to this feature.
See More:
Prime Opinion Review – 4 Easy Ways of Earning With Surveys
SurveyParty – 2 Best Ways To Earn Money by Sharing Your Opinions
ChillSurveys – Earn By Participating in 100% Easy Surveys By Phone
Oppizi Brand Ambassador – 100% Easy Earning at Your Time & Location