Introduction
Welcome to Prime Opinion–Your Gateway to Earning Rewards! Prime Opinion is a reputable survey platform that allows you to earn rewards for sharing your valuable opinions. Whether you're looking to make some extra cash, enjoy gift cards, or have your voice heard, Prime Opinion provides an accessible and user-friendly platform to do just that. In this guide, we'll explore how Prime Opinion works, how you can earn, and what you need to know to get started on your journey to rewards and insights.
What is Prime Opinion?
As previously mentioned, Prime Opinion is a survey platform that offers compensation for participating in surveys. While it's verified as a legitimate site that genuinely pays for survey responses, being legitimate doesn't automatically imply that it's a platform worth joining.
To determine whether signing up for this survey site is the right decision, it's crucial to delve into its operational mechanisms. The key step in this evaluation is to explore the earning potential it provides thoroughly. This assessment will grant you insight into the time and effort required to make the most of this platform.
1. Make Money By Paid Surveys From Prime Opinion.
The primary method of earning on Prime Opinion is through survey participation. Upon logging into the member dashboard, you'll immediately have access to various surveys ready to answer. It's worth noting that a substantial number of surveys are consistently available at any given moment.

The user-friendly platform even allows you to sort these surveys based on your preferences, such as those best suited to your profile the shortest or highest-paying surveys. To begin a survey, click on it, and it will open in a new browser tab.
The initial step involves providing basic information and a series of qualifying questions. This process is designed to ascertain whether you fit the specific demographic the survey targets.
If you meet the criteria, you'll proceed to answer the survey. If you don't qualify, you can readily move on to the next survey. This is rarely an issue since, as mentioned earlier, a decent selection of surveys is usually available at any given time.
Upon completing a survey, you'll be rewarded with specific points. Most surveys typically take 10 to 15 minutes, ensuring they consume a manageable amount of your time.
2. Make Money By The Leaderboard Contest From Prime Opinion.
Another way to earn from Prime Opinion is to become one of their top earners. The platform hosts a monthly leaderboard contest where participants who accumulate the most points are rewarded with bonus points.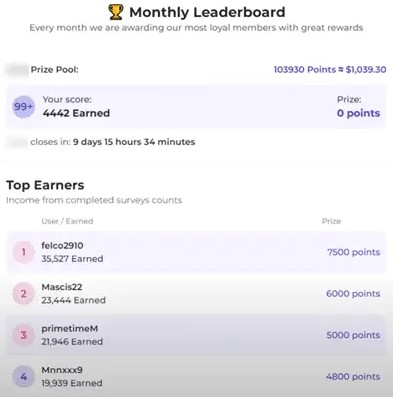 As of this review, the total monthly prize pool exceeds $ 1,000, with the top prize set at $75. What's particularly appealing about this opportunity is that Prime Opinion generously rewards many top earners.
The top 65 earners are eligible for prizes, significantly increasing your likelihood of receiving a reward if you actively engage as a site member.
3. Make Money By Survey Streak From Prime Opinion.
Another way to engage with Prime Opinion and earn rewards is through their streak feature. By participating in the streak, you gain entry into a prize draw where you are assured of receiving a prize ranging from 50 to 1,000 points. The concept behind this opportunity is straightforward.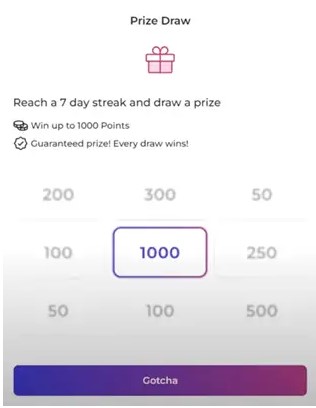 You must complete at least one survey for seven consecutive days to qualify. Achieving this consistency grants you one entry into the prize draw, and you can conveniently track your current streak on the dashboard. This provides an accessible and engaging method for members to earn additional rewards on the platform.
4. Make Money By Referral Program From Prime Opinion.
Lastly, Prime Opinion offers an additional way to accumulate points through its referral program. If you need to familiarize yourself with the concept of a referral program, it's essentially an opportunity to earn by inviting others to join the platform.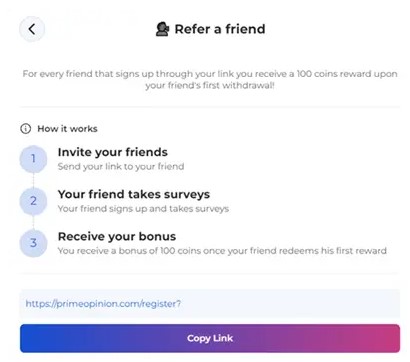 In essence, you become a promoter of the site to prospective members. Earning through this program is straightforward – you share your unique invite link with individuals you'd like to invite. They become your referrals when they click your link and sign up as Prime Opinion members.
To earn from your referrals, they must engage with the site actively. Specifically, when they make their initial withdrawal, you'll be rewarded with 100 points as a token of appreciation for your successful referral. This encourages members to expand the Prime Opinion community while benefiting from their connections.
How do you get paid From Prime Opinion?
As previously outlined, you'll accumulate points through various earning opportunities on Prime Opinion. But what can you do with these earned points?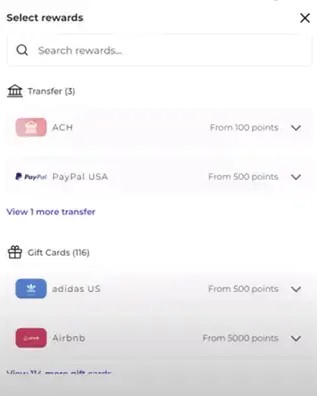 You can convert your points into cash, and the platform offers several payout options, although their availability may vary by country. PayPal is one of the most commonly available options and is likely accessible to users in many countries. Depending on your location, you can also choose to convert your earnings into gift cards or even a prepaid Visa card.
The minimum threshold required for PayPal withdrawals will depend on your country of residence. However, it generally falls between 5,000 to 10,000 points, equivalent to $5 or $10. This low payout threshold is a notable feature, making it relatively easy to access your earnings.
Prime Opinion's payment system is designed to be user-friendly, and including PayPal as a payment option enhances convenience. Moreover, the platform's prompt payment processing, typically within 30 minutes of request, sets it apart from many other survey sites, ensuring fast and efficient access to your earnings. This feature was also highlighted in the earlier sections of this review.
How to join Prime Opinion?
Prime Opinion has a broad global presence, and you can check the list of countries where it's available by clicking on the "Country & Language" link on their website. You can register as a member if your country is included in the list.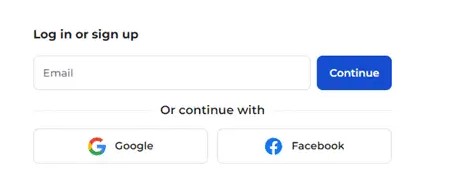 The registration process is straightforward and swift. You have the option to provide your email address along with login details or use the convenience of your Facebook or Google account for a streamlined registration experience. This ensures that becoming a member of Prime Opinion is hassle-free and can be completed in just a few seconds.
Once your registration is completed, you can access the member dashboard and begin participating in earning opportunities immediately. Prime Opinion aims to provide an accessible and user-friendly experience for members across various countries.
FAQs
Is Prime Opinion legitimate?

Is Prime Opinion legitimate?

How long does it take to receive payments?

Prime Opinion typically processes payments within 30 minutes after you request a withdrawal, making it one of the faster-paying survey sites.

Can I participate in Prime Opinion from any country?

Prime Opinion is available in multiple countries. To check if your country is supported, visit their website and click on the "Country & Language" link.

Is there an age requirement to join Prime Opinion?

You must be at least 18 years old to become a member of Prime Opinion or most survey sites.

Is there a minimum payout threshold?

Yes, there is usually a minimum payout threshold, which can vary by country. It's typically 5,000 to 10,000 points, equivalent to $5 to $10.
See More:
SurveyParty – 2 Best Ways To Earn Money by Sharing Your Opinions
ChillSurveys – Earn By Participating in 100% Easy Surveys By Phone
Oppizi Brand Ambassador – 100% Easy Earning at Your Time & Location
Intuit User Research – Earn By Participating In Studies (100% Easy Ways)