Introduction
Welcome to ViewFruit: Your Gateway to Earning Rewards and Sharing Your Opinions. ViewFruit is an online platform that offers exciting opportunities to earn rewards by participating in paid surveys, engaging in quick polls, and interacting with a community of like-minded individuals. Whether you're looking to boost your income, share your insights, or have fun with interactive features, ViewFruit provides a user-friendly and rewarding experience. Join us on a journey of discovery and rewards.
What is ViewFruit?
ViewFruit is a well-established platform with a solid reputation in the market research industry. As a proud member of the Market Research Association, it is owned and operated by Paneland, a reputable company. ViewFruit offers various ways to earn money, including participating in paid surveys, creating polls, entering lucky draws, and conversing with new members. Rest assured, ViewFruit is a legitimate and trustworthy website.
1. Make Money By View Fruit Surveys (V-Surveys)
ViewFruit primarily operates as a survey platform, offering its users the foremost opportunity to earn money. It distinguishes itself by providing numerous surveys that compensate users fairly for their time, surpassing the rewards many other similar sites offer.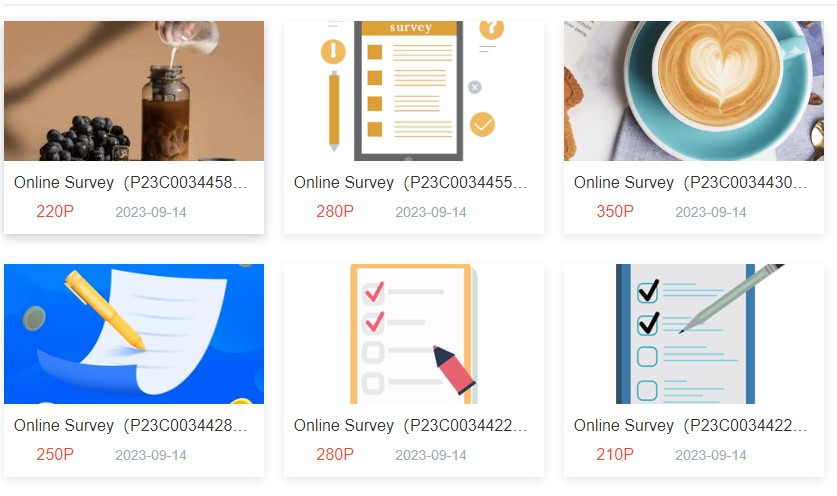 Typically, ViewFruit sends email invitations when new surveys become available. Still, it's advisable to periodically check the platform itself for additional opportunities, as they deliver not all survey notifications via email. It's crucial to monitor your junk folder for survey invitations, as these notifications often end up there, potentially causing you to miss out on earnings.
Once you're logged in, you can easily view the currently available surveys. Each survey shows whether they can take it on a PC, a phone, or both. The number of points you earn for completing each survey is displayed, facilitating your decision-making process.
You control which surveys you participate in and which ones you skip. Please complete your profile after joining to enhance your chances of receiving more relevant survey offers. This additional information allows ViewFruit to better match you with surveys that align with your interests and demographics.
It's important to note that not all users will qualify for every survey, as this is a common occurrence on most survey platforms. However, ViewFruit generally offers favourable qualification rates, so if you don't qualify for a survey initially, keep going.
One exceptional feature of ViewFruit is that you receive a reward even if you don't qualify for a survey, which is uncommon but highly beneficial. More details about this reward system will be explained later.
2. Make Money By Creating And Voting In Polls From View Fruit.
On Viewfruit, you can participate in what is called V-Vote. It is small polls created by other members. They only take a few seconds to answer.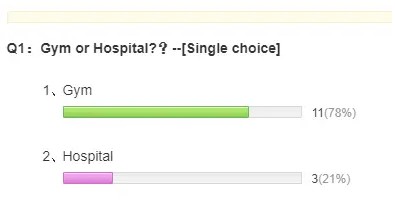 It can, for example, be a short question like Coke or Pepsi: how did you meet your soul mate? Do you play video games or not, etc.?
They are always very short and quick to answer. Once you have responded, you can see the statistics of how other people have answered.
You can also create your small V-Vote polls; other members will participate. You do not earn this by doing, but more of a social thing.
It can be a great way to get some quick answers to a question you are wondering about and a fun way to interact with other members. But just be aware that it is not a way to earn.
3. Make Money by Lucky Draws From View Fruit.
Viewfruit has an excellent extra way that will allow you to win some tremendous additional prizes. It is called the lucky draw.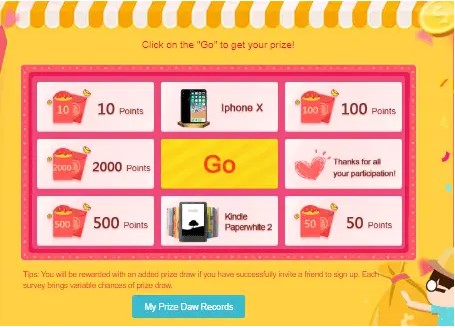 You can win some great prizes like, for example, an iPhone, Kindle, or extra cash. The exact rewards here change occasionally and will depend on your country.
You do not have to do anything extra to get entries into this draw. You get entries by being active on Viewfruit.
Every time you complete a survey, you will, for example, get three entries into the draw. You get access if you do not qualify or the survey is complete when you try. So this is a nice consolation prize if you end up not preparing for a survey, and only sometimes you find a survey site that will reward you even when you do not qualify.
As soon as you have received an entry, you can press the "Go" right away and see if you have won. You can also choose to save the entries for later.
4. Make Money by Inviting Friends To Join At View Fruit.
You can invite your friends to join Viewfruit, and this way, build your survey team.
When one of the people you invited completes a Viewfruit survey, you will get 10% extra paid into your account. The person taking the survey will still get paid the same amount as usual, but Viewfruit pays this extra 10 % to you because you invited the person to join your team.
When one of the people you invite confirms their account, you will get one entry into the lucky draw. So, if you know some people interested in joining Viewfruit, it can be an excellent way to make a little extra.
5. Make Money by Message Members From View Fruit.
Viewfruit used to have an option called V-chat, a chat function.
However, this has been removed, but you can now use the message centre to send messages to friends.
This is not a feature I use much, but it is still nice to know it is there. Just be aware that you will not get paid for using this feature.
Of course, it is not allowed to post spam or promotions in the Viewfruit chat.
You will not get paid to participate in this function, but it can make it more fun to be a member if you like being social.
How Do You Get Paid From Viewfruit?
One thing it is essential to know before joining an online survey site is what it offers. But knowing how you will get paid for participating is also essential.
When you complete surveys on Viewfruit, you will earn points, and as previously mentioned, you will also earn entries into the lucky draw simultaneously.
The points you earn can then be exchanged into cash through PayPal. Personally, I love survey sites that offer PayPal as a payout option, as it is great to get the rewards in cash quickly and easily.
An advantage of Viewfruit is that it has a low payout threshold, so you can get your money out already when you have earned $5, which is great.
500 Viewfruit points equal $1, so you must earn 2,500 points to get a payout. Payout requests will be processed every Friday, and you will then receive the money in your PayPal account the following week.
How To Join Viewfruit?
Joining ViewFruit is free and easy. When you visit Viewfruit, you will see the register option on the home page.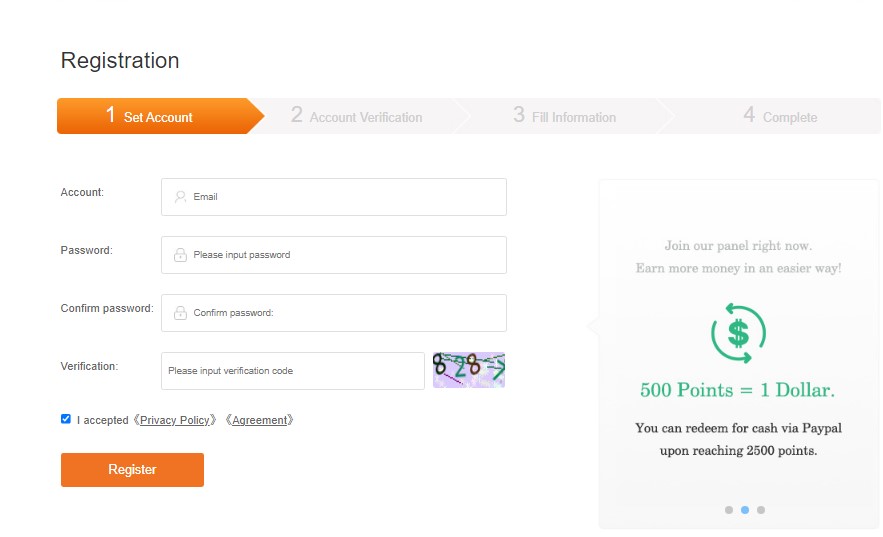 Click it and fill in all the details asked. There are four steps in registration. Firstly, fill in your email address, password, and verification code.
Then, a verification code will be sent to your email address. Fill the given code in the second step to proceed further.
Then, you must provide personal information like your gender, nickname, date of birth, and address.
At last, you have to provide a PayPal username, ID, education level, occupation, and much more info.
ViewFruit is available only in 32 countries across the world.
The most active ViewFruit websites are from the US, UK, Australia, Canada, Hong Kong, Philippines, Malaysia, India, and Singapore.
FAQs
Is ViewFruit available worldwide?

ViewFruit is available in 32 countries around the world. The most active ViewFruit websites are from countries like the US, UK, Australia, Canada, Hong Kong, Philippines, Malaysia, India, and Singapore.

Can I participate in ViewFruit surveys on my mobile device?

Yes, ViewFruit surveys can be taken on both PCs and mobile devices. The platform indicates the compatible devices for each survey.

How do I increase my chances of qualifying for surveys?

Completing your profile with accurate information can increase your chances of receiving more relevant survey invitations. However, remember that not all users will qualify for every survey, as eligibility criteria vary.

How often are payouts processed?

Payout requests on ViewFruit are processed weekly, specifically on Fridays. You can expect to receive your earnings in your PayPal account the following week.
See More:
Lucky Day Review – 6 Easy Ways You Can Make Money
Prime Opinion Review – 4 Easy Ways of Earning With Surveys
SurveyParty – 2 Best Ways To Earn Money by Sharing Your Opinions
ChillSurveys – Earn By Participating in 100% Easy Surveys By Phone