Introduction.
Are you searching for an easy way to make money from your phone? If so, you may have discovered Media Rewards is a newer passive income app that says you can listen to TV and radio to earn rewards in your spare time.
What Is Media Rewards?
Media Rewards is a get-paid-to app that lets you make rewards by sharing your data and answering paid surveys. It operates in the background of your smartphone to count your direction to media like TV, radio, and the advertisements you hear daily.
Media Rewards is an app developed by a measurement and technology company called Beatgrid Media BV.
How people consume media has been changing drastically, so Beatgrid Media came up with an innovative solution.
They designed the Media Rewards app to monitor your advertising exposure while watching videos and listening to music.
Make money Through the Media Rewards app.


When you install the app on your mobile device, you automatically allow it to measure exposure to TV, YouTube, and radio ads in your surroundings.
1. Make money through TV and radio ads.
The way their app works is, it observes audio frequencies around your device. It will then anonymously identify the ads that you are exposed to.
It will also be the basis for the next earning opportunity they offer.
You don't have to use the app to earn rewards actively. Just set it and forget it. It will run in the background. All you have to do is press the home button of your mobile device, and the app will resume running in the background.
You will automatically gain a better score by going to the app running in the background as much as possible. And they guarantee that the Media Rewards app is 100% privacy safe.
The app consumes only 1% of your mobile device's battery life. So, it's not delaying your use of your mobile device. It also only uses less than 100 kB of data per day.
2. Make money by Surveys.
You will earn points for allowing the app to run on your mobile device. Once you've made enough points, you can be invited to brand surveys from time to time.
The surveys you will receive will differ from the regular surveys from most other survey sites.
This is because, with the surveys from Media Rewards, you won't have to go through a screening process like you usually would with surveys from other survey sites. You automatically qualify for any survey you are offered if the survey hasn't expired yet.
So, when you get an invitation, all you have to do is answer the survey, and you will receive the reward. That being said, depending on your points or rank, it may take up to 8 weeks to get the first survey.
So, don't expect to receive a survey right away because the app will typically have to monitor if you are exposed to a particular TV or radio campaign first. Then, they'll transmit you a survey to estimate if I have affected simply your perspective towards the specific brands or negatively based on your exposure to the TV or radio campaign.
How Much Money Can You Earn with Media Rewards?
It's important to understand that Media Rewards will give you points based on how long you leave the app running. Unfortunately, you cannot transform points into cash rewards, which disappoints!
Points allow you to join the monthly prize magnet and have the opportunity to win up to $1,000. Also, the more points you have, the more survey invitations you will get. After you complete a survey, you will receive an Amazon gift card worth up to $10. In the UK, you will get a £5 Amazon voucher after completing the survey.
Very few surveys are available, so the earning potential could be much higher.
Make money with Monthly Prizes.
Once the app is downloaded, you don't have to actively do anything, as it will work silently in the background of your phone. Earn points for every five seconds the app is turned on and active. According to the Media Rewards website, the app operates with just 1% battery per hour and less than 100kB of data per day.
How to Download & Sign Up
You can download Media Rewards for free on iOS or Google Play.


You sign up by visiting the Media Rewards website and entering your email to get a sign-up link. This link lets you download the app; you need your email address to sign up.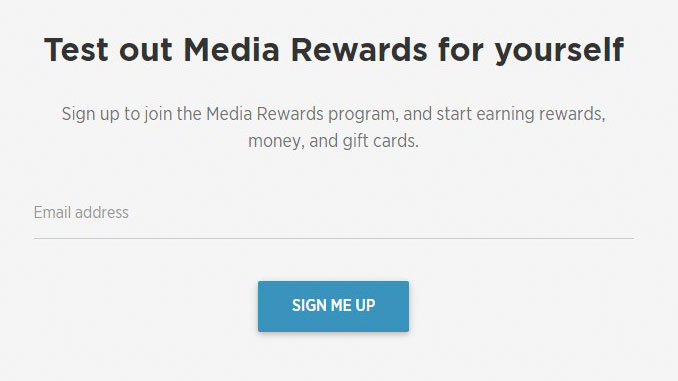 Once you download and open the app, Media Rewards walks you through a brief tutorial on how everything works.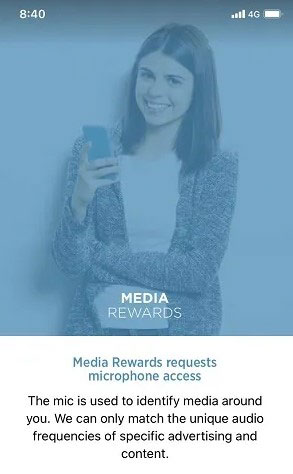 How do I get paid?
If you are qualified to receive a gift card or prize draw prizes, you will get an email where you can declare the cash prize by PayPal or receive a digital gift card for detailed merchants or Visa Prepaid Cards. You can claim rewards if you are a prize draw winner or once you have participated in 1 or more surveys.
FAQs
What do I earn with surveys?

It depends on the length of the survey or whether this survey is part of the media monitoring period. The reward will indicate in the survey invitation.

Is Media Rewards A Scam?

Media Rewards isn't a scam; it has thousands of positive reviews and plenty of online payment proof.

Is Media Rewards Safe?

Media Rewards is safe to use, but you must be comfortable sharing your background data with the app. The company complies with CCPA and GDPR privacy laws to protect user data.
See More:
WowApp Review – 9 Easy Ways To Make Money
TV-TWO App Review – 3 Easy Ways To Make Money on Your Phone
SoundCloud Review | 2 Easy Ways To Make Money By Listening To Music
Ebuno Earn Money by playing games | 4 Easy Ways To Make Money