Introduction
Are you looking for an app that will let you make cryptocurrency? If so, there's an app called Legion Network that claims you can make rewards and govern your cryptocurrency assets simultaneously.
What is Legion Network?
Legion Network is an all-in-one app allowing you to govern your crypto assets and know about NFTs, the Metaverse, Defi, and GameFi.
And as mentioned, you can also make rewards in different ways. It is a legit app since it does what it claims.
Who to join Legion Network?
Signing up as a member of Legion Network is relatively easy.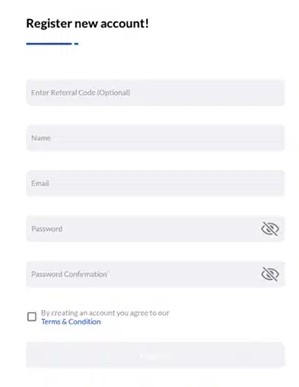 You just have to fill out the registration form and set up your PIN. Then, Legion Network will send you a confirmation email. Just click the link in the email to complete your registration.
How to make money from Legion Network?
1. Make money by Playing games from Legion Network.
One way to make money from Legion Network is by playing the games seen in the app. To view the fun, you can play, open the app, and press "Arcadia."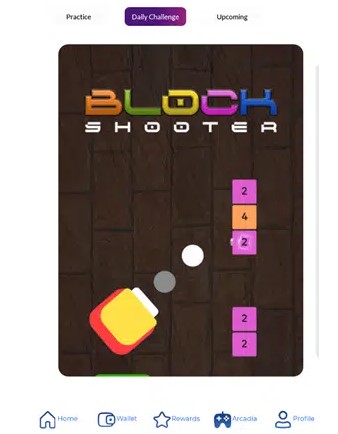 Now, to earn from playing games, you must take on the daily challenge for the specific game.
When you feel confident that you can complete the daily challenge, you can enter the challenge mode. Each game will also enable you to buy more turns to finish the challenge. However, doing so will cost you a specific amount. That is why I only suggest you do this if you know what you are doing.
The games they offer are more arcade-type games, thus the name Arcadia. They are fun and relatively easy to play.
As for the rewards you will make, it will depend on the game you will play. To view the rewards, choose any game and press the "Rules" to see how you can earn the rewards.
Usually, you have to be among the top scorers on the game's leaderboard to receive the reward.
2. Make money through Daily tasks from Legion Network.
Another way to make rewards is to work on their daily tasks. To view the tasks, you need to press the "Rewards" option and see something similar to the photo below.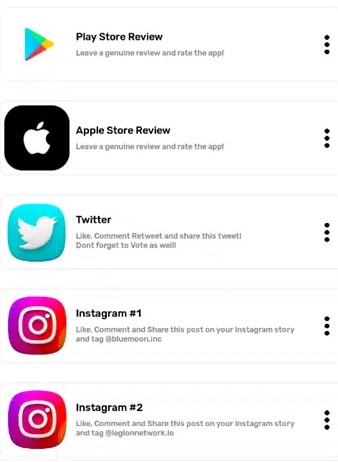 Most of the time, the tasks ask you to leave comments or reviews on social media platforms or app pages, so they are fairly straightforward. After you've finished all the tasks, it will automatically join you in their weekly giveaway.
During my testing, though, the app needed to explain what you can get from their weekly giveaway. The only thing that I needed clarification on was that there's no guarantee you will earn anything from this opportunity. It will randomly pull the winner of their weekly giveaway from the pool of players.
3. Make money by watching videos from Legion Network.
Lastly, you can earn more rewards by watching the app's videos in the "Empower" section.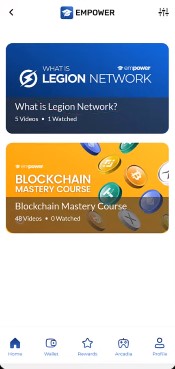 The nice thing about the videos you will watch is that they are all about certain crypto projects. So, not only will you earn, but you will also learn more about up-and-coming crypto projects you can invest in.
For every video you watch, you will make a particular number of LGX, the cryptocurrency Legion Network uses. Most of the videos you need to watch will only run between one and five minutes, so they will only take up a little of your time.
You can even let the video run in the background while doing something else. Although, pay attention to videos because you can learn a lot from these videos.
How do you get paid from Legion Network?
As mentioned earlier, the reward you will achieve from the earning opportunities Legion Network presents will be LGX, the app's cryptocurrency.
As of the time of writing this review, LGX doesn't have a monetary value because it is a relatively new cryptocurrency, and the minting and trading process has yet started. That's why you should wait to earn money.
Once LGX has been minted, it will show up in your Legion Network account balance, and you can view it in the "Wallet" section of the app.
The payment system of Legion Network is relatively easy to understand, and I like the fact that it has a wallet where you can store all your LGX coins. The downside is that it will take some time before this cryptocurrency will have a financial value.
If you are looking to earn crypto that already has value, check out the best ways to earn Ethereum for free.
FAQs
Can you use it on a desktop?

Legion Network is a mobile-only app, so you will need a mobile device to use it since it doesn't have a web-based version of its platform.

Who can join Legion Network?

egion Network needs to indicate on its website which countries it is available. But as with most crypto projects, it should be available in all countries where crypto trading is allowed.

Is Legion Network a legit site?

Legion Network is a legit online rewards site that does reward you for rating new music and answering polls.
See More:
Long Game Savings – Earn Money by playing Games & 4 More Easy Tasks
HitPredictor – Make Easy money by listening to and Rating Music
GPTBee – Make Money With Surveys – Paid to Click – 3 More Easy Ways