Introduction
Solitaire Sky is a mobile game for Android that combines the timeless appeal of classic solitaire with the added excitement of monetary incentives. Available on the Play Store, this game promises players the opportunity to earn in-app money, which can be cashed out through various payment methods once specific goals are achieved. However, beneath its enticing premise lies a gaming experience that often relies heavily on advertisements and employs tactics to keep players engaged in an endless chase. Join us as we explore the intricacies of Solitaire Sky and shed light on the realities behind its alluring gameplay.
What is Solitaire Sky?
Solitaire Sky is an Android mobile game that combines classic solitaire gameplay with the added incentive of earning in-app money, which can be cashed out through PayPal upon reaching specific goals. However, based on my personal experience, the reality of the game could be better.
The primary focus of the game's business model is generating revenue through excessive advertisements. It constantly bombarded players with ads, which benefits the developer financially.
Furthermore, the game often manipulates the player by shifting the goalposts as they approach their cash-out target. This creates a never-ending chase, giving the impression of being trapped on an endless wheel, much like a hamster.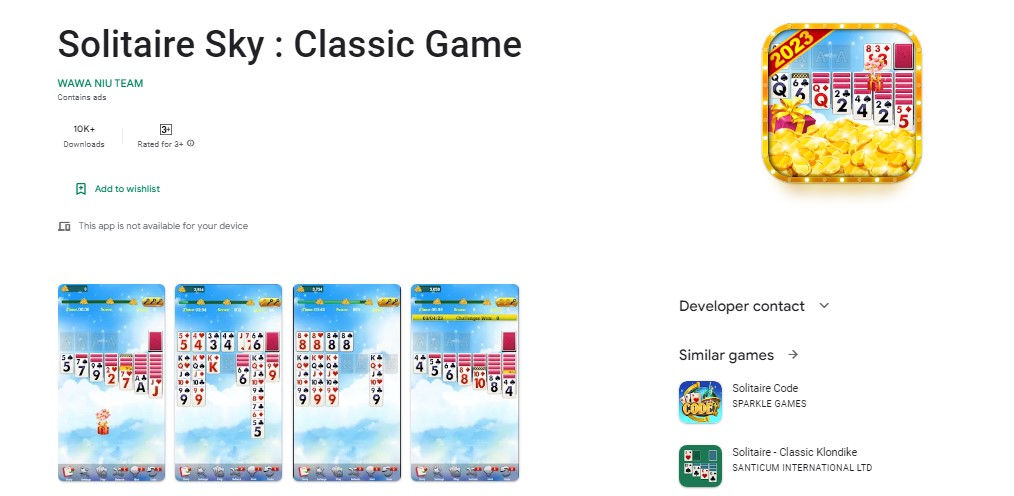 Sadly, these tactics are all too common in mobile gaming. Numerous games employ similar strategies to maximize their profits at the expense of player satisfaction.
How Does Solitaire Sky Work?
Solitaire Sky is a free-to-play game and can be easily get from the Google Play Store for Android users. The game offers a seamless experience without registration or additional requirements to play.
Once installed, players can launch Solitaire Sky and begin playing immediately. The game likely features various modes and levels of solitaire gameplay, providing the nostalgic charm of the classic card game.
Solitaire Sky introduces the concept of earning in-app money. Players accumulate virtual currency as they progress through the game and achieve specific milestones or goals. This currency can be redeemed or cashed out via PayPal once certain thresholds are met.
It's important to note that while the game is free, advertisements commonly support it. It may display these ads during gameplay or in other areas of the game interface. Generating revenue from these advertisements is a key aspect of the developer's business model.
While Solitaire Sky initially presents itself as a straightforward and accessible game, it's essential to be aware of the potential impact of advertisements and the tactics employed to incentivize players to continue playing and potentially spend money on the game.
How to play Solitaire Sky and earn money?
Players need to engage in the solitaire gameplay to activate the Lucky Slots feature in Solitaire Sky. As they play, a progress bar gradually fills up, and once it reaches completion, it triggers the slot machine symbol at the end.
Activating the slot machine launches a mini-game where players can match three banknote symbols. When successful, they are rewarded with a cash injection, with potential wins ranging from small amounts to larger sums. The game even suggests the possibility of cashing out up to $10,000.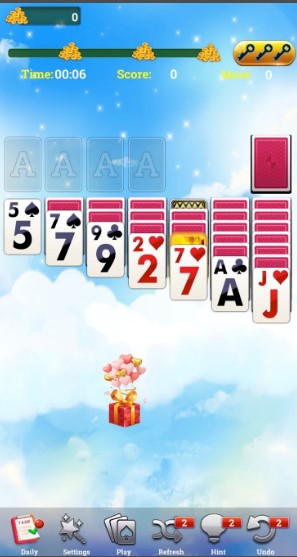 The core solitaire gameplay follows the traditional rules. Players move cards between columns, aiming to arrange the deck from King to Ace while alternating colors within each suit.
However, claiming the cash bonus from the Lucky Slots feature requires players to tap the 'claim' button and watch an advertisement. This clever tactic ensures the developer earns revenue from every video viewed, ultimately padding their pockets with advertising profits.
How to withdraw your Solitaire Sky funds?
Upon launching Solitaire Sky, they greet players with a remarkable $700 bonus, enticing them to click the claim button. The allure of such a significant sum of money without any effort is undoubtedly appealing and creates a strong incentive to continue playing.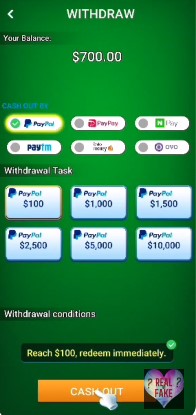 With the substantial bonus, we easily reached the minimum payout threshold of $100. Excited by this prospect, I navigated to the cash balance section of the game, selected my preferred withdrawal method from options like PayPal, NPay, Paytm, and Ovo, and clicked the cash-out button.
After submitting the withdrawal application, the game confirms its success, assuring players that the funds may appear in their account within 24 hours. It creates a sense of anticipation and anticipation for the expected financial reward.
However, it's important to approach such claims cautiously and be mindful of the potential tactics employed by the game to maintain engagement and generate revenue.
FAQs
Is Solitaire Sky available for iOS devices?

Solitaire Sky is only available for Android devices through the Google Play Store.

How can I earn money in Solitaire Sky?

In Solitaire Sky, you can earn in-app money by playing the Solitaire game and reaching specific milestones or goals. Additionally, the Lucky Slots feature provides an opportunity to win cash bonuses.

Can I cash out the in-app money earned?

You can cash out the in-app money earned in Solitaire Sky. The game offers withdrawal methods, including PayPal, NPay, Paytm, and Ovo. However, it's important to note that there may be minimum payout thresholds and additional requirements before cashing out.

Are there any costs associated with playing Solitaire Sky?

Solitaire Sky is free to download and play. However, it is supported by advertisements displayed during gameplay or within the game interface.
See More:
Frenzy Slots Master – Earn by Playing Android Arcade Game in 2023
Ready Games Review – Make Money By Testing Games in 2023
Fish Paradise – Make Money By Playing Android Games in 2023
Buff Platform Review – Earn By Playing Games with 3 Easy Ways