Introduction
In the modern digital age, where browsing the internet has become an integral part of our daily lives, wouldn't it be great if you could earn rewards for simply doing what you already do? Enter Slice is a browser extension, Slice Browser Extension claims to offer a seamless way to make money while browsing websites. With Slice, you can turn your online activities into a source of income.
Installing the extension and enabling it while you browse can unlock the potential to earn rewards in the form of "Slices." But is Slice a legitimate and worthwhile option for earning money, or is it too good to be true? In this article, we will delve into the workings of Slice, its earning opportunities, payment methods, and considerations to keep in mind before diving into the world of earning through web browsing. Let's explore Slice and discover whether it's a viable avenue to monetize your online experience.
What is Slice Browser Extension?
Slice is a browser extension that allows you to earn money by browsing websites. It is specifically designed as a Google Chrome extension and claims to provide earnings through internet browsing.
While Slice Browser Extension is a legitimate extension, assessing its value before deciding to use it is important. Understanding how it operates and the earning opportunities it provides is crucial in determining whether it is worth using.
Make money by Browsing the web from Slice Browser Extension.
Slice is a browser extension allowing users to earn money by browsing the web. Register as a member and install the Chrome extension to start earning with Slice. The extension is also compatible with Mozilla Firefox, providing options for users of both browsers.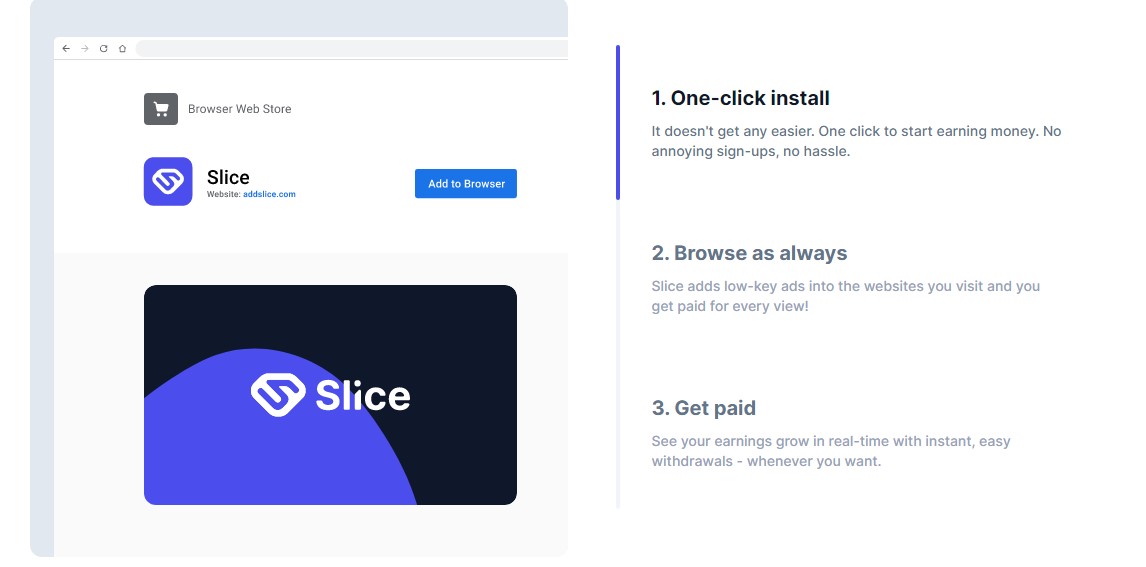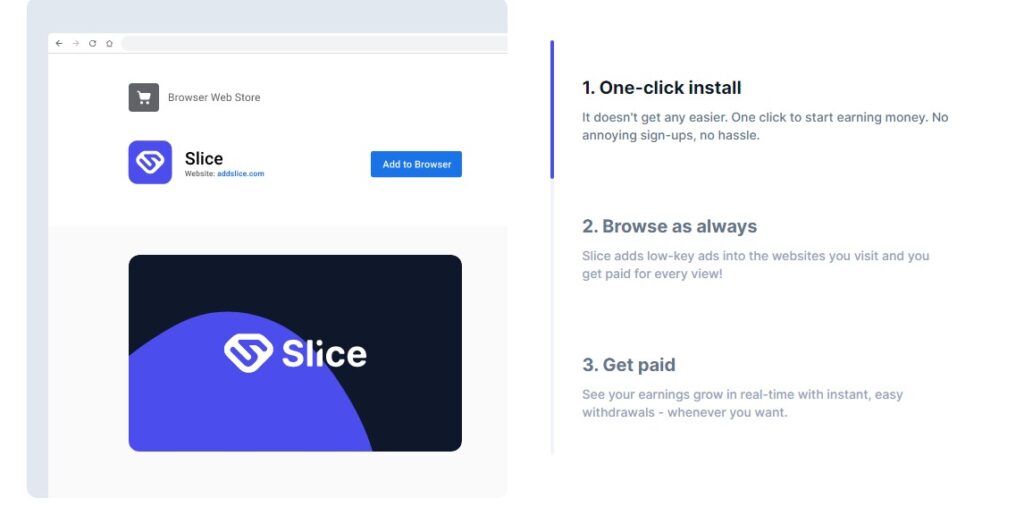 Once the extension is installed and set up, you can enable it and continue browsing websites normally. Slice will display ads while you browse, and you will earn a reward after a few seconds. It's important to wait to close the ad immediately when it appears to ensure you receive the reward.
During the initial setup process, Slice may request certain permissions, such as the ability to edit information on all websites. Although this may raise concerns, Slice assures users that it will not access or tamper with any sensitive information provided to websites.
Extensions like Slice Browser Extension can sometimes interfere with the functionality of certain websites, particularly banking sites. If you encounter any issues, you can easily disable Slice using the extensions on/off option for that specific site. Furthermore, ad blockers will not affect Slice's functionality, allowing you to use your ad blocker alongside the extension without interference.
Slice operates using its currency called "Slices." When ads are displayed, and the extension is enabled, you earn a certain number of Slices. These Slices can be used within the platform for various purposes, which will be discussed later.
However, one concern with Slice Browser Extension is that it may negatively impact the income of content creators. If creators do not partner with Slice, the extension could divert some of their ad earnings, leading to a decline in overall revenue. As more people start using Slice, content creators who rely on ad revenue may face financial challenges, which could eventually discourage them from producing quality content. This raises ethical considerations, as using Slice may inadvertently decrease free, high-quality content availability.
Before deciding to use this extension, it is important to reflect on the potential impact on content creators and weigh the benefits against the potential drawbacks.
Make money in Referral Program From Slice Browser Extension.
Slice Browser Extension offers a referral program as another means to earn rewards. By sharing your invite link with others and having them install the extension through your link, they become your referrals if they sign up as Slice members. As a reward, you will receive 1,000 Slices, which is equivalent to $1.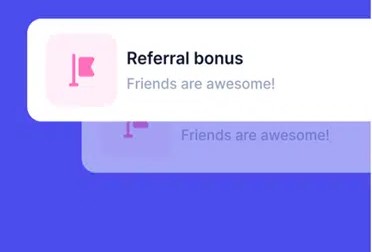 The referral program is a simple way to earn additional rewards, although it may be more limited than other referral programs offered by different platforms or services. To maximize your earnings through referrals, you must invite individuals genuinely interested in using Slice Browser Extension and likely to become active users.
While the referral program may not provide substantial earnings, it can still serve as a way to earn a bit extra by inviting friends, family, or individuals within your network who might find value in the Slice extension.
How Do You Get Paid From Slice Browser Extension?
As mentioned earlier, Slice Browser Extension allows users to earn Slices, which have a monetary value. You can track your earnings by checking the extension icon, which will display the accumulated Slices you have earned.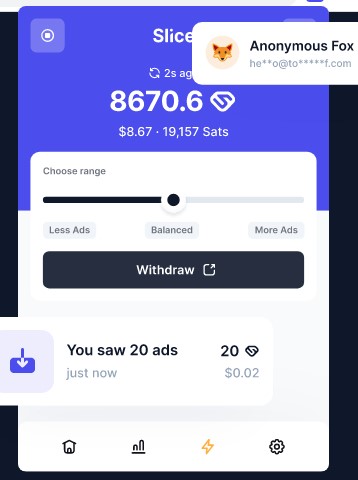 When it comes to withdrawing your earnings, Slice offers two options. You can withdraw your earnings via PayPal, a widely accepted and convenient payment method. Alternatively, you can convert your Slices to cryptocurrency using Bitcoin Lightning. It's worth noting that for each withdrawal you make, there will be transaction fees involved. Therefore, it is advisable to withdraw your earnings when you have accumulated a significant amount to minimize the impact of transaction fees.
The payment system provided by Slice Browser Extension is relatively straightforward and offers popular payment methods like PayPal and cryptocurrency. Additionally, Slice mentions that they are working on expanding their payment options, so additional choices may be available when you decide to join Slice.
Suppose you want to explore other sites or apps that offer convenient payment methods. In that case, various platforms are available depending on your preferences and the earning opportunities you seek. Some examples include freelance platforms like Upwork or Fiverr, survey websites like Swagbucks or Survey Junkie, and cashback apps like Rakuten or Ibotta. Researching and choosing platforms that align with your interests and earning goals is important.
How to join slice?
To sign up for Slice, visit their website and locate the sign-up button. Click on it and fill out the sign-up form with the necessary information, such as your name and email address. After submitting the form, Slice will email you a confirmation code.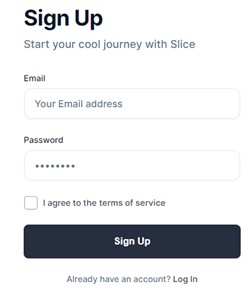 Retrieve the confirmation code from your email inbox and proceed to set up the Slice extension in your browser. You will be prompted to enter the confirmation code during the setup process. Enter it accurately to verify your account and complete the setup.
Once the setup is complete, you can use Slice to browse the web and earn rewards. The registration process is designed to be user-friendly, allowing you to easily create a Slice account and begin earning through their platform.
FAQs
How does Slice work?

After installing and setting up the Slice extension, you browse websites as usual. Slice displays ads during your browsing sessions, and after a few seconds, you earn Slices. These Slices are monetary and can be converted to cash or cryptocurrency.

How do I sign up for Slice?

To sign up for Slice, visit their website and click the sign-up button. Fill out the registration form with the required information and confirm your account by entering the provided confirmation code during setup.

What payment methods does Slice offer?

Slice allows you to withdraw your earnings via PayPal or convert your Slices to cryptocurrency using Bitcoin Lightning. Transaction fees may apply for each withdrawal.

Is Slice safe to use?

Slice claims to prioritize user privacy and security. However, it's important to exercise caution when granting permissions during the installation and use of any browser extension. Reviewing Slice's privacy policy and understanding the permissions it requires is recommended.
See More:
Surfe Be Earning App – Earn by Watching Videos With Easy 2 More
TallyUP App Review – Earn by Playing Games With 4 Easy Tasks
RevCash App – Earn Crypto & Prizes With 4 Easy Ways
Earn Virtual Dollars With Golden Lucky Dice Mini Games in 2023