Introduction
Tapestri App is designed to work unobtrusively in the background of your mobile device, collecting data that can be monetized. By doing so, Tapestri allows consumers to earn money from their data without disrupting their normal phone usage. This key feature makes Tapestri a popular option among those interested in earning money by sharing their data.
What is Tapestri App?
Tapestri is a mobile app that falls under the Get-Paid-To (GPT) apps category, which enables you to earn money by sharing certain information from your mobile device. It does not collect sensitive information such as your banking details or password but focuses on your location data, which is collected anonymously.
What sets Tapestri apart from other similar apps is its transparency. Unlike many other apps that sell users' data without their knowledge, Tapestri clearly states its intention to collect and sell your data but also promises to compensate you fairly.
Overall, Tapestri provides a unique opportunity to earn money from the data you generate on your mobile device while maintaining transparency and respecting users' privacy by not collecting sensitive information.
How To Make Money From Tapestri App?
Here's how to earn from Tapestri App.
1. Make Money by Running the App in the Background From Tapestri App.
To earn money with Tapestri App, one of the easiest ways is to allow the app to run in the background of your mobile device. All you need to do is install the app and permit it always to access your location. This way, the app can track your movements and mobile activity throughout the day while maintaining anonymity.
Whether running errands, commuting, or simply going about your daily routine, the app will passively collect data and credit your Tapestri account with rewards. It requires no extra effort on your part.
That being said, there are other ways to increase your earnings with Tapestri App, which will be covered in the following sections.
2. Make Money by Paid Surveys From Tapestri App.
Another way to earn with Tapestri App is by actively answering surveys. This opportunity may be familiar to those who are members of other survey sites or apps.
To participate in a survey, you will first need to go through a qualifying process where you will answer a few questions to determine if you are the intended target group for the survey. If you qualify, you can proceed with the survey, and upon completion, you will receive the indicated reward.
It's important to note that the availability of surveys may vary depending on your location. Countries like the US, the UK, and Canada tend to have more surveys available. However, during my app testing, only a few surveysfewailable at the time.
To maximize your earnings, answering any available surveys promptly is recommended. Remember that surveys can fluctuate, so it's best to take advantage of them when available.
3. Make Money by Playing Games From Tapestri App.
Tapestri App also offers the opportunity to earn by playing its featured games. Log in to the app and select the Games option at the bottom of the screen to see the available games.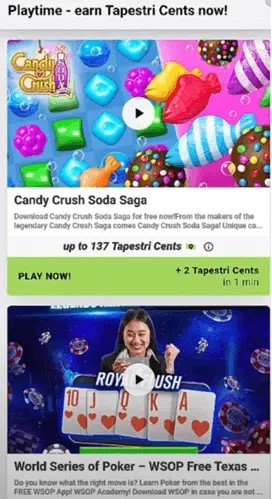 With this opportunity, you can earn rewards for every minute you play a featured game. However, it's important to note that the longer you play a specific game, the fewer rewards you will earn. The app is designed to encourage you to try out different games quickly so that it can generate more revenue.
Therefore, switching between different featured games is recommended to maximize your earnings from this opportunity.
4. Make Money by Map/Check-in From Tapestri App.
Tapestri offers a unique way to earn rewards by going from one location to another. To take advantage of this opportunity, log in to the app and navigate to the Map section. Here, you can view your current location and nearby locations that offer rewards when you check-in.
When you arrive at a location that offers a reward, simply check-in through the Map section of the app to claim your reward. It's important to note that this opportunity should be viewed as a bonus, not a primary earning method with Tapestri. The rewards for check-ins are low, and it may not be cost-effective to go out of your way to visit a specific location to check in.
This opportunity is best suited for individuals who frequently travel around the city and can easily incorporate checking in at various locations into their routine.
5. Make Money by Referral/Affiliate Program From Tapestri App.
The Tapestri referral program allows you to earn additional rewards by inviting others to join the app. When you refer someone to the app using your unique referral link, you'll receive a reward once they sign up and start using the app.
The referral program has two tiers. Tier 1 consists of the people you refer directly to the app, while Tier 2 consists of those who sign up using the referral link of someone you referred (i.e., your "sub-referrals").
Here's how it works:
Open the Tapestri app and click the "Referral" button in the bottom menu.
You will see your unique referral link displayed on the screen. You can share this link with your friends, family, or followers on social media.
When someone clicks on your referral link and downloads the Tapestri app, they will be prompted to sign up for an account. Once they do so, they will become your Tier 1 referral.
You will be rewarded for each Tier 1 referral you bring to the app. The amount of the reward will depend on the location of your referral.
If any Tier 1 referrals refer someone else to the app using their unique referral link, that person will become your Tier 2 referral. You will also receive a smaller reward for each Tier 2 referral.
Keep in mind that there are some restrictions to the referral program. For example, you cannot refer yourself or use spam or fraudulent tactics to get people to sign up using your referral link. If Tapestri suspects you are engaging in fraud, they may terminate your account and withhold any rewards you've earned.
The referral program can be a great way to earn additional rewards from Tapestri, especially if you have a large social network or following on social media. Just follow the rules and guidelines to ensure you're playing by the rules and not engaging in any prohibited activities.
How Do You Get Paid From Tapestri App?
Tapestri offers a variety of ways for users to withdraw their earnings. Every time you earn from the app, you receive Tapestri coins which can be accumulated and later withdrawn. Two main options for withdrawing your earnings are via Stripe to receive cash or OpenNode to convert your earnings to cryptocurrency.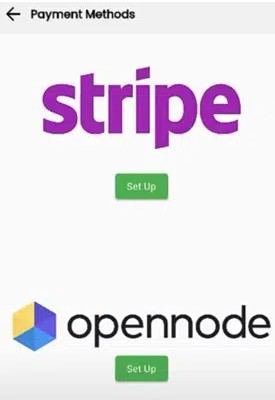 The minimum threshold required to withdraw your earnings depends on your country, with some requiring at least $10 and others allowing you to withdraw when you've earned less than $1. This simple and flexible payment system lets users choose how to receive their earnings. For those interested in sites with convenient payment methods, check out sites that pay via PayPal.
How to Join Tapestri App?
To join Tapestri, you must download the app from the App Store or Google Play Store. Once you have downloaded and installed the app, you can sign up by providing basic information such as your name, email address, and password. You can also sign up using your Facebook or Google account.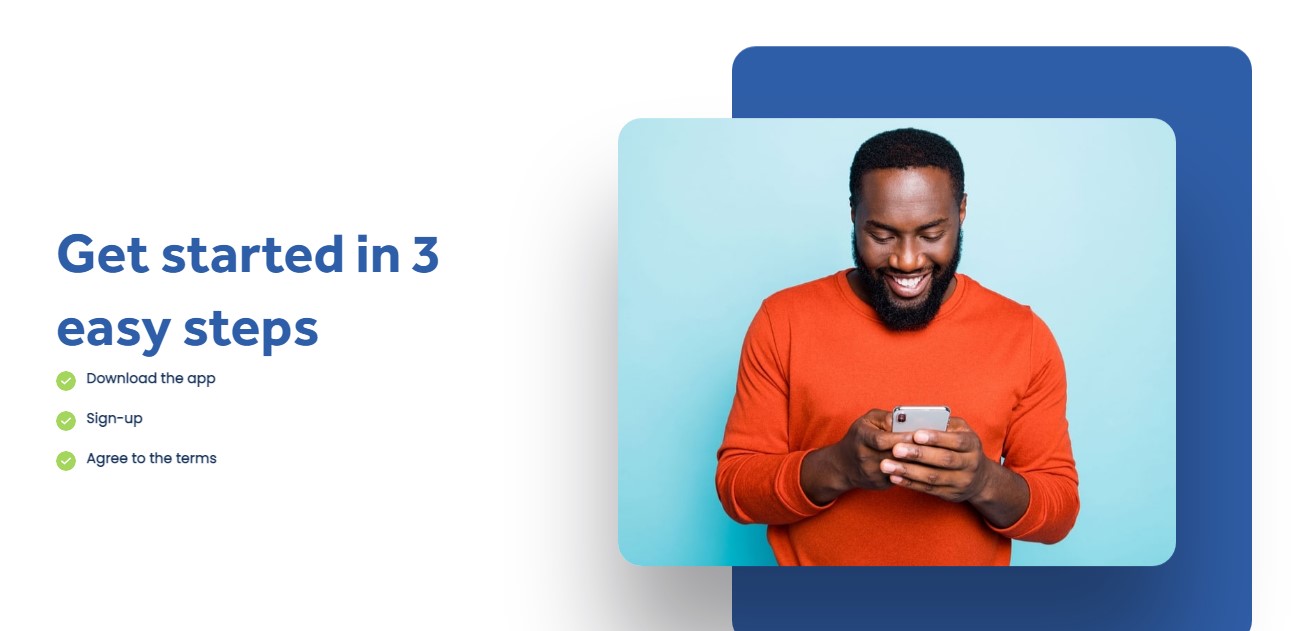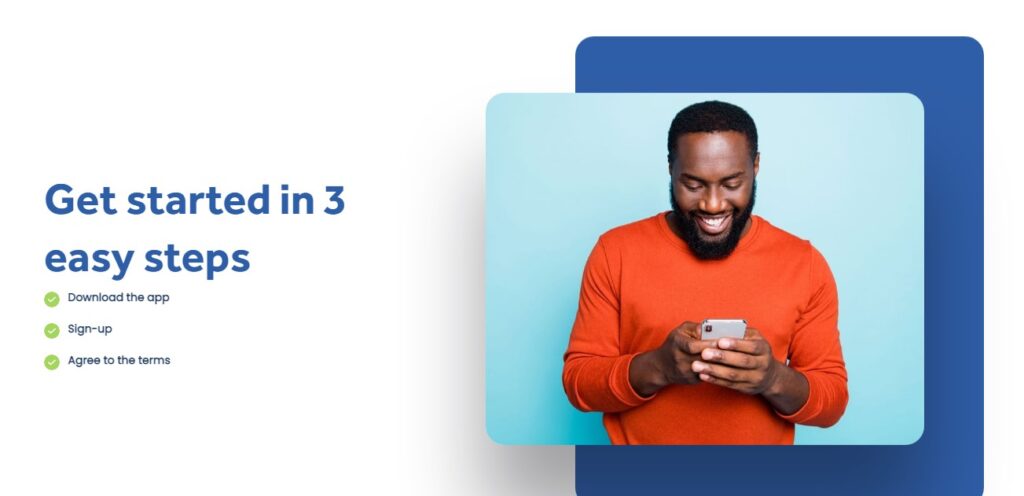 After signing up, you must complete your profile by providing more information about yourself, such as your gender, age, and location. This information will help the app determine which surveys and offers suit you.
Once your profile is complete, you can start earning rewards by taking surveys, playing games, and checking in to locations, among other things. Keep in mind that the availability of earning opportunities may vary depending on your location.
FAQs
What is Tapestri?

Tapestri is a mobile app that allows users to earn rewards by completing surveys, playing games, going to specific locations, and referring friends.

Is Tapestri available worldwide?

Tapestri is available worldwide, but surveys and rewards may vary depending on the user's location.

Is Tapestri legit?

Tapestri is a legitimate app that pays users for completing tasks. However, users should be aware that the earning potential may be limited, and some opportunities may not be available in certain locations.
See More:
Slot Rush App Review – Earn by Playing Mobile Games (100% Easy)
Givvy Radios Review – Earn by Listening To Your Favorite Radio Stations in 2023
Star-Clicks Review – Make Money By Clicking Ads (100% Easy & Real)
Twickerz Review – 9 Easy Ways To Make Money From This PTC Site