Introduction
Welcome to Twickerz, a paid-to-click (PTC) website where you can earn money by completing various tasks such as viewing as, taking part in surveys, playing games, and more. With a low payout threshold and various earning opportunities, Twickerz is a popular choice for those looking to make extra cash online. In this article, we'll inspect the different ways you can earn on Twickerz and some tips and tricks to maximize your earnings. So, whether you're a seasoned PTC user or starting, read on to learn more about Twickerz!
What is Twickerz?
Twickerz is a platform that has existed since 2011 and operates as a paid-to-click (PTC) site. Users can earn money on the platform by completing offers and clicking on ads. Although the payout threshold is quite low, generating substantial income on the site may require significant patience. Besides clicking on ads, Twickerz offers several other ways to earn money. A closer examination of all available earning opportunities is necessary to determine the site's earning potential.
How do you join Twickerz?
To sign up for Twitter, you only need to fill out their registration form. However, there is a minor issue with the form that you may encounter.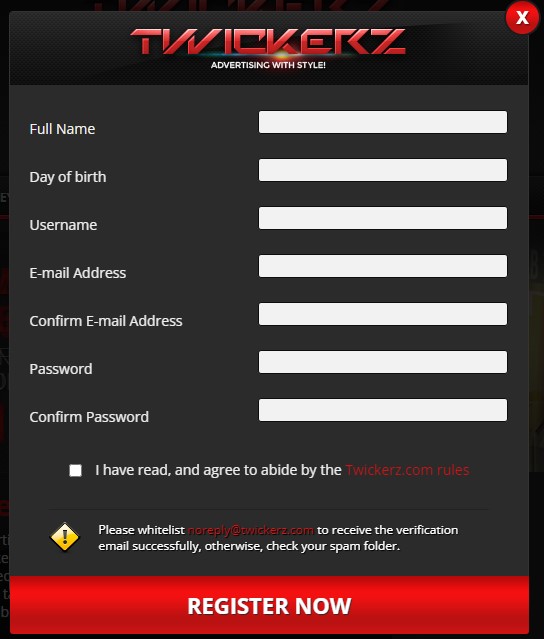 The tabs partially hidden the birthdate field on the website, which could be a design flaw or an intentional feature. It can resolve this inconvenience by clicking on the small white space to access the birthdate field. Although this may seem minor, it can negatively impact the user experience. As a result, the user experience on Twickerz is not great.
How To Make Money From Twickerz.
1. Make money with Paid offers from Twickerz.
One way to earn rewards on This PTC Site is by completing paid offers. For those new to this, paid offers are small tasks you can perform to earn rewards.

Each paid offer will come with a set of instructions that you need to follow, and once you complete the offer, you will receive the promised reward.
Typically, paid offers on Twickerz will involve:
Answering surveys or quizzes.
Registering for a site.
Visiting a link.
Watching videos.

However, the site doesn't pay out large rewards for each completed offer.
On the positive side, a wide variety of offers are available since Twickerz has many offer walls. This means you will likely have things to do on the platform.
2. Make Money by Paid surveys from Twickerz.
Twickerz has a dedicated section for paid surveys, but the surveys will be from other sites. Twickerz only acts as a mediator for the surveys. When you click on a paid survey offer, a new window will open, taking you to the site hosted by the survey. You will need to answer several profiling questions to determine if you are the intended target demographic for the survey.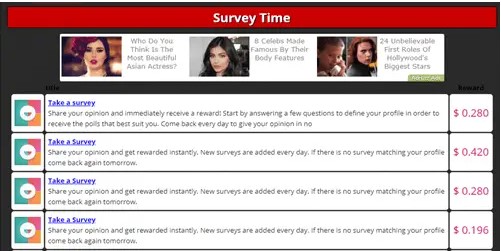 If you qualify, you will be taken to the actual survey. After completing the survey, the reward will be credited to your Twickerz account, but it may take some time before it appears. However, the rewards for paid surveys on This PTC Site are generally lower than on other sites, since the platform takes a percentage of the payment.
Taking surveys on PTC sites like Twickerz may not be the best option since the rewards tend to be lower. The rewards for surveys on This PTC Site are relatively low compared to what you can get from other survey sites, so it's worth considering before investing significant time into the surveys on this platform.
3. Make Money by Answering Quizzes from Twickerz.
Twickerz also offers an opportunity to earn rewards by answering quizzes, similar to paid surveys. When you click on a quiz offer, a new window will open where the quiz is hosted. After completing the quiz, you will receive the reward promised.

However, it's worth noting that there is an issue with the quizzes on the site. When clicking on the quizzes, the message "Disabled" appears, and it's unclear whether this is a bug or if the earning opportunity has been disabled altogether. This makes the quizzes on This PTC Site an unreliable chance for earning.
4. Make Money by View ads from Twickerz.
Twickerz offers clicking ads as a way to earn additional rewards. This earning opportunity is simple – click on an ad, wait for the page to load completely, and choose the right upside-down image in the captcha. Then, you can close the window and earn the reward promised. However, clicking ads won't earn you significant money; you'll have to click on hundreds of ads to make a decent amount.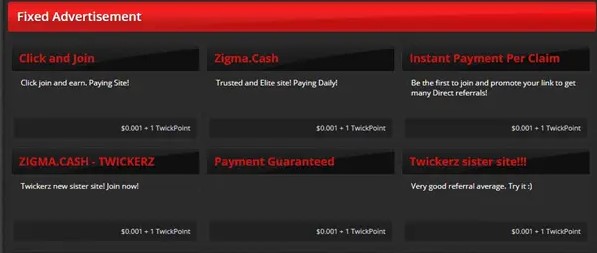 Be aware that Twickerz displays ads all over the site, even when you're not using the PTC option. This can affect the site's usability, as some ads cover the content. While displaying ads is a way of generating income for websites, Twickerz goes overboard.
5. Make Money by Twickgrid from Twickerz.
Twickgrid is a game available on Twickerz that allows you to play 25 rounds per day. Each round involves clicking on a grid, revealing an ad you will need to view for a few seconds.
After viewing the ad, you will need to solve an upside-down captcha and be informed if you have won a prize. The price ranges from $0.001 to $5, with the $5 prize being the highest.
Although the prizes are insignificant, winning can be a nice bonus if you are lucky. However, remember that the top prizes are not awarded frequently, so you may spend a lot of time on the game without receiving any rewards.
6. Make money by Paid To Sign Up from Twickerz.
Twickerz offers paid-to-sign-up (PTSU) offers, which require you to sign up for other websites and complete certain activities to earn rewards. These offers come with specific instructions on what you need to do, such as signing up for the site and providing certain details to confirm that you have signed up.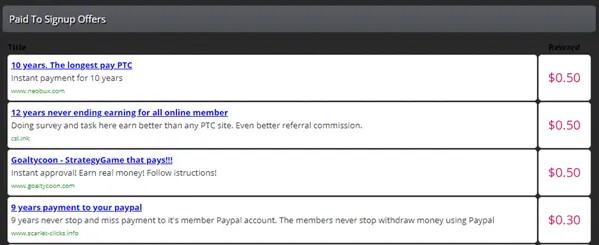 However, it is important to choose these offers carefully as some may not be worth the effort for the reward you receive. Evaluating each offer and deciding whether it is worth your time and effort before signing up for anything is best.
7. Make money through Point contests from Twickerz.
Twickerz offers monthly point contests for its members where the top 10 members who have accumulated the most points within the month will win prizes. The prize for the ultimate winner can be as high as $300, which is a significant amount. However, it's worth noting that viewing ads is the only way to earn points for the contest. Therefore, to have a chance of winning, you will need to click on a lot of ads, which can be time-consuming. While it's not a reliable earning opportunity, it can be a good goal to set for yourself if you are willing to put in the effort to accumulate points.
8. Make money by Flip The Coin from Twickerz.
Flip The Coin is a feature available on Twickerz, where you can gamble your earnings by betting on a single flip of a coin. This is a common game on PTC sites, and it's important to note that it involves high stakes and high rewards.
You can bet any amount you like, with a maximum of $50. If you win the bet, your earnings will increase by the amount you wagered. However, if you lose, the bet amount will be deducted from your account balance.
It's important to remember that gambling can be addictive and lead to losing all your earnings. Therefore, being careful and responsible while playing this game is essential.
9. Make money by Referral program from Twickerz.
Another way to earn on Twickerz is through their referral program. By inviting people to join using your referral link or banner, you can earn a commission on their earnings. While there needs to be clearer information on the commission percentage, based on other PTC sites, it is typically around 5-10% of your referral's earnings.
However, you must click on at least three daily ads to earn from your referrals. Additionally, you can also rent or buy referrals to increase your earnings. This can be done using your purchase balance.
How do you get paid from Twickerz?
It's important to note that while Twickerz does have a low payout threshold, there are processing fees for each payment request, which means you won't receive the total amount you requested. Additionally, there are maximum payment requests depending on your membership level.
For free members, the maximum payment request is $10.00 every ten days, while for premium members, it's $25.00 every seven days. There are also additional requirements for requesting payment, such as posting proof of payment in their forum.
While the low payout threshold may be attractive, the complicated payment system and fees may make it less appealing to some users.
FAQs
Is Twickerz a legitimate site?

Yes, Twickerz is a legitimate site that has been operating since 2011. However, as with any online earning platform, it is important to be cautious and do your own research before joining.

How do I get paid by Twickerz?

Twickerz offers several payment options, including PayPal, Payza, Perfect Money, and Bitcoin. You can request a payment once you have reached the minimum payout threshold, which is $1 for most payment methods.

Is Twickerz free to join?

Yes, Twickerz is completely free to join.

How much can I earn with Twickerz?

The amount you can earn with Twickerz depends on how many ads you click on and how many offers you complete. Generally, you can expect to earn a few cents per click or offer.
See More:
GoldenClix Review – Earn Money by Watching Ads and Completing 9 Simple Tasks
MobileXpression Review – Make Money by Installing App With 2 Easy Ways
Zap Surveys Review – Earn by Sharing Your Opinion With 6 Easy Ways
InboxPounds Review – Earn by Reading Emails & Listening to Radio With 5 Easy Tasks