Introduction
Online games are a popular pastime for many people, and mobile gaming apps have made it even easier to play games on the go. However, with the increasing popularity of these apps, it's essential to be cautious about which ones you download and play. This article will review the Slot Rush app, a mobile game that allows players to win gold coins by playing a virtual slot machine. We will provide a detailed overview of the game, including how to play, what to watch out for, and whether it's worth your time. So, if you're curious about this app and want to know if it's a legitimate way to earn extra cash, keep reading.
What is Slot Rush App?
Slot Rush App is an exciting Android app that allows users to play free slot games and win cash and prizes. Developed by mersumtapo, Slot Rush is completely free to download and play. Players can use in-game coins to activate the slot machine and try their luck at winning big.
Although the app has already been downloaded over half a million times on Google Play, no reviews are currently available. This is because the app is still in its "Early Access" stage, which is still being tested and improved.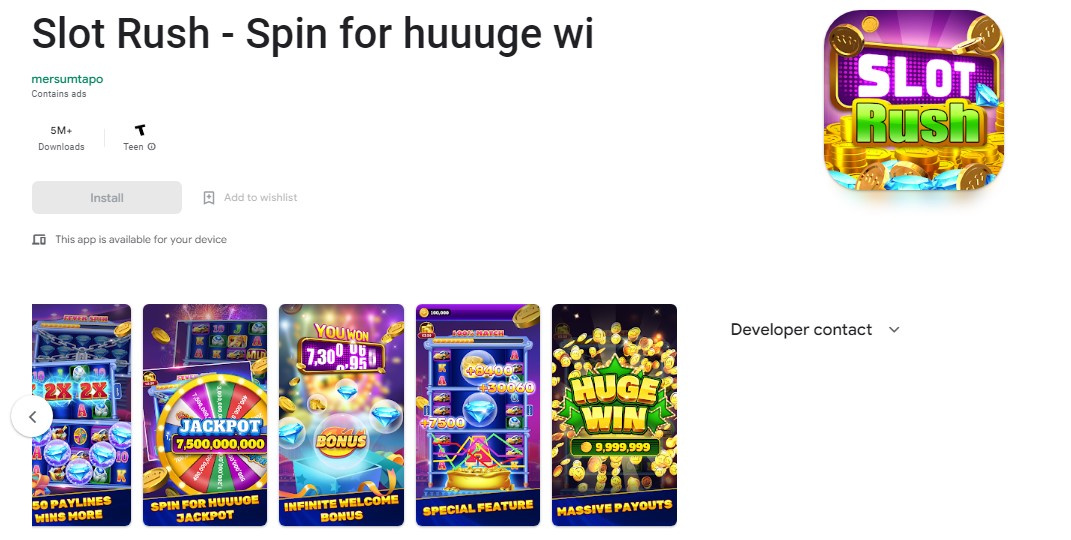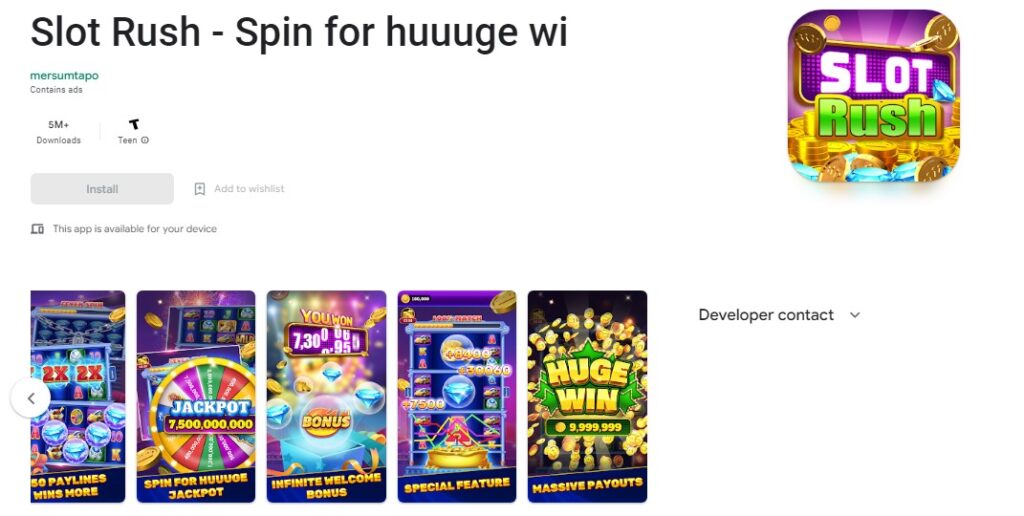 One of the most attractive features of Slot Rush is its multiple payment options, including popular platforms like PayPal, Paytm, Tez, Cash app, and more. Additionally, users can collect puzzle fragments and redeem them for amazing prizes like a MacBook Pro or a PS5.
You're not alone if you're wondering whether all of this sounds too good to be true. Slot Rush is an app worth checking out if you enjoy playing slot games and want to try your luck at winning cash and prizes.
How to Join Slot Rush App?
Joining Slot Rush App is very simple. You can download the app from the App Store or Google Play Store and create an account. Once you've created an account, you can start playing the game and earning gold coins. The app is free to download and play, but you can make in-app purchases to get additional coins. However, it's essential to remember that there are some concerns about the app's payout process, which may only be available in some countries.
How to Make Money Playing The Game From Slot Rush App.
Slot Rush App is an Android app that allows players to play free slot games with a chance to win real cash and prizes. Developed by mersumtapo, Slot Rush uses gold coins as in-game currency, which are free for players when they start playing the game.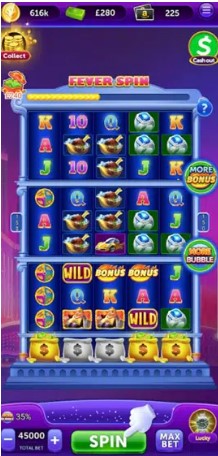 To play, users choose the number of gold coins they want to bet on each spin, with a minimum bet of 10,000. Increasing the stake unlocks more slot machine sections, with a maximum bet of 45,000 coins required to unlock all three sections. Pressing the "Spin" button deducts the bet from the player's coin balance, with the results displayed a few seconds later.
While winning combinations are not immediately clear, players can accumulate Fever Spin progress points to fill the bar under the Fever Spin section. When the bar is full, players can enter the Fever Spin mini-game, which offers the chance to win many gold coins.
Slot Rush offers several payment methods, including PayPal, Paytm, Tez, Cash App, and more. However, it is essential to note that despite having been installed over half a million times on Google Play, the app is still classified as "Early Access" and currently has no reviews.
Make Money by Daily Bonus From Slot Rush App.
It is important to note that while having an abundance of gold coins in Slot Rush may seem like a good thing, it could be a red flag indicating that the app is not legitimate. Many scam apps use this tactic to lure users into a false sense of security, leading them to invest more time and even money into the app before realizing they can never cash out or receive any rewards.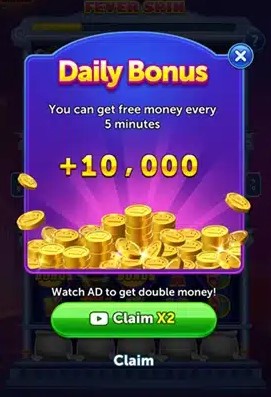 Despite having over half a million installs on Google Play, it is also concerning that there are no reviews for Slot Rush App. The fact that the app is still in "Early Access" could be a reason for this, but it is still important to exercise caution when using it.
Overall, it is best to approach Slot Rush with skepticism and wait to invest too much time or money into it until more information about its legitimacy and payout policies is available.
How Do You Get Paid From Slot Rush App?
Slot Rush App is a game app that uses gold coins as its in-game currency. The app gives players 30,000 free gold coins to start with, which can be used to place bets. The minimum bet is 10,000 coins, and increasing the bet amount unlocks more slot machine sections. The maximum bet is 45,000 coins, opening all three sections of the machine. Players can win gold coins or Fever Spin progress points by spinning the device, but figuring out the winning combinations is hard. The Fever Spin bar will eventually fill up; when it's complete, players can play the mini-game and win more gold coins.
If players run out of gold coins, they can wait and claim the Daily Bonus for free coins. They can also watch a video ad to double the bonus or forego it and claim the prize immediately. However, the app does not offer payout options in all countries, and in countries where it does, players have to watch extra ads to get paid after reaching the payout threshold. This is a red flag, and players may never receive their payment. The app is still in early access, which is also a red flag. Therefore, players seeking extra cash should check out top sites that pay via PayPal instead.
FAQs
What is Slot Rush?

Slot Rush is a mobile app that lets you play a slot machine game using in-game gold coins as currency.

Can I win real money playing Slot Rush?

The app claims to offer payout options in some countries, but users have reported issues with actually receiving payouts. There are more reliable ways to earn real money.

Is Slot Rush a scam?

While it needs to be clarified if the app is intentionally fraudulent, many red flags suggest it is not a reliable way to earn money. Users have reported issues receiving payouts; the app page says it is still in development.
See More:
Givvy Radios Review – Earn by Listening To Your Favorite Radio Stations in 2023
Star-Clicks Review – Make Money By Clicking Ads (100% Easy & Real)
Twickerz Review – 9 Easy Ways To Make Money From This PTC Site
GoldenClix Review – Earn Money by Watching Ads and Completing 9 Simple Tasks