Introduction.
UniqPaid is a Get-Paid-To (GPT) site that rewards users for completing various tasks such as surveys, offers, watching videos, and more. The site has been around for over a decade and offers a variety of payout options, including PayPal, check, Skrill, Payeer, MasterCard, VisaCard, and Bitcoin. UniqPaid also has a referral program that allows users to earn additional rewards by inviting others to join the site. This way, users can make extra money by completing tasks and referring others to the platform. In this article, we will provide an in-depth review of UniqPaid, examining its features, earning potential, payout options, and more.
What is UniqPaid?
UniqPaid is an online Platform that offers individuals the opportunity to earn money by completing simple and easy tasks. It operates as a GPT (Get-Paid-To) site where users can make money by completing various offers and functions.
Established in 2001, UniqPaid has been providing its services for 19 years, indicating its longevity in the industry. Signing up for UniqPaid is free, and once registered, users can immediately begin earning money by completing the available tasks.
To get started with UniqPaid, interested individuals need to sign up and register on the platform. Once registered, they can begin working and earning.
1. Make Money Through Paid Offers From UniqPaid.
In addition to paid offers, UniqPaid offers several other methods for earning rewards. One of the most common ways is by completing surveys. These surveys typically require you to answer a set of questions about a particular product or service. Once you have completed the study, you will receive a reward that will be added to your account balance.

Another way to earn rewards on Uniq Paid is through cashback shopping. This involves purchasing products through the platform's partner sites and receiving a percentage of your purchase as a cashback reward.
You can also earn rewards by referring other people to the platform. For each person who signs up through your referral link and completes a task or offer, you will receive a percentage of their earnings.
Finally, UniqPaid offers a cash contest where you can participate to win a prize. You can enter the contest by completing a task or offer, and each completed task or offer will give you one entry into the contest.
Overall, Uniq Paid provides several ways to earn rewards, including paid offers, surveys, cashback shopping, referrals, and cash contests. However, the rewards may be lower than other similar platforms.
Make Money By Paid Tasks From UniqPaid.
To sum up, the difference between paid tasks and offers on UniqPaid is that paid tasks can involve a broader range of tasks. In contrast, paid offers are usually limited to answering surveys, registering to a site, playing a game, or downloading an app. Additionally, the reward for completing paid tasks will not be credited to your account immediately, but after a month. Uniq Paid has to wait for the appropriate revenue from their sponsors to be credited to their account before distributing it to your account. Lastly, as a member, you can also post your paid tasks, which will involve a fee.
Make Money By Visiting Sites From UniqPaid.
UniqPaid offers another way for its members to earn rewards by simply visiting their advertisers' websites. This opportunity can be accessed by clicking on the "Visit Cash" tab located on the member dashboard.

This earning opportunity may not always be available, so it's advisable to take advantage of it whenever there's an offer to visit a site.
Visiting sites is the easiest way to earn rewards from UniqPaid, as it involves only a few simple steps. Once you click on the "visit site" offer, you'll be directed to the advertiser's website, where you'll need to stay for around 15 seconds to register that you've visited the site.
After the specified time, you can close the window and wait for the reward to be credited to your account. This process is similar to viewing ads on Paid-To-Click (PTC) sites, but the rewards for visiting sites on Uniq Paid are generally small.
It's important to remember that even if there are multiple available sites to visit, the earnings from this option are likely to be insignificant. Nonetheless, it's an easy way to earn a little extra cash, particularly for those who have a few spare minutes to browse the advertiser's websites.
Make Money Through Mobile Offers From UniqPaid.
UniqPaid also offers a way for users to earn rewards through mobile offers. These are similar to paid offers but are specifically designed to be completed on your mobile device.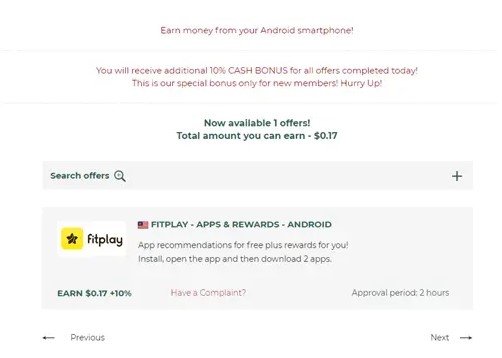 When you access the mobile offers section on your Uniq Paid member dashboard, you will find a variety of offers available to you. Most of these offers will require you to download and install an app on your mobile device, but other tasks may also be available.
It is important to note that these offers are only available for Android users. If you have an iOS device, you cannot participate in these offers.
Once you have completed the offer, you must confirm your completion and wait for the reward to be credited to your account. Like paid offers, the reward for completing a mobile offer will vary depending on the task and the sponsor.
It is also important to remember that some mobile offers may require you to make an in-app purchase or subscribe to a service to receive the reward. Be sure to carefully read the offer requirements and terms before completing any tasks.
Make Money by Referral Program From UniqPaid.
You can earn rewards by inviting people to join UniqPaid through their referral program, which uses a three-level system. You can earn 10% of your 1st level referral's earnings, 5% of your 2nd level referral's earnings, and 1% of your 3rd level referral's earnings. You will also receive $1.00 for each new active member, with a minimum payment requirement of $5. Uniq Paid sometimes has unique campaigns where you can earn $2 per referral with different conditions. However, there are better sites to refer people to, as Uniq Paid offers fewer opportunities than top GPT sites.
How Do You Get Paid From UniqPaid?
After earning rewards on UniqPaid, you may wonder how you can get paid. The amount you earn for each completed activity will be credited to your account balance, and you will receive a monthly payment. UniqPaid advertises that they don't have a payout threshold, but most payout options do have a minimum payment requirement.
Depending on your preferences, you can receive payment via PayPal, check, Skrill, Payeer, MasterCard, VisaCard, or Bitcoin. However, if you choose to receive payment via check or Bitcoin, you need to accumulate at least $5. For PayPal and Skrill, the minimum payout is $1, and for VisaCard and MasterCard, it's $30.
You will receive payment on the 20th of each month for the earnings from the previous month. On the Balance tab of your member dashboard, you can see a breakdown of the amount you've earned for the month, which is a convenient feature.
In summary, UniqPaid has payout thresholds for most payout options but offers various payment methods and payout monthly.
How to join UniqPaid?
UniqPaid is a global platform, meaning anyone can become a member, regardless of location. However, you must be at least 18 years old to register.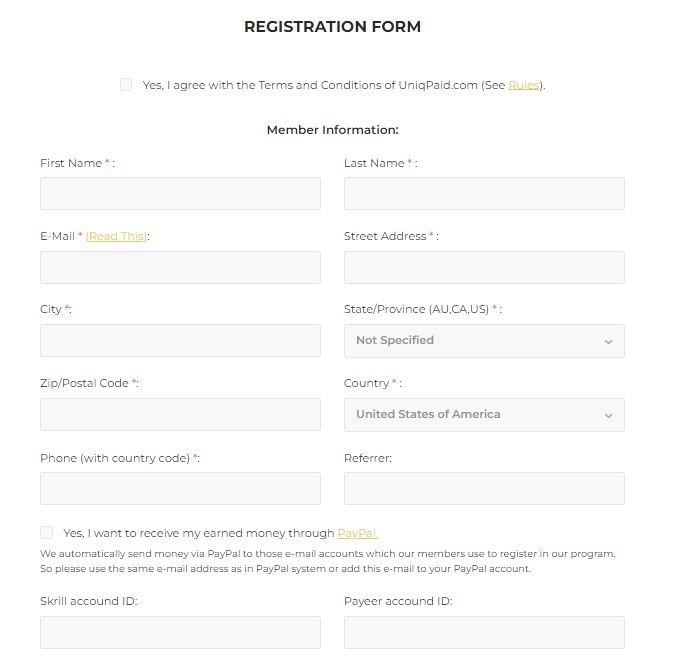 To become a member, you need to complete the registration form. It is recommended that you use an email address that ends in .com or .net instead of a national email address (such as .it, .es, .cn, etc.) to avoid potential registration issues with some advertisers. This is important because some paid tasks may not be available to members with specific email domains, and using a .com or .net email address may help maximize your earning potential.
FAQs
Is UniqPaid free to join?

Yes, it's completely free to join UniqPaid.

What kind of tasks can I do on UniqPaid?

You can do various tasks on UniqPaid, such as taking surveys, completing offers, watching videos, playing games, and more.

How much can I earn on UniqPaid?

Your earnings on UniqPaid will depend on how much time and effort you put into completing tasks. You won't get rich, but you can earn extra monthly cash.

Is UniqPaid available worldwide?

UniqPaid is available globally, but you must be at least 18 years old to join.
See More:
SurveysForU Review – Earn By Watching Videos With 5 Easy Tasks
Paid To Read Email Review – Earn by Reading Emails 100% Free
Golden Farm Review – Earn by Playing Farming Games With 1 Task