Introduction
If you want to make money by playing games, then VeryDice App is a good option. That's because it will take you to play the game to earn a decent amount from this app. I will share everything about what this app offers, so you can understand what to expect from it.
What Is VeryDice App?
VeryDice is a free mobile app that pays you to roll dice from your smartphone. If you're looking for a fast and easy way to make money, this is one of the best ways.
When you first register for the app, you're offered 50 free rolls. Each time you roll, you're offered a certain amount of "tickets" that can trade for real cash rewards. To proceed, all you have to do is tap the dice on the home screen. You can also get rewards by playing games, completing the daily doubles and through other processes.
How To join VeryDice App?
The registration process is pretty straightforward. You install the app, and when you open it for the first time, you can use your Google or Facebook account to log in.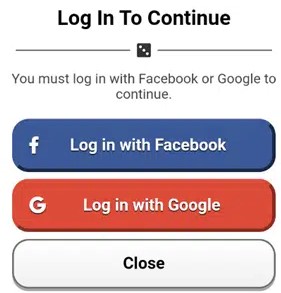 Once you complete the registration, you can log in to the app and play to make tickets.
How to Make Money from VeryDice App?
So, here's how to earn from VeryDice App.
1. Make money by playing the game from VeryDice App.
The secured way to make rewards from VeryDice is by playing their different dice games. There were three ways of dice games: Shooter, Lucky 7s, and Classic Doubles.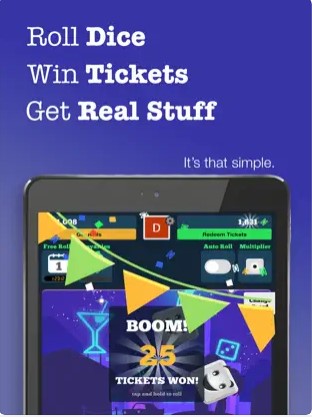 Each way has its jackpot prize, but the game's logic will be the same. You will roll two six-sided dice, and the result will be the number of tickets you will make. But for the Shooter mode, if you roll a 2 and 1, you can play the extra Shooter game and get additional tickets.
For the Lucky 7s, if you roll all the 7s combinations, you will earn a scratch card where you can win more tickets. You will win the jackpot prize for the Classic Doubles if you roll all the double combinations.
When you first sign in to the app, you will be offered 99 free rolls. You can expend these rolls on any game mode you like. But what happens if you run out of rolls? Well, there are ways to get free rolls.
You can complete tasks to earn more rolls. These tasks are like what you can find on Get-Paid-To and survey sites. You will earn the specified number of rolls when you complete a task. Aside from completing tasks, you can also make more rolls by inviting people to play the app.
You will also get a random number of rolls every day. When you log in to the app for the first time per day, you will reel the wheel to decide how many free rolls you will get.
2. Make money by joining a tournament from VeryDice App.
Another way to reach tickets is to join tournaments. There are different tournaments for each game mode available at any presented time. Joining one is also free.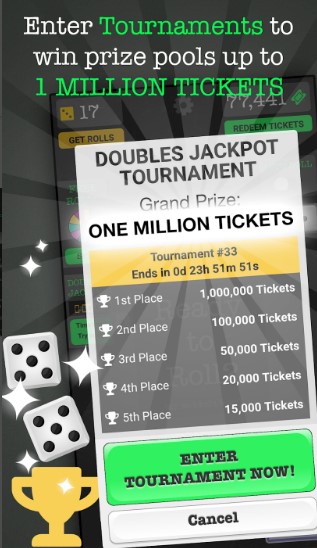 The winners of these tournaments will be based on whoever gets the unique prizes from each game mode. For example, whoever receives the double rolls in the Classic Double mode will win the tournament.
Every tournament will award the top 10 participants first place, usually winning around 25,000 to 50,000 tickets. It's a significant prize, but it's not a very easy feat to do.
It would help if you accumulated a lot of rolls to win a tournament, which means you have to complete many tasks and invite many people to use the app. It's an admirable goal to set, but it's not something you can rely on.
3. Make money by completing bonus activities from VeryDice App.
Complete bonus activities such as watching videos, filling out surveys, completing free trials, and more to earn more rolls. You can also earn 300 tickets by completing the Daily Doubles.
4. Make money by Referring Friends from VeryDice App.
Referring friends is the best and easiest way to get extra rolls with VeryDice. Each member that joins using your referral Code earns a bonus of 30 rolls. Your friend earns 50 to start. A great way to fast post your referral code is via Facebook or Twitter.
How do you get paid from VeryDice App?
You will make tickets every time you roll the dice. You can swap them for different gift cards. You can redeem gift cards from Amazon, Google Play, the PlayStation store, and more.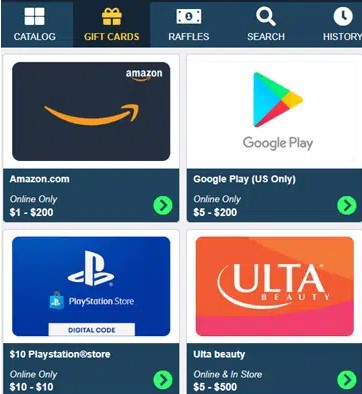 The number of tickets instructed to redeem a gift card will depend on which gift card you want to redeem. For example, if you want to redeem a $1 Amazon gift card, you will require at least 7,425 tickets.
The lowest amount you can redeem depends on your selected gift card. For example, the lowest amount for a Google Play gift card will be $5, commanding 28,350 tickets.
It's hard to decide the exact value of a ticket because the transformation rate will vary depending on the gift card you desire to redeem.
The payment system of VeryDice is relatively straightforward. However, the app only offers gift cards as rewards. So, if you want to earn cash, this is not for you.
FAQs
Is VeryDice a legit mobile app?

VeryDice is a legit mobile app that will let you make rewards for playing their game.

How Much Can I Earn?

If you bring 25 rolls per day and, on average, you roll a 7, you're making about 175 tickets per day.

How Many Rolls Do I Get?

You can earn anywhere from 1 to 50 rolls hanging on your luck.

Can you use it on a desktop?

VeryDice has a mobile app for Android devices. If you are an iOS user, you can even play the game. You can also access the game from a desktop using a web browser.
See More:
ZikTalk App – Earn by Watching & Uploading Videos 100% Easy
Yamgo Review – 4 Best Ways To Earn Money Online
Match to Win app – 6 Easy Ways to Make Money Online
FruitLab – Make Money by playing & watching Games with 3 More Easy Task