Introduction
If you've been looking for an easy and simple method to make money online, you've already heard of a site named Wintub. Wintub is a GPT site that declares to pay you for watching videos. This site vows to pay you quite a lot for watching videos online.
What is Wintub?
Wintub is a Get-Paid-To (GPT) site that will pay you to watch videos.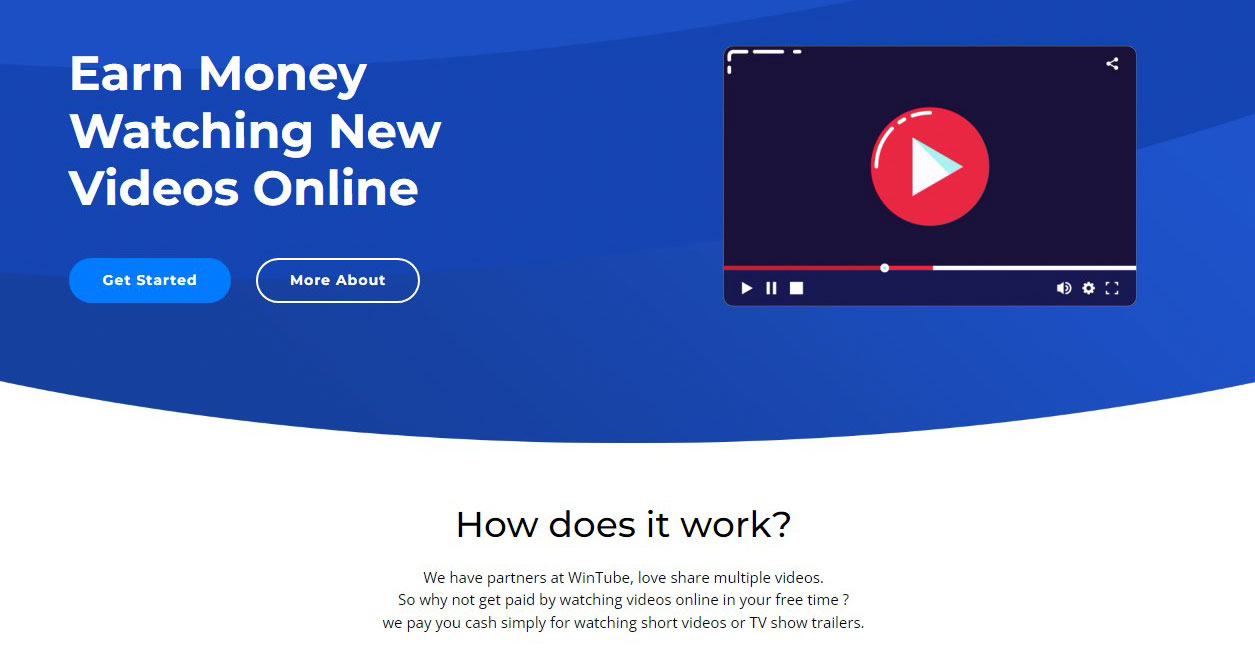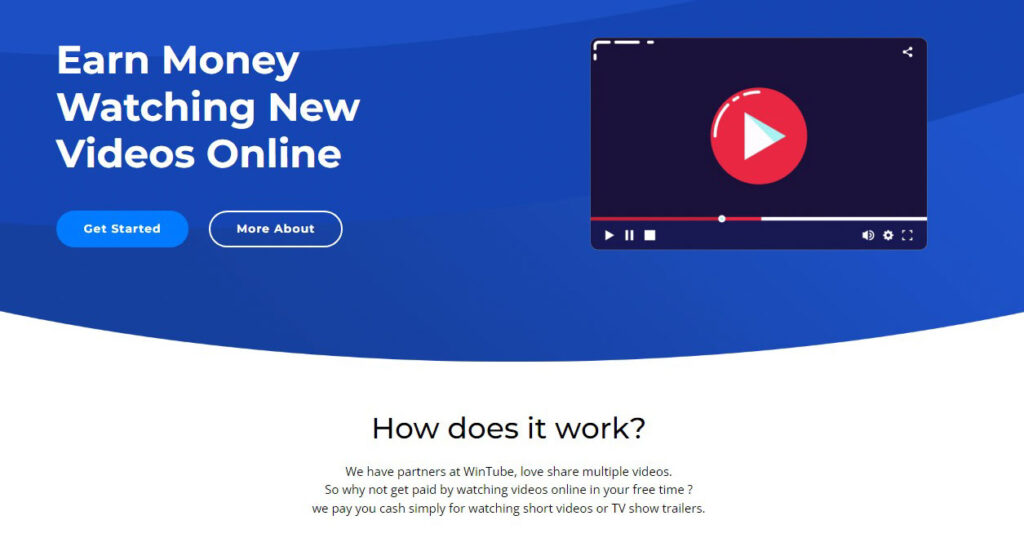 The platform declares it makes money through advertising, and therefore it uses some of that money to pay those who watch the videos. The Wintub platform is available in most countries worldwide, including the UK, the US, South Africa, Nigeria, Canada, China, and Kenya.
How to make money by Wintub.com
But before we can conclude whether it is legit, let's inspect how you can earn from this site. How it works and what you need to know before joining.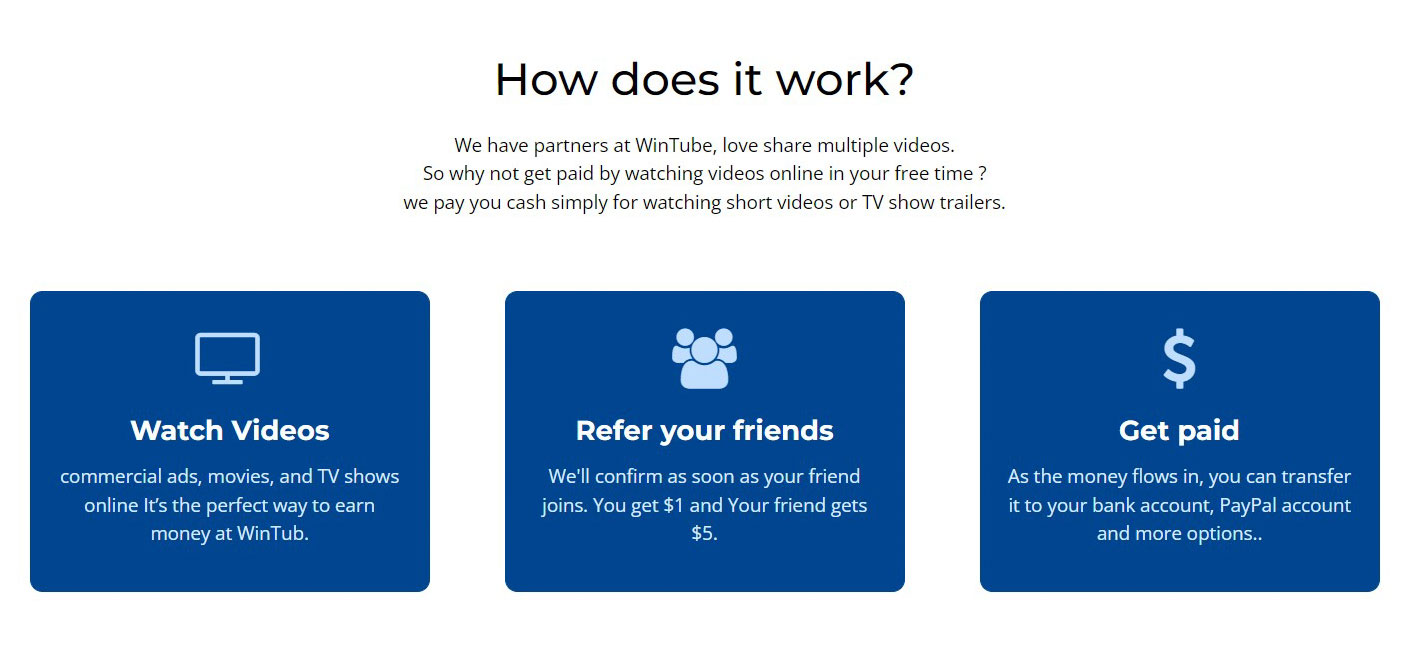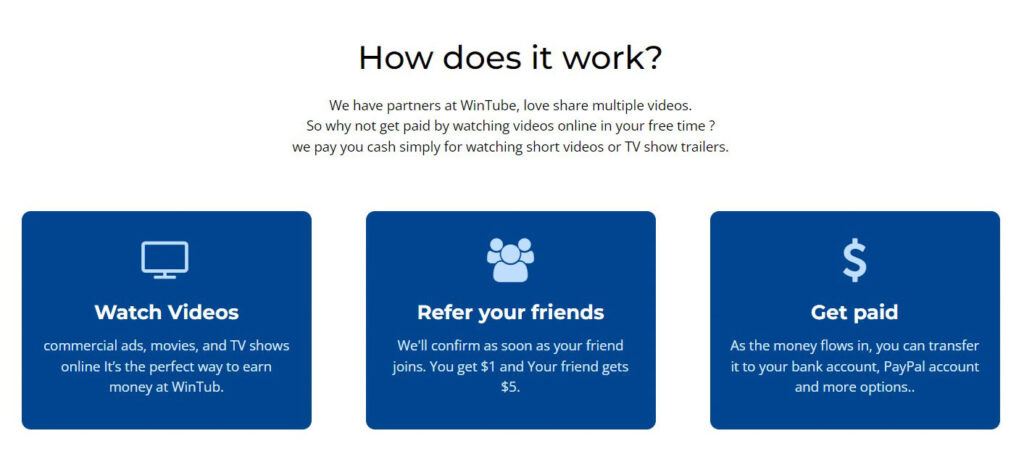 1. Make money by watching videos at Wintub.
The main earning opportunity Wintub offers is video watching. This kind of earning opportunity is relatively simple. You watch a video for a long time to earn the reward.
Their system is fairly easy. You click the video's play button, and a timer at the bottom will start.
Watch at least 34 seconds of the video to make the reward. Once the timer reaches 34, it will display a "Complete" message.
Click the "Complete" button to claim the reward. When you click the button, it unlocks a few pop-up windows that can be extremely annoying.
It would help if you closed these pop-up ads to get back to the page. Once you've completed the pop-up ads, it will show a message informing you, you've made the reward.
3. Make money by referral program at Wintub.
Another way you can make rewards from Wintub is by requesting other people to join the site. This is called a referral program and can usually be discovered on most online rewards sites.
Their referral program is also very simple. You must share your invite link via Facebook, Twitter, or email to earn a reward. You can also direct message your invite link to the people you want to invite.
Once they sign up for the site utilising your invite link, you will make $1. With other GPT sites, additional conditions are frequently required (like completing a short task or earning a certain amount, and so forth).
How to create a Wintub account.
To create a Win tub account,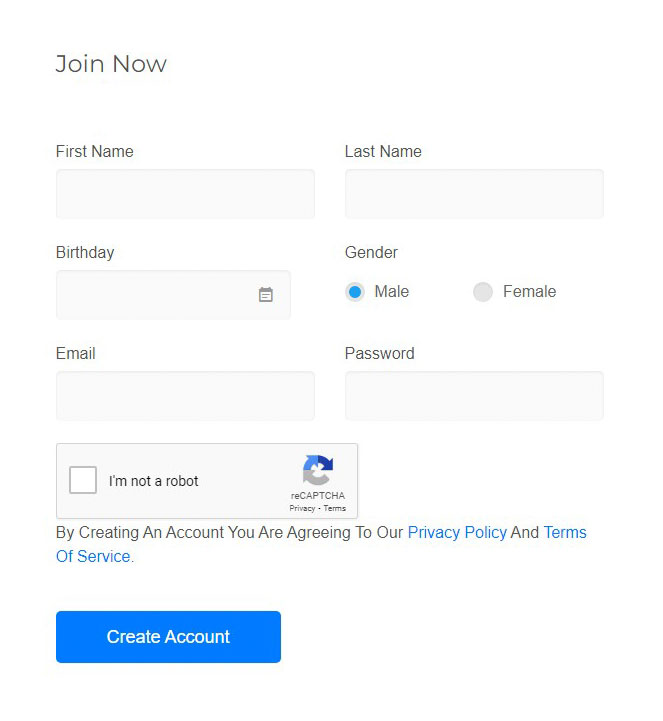 Click on the Sign-up button, and you will be directed to the registration page. After landing on the registration page, register with your details. Fill in your personal details; first name, last name, username and password, email, agree to the platform terms and conditions, and sign up. If required to verify your account through email, check the email sent to you. You will find a verification link and click it.
Wintub Login
Search for Win tub login on your browser. The only information required is your email/username and password.
How do you get paid from Wintub?
Every video you watch and referral you earn will make you a certain amount which will be credited to your Wintub account balance.
You will then have the option to withdraw your revenues via PayPal, WebMoney, Western Union, or Payoneer.
However, you will only be able to withdraw your earnings once you've reached their threshold. The minimum cash out is $80, depending on the payment gateway you will use. The threshold for PayPal, WebMoney, and Payoneer will be $80. For Western Union money transfers, it will be $100.
How much money can you make from Wintub?
Considering Wintub has a very high payout threshold, it is important to determine how well the site pays for every video you watch to get a clear picture of how fast you can reach its very high threshold.
Generally, you will earn roughly $0.5 to $0.6 per video you finish watching. That's quite a good amount if you compare it with other video-watching sites. However, there have been plenty of complaints saying that the amount you will earn for every video starts to drop once you've already earned around $50.
FAQs
How much money can you make?

You will earn around $0.5 to $0.6 per video you finish watching.

What is the minimum cash out threshold ?

The minimum cash-out threshold is $80.

Is Wintub Real or Fake?

If you want a brief review of the Wintub website, we recommend that wintub is not a secure website for earning online.
Read more

: Wintub Review | 2 Easy Ways To Make Money From Wintub.com
How SproutGigs works | How to Make Money From SproutGigs
Rewarding Ways Review | 4 Easy Ways To make money From Rewarding Ways
Idle Empire Review | 5 Easy Ways To Make Money From Idle-Empire
54 Best Platform To Get Paid To Watch Videos Online in 2022