Introduction.
Zap Surveys is a survey app that claims to pay users for their opinions. The app offers a variety of survey opportunities, as well as other ways to earn small amounts of money. While the app provides a few unique features, such as charitable donations, its payout threshold is relatively high, and users should not expect to earn a significant amount of money.
What Is Zap Surveys?
Zap Surveys is a mobile application that allows individuals to earn money by sharing their opinions on various products and services while on the go. The app is owned by "Apps that Pay," which also operates other survey apps and websites.
While there is no website for ZapSurveys, the app has gained a positive reputation among online survey takers, with over 18,000 reviews and 100,000 downloads on Google Play and an impressive 4.3 rating. Many users who have shared their experiences through ZapSurveys reviews praise for its interesting surveys and prompt payment system, the app.
Who Can Join Zap Surveys?
To become a member of ZapSurveys, individuals can download and install the app on their Android or iOS smartphone. However, it's worth noting that ZapSurveys is currently only available in the United States, the United Kingdom, and Canada, and users must be at least 18 years old to register. While the app doesn't provide an exhaustive list of eligible countries, individuals from other parts of the world may still need to be able to sign up.
How to make money on Zap Surveys
To make money on Zap Surveys, you must complete surveys, polls, and offers available on the app. You can also earn some bonus by referring friends and family, sharing on social media, and checking in daily.
1. Make money by Paid surveys from Zap Surveys.
The Zap Surveys app's primary way to earn money is by completing paid surveys. These surveys are offered through three reputable third-party portals, including Peanut Labs, TabResearch, and Poolfish for Good. Users of other survey sites may recognize these portals as they are commonly used by other platforms such as PrizeRebel and ySense. While ZapSurveys may have limited survey options in some countries, these portals provide many survey opportunities.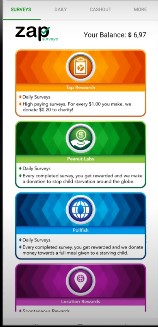 However, it's worth noting that the first time a user surveys through one of these portals, they will need to provide their basic demographic information, such as age, gender, income, and location. While this can be tedious, it only needs to be done once for each portal, and the app will remember the information for future surveys. Despite some limitations, ZapSurveys is a safe and legitimate way to earn money through paid surveys.
2. Make money by joining the bonus from Zap Surveys.
Zap Surveys offers a starter survey to new users to help them get started on the app. The survey is brief, with approximately eight easy questions that can be completed within a few minutes. Upon completing the introductory survey, users will receive $6.25 in their Zap Surveys account, which is a great way to earn.
However, it's important to note that the rewards for surveys offered after the initial survey will be considerably lower. The introductory survey is a one-time offer with a high reward to incentivize new users to join. While Zap Surveys provides users access to many surveys, the rewards for these surveys are much lower than the initial offer. Therefore, it's important to expect a different level of earnings for subsequent surveys.
Zap Surveys allows users to earn a bonus by sharing the app on their social media accounts. Users can select "more" in the app's menu line to access this option and choose "share." From there, they can select Facebook or Twitter and share a link to promote ZapSurveys.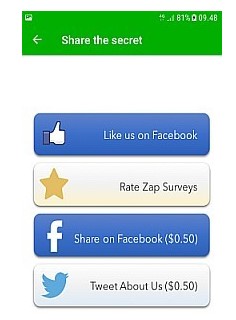 Users will receive a $0.50 bonus for each platform they share on. However, it's important to note that this bonus can only be earned once per user, regardless of how many times they share the link.
While this can be an easy way to earn extra money, some users may feel uncomfortable promoting the app on their profiles. It's important to note that liking ZapSurveys on Facebook or rating the app will not earn users any bonus. Only sharing a link will.
4. Make money by referring people from Zap Surveys.
Zap Surveys offers a small bonus for referring people to the app using a referral code in your profile.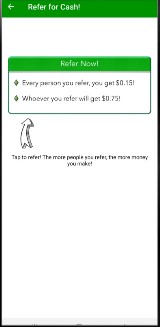 If someone joins using your code, you will earn $0.15. Compared to other survey sites, this referral program is not very lucrative and not a reliable way to make significant money. However, if you still need to become a member, you can use a joining bonus with a referral code when signing up. More information about this is available later on.
5. Make money by Location Rewards from Zap Surveys.
Zap Surveys offers an option to earn location rewards by turning on the location feature in the app. When you're near one of the more than 200 partner stores currently running a promotion, you will receive a notification, and by opening it, you earn $0.25. However, it's important to note that you will only sometimes know which stores have promotions, and it's not a reliable way to earn a lot of money. Additionally, the location rewards are only relevant if you live in the US, even though Zap Surveys is available in several other countries.
6. Make money with a Daily login bonus from Zap Surveys.
Zap Surveys offers a daily login bonus that requires you to log in to the app and click a button to receive a small reward. The amount you can earn varies based on the country and can range from $0.01 to $0.03 per day.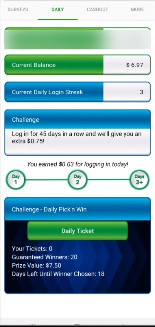 While the daily bonus is small, it's an easy way to earn some extra cash. Plus, if you log in every day for 45 consecutive days, you'll receive an additional $0.75.
So, if you're already using the app, it's worth taking a few seconds to click the bonus button each day to accumulate a little extra cash.
How do you get paid from Zap Surveys?
Zap Surveys offers three payout options for your earnings: PayPal, Amazon gift cards, or Visa e-cards. However, you must earn at least $25 before withdrawing your profits, which is a high threshold compared to other survey sites.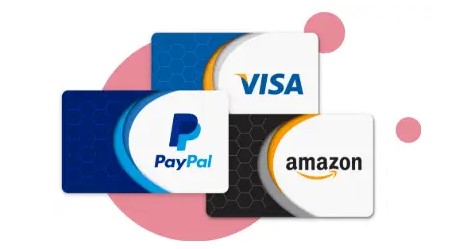 While Zap Surveys offers some high-paying surveys and bonuses, reaching the payout threshold may take a while due to the limited earning opportunities. If you're looking for a faster-paying survey site, check out PrizeRebel.
In addition, Zap Surveys is committed to supporting organizations working to end child hunger worldwide. For every dollar you earn with the app, they donate $0.20 to this cause, which is a commendable effort.
FAQs
Is Zap Surveys legit?

Yes, Zap Surveys is a legitimate platform for earning money. It has been around since 2017 and has paid over $5 million to its users.

How do I get paid on Zap Surveys?

You can get paid on Zap Surveys via PayPal, Amazon gift cards, or Visa e-cards once you've earned the payout threshold of $25.

Can I use Zap Surveys outside of the US?

Yes, you can use Zap Surveys in many countries around the world. However, some activities, such as location rewards, are only available in the US.

How much can I earn with Zap Surveys?

The earning potential on Zap Surveys varies depending on your activities and the number of surveys you qualify for. The rewards for each survey range from $0.25 to $2, and you can earn additional bonuses for completing other tasks. However, the earning potential is relatively low compared to other survey sites.
See More:
InboxPounds Review – Earn by Reading Emails & Listening to Radio With 5 Easy Tasks
SilverClix Review – 8 Easy And Simple Ways to Earn Money
IndexClix Review – Make Money By Viewing Ads With 6 Easy Tasks
EmeraldBux Review – Make Money by Viewing Ads (100% Easy Process)