Introduction
InboxPounds is a popular Get-Paid-To (GPT) platform that allows users to earn Money through various methods, such as listening to the radio, completing tasks, and taking surveys. It offers a simple and convenient way for individuals to earn extra cash from the comfort of their homes. One of the notable features of InboxPounds is its safe and reliable payment options, including prepaid MasterCard, Amazon gift cards, and other e-payment methods. With a minimum payout threshold of £20, Inbox Pounds is a promising platform for those earning some extra income in their spare time. In this article, we will look closer at Inbox Pounds and what it offers to potential users.
What is InboxPounds?
InboxPounds is a legitimate Get-Paid-To website that has been in existence since 2012. It is owned by a company established in 2000 and has amassed millions of members. Inbox Pounds is a UK-based online rewards club that pays members to complete activities such as reading emails, taking surveys, watching videos, and shopping online. Members earn cash rewards, which can be redeemed for gift cards, cash via PayPal, or a check.
How do I get started InboxPounds?
To get started using InboxPounds, visit their homepage and provide your email address before clicking the 'sign me up' button. You will then be prompted to enter personal demographic information such as age and occupation. This data helps Inbox Pounds to tailor surveys and tasks that match your interests.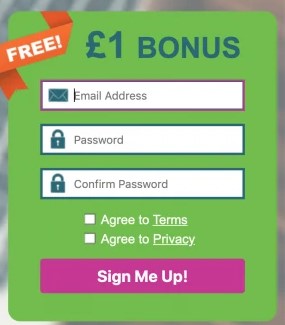 After registering, you can earn Money towards the £20 payout threshold. Once you reach this amount, you can withdraw your earnings and use the Money as you please.
How To Make Money On InboxPounds?
There are several ways to make Money on InboxPounds, including.
1. Make Money by InboxPounds surveys.
InboxPounds provides users with an opportunity to earn money by completing paid surveys. Due to its many partners, the platform offers a wide range of survey opportunities. However, it's important to note that not all surveys are available to everyone, and many users report a high disqualification rate.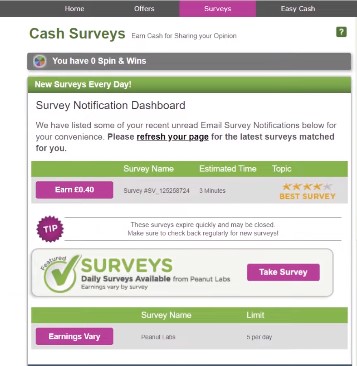 To compensate for the disqualification rate, InboxPounds has a unique feature called Spin & Win. If you are ineligible for a survey, you can use this feature for a chance to earn some money. While there is no guarantee of a win, you can use the Spin & Win feature up to ten times daily. Prizes include survey tokens worth £0.06 and £0.03, which will be credited to your account after completing a survey.
In addition, you can also win cash bonuses of £5.00, £1.00, and £0.01 through the Spin & Win feature. These bonuses are immediately credited to your account.
2. Make Money Through Paid Offers On InboxPounds.
InboxPounds offers a wide range of paid offers and the standard offer walls that other GPT sites provide. Many of these offers are unique to Inbox Pounds and can be a great way to boost your earnings. However, it's crucial to read each offer's conditions carefully to ensure you understand the requirements to receive your reward.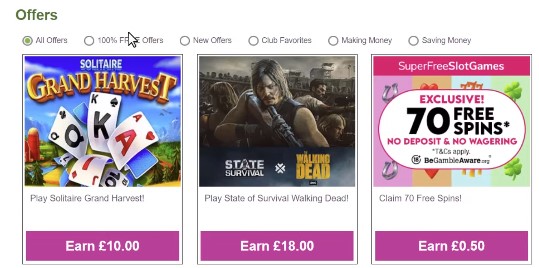 For example, one offer available on Inbox Pounds is the opportunity to sign up for Sun Bingo by paying a deposit of £10. Once you complete this offer, you will receive a £15 reward in your Inbox Pounds account and can play with £40 on Sun Bingo. While the advertiser hopes you will continue spending money only on the site, you can take the bonus and use the credit without investing more, making it a straightforward way to earn extra cash.
3. Make Money by inviting friends On InboxPounds.
Inviting your friends to sign up is a great way to earn extra Money on InboxPounds. When someone signs up through your referral link, you make 10% of their earnings on the platform. This bonus is paid directly by Inbox Pounds to thank you for bringing new users to the site. It's a simple and easy way to increase earnings and make even more Money on InboxPounds.
4. Make Money by InboxPounds search.
InboxPounds also offers a search function that rewards you with cash for doing natural searches. Once you do four qualifying examinations, Inbox Pounds will credit your account with a small amount.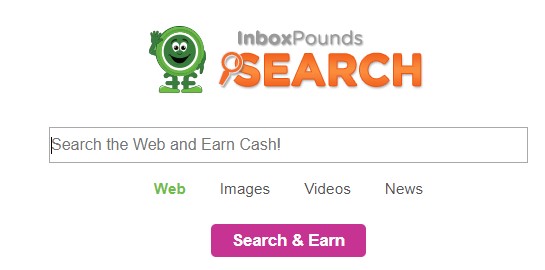 You can earn even more by engaging with the search results. However, it's important to note that you can only make a little money through this option. You'll typically earn between £0.01 and £0.04 for every four qualifying searches, and up to £0.07 per day. While it's not a huge earner, it's a simple way to earn a little extra cash for something you already do daily.
5. Make Money by reading emails On InboxPounds.
Reading paid emails on InboxPounds is not a high-paying activity, but it's a simple way to earn a few extra pennies. The emails usually contain advertisements or promotions from Inbox Pounds' partners, and you make a small amount of cash by clicking on the links provided in the email. As you mentioned, the number of paid emails you receive depends on your activity level, but typically, members can expect to receive up to three paid emails per day.
6. Make Money by Listening to the Radio On InboxPounds.
InboxPounds offers a unique way to earn Money not commonly found on Get-Paid-To platforms. By simply listening to the radio and solving a captcha every 30 minutes, users can earn £0.01 per captcha solved without any additional effort required. While the earnings may not be substantial, this is a simple way to make Money.
7. Make Money by Figure Eight tasks On InboxPounds.
In addition to earning Money by listening to the radio, InboxPounds offers the opportunity to complete easy tasks through the Figure Eight platforms. These tasks may involve identifying the contents of a photo, writing product descriptions, or translating phrases, among others. While the pay for these tasks may be low initially, consistently completing them with accuracy can lead to gaining trust and access to higher-paying tasks.
How do you get paid From InboxPounds?
On InboxPounds, you earn pounds and can choose from various payout options based on your preferences. Some earning methods show earnings immediately, while others may take up to a few weeks for approval.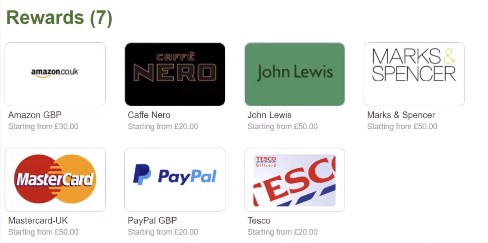 Higher-paying offers may also have a waiting period for approval. Payout options include e-payments such as prepaid MasterCard, Amazon gift cards, and other gift cards, as well as PayPal, a newer option introduced instead of paying by check. A minimum of £20 is required to request a payout, which may seem high but is still reasonable. Additionally, users receive a £1 joining bonus to kick-start their earnings.
FAQs
What is InboxPounds?

InboxPounds is a Get-Paid-To (GPT) platform that allows users to earn Money by completing various tasks, such as listening to the radio, taking surveys, and completing simple tasks.

What payment options are available on InboxPounds?

InboxPounds offers various payment options, including prepaid MasterCard, Amazon gift cards, and other e-payment methods.

Is InboxPounds legitimate?

Yes, InboxPounds is a legitimate platform that pays users for completing tasks. It has been around for over a decade and has paid millions of pounds to its users.
See More:
SilverClix Review – 8 Easy And Simple Ways to Earn Money
IndexClix Review – Make Money By Viewing Ads With 6 Easy Tasks
EmeraldBux Review – Make Money by Viewing Ads (100% Easy Process)
Skedadle Mobile App Review – Earn by Playing Games with 2 Easy Tasks