Introduction
BitCoin Connect is A thrilling mobile game that combines puzzle-solving with cryptocurrencies. Connect identical bubbles to earn BTC and tokens, which can be converted into real crypto. Conquer levels, flip gift boxes, and win virtual rewards. Collect 100 puzzles and watch 200 videos to unlock the coveted iPhone 14 Pro. Available on Android with over 100k installations. Experience the excitement of BitCoin Connect and embark on your crypto gaming journey today!
What is BitCoin Connect?
BitCoin Connect is a mobile game created by Jia22, a renowned developer known for their successful money-themed games like Bubble Connect and Bubble Garden. In this game, your objective is strategically eliminating bubbles by connecting identical ones representing various cryptocurrencies.
As you skillfully pop Bitcoin and coin bubbles, you earn BTC and tokens, which the developer claims can be converted into real cryptocurrencies. The game offers multiple withdrawal options, including BTC, ETH, DOGE, XRP, and more, adding to its appeal and promising potential rewards.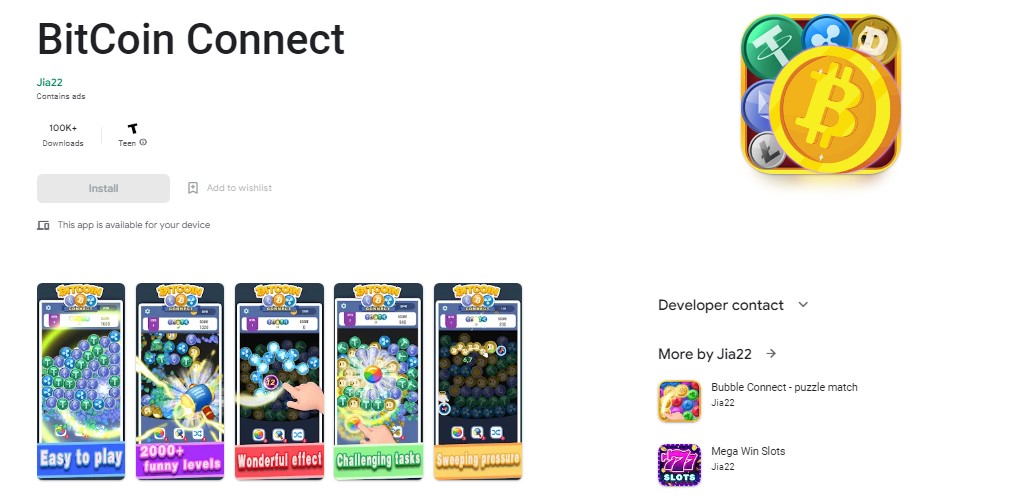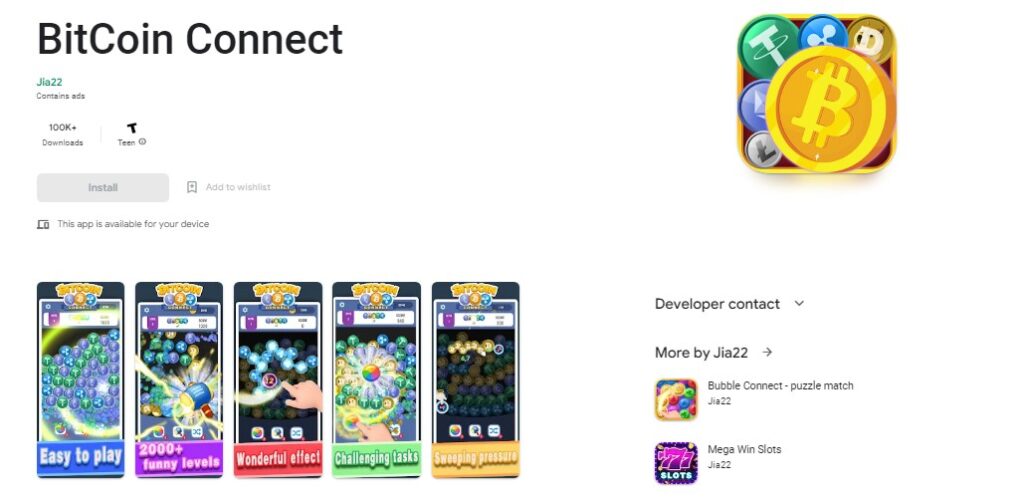 Furthermore, there is an exciting opportunity to win the highly sought-after iPhone 14 by collecting puzzle pieces and watching numerous videos within the game. This feature adds a layer of excitement and incentive for players.
BitCoin Connect is currently available for Android devices and has garnered over 100,000 installations. Its popularity stems from the allure of achieving financial freedom through a fun and engaging gameplay experience.
How Does BitCoin Connect Work?
BitCoin Connect offers a free experience on the Play Store, allowing users to start playing without registering. You can quickly dive into the game and begin your cryptocurrency adventure.
Upon entering the game's homepage, you'll find a bustling hub filled with advertisements and various mini-games. These mini-games offer additional entertainment and rewards within the app.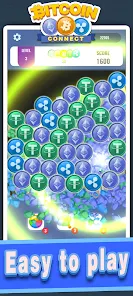 One notable feature is the round progress bar on the screen's right side. As it completes a full circle, it comes to life with BTC and token rewards, further motivating players to continue their gameplay and accumulate valuable prizes.
While claiming these enticing rewards doesn't require playing different games, it does involve watching sponsored videos. Advertisements serve as the primary source of income for the app developer, and enduring these sponsored videos is a trade-off for accessing the shiny prizes available in the game.
How to Play BitCoin from BitCoin Connect?
When you tap on the middle tab in BitCoin Connect, you will enter the vibrant core of the game. Your objective here is to slide and connect at least three bubbles of the same type, arranging them near one another.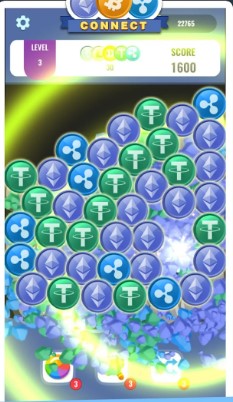 Within the game, you'll encounter two types of bubbles. Some bubbles feature the recognizable BTC logo, while others display a star coin. When you burst an adjacent bubble, these special bubbles will pop, releasing their respective rewards.
To claim your rewards, as expected, you'll need to watch an advertisement. Bitcoin bubbles provide you with BTC, while coin bubbles yield tokens that can be exchanged for $1000 worth of various cryptocurrencies. The available options include BTC, BNB, DOGE, ETH, SHIB, and XRP.
To conquer each level, you must meet a specific target by blasting several bubbles. Once you complete a level, you can choose one gift box to flip and potentially win more virtual dollars or diamonds.
Each card flip is accompanied by an advertisement, which you must watch to reveal the prize. By flipping four cards, you can collect iPhone 14 Pro puzzles, bringing you closer to the possibility of winning the elusive iPhone 14 Pro within the game.
How to Redeem Prizes from BitCoin Connect?
In BitCoin Connect, you can withdraw your Bitcoin balance once it reaches a minimum of 0.025 BTC. This allows you to convert your in-game Bitcoin earnings into real cryptocurrency that can be transferred to your wallet.
Furthermore, if you manage to amass 980,000 diamonds, you can trade them for $1000 worth of cryptocurrency. This provides an additional avenue for players to accumulate valuable digital assets within the game.
For those seeking an even greater reward, BitCoin Connect offers the enticing prize of an iPhone 14 Pro. To claim this coveted prize, you'll need to collect 100 puzzles scattered throughout the game and watch 200 videos. This adds an extra layer of challenge and dedication for players who aspire to win this exclusive in-game reward.
FAQs
How can I download BitCoin Connect?

BitCoin Connect can be downloaded for free from the Google Play Store for Android devices. Search for "BitCoin Connect" and click the install button to download the game.

Is registration required to play BitCoin Connect?

No, registration is not required to start playing BitCoin Connect. You can dive right into the game and start playing immediately without needing any sign-up process.

Can I convert my in-game BTC and tokens into real cryptocurrencies?

According to the developer, you can convert your in-game BTC and tokens into real cryptocurrencies. BitCoin Connect offers withdrawal options such as BTC, ETH, DOGE, XRP, and more.
See More:
Word Relax – Earn By Playing 100% Easy Word Games
Earn By Playing The Mysterious Treasures 2248 Android Games
Purple Circle App – Earn By Playing 100% Easy Trivia Games
Witcoin Review – Earn By Answering Quizzes With 2 Easy Tasks