Introduction
Witcoin is a unique app that offers a seamless blend of learning and earning opportunities in cryptocurrency. Engage in quizzes, participate in digging for gold coins, and leverage a referral program to accumulate rewards. Earn Witcoin tokens (WTC) and convert them into popular cryptocurrencies like USDT. Expand your knowledge of Web3 and cryptocurrency while enjoying a rewarding experience. Join Witcoin today and unlock the potential to learn and earn simultaneously in cryptocurrency.
What is Witcoin?
Witcoin is an intriguing app that offers a unique combination of learning and earning opportunities. Users can accumulate rewards like Witcoin Tokens (WTC) or USDT, two popular cryptocurrencies, by participating in quizzes and other activities.
However, it's important to note that there is a significant requirement to meet before transferring your crypto to your wallet. Users must amass a staggering 160,000 Gold, which can be challenging and time-consuming.
In addition to earning through quizzes, Witcoin also provides referral commissions for inviting friends to join the app. This offers users another avenue to increase their earnings.
Despite its captivating concept, Witcoin has received a disappointing rating of 2.3 stars on the Play Store. Let's delve deeper into the app's shortcomings to understand the reasons behind this lackluster reception.
How Does Witcoin Work?
Witcoin offers a free install option on the Play Store and a VIP membership for users seeking additional benefits and features.
To start with the app, you must register using your Google account and provide your name or nickname.
Upon entering the app, you'll be introduced to the wallet section, where you can exchange your accumulated tokens for either WTC or USDT, two popular cryptocurrencies. However, you'll need to acquire some Gold before you can make any exchanges.
Gold is a prerequisite for accessing the token exchange functionality within the app. This means that users must earn a certain amount of Gold before converting their tokens into cryptocurrencies.
How To Make Money From Witcoin?
1. Make money by answering quizzes From Witcoin.
Witcoin provides users with an opportunity to earn rewards by answering quizzes. Once you log into the app, you will immediately see a selection of available quizzes.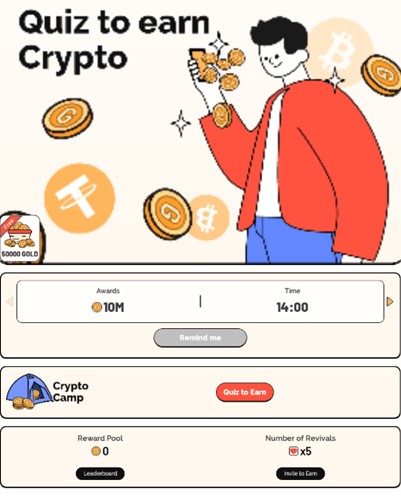 To participate, choose a quiz and begin answering the multiple-choice questions. The questions are designed to be quick and will only require a little of your time. Each question comes with a time limit of 60 seconds, and once you answer a question, you can proceed to the next one by pressing the "Next" button.
Typically, each quiz batch consists of 10 questions. Upon completing a batch, you will receive a certain number of Gold coins based on the correct answers you provided. Additionally, after each batch, you can double the coins you earn by watching a 30-second video advertisement. However, if you're in a hurry, you can skip the ad and proceed to the next batch. Once you've finished all the batches, the awarded coins will be credited to your Witcoin account balance.
It's worth noting that the quiz questions primarily focus on topics related to Web3 and cryptocurrencies. They are designed to be relatively simple, and you can often deduce the correct answer by examining the provided options. These quizzes allow you to earn rewards and serve as an educational tool to learn more about cryptocurrency and Web3. You can take the quizzes multiple times until you achieve a perfect score.
2. Make money by Digging gold coins From Witcoin.
Another way to earn Gold coins in Witcoin is through the "Digging" feature. Upon logging into the app, you can navigate to the "Digging" section and tap the "Tap" button to initiate the digging process.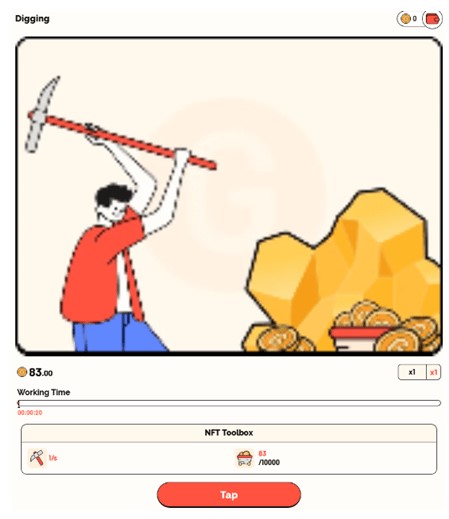 During the digging animation, the app will generate Gold coins based on the rate of the pickaxe you are using. It's important to note that you can purchase a faster pickaxe using real money, but it is generally not recommended as it may not be cost-effective.
You can increase the digging rate by tapping the "Tap" button. However, this method could be more practical as it would require constant attention and effort. Witcoin will stop the digging process automatically when the timer expires, or your cart becomes full. If the timer has expired, but your cart is not yet full, you can tap the button again to continue digging.
It is also possible to purchase a different cart holding more Gold coins. However, similar to the pickaxe, this option requires real money. It is advisable to avoid spending money on these in-app purchases. Once your cart is full, you can resume digging by emptying your cart through the process of converting your Gold coins to Witcoin tokens (more details on this will be discussed later).
3. Make money by Referral Program From Witcoin.
Witcoin offers a referral program that allows you to earn additional Gold coins. To participate, you must share your invite link with the people you wish to invite. They will become your referrals when they click on your link, install the app, and sign up as a member.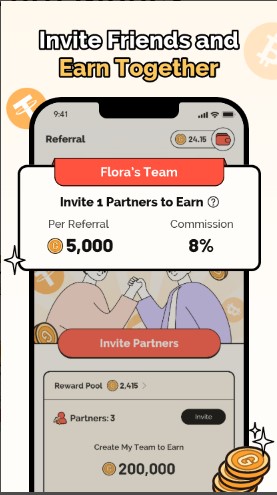 As a reward for each successful referral, you will receive 5,000 Gold coins. Additionally, you will earn an 8% commission every time your referrals earn Gold coins from the app.
You have multiple options for sharing your invite link, including Facebook, WhatsApp, or email. However, it's important to be cautious as certain risks are involved. If you choose to share your link on Facebook, your account may be reported for sharing spammy links, which could lead to the suspension of your account. Therefore, it is advisable to opt for safer methods, such as sharing the link through WhatsApp or email.
While the referral program can provide a decent passive earning opportunity, weighing the potential risks and choosing the sharing method that aligns with your preferences and minimizes the chance of adverse consequences is essential.
How do you get paid From Witcoin?
Once you have accumulated Gold coins in Witcoin, you can take several steps to utilize them, although the process can be somewhat complex, particularly for individuals unfamiliar with cryptocurrency transactions.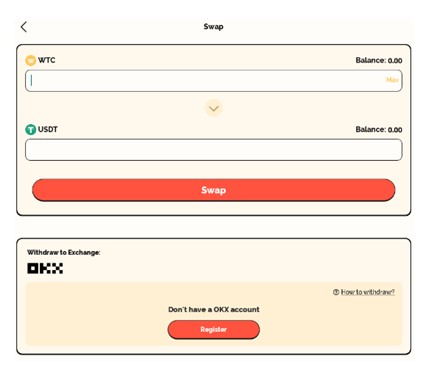 First, convert your Gold coins into Witcoin tokens (WTC). This conversion can be performed within the "Wallet" section of the app. However, it's important to note that you can only convert your coins to WTC once you have amassed at least 160,000 Gold coins.
After successfully converting your Gold coins to WTC, the next step involves swapping your Witcoin tokens for USDT, another popular cryptocurrency. This can be done through a cryptocurrency exchange. Witcoin specifically mentions transferring the USDT to an OKX wallet, as it is the only crypto wallet supported by the app. Therefore, if you wish to utilize Witcoin, you must create an account on OKX to facilitate this step.
It's worth mentioning that Witcoin's payment system is limited to the abovementioned process, which may not be as versatile as other apps offering cryptocurrency payouts. The overall payment system of Witcoin is somewhat complicated due to the multiple steps involved in cashing out your earnings.
If you prefer a simpler method for earning cryptocurrency, exploring other platforms that offer Bitcoin as a payout option is recommended. Various websites provide straightforward ways to earn cryptocurrency without the complexity associated with the Witcoin payment system.
How to join Witcoin?
The Witcoin app's availability in different countries must be explicitly specified on its app or website. However, it is generally expected to be accessible worldwide. The best way to determine its availability in your country is to search for the app on your respective app store. If it appears in the search results, it indicates that the app is available for download and use in your country.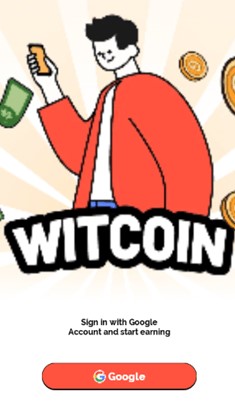 To sign up for Witcoin, you must install the app on your device. Upon opening the app for the first time, you will be prompted to sign in using your Google account (or Apple account if you use an iOS device). Once you have successfully logged in, you can begin earning rewards immediately.
It's important to note that your Witcoin account is limited to one device. If you attempt to use the same account on multiple devices, it may lead to your account being banned, resulting in the loss of all your accumulated earnings. Therefore, it is advised to strictly adhere to the usage limitations and avoid using your account on multiple devices.
FAQs
Is Witcoin available worldwide?

Witcoin's availability may vary by country. The best way to check is to search for the app on your app store. If it appears in the search results, it is likely available in your country.

Is Witcoin a legitimate app?

Witcoin is a legitimate app that offers earning opportunities through quizzes and other activities. However, exercising caution and research before engaging with any app or platform is important.

Can I use the same Witcoin account on multiple devices?

No, your Witcoin account is limited to one device. Using the same account on multiple devices may result in a ban and loss of earnings.

Can I transfer my Witcoin tokens to other cryptocurrencies?

You can swap your Witcoin tokens for USDT, a popular cryptocurrency. However, the app only supports transferring USDT to an OKX wallet.
See More:
Payadcoin Review – Earn By Watching Video Ads With 2 Easy Ways
Spin for Cash – Earn by Playing 100% Easy Spin Games
Weegy App – Earn 100% Easy Money by Answering Questions