Introduction
Discover the captivating world of Mysterious Treasures 2248, an Android game set in Ancient Egypt. Connect identical objects to collect virtual dollars adorned with PayPal and Amazon logos. Enjoy the promise of cash rewards and explore the Amazon discount mall. But proceed cautiously, as some players have encountered challenges when cashing out. Dive into this free-to-play adventure and uncover the riches of the pharaohs.
What is Mysterious Treasures 2248?
Mysterious Treasures: 2248 is an Android game with an intriguing pharaoh theme that falls under the casual gaming category. It allows players to link similar chests and various objects on the game board to remove them.
The game has gained popularity due to its reward system, which offers the opportunity to earn cash rewards. Players can cash their earnings via PayPal, Visa, Gift Cards, or in-game currencies. Players are encouraged to click on the provided link to learn more about generating an additional $10 or more daily.
During gameplay, players are rewarded with virtual dollars that feature logos from popular platforms like PayPal and Amazon. The game promotes itself as a genuine cash-out game, motivating users to accumulate as much money as possible within a 24-hour.
However, players are experiencing disappointment, particularly when attempting to withdraw their earnings. The game's promises of a relaxing and generous gaming experience contradict the user experience when cashing out.
How to make money from Mysterious Treasures 2248?
Mysterious Treasures 2248 is a popular Play Store game compatible with Android devices worldwide. One of its appealing aspects is that it doesn't require any registration, allowing anyone to dive right in and start collecting free money without restrictions. It's like a dream come true for many players!
Immerse yourself in an Egyptian-themed world filled with chests, jars, goblets, and Egypt crucifixes arranged on a 5 x 5 grid. You aim to slide and connect identical objects of the same level, causing them to merge and form higher-level items. Each successful merge triggers a cash reward, and you'll receive virtual dollars in the form of PayPal or Amazon credits.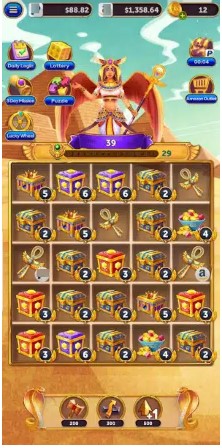 To claim your Mysterious Treasures 2248 earnings, tap the collect button, although you may need to watch a brief advertisement. It's a straightforward process. The initial cash prizes are so unbelievable that you may be daydreaming. The first prize available is a staggering $88 via PayPal, and the Amazon prize is an astonishing $1358.
But wait, there's more! The game also includes an Amazon discount mall for players who withdraw any amount. It's like stumbling upon a treasure trove, providing the opportunity to purchase the latest gadgets at a fraction of their regular cost.
Additionally, you can boost your earnings through various methods. Spin the lucky wheel, complete the 3-day mission, or log in daily to maximize your rewards. With each step, you'll be closer to amassing riches comparable to those of the legendary Pharaoh Ramesses II.
Make money by spinning the lucky wheel From Mysterious Treasures 2248.
Mysterious Treasures 2248 has an additional feature called the Lucky Wheel, where players can spin the wheel to win PayPal money. Let's take a quick look at this feature. After turning the wheel, you have won $10.91, and you can click on the collect button to add it to your balance.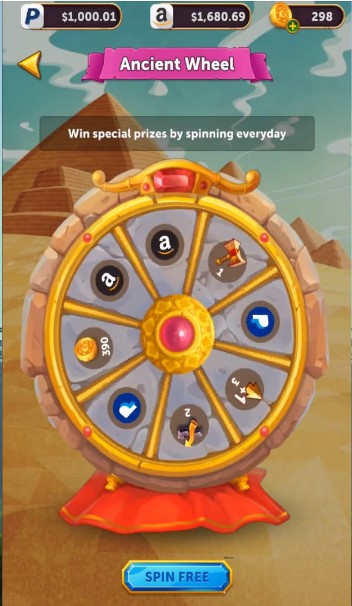 However, it's worth noting that advertisements accompany the subsequent spins on the Lucky Wheel. At the bottom of the screen, an option says "Plus One Spin." By watching the ad, you can earn an extra spin on the wheel.
Apart from the Lucky Wheel, the game also offers an Amazon store. However, to gain access to the store and make purchases, you must accumulate $10,000 worth of Amazon credits. The minimum requirement is $10,000, while the maximum is $20,000.
These features provide players additional opportunities to earn rewards and unlock the Amazon store. However, it's important to remember that reaching the threshold for accessing the store may require considerable time and effort.
How to Cash Out From Mysterious Treasures 2248.
While cashing out from Mysterious Treasures 2248 may initially appear straightforward. It's important to meet specific requirements for each cash-out method.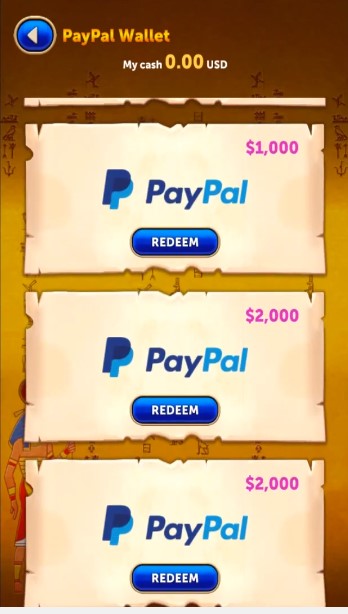 You have two options for cashing out: PayPal or Amazon gift cards. According to the game, you can redeem any amount through PayPal after 24 hours of gameplay or as soon as you reach the $1000 milestone. This implies that you need to accumulate a substantial virtual fortune before being able to cash out.
On the other hand, the requirements for Amazon gift cards are even more demanding. To be eligible for an Amazon gift card, you must amass an astonishing $10,000 within the game.
Once you believe you have reached the necessary amount, you can enter your wallet within the game and follow the prompts to proceed with the cash-out process.
However, it's crucial to stay calm with excitement. It's essential to keep reading to discover what awaits you when you attempt to claim these seemingly unrealistic rewards.
FAQs
How can I boost my earnings?

You can take advantage of features like the Lucky Wheel, daily login rewards, and completing missions within the game to boost your earnings. These provide additional opportunities to accumulate more virtual dollars.

Are there any advertisements in the game?

Yes, some actions within the game, such as collecting rewards or earning additional spins on the Lucky Wheel, may be accompanied by advertisements you must watch.

Are the cash rewards realistic?

While the game promises significant cash rewards, it's essential to approach them with caution. Some players have reported difficulties or inconsistencies when attempting to claim their prizes. It's advisable to manage your expectations and be aware of potential limitations.
See More:
Purple Circle App – Earn By Playing 100% Easy Trivia Games
Witcoin Review – Earn By Answering Quizzes With 2 Easy Tasks
Payadcoin Review – Earn By Watching Video Ads With 2 Easy Ways